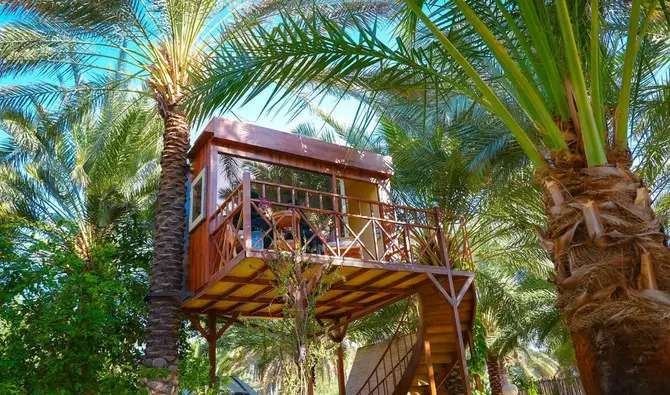 No one knows about Al Rawda Farm. My wife and I heard it is a delightful family farm recently open to the public.
It is located 20 km north of the small town of Sakaka.  
We could not find ANY information online about the farm, no social media reports, nothing. 
Yet, in only a few days after its opening in October 2023, many people had visited the place.
So, we decided to risk the long journey. What we found was indeed a lovely surprise. 
What is Al Rawdah Farm in Sakakah? 
Al Rawdah Farm is an old converted farm of about 40,000m2. 
The retired owner, Abdullah Al Qahtani, wanted to share cherished childhood memories of playing games and working on the farm's dates and olive trees. 
So, he built Al Rawdah Farm for others to enjoy. His only goal is 'to provide visitors with a memorable experience.'
And, he has succeeded.
What Can You See And Do At Al Rawdah Farm?
The farm is a beautiful natural place for families to hang out. Visitors can relax and slowly stroll about the shady palm tree groves. 
It has ample rustic seating, viewing platforms and open spaces to enjoy tea, coffee, and freshly baked snacks.
There are wooden huts with large, open glass windows. 
The impressive tree house offers an elevated view of the Jandal stone-paved courtyard and many mango, orange, and tangerine trees and aromatic plants. 
What Activities Are There For Kids At Al Rawdah? 
Children can play freely in palm groves, ride horses, feed camels, and pet other farm animals. 
Does Al Rawda Offer Any Special Events?  
Yes! The farm hosts festivals, workshops, and interactive educational programs, including information about Saudi culture and traditions. 
Do You Recommend A Visit To Al Rawda Farm?
Yes! Visit the farm to experience stunning nature and for a bit of peace. 
My wife and I enjoyed relaxing on the patio, drinking coffee, and the beautiful scenery. 
The service was good, and the staff was friendly and helpful. The owner has plans to develop the farm even more and provide other exciting activities. 
We left Al Rawda Farm with glad hearts, and one day, promise to return.
How To Get To Al Rawdah Farm?