I am so glad that flights have returned to normal out of Saudi Arabia's 28 national airports.
It is somewhat of a relief to all of us that following weeks of Coronavirus flight lockdown, the General Authority of Civil Aviation (GACA) together with the Ministry of Health, has put together a new plan of airport safety operations.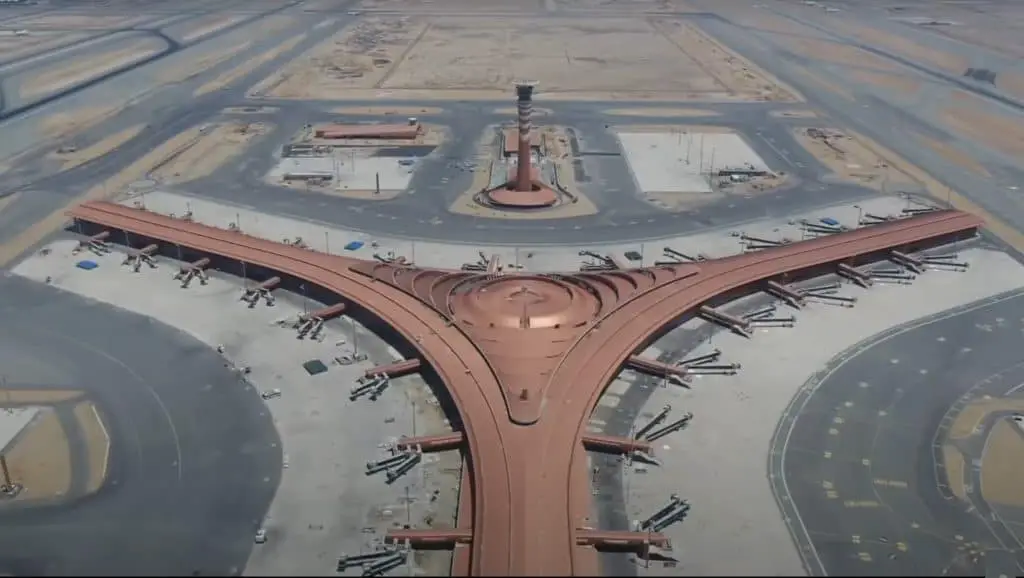 It consists of a series of very sensible preventative measures and procedures that airport staff and passengers in all 28 of the kingdom's airports must follow as a means to combat the spread of COVID-19 in the kingdom.
So, what are the new Saudi GACA safety rules for its airports?
All airport personnel, ground, flying crews & passengers are expected to implement a raft of Coronavirus combating measures that include a program of sterilization, wearing masks & gloves, social distancing, and use ePayment instead of cash. Also, in the waiting areas and onboard flights, passengers must sit two seats apart and always keep at least 2-meters away from others throughout the airport and during flights.
Sadly, during the Coronavirus lockdown (March-May 2020), I noticed many people ignoring or perhaps forgetting the social distancing rules, especially at supermarket checkouts, and when making lines outside restaurants.
That is why in airports and inside tightly spaced airplanes, the GACA is strictly enforcing the new preventative measures.
They are to ensure that staff and passengers perform good disinfecting routines and maintain social distancing as a way to reduce the risk of more people contracting the Coronavirus virus in Saudi Arabia.
These measures are offered in the form of passenger guidelines.

They determine both the GACA obligations together with what the airline authority expects of passengers currently using Saudi airports and flights.
The table below is a concise summary of GACA guidelines of behaviors and practices for passengers arriving for flights at Saudi airports, when checking in, boarding, inflight, disembarking, collecting luggage, and exiting destination airports.
After purchasing airline tickets using electronic means ONLY, passengers must adhere to the following procedures:
Passenger Responsibilities To The GACA At Airports And Flights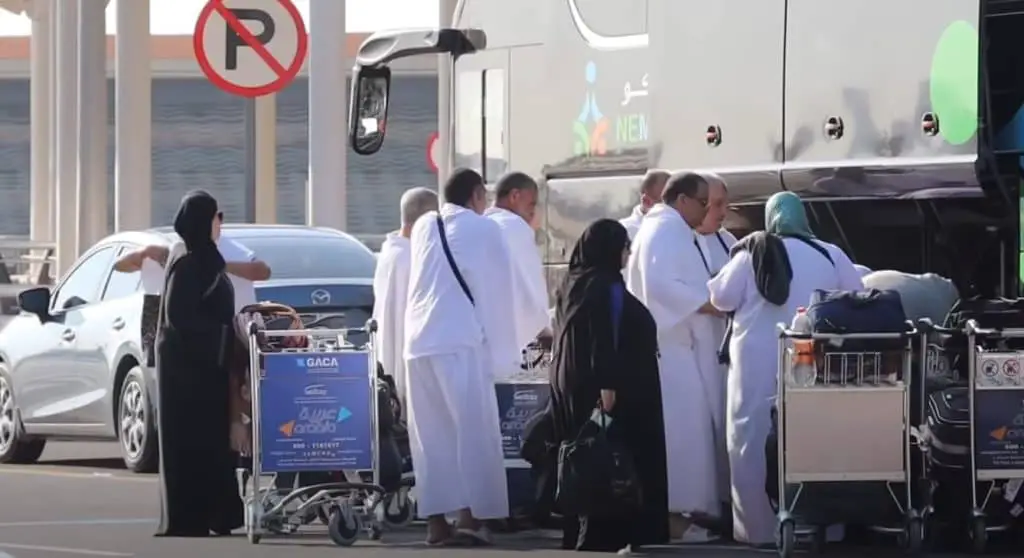 Procedures
1
2
3
4
1.Getting To Terminal
2 hours
Before Takeoff
No Escorts
Except
for Elderly
& Infirm
Do Thermal Check
Sanitize Hands
Wear Masks
Disinfect Baggage

2.Checking In
2-Meter distancing
Use ePay &
Less Cash
Sit In Alternate
Waiting Room Seats
Use Glass
Screens With Airport
Staff
3.Boarding Plane
Board Plane
In Phases
Maintain
2-Meter Distance
In Lines
Enter The Bus/Plane
With Distancing

Always Wear Masks
& Disinfect Hands
4.In-Flight
Wear Masks & Gloves
Sit In Alternate Seats
One Piece
Hand Luggage Only
Apply Social Distancing
5.Getting Off Plane
Phased Deplaning
Wear Masks
Or Covers
Disinfect
Using Devices
Isolate
Infected Passengers
6.Collecting Baggage
In Waiting Area
Stand On
Floor Signs
In Baggage Area
Stand On
Floor Signs
Disinfect Baggage
Trolleys
Wear Masks
or Covers

7.Leaving Terminal
Maintain
2-Meter Distancing
Throw Masks
& Gloves
In Trash
Use ePay &
Less Cash
Return Trolley
for
Disinfecting
Summary of Passenger Obligations At ALL Saudi Airports

Passengers MUST:
Buy Airlines Tickets Using ePayment ONLY-No Cash
Check-In 2 Hours BEFORE Flight Departure
Submit To Thermal (Temperature Reading ) Checks
ALWAYS Wear Facemasks/Covers In Airports Or On Flights.
Stand At A Distance From Others
Use Sanitizers In Terminals
Board Flights With One Piece Of Hand Luggage
Disclose Medical Problems Or Coronavirus Symptoms
Penalties For Violations Of New GACA Rules
Passenger will be banned from travel if the rules are violated and anti-infection measures not respected.
The obligations begin as soon as passengers purchase their airline tickets via electronic means.
 "Airline passengers are forbidden from entering airports if they are not wearing medical facemasks or face covers……and they must wear gloves during flights and up to leaving the destination airport"

Saudi GACA
GACA Commitments To Airline Passengers
Procedure
Affecting
1. Provide Sterilization Liquids & Devices
28 Airports
2. All Staff Wear Masks, Gloves & Disinfect
All Times
3. Crew & Staff Obligatory Medical Exams
Frequent
4. Disinfect Entire Airport Every 3 Hours
28 Airports
5. Disinfect ALL Airplanes After Flights
Cleaning Crews
6. 3 Hours Separate Departures and Arrivals
To Allow Disinfection
7. Restrict & Isolate Infected Passengers
Thermal Screening
8. No Boarding Passengers With COVID-19 Symptoms
Thermal Screening
9. Request Medical Disclosures If COVID-19 Symptoms Present
Airport and Airline Staff
10. Use ONLY 50% Of Bridge/Bus Capacity
Boarding and
Disembarking
11. Provide Electronic Ticket Machines
ePay ONLY
For Plane
Tickets
12. All Passengers Get Thermal Screening
Check Symptoms
Summary Of GACA Commitments To Airline Passengers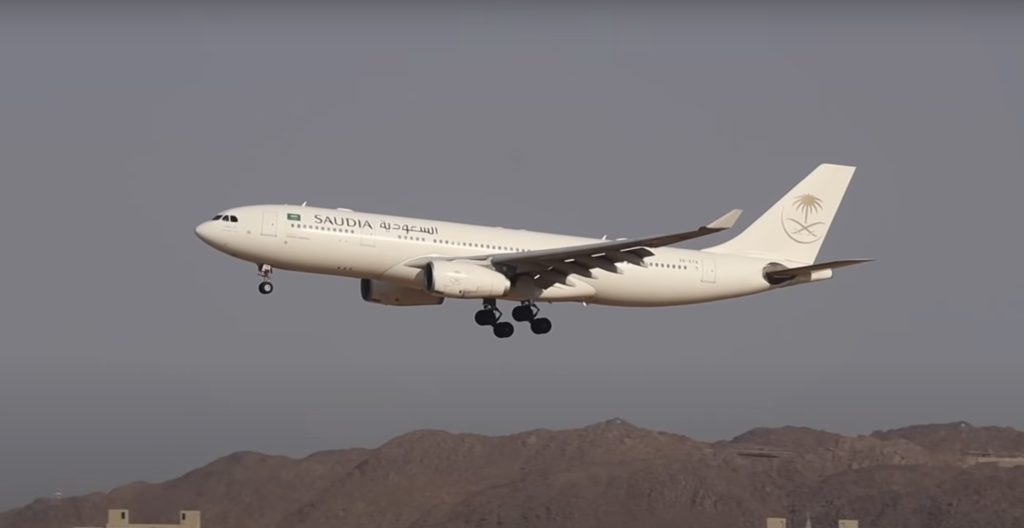 All Passengers Get Screened For COVID-19 Symptoms
Sterilization Devices and Liquids Given Free Of Charge
Provide Disinfecting Areas For Luggage Trolleys
Entire Airports Cleaned And Disinfected Every 3 Hours
Minimum Of 3 Hours Between Takeoffs and Landings For Cleaning
Phased Boarding and Disembarkations
Open Spaces In Seating Provided In Waiting Areas
Every Other Seat Is Empty On Flights-50% Operational Capacity
Cleansing Bridges, Shuttles, Lifts, and Waiting Areas
Place Stickers On Floors To Facilitate Social Distancing
Airline passengers who are thermal tested at the entrances to Saudi airports and display a body temperature of 38 degrees C or more will not be allowed to enter and are prohibited from boarding flights.

GACA Authorities
Related Questions
What will happen if I have a body temperature of 38 degrees C or more at Saudi Airports? You will be prohibited from entering the airport, taking your flight and will be sent away.
What are the new seating arrangements on Saudi flights? Airlines will operate at half capacity by allocating passengers to sit on seats separated by empty seats. In effect, there are two seats per passenger.
What kind of hand luggage can I take on flights from Saudi Arabia? First and Business Class passengers can take a 12kg handbag onboard not exceeding 115 cm and briefcase up to 9kg not exceeding 100cm. Guest Class passengers can take handbag 7kg not exceeding 115cm.
Get more hand luggage details at Saudi Airlines

.
Useful References And Resources
GACA Airport Passenger Guidelines– gaca.gov.sa
Precautionary measures put in place at KAIA-Saudi Gazette
International Terminal Flights Schedule-New Jed Saudia.com