Each year, more than 20 million Muslims have the great fortune to come to Mecca, Saudi Arabia to undertake Hajj and/or Umrah pilgrimages. With so many people staying in the city, I wondered how much money Saudi Arabia actually makes off both the events and what the revenue means for the nation.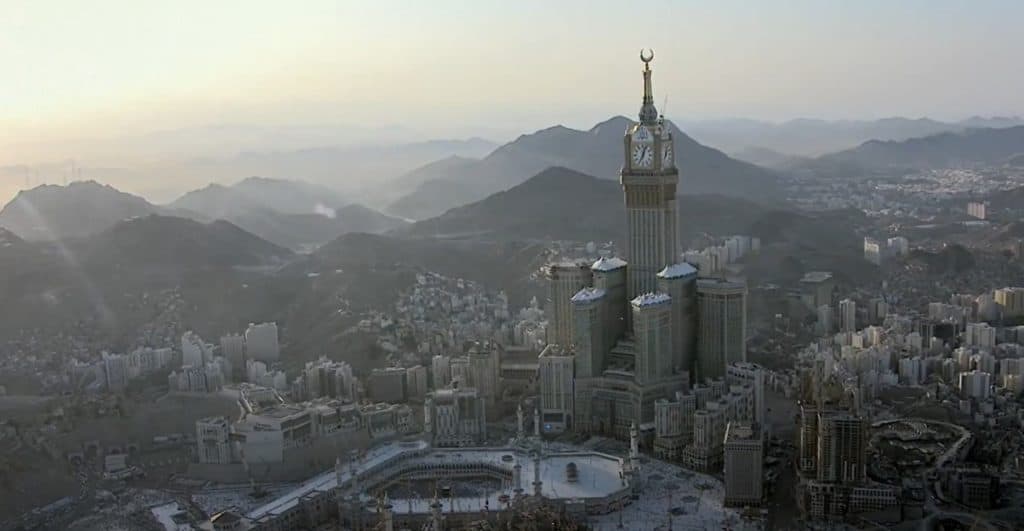 So, I searched online to find out which nationalities go for Hajj and Umrah, each year, their number, how long they stay, how much and where they spend their money.
Also, I found out how the kingdom benefits from this massive flow of visitors to the country?
So, How Much Money Does Saudi Arabia Actually Make From Hajj and Umrah? 
Both pilgrimages produce $12 billion annually-$8 from Hajj and $4 from Umrah almost 3% of non-oil GDP. This figure is forecast to increase to $150 billion by 2022 and the current $51.2 billion investments in local transport and infrastructure could result in 100,000 more jobs. The goal is to attract pilgrims from higher value Muslim minority countries and reduce waiting times by encouraging pilgrims to come for Umrah instead.
The Dramatic Changing Cost of Hajj Pilgrimage
Since the year 2000, the cost of performing Hajj has risen dramatically.
I remember when I first performed the Hajj from inside Saudi Arabia in 2005, the cost of domestic Hajj per person was between SR1,500-3,000 ($400-$800 Economic) and SR4,000- 6,000 ($1,065-$1,600) for Premium services. 
Prices for an international Hajj (depending on the country) began at SR5,000 (Economic $1,400) and reached up to SR12,000 (Premium $3,050)
Cost of Domestic Hajj 2005 & 2020
| | | |
| --- | --- | --- |
| Hajj Prices (Domestic) | 2005  | 2020 before 15% VAT |
| Economic | $400-$800 | $980-$1,446 |
| Premium | $1,400-$2,128 | $1,817-$4,127 |
Prices for international Hajj always varies greatly depending on airfares,  standards, type of accommodation, and length of stay. The prices below are averages.  
Cost Of International Hajj 2005 & 2020
| | | |
| --- | --- | --- |
| Hajj Prices (International) | 2005  | 2020 before 15% VAT |
| Economic | $1,400 | $6,000 |
| Premium | $3,050 | $13,000   |
The Disparity Between Costs Of Domestic And International Hajj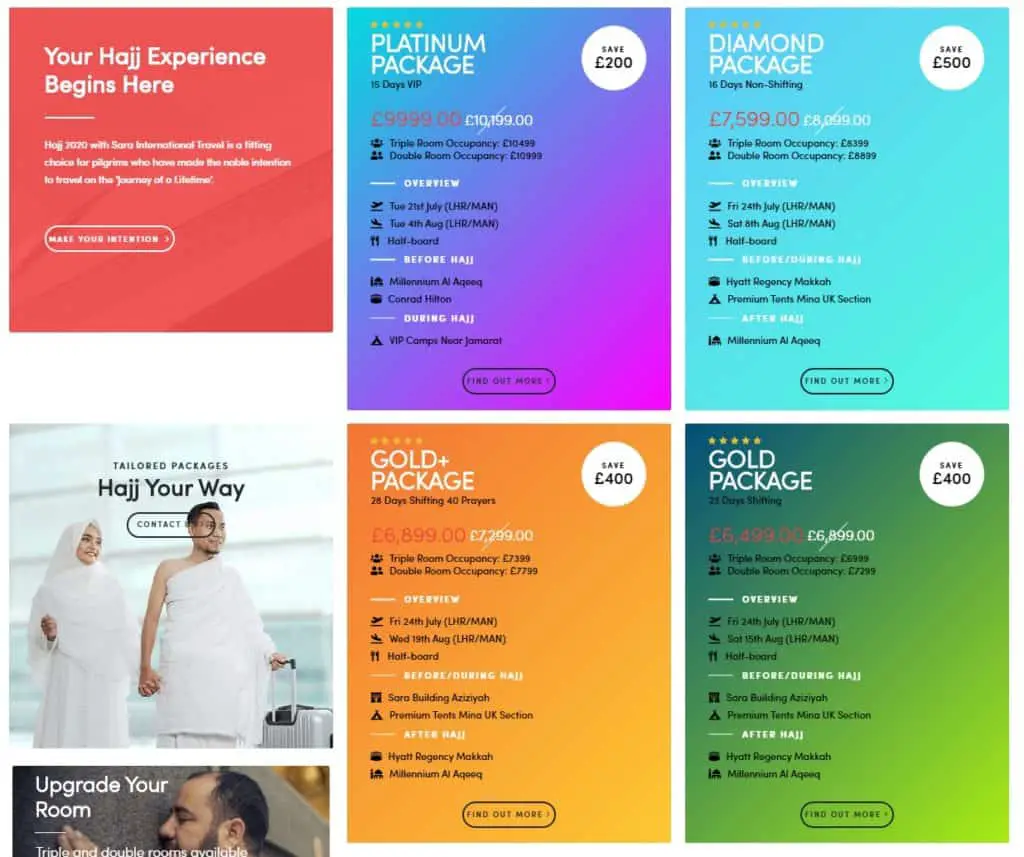 According to the statistics above, the cost of making domestic Hajj pilgrimage rose by 50% between 2005 and 2020.
The Saudi government fixed prices for domestic Hajj in 2019 in response to overinflated prices being charged by domestic Hajj companies. 
However, for international pilgrims, Hajj prices rose by 400%-500% during the same periods. 
I am unable to find detailed relevant economic research to explain such exorbitant increases other than the higher international demand for pilgrims wanting to undertake Hajj and also to offset costs of investment in transport, real estate, and infrastructure in Mecca-Madinah.
For example, the development includes the new Jeddah Airport Mecca hotel and housing expansion, main roads, and the Haramain

train service.   
Who Is Coming For Hajj and Umrah?
To understand revenue resulting from Hajj and Umrah it is useful to know its source. Every year, the Hajj pilgrimage generates $8 billion and Umrah $4 billion and it is projected to be $150 billion by the year 2022.
In the ten years between 2010 and 2019, the average number of pilgrims in attendance was 2.4 million.
The highest number of Hajj pilgrims reached 3,161,573 in 2012 and the lowest fell to 1,862,909 in 2016. 
Chart Showing Total Hajj Numbers from 2010 and 2019
| | |
| --- | --- |
| 2010 | 2,789,399 |
| 2011 | 2,927,717 |
| 2012 | 3,161,573 |
| 2013 | 1,980,249 |
| 2014 | 2,085,238 |
| 2015 | 1,952,817 |
| 2016 | 1,862,909 |
| 2017 | 2,352,122 |
| 2018 | 2,371,675 |
| 2019 | 2,489,406 |
| The 10 Year Average | 2,397,311 |
Hajj Statistics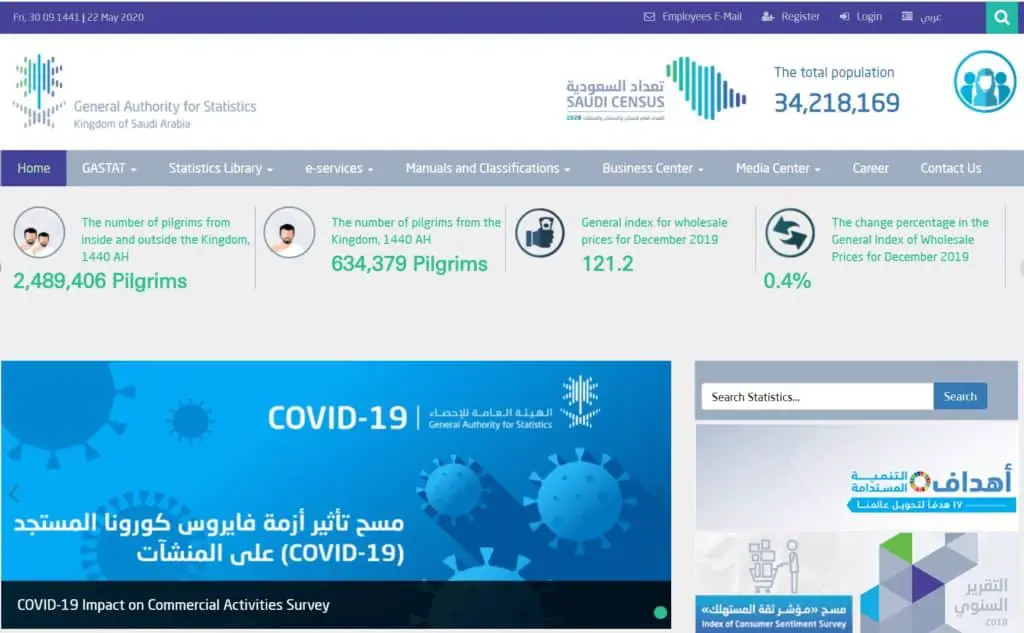 The tables below show who came for Hajj in 2019 and Umrah in 2018, the numbers and percentages of pilgrims. 
Statistics for Hajj Pilgrimage in 2019
Total Hajj Pilgrims
2,489,406 
Saudi (Domestic)
211,003
Non-Saudi (Domestic)
423,376
Total Domestic
634,3791,855,027 

Total # International Men
Total International Women
Total International

876,040 (Men)
978,987 (Women) 
1,855,027 (Total)
% Of Hajj Domestic
25.5.% 
% Of Hajj International
74.5%
Breakdown Of Numbers Of Hajj International Pilgrims For 2019 
| | |
| --- | --- |
| Origin | Numbers |
| Total | 1,855,027 |
| GCC (Gulf) | 31,884 |
| Arab Countries (Non-Gulf) | 414,750 |
| Asian | 1,126,633 |
| African | 187,814 |
| Europe | 67,054 |
| America (North and South) Australia | 26,892 |
Umrah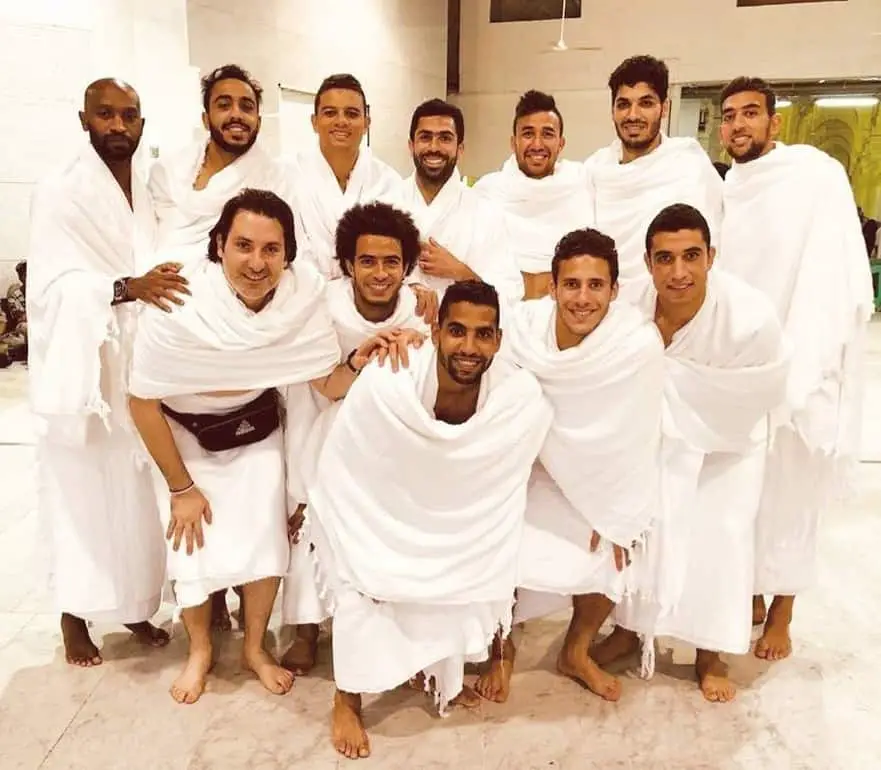 Total Umrah Pilgrims
18,311,111 
Domestic
Saudi 
Non Saudi 

5, 330,091 (53.83%)
6, 215,406  (46,17%)
Domestic Total
11,545,497
International 
6, 765, 614      
% Domestic 
63.1%
% International 
36.9%
Age Groups & %
0-20  38% (Domestic) 19% (International)
30-50 49%(Domestic) 32.5% International)
50-60+ 18% (Domestic) 49% (International)
Male / Female Ratio
65,33% Saudi Domestic Male
4,637% Saudi Domestic Female
73,12% Non-Saudi International Male
26, 88% Non-Saudi International Female
Currently, the average total number of Hajj visitors is 2.4 million and there are 18.5-20 million Umrah visitors equalling a total of 20+million.
Hajj and Umrah Numbers
| | |
| --- | --- |
| Hajj | 2.4 million |
| Umrah | 18.5 million |
| Total | 21 million |
The ratio of Hajj to Umrah pilgrims is 5:36. So, for every Hajj pilgrim, there are 7.2 Umrah pilgrims.  
In percentage terms, there are 25.5% Hajj pilgrims and 74.5% Umrah pilgrims. 
How Do Pilgrims Spend Money On Hajj and Umrah?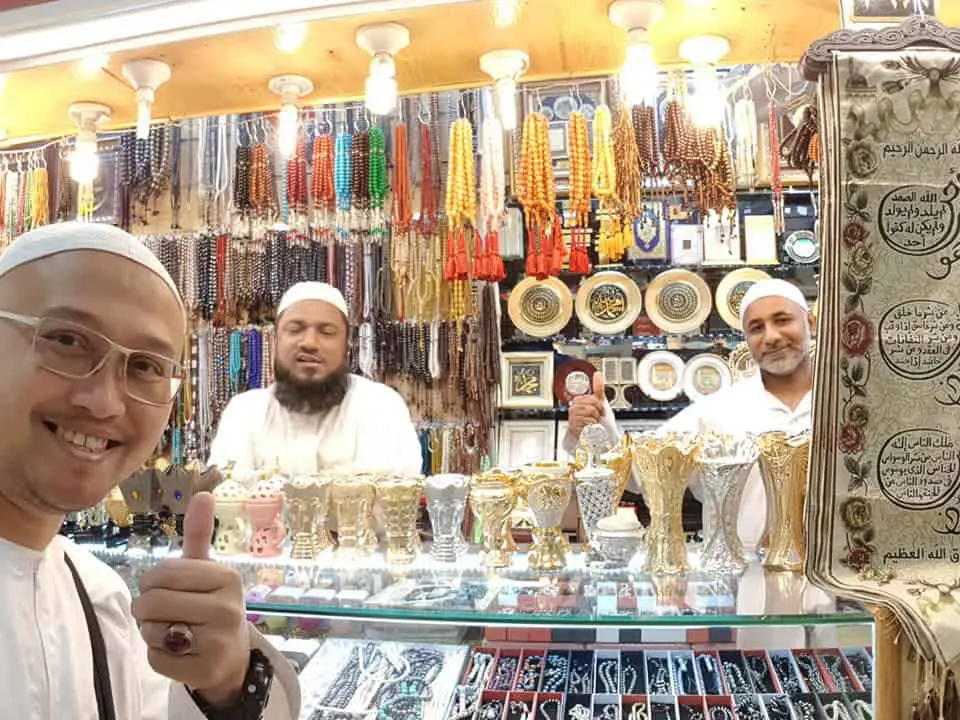 There is a desperate shortage of economic research to evaluate how the increasing number of pilgrims spend their money in Mecca and Madinah and how best to match their requirements. 
The Mecca Chamber Of Commerce states that pilgrims spend between $5,000 or $6,500 to come to Hajj. They estimate that 75%-80% of the amount is used for accommodation, food,  gifts, transport, and communication. 
The remainder is for personal spending in and around the two cities. 
They also estimate that pilgrims spend an average of $700-$1,000 during their ten days stay in Mecca and Madinah. The number of days of stay varies according to nationality. 
The MasterCard Survey

calculates that the figure as being closer to $1,350.
For example, Egyptians prefer to stay for 20 days, Asians 30 days, and North Africans (Algeria, Tunisia, and Morocco) 30+ days.  
The top spenders in the two holy cities are Egyptians, then Iraqis, followed by Algerians and Turkish people. 
What Do Pilgrims Get For Their Money?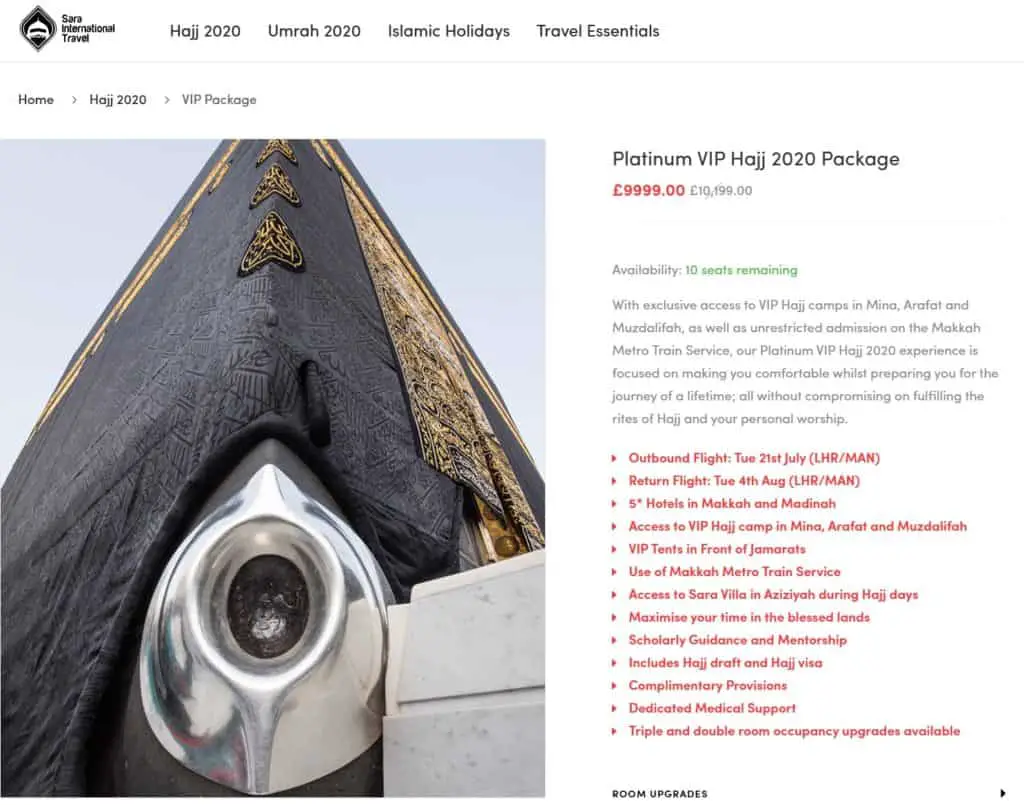 Like any form of tourism, the cost of undertaking Hajj or Umrah varies according to the country of origin and the type of Hajj/Umrah packages. 
They usually include all of the following, but the difference between Economic and Premium packages are hotel star ratings, quality of tented accommodation in Mina/Muzdalifah, food, transport, and Islamic/leisure services. 
For example, pilgrims paying Premium packages to stay in luxury hotels close to the Haram mosque, get VIP services in Mina, better food, and transport to and from the city of Madinah.
List Of Services Provided For Hajj and Umrah Packages
Return Flight
Shared Hotel Accommodation 15, 23, 28 or more days 
Half Board-Breakfast and 1 main meal 
(Double/triple or more room occupancy in Mecca and Madinah)
Hajj Camps (Mina, Muzdalifah or Azizeyah, and Arafat)
Local Transport Between Sites
Haramain Makkah-Madinah) Metro (optional)
Leisure/Islamic Guidance Services 
Medical Facilities
Complimentary Provisions
Do Pilgrims Get Value For Money?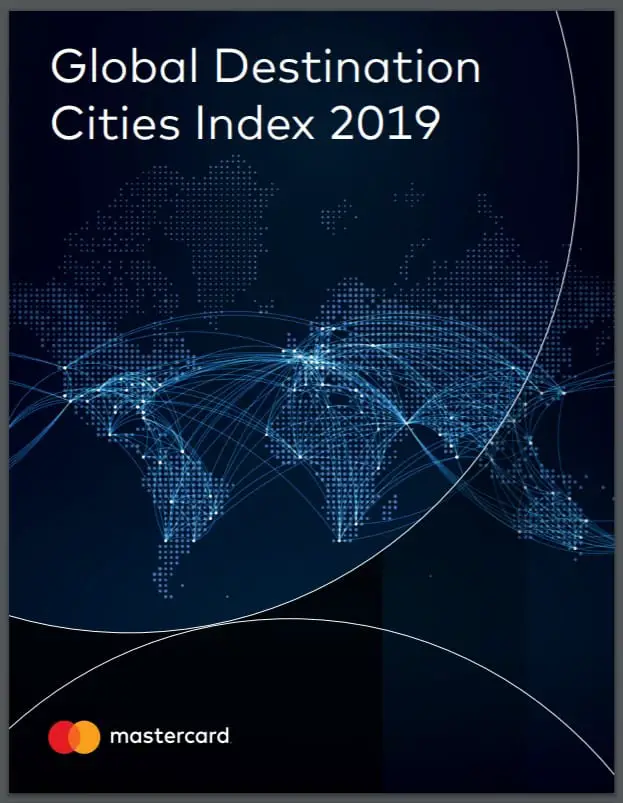 Since 2005, the cost of performing Hajj has skyrocketed from around $3,000 to $13, 000. (See tables above) 
At the same time, the cost of international flights has lowered while the prices of food, general supplies, fuel have risen by about 25% in real terms inside the kingdom.
At the same time, hotels, transport, and communication facilities and services have definitely improved in and around Mecca and Madinah. 
Due to inflation, prices for goods and services have increased, but it is difficult to see any plausible justification for the disproportionate rises in the cost of Hajj compared with Umrah even taken into account inflation and offsetting the cost of new construction and building development.  
Price Inflations During Hajj 
I know from personal experience that during Hajj the cost of a hotel room is about five times the normal rate out of season rate. 
For example, a hotel room costing SR300 ($80) available for most days of the year can fetch a rate of SR1,000 -1,500 ($265-$400) per night depending on its proximity to the Haram Mosque and tented housing in Mina.
For that, more people will share the rooms to ease the burden of expense. 
How Does The Saudi Government Make Money?
According to a 2019 Mastercard survey, pilgrim spending in Mecca alone reached $20.1 billion in 2019. 
After Dubai, the city achieved second place for visitor spending in the Global Top 20 Visitor Destinations For Overnight Stay.

Close to 10 million international pilgrims are in part responsible for this amazing $21 billion of spending in Mecca; Hajj 1,855,027 & Umrah 6, 765, 614.
Add to that another 18.5 million domestic pilgrims and the total reaches close to 21 million visitors to Mecca every year. 
According to the same report, the average length of stay of each pilgrim is 15 nights and with an average daily spend of $135. 
How Does Pilgrim Spending Support Jobs in Mecca? 
The more money pilgrims spend the greater number of jobs this income can support.
According to the same report, in Mecca, for every 1,000 extra pilgrims, 77.3 jobs are supported.
In Dubai, 1,000 extra visitors can support 105.4 jobs. Visitor spending there is higher but the labor costs are possibly cheaper.   
Huge Investments To Improve Haj and Umrah Facilities 
Since 2005, the Saudi government has spent close to $60 billion on improving facilities in Mecca and Madinah. 
Major Investment Projects Include:
| | |
| --- | --- |
| Project | Cost |
| New Jeddah Airport | $7.2 billion |
| Mecca-Madinah Highway | $16.5 billion |
| Expansion of Grand Mosque (Mecca) | $26.6 billion |
The ongoing development has resulted in very positive improvements in the Hajj and Umrah pilgrim experience.
The new Jeddah Airport can receive pilgrims more efficiently. Improvements to the highways mean transport to and from Mecca and Madinah is quicker, safer, and more profitable for the government. 
The expansion of the Haram Mosque and facilities means greater capacity and therefore more comfort for pilgrims. Also, accommodation in Mina/Mudalifah has been expanded and safety conditions have much improved facilities in Arafat and at the new Jammarat overpass.  
Grand Plans And Future Projections
Ongoing development in Mecca is wholly rooted in Vision 2030

whose goal is to diversify and strengthen the kingdom's economic capacities to achieve a fully diversified future. 
The Vision's goal is to transform the economy by moving away from a dependence on crude oil production and hydrocarbons. 
The specific goals are to be achieved using the wide  National Transformation Plan

which maps out the stages for development in key areas that include investment, finance, housing, jobs, quality of life, and Hajj and Umrah. 
Expanding and improving facilities for Umrah is a major part of the National Transformation Plan for Hajj and Umrah.
Pilgrim Spending In Mecca and Madinah Between 2018-2022 
The Council Of Saudi Chambers

(business partners and champions of Vision 2030) anticipates that by 2022, pilgrim spending will increase from $21 billion to up to $150 billion and has hopes that 100,000 more permanent jobs will be created related to the pilgrimages. 
How Can $150 Billion Income and 100,00 New Jobs Be Achieved? 
In general, the means of achieving greater income and new jobs is to bring in more visitors and encourage them to spend even more money. 
In spite of these goals, annual Hajj numbers, in reality, have dropped since 2012 from 3 million to 2.5 million Hajj pilgrims. 
This is because of concerns of overcrowding and the safety of the Hajj visitors. These concerns have caused the Saudi government to seriously restrict issuing Hajj visas to Muslim majority countries. 
Umrah NOT Hajj As The Point Of Growth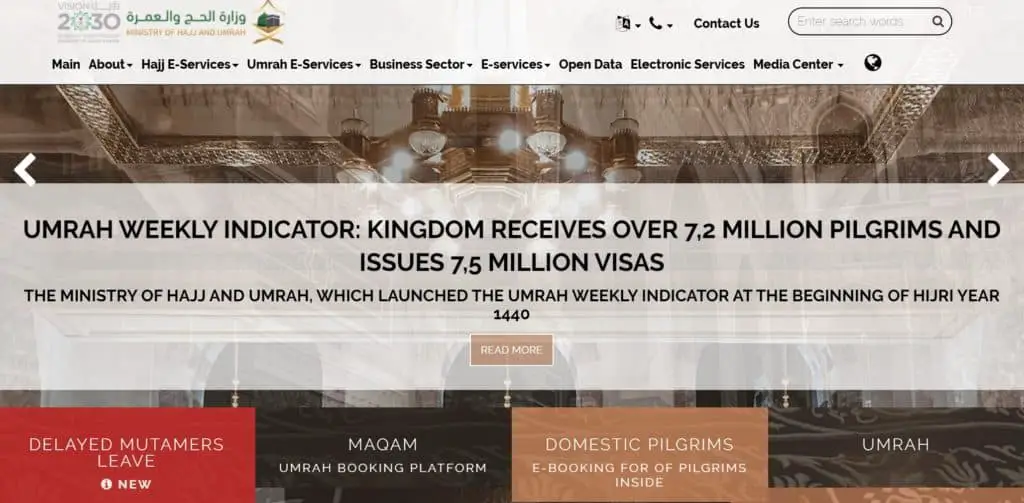 The focus of greater profitability was shifted to Umrah. 
The Hajj pilgrimage lasts for only a week and must be undertaken during the month of Dhuhl Al Hijah.
It is very difficult to significantly increase pilgrim numbers given the exorbitant pressure on resources and services. 
However, Umrah can be undertaken at any time of the year. Outside of the Hajj month, demand for services in Mecca is much lower and there is greater capacity for growth in numbers and expansion. 
Quota System Limitations
The low quota system has increased waiting times for international pilgrims wishing to attend Hajj.
Currently, it is 0.1% of the national population. For example, waiting times for many Asian countries is between 7 and 37 years.
Given the constraints, it is estimated that it would take 580 years for every Muslim on the planet to perform Hajj– an almost impossible task.
No Quotas For Muslim Minority Countries
There are no quotas for Hajj and Umrah in Muslim minority countries, though Hajj can only be repeated after a minimum of 5 years.
A big part of the Saudi strategy for transformation is to make Hajj available to as many high ticket, high spending, high-value nationals as possible in any country in the world.  
How Do You Boost Pilgrim Numbers And Income Using Umrah Packages?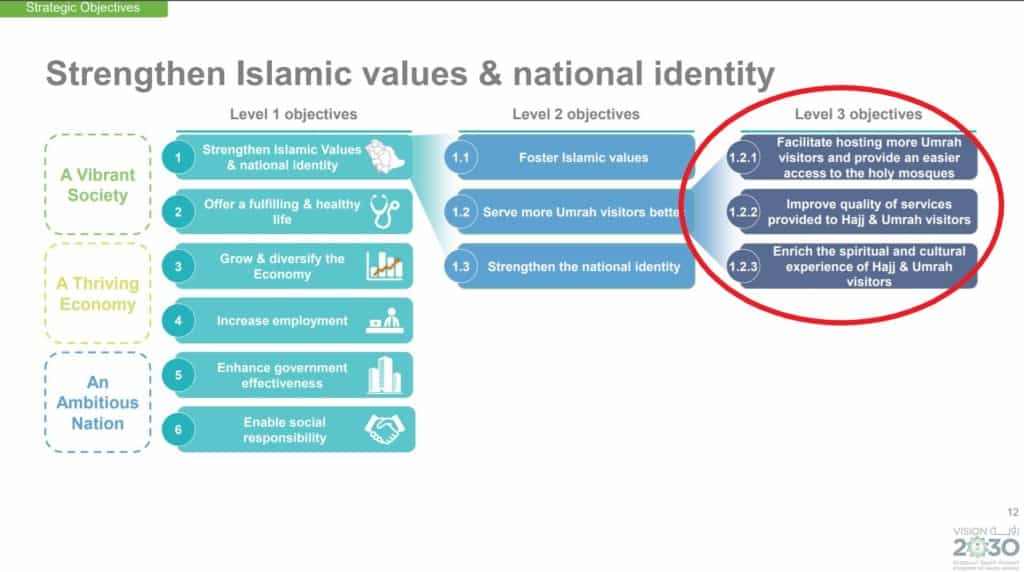 For every Hajj pilgrim coming to Mecca, there are 7.2 Umrah pilgrims. Visitor numbers for Umrah constitute 74.5% of the 20 million-plus religious pilgrims coming to Mecca and Madinah each year. 
In the Vison 2030, the Saudi government has wisely targetted the development of Umrah as a major goal in its transformation plan for the economy. 
Typically, the greatest number of Umrah pilgrims are recorded as 43% (nearly half) coming to Mecca and Madinah during the Islamic months of Rajab, Shaban, and Ramadhan. 
The Vision 2030 goal is to market and encourage visitor numbers for Umrah by increasing the overall capacity for international pilgrims from 6. 8 million to 30 million by the year 2030,
This can be achieved especially during the quieter periods covered by the remaining of the none Islamic months. 
To that end in 2019, the Hajj and Umrah electronic visa system came online whereby pilgrims could easily apply for and be granted visas for the pilgrimages online.
Also, in 2020, the service began offering visas for free.   
Smart Hajj-Pilgrims' Assitance -Enriching The Pilgrimage Experience
Another way to enrich the Hajj and Umrah pilgrim experience and to create long term value for the Saudi government is the introduction of the new Smart Hajj

Electronic Platform.  
This will contribute to improving and enriching pilgrims' experience in the Kingdom as well as achieve one of the main goals of Saudi Vision 2030," said Vice Minister of Hajj and Umrah.

Dr. Abdulfattah Mashat, Vice Minister of Hajj and Umrah
Smart Hajj Includes:
Visa Applications Online
Smart Hajj Card 
Using the electronic gateway, international pilgrims can apply directly to go to Hajj or Umrah online without the need to go to the Saudi Embassy in their own countries. 
Also, upon arrival in Mecca, every pilgrim is issued a Smart Hajj Card that contains personal, medical and housing data that can be scanned using handheld scanners in order to control entry in and out of the Hajj area and to identify lost pilgrims. 
The Smart Hajj platform is one of 8 useful services available to Hajj pilgrims from 2020 onwards. 
Eight Projects Are:
Smart Hajj Platform
Extra Pilgrim Housing & Bus Excursions 
Pilgrims Grouping Service
New Tents in Mina 
Food Services
Hajj Bank (Anti Theft) Cards 
Be An Assitant Scheme
Pilgrim Without A Bag Scheme
These eight new projects include a raft of extra initiatives such as housing in Mina/Muzdalifah, new bus trips, electronic management of Hajj groups, more Hajj tents, improved food service with ready meals, volunteers to help and orientate Hajj pilgrims and transportation service to take luggage from hotels to Jeddah airport.
The New Hajj Umrah Forex Card 

The new Hajj/Umrah Forex Card

offered by the HDFC Bank means pilgrims can charge funds onto the card and spend them at point of sales outlets as they go in and around Mecca and Madinah during Hajj or Umrah. 
The card currency is Saudi Riyals (SR) only. 
The Hajj/Umrah card is safer than using cash and is automatically covered by an insurance of 200,000 INR in cases of air/road death (500,000 INR), loss of baggage (20,000 INR), loss of personal documents (passports 50,000 INR), and loss of cash (60,000 INR).
The Hajj/Umrah card costs SR200 to issue, SR75 to recharge and SR7.5 to withdraw cash from ATMs.
Also,  cross-currency of 3% is charged for each instance of purchase where the card currency (SR) differs from purchase currency. (i.e. purchase in currencies made outside Saudi Arabia).
You do not need to be an HDFC customer to apply. Apply at a branch with a completed form, passport copy, and photocopy of visa or ticket. 
Hajj-Internet Of Things Technology
Artificial intelligence (AI) and leading-edge technology are being applied to enhance the Hajj and Umrah experience. 
Together with a Smart Hajj Card pilgrims are offered earpieces to use during Tawaaf and Sa'i which records how many circumambulations have been made and prayer utterances. 
In case pilgrims get lost an electronic mobile application shows GPS positioning of lost pilgrims and messaging services to reunite family members.
It also shows pilgrims where overcrowding is occurring and suggests ways to avoid it.
Should a pilgrim fall sick, robot doctors are available in crowded areas.   
The Smart Hajj system uses 6 main transmitting stations and 250 sensors placed in and around Mina and the Jamaraat bridge. 
Authorities at the main date monitoring office can monitor and control crowd movement using high definition cameras. 
 There is also an early warning disease outbreak system. 
Related Questions 
What medical facilities are available for Hajj pilgrims?  In Mecca and Madinah during the Hajj pilgrimage 25 hospitals are readied with 24,000 doctors, nurses and staff available. There are 5,250 beds ready and 550 ICU beds.
All pilgrims receive vaccinations that include meningitis and polio. Field medical teams are available supported by 180 ambulances and vehicles. Hospitals treat 329,000 pilgrims during Hajj and 3,700 are hospitalized. 
How Much Money Do Hajj Agencies Make from Hajj or Umrah? Pilgrims pay agency fees to local companies organizing Hajj trips, to visa procurement agents and/or to Hajj Ministry for electronic services. Costs vary from country to country!
References and Resources