In the spring of 2014, I made the 1,000 km + journey overland from Jeddah airport up to the Egyptian town of Sharm Al-Sheikh along the Saudi Red Sea coast.
The coastline is stunning, so expansively exotic and beautiful, yet untouched and totally underdeveloped.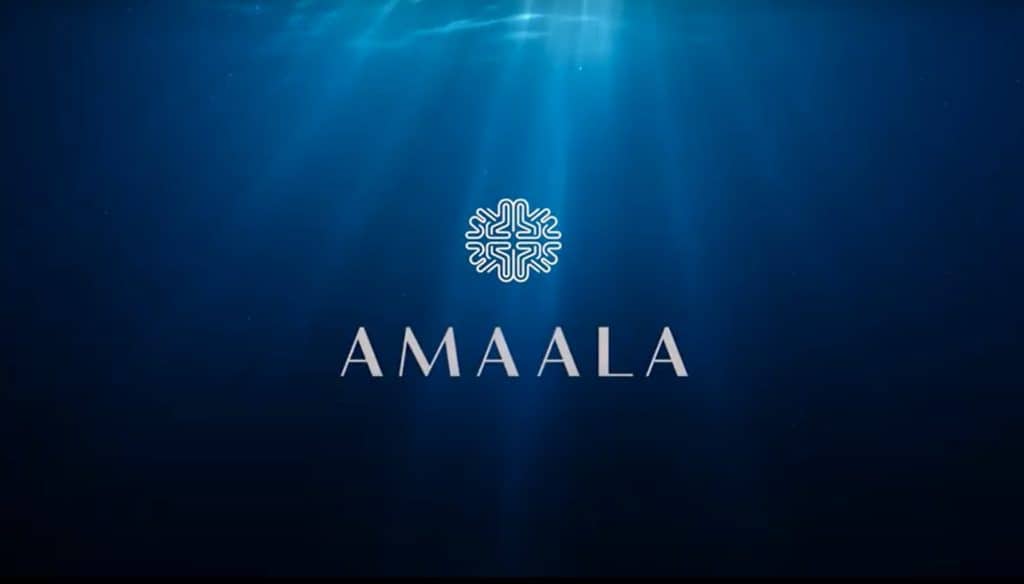 However, all that is about to change. Three major projects are now underway to develop high-end luxury tourism in the North-Eastern region of Saudi Arabia:
The Red Sea Project
Noem City
Amaala
As yet, Amaala is still unknown. Readers of insidesaudi.com have started asking me what the project is all about. I really had no idea. So, I contacted the Amaala development company and PIF to ask them. The following is what discovered.    
So, What Exactly Is The Amaala Project?
By 2028, Amaala plans to have built three super-luxury sea resorts called Triple Bay, The Island, and Coastal Development. The focus of each is to provide 'transformative' holistic treatment and personal development holidays. It will feature up to 2,500 hotel rooms, 800 villas, and condominiums including yachting marinas, luxury camping, arts, culture, spas, wellness centers, exclusive shopping, boutiques, fine dining, and recreational activities.
Who Will Want To Visit Amaala?
Amaala's target market is the rich, yacht owning, luxury, high spending clientele seeking exclusive transformative and discerning holiday experiences. They are the top 2.5 million ultra-high net worth individuals or UHNWIs in luxury travel. 
Amaala seeks to achieve this with a bespoke 5-star lifestyle experience of luxury living that includes beachfront properties, contemporary arts, crafts workshops, cultural activities, health and wellness activities, and upmarket sports such as polo, horse riding, and camel racing. 
Visitors will include well-heeled and discerning singles, couples, and families from the Gulf and citizens of Asia, Europe, Brazil, Russia, India, the US, and Japan.
They will arrive in private and commercial jets at the new Red Sea airport or the exclusive Amaala airport currently being constructed, 
All this will be offered in the Red sea area of outstanding natural beauty. Click here to read more about Amaala on their corporate website.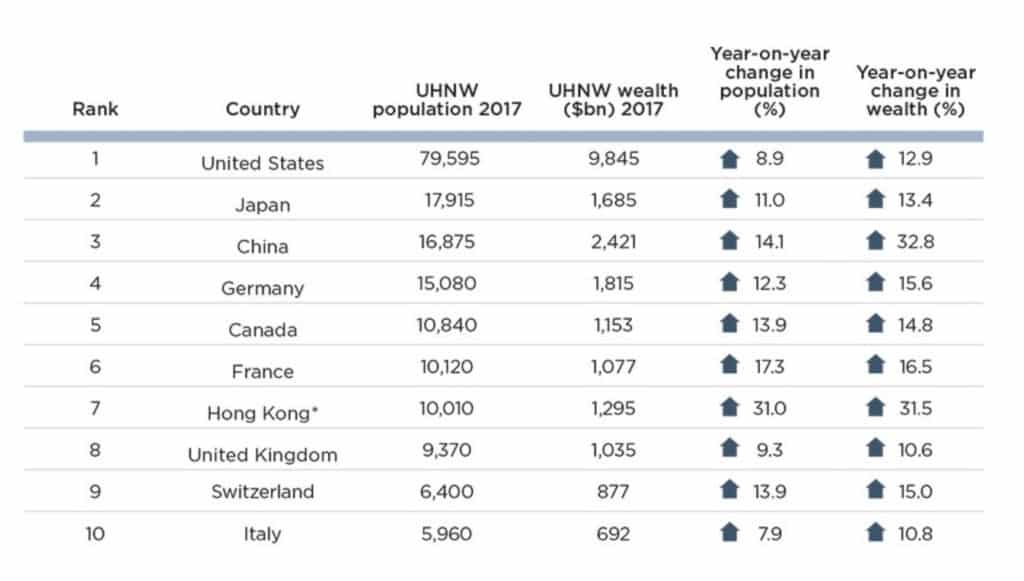 Who Is Building Amaala?
The giant Saudi government Public Investment Fund (PIF) is providing capital to start the project off and it launched Amaala in September 2020.
The project is one part of a wide portfolio of giga-projects that will provide high-end eco- friendly tourism in the kingdom and with it, greater economic diversification and high-value jobs for Saud nationals. 
As Amaala progresses contacts will be awarded to developers and investment opportunities will become available for private sector groups.
What Is The Amaala Build Time? 
After approval of the Master plan in December 2019, actual development on the ground is starting in early 2020 and the build (based on feasibility studies ) will be done in phases.
The whole project should be completed by 2028, some three years before the realization of the Vision 2030

. (Inshallah)  
Who Is The Public Investment Fund PIF?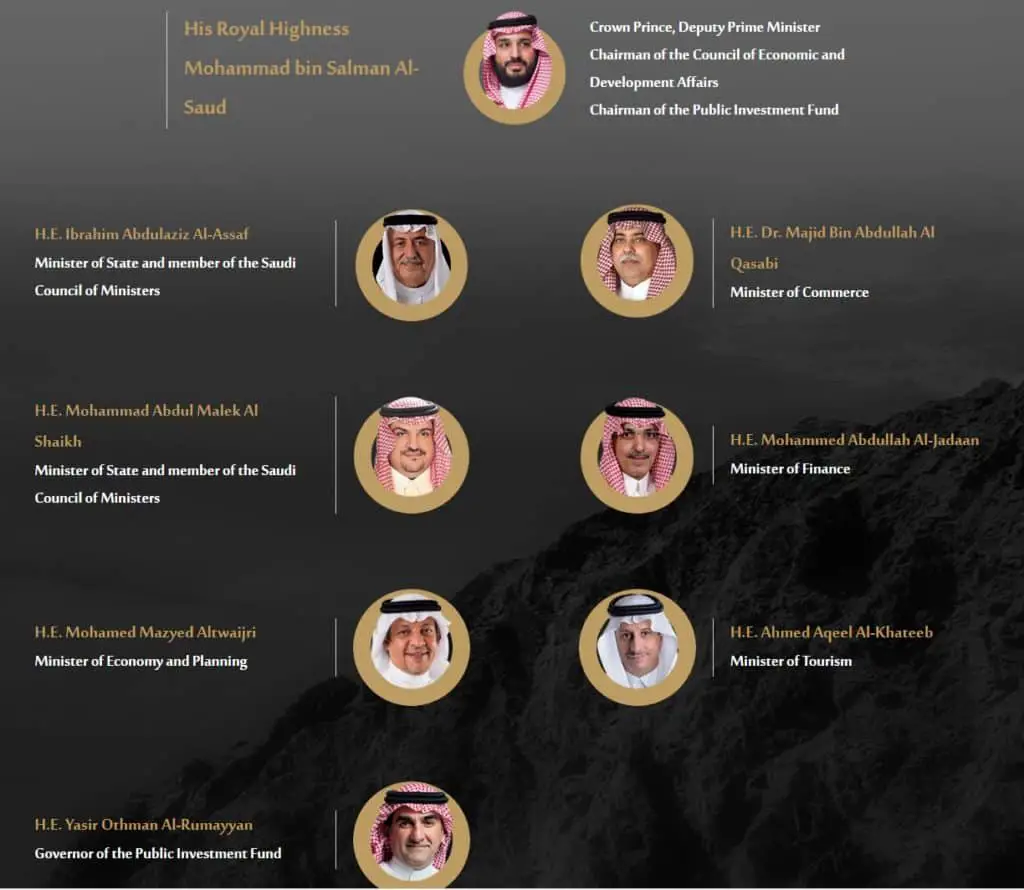 Launched in 2017, PIF is Saudi Arabia's sovereign wealth fund, state money aimed at forging new business sectors and realizing the economic transformation of the Kingdom of Saudi Arabia. 
Future wealth creation for Saudi Arabia is based on establishing local and international investment portfolios in conjunction with strategic international partners and investment managers.
The PIF strategies are in line with Vision 2030

goals which are to create huge financial returns and greater value for Saudi Arabia in the longer term. 
For 2020, PIF managed assets reached $400 billion. PIF's public funding will complement private development and their investment locally is in:
Fund's Saudi Holdings
Saudi Sectors Development
Saudi Real Estate & Infrastructure Development
Saudi Giga-Projects (including Amaala)
Amaala Appointments So Far 
After incorporation as a standalone company in September 2019, the names of the members of the Amaala's Advisory Board were announced. The board will meet two to four times a year as required.   
Company
Specialty
Project (s)
HKS Architects, Dallas Texas USA
International Designs
Master Planner for Triple Bay and Coastal Development
Denniston, Kuala Lumpur, Malaysia
Hospitality Design Consultants
Architect: Jean Michel Gathy
See his work
Master Planner for The Island
Fosters + Partners
Design Management and Environmental Engineering
Architectural Advisors for Entire Project
Prince Albert 11 Of Monaco Foundation
Oceanographic And Marine Life Research And Conservation
Coral Reef ManagementIconic Species ProtectionMarine Protected Areas (MPA)Enforcement & Anti Plastic PollutionBiodiversity
Tamimi Global
(TAFGA)
Catering
Operations
Temporary Facilities
Management & Industrial Service
The initial stage of the AMAALA 15,000 residents Construction Village.  
Also, the second and third stages of civil and infrastructure work for the village.

Victor Clavell
Chief Operating Officer
Managed openings of many properties in The USA, Europe, and Asia Pacific for The Ritz-Carlton Hotel Company, Bulgari, W, and EDITION hotels.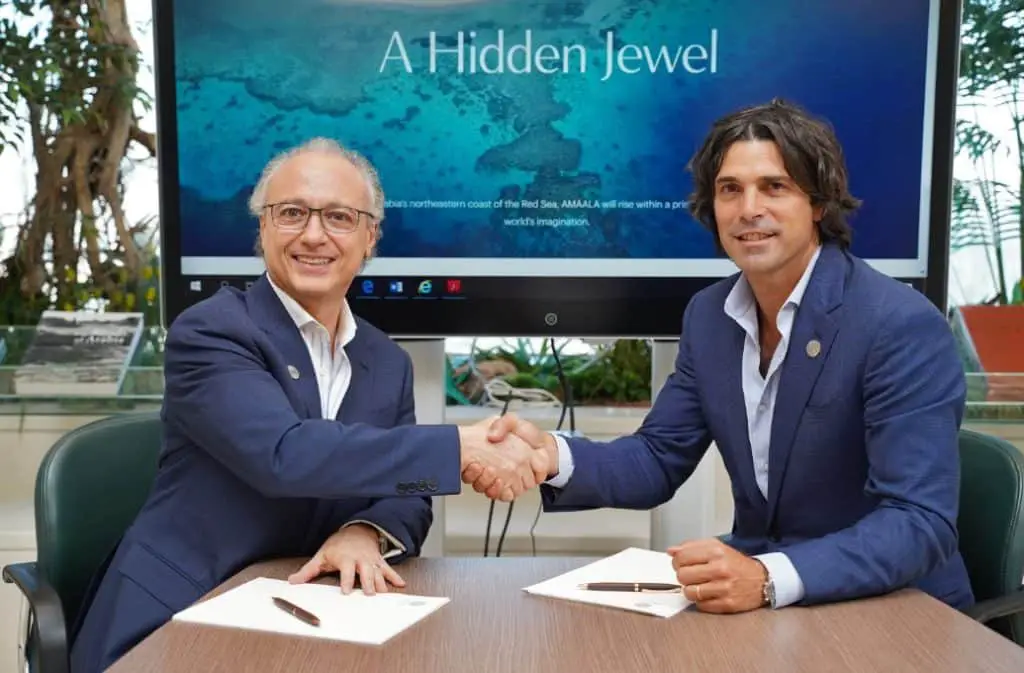 As the Amaala project progresses, more appointments will be made and will be posted here.
Amaala's Management and Leadership Advisory Board 
Amaala's Real Estate and Finance Expertise Board 
Amaala's Marine Ecology Advisor
| | | |
| --- | --- | --- |
| Emma Johnson | Dean and Professor of Marine Sciences UNSW Sydney | Dean of Science and Marine Ecology Expert  |
Amaala's Arts and Culture Advisors
Amaala's Sports and Wellness Advisors and Ambassadors
| | | |
| --- | --- | --- |
| Simon Brooks Ward | Major Events Organiser | Equestrian sports and State Commemorations for UK Royal Family |
| Ignacio Figueras | Argentine Polo Champion | Model and polo sport promoter |
| Susan Harmsworth | Founder of ESPA International Spas | Designer and developer of international spas and wellness clinics |
| Ingo Schweder | CEO of GOCO Hospitality and Horwath HTL Health and Wellness | Design plan and management of wellness developments for world-class hospitality and real estate brands. |
What Are Amaala's Goals?
After extensive market research into what high spending clientele value related to travel and tourism,  Amaala identified ten but chose five: 
1. Arts and Culture -Arts Colony, Exhibitions & Immersive Arts
2. Wellness & Sports -Retreats, Clinics & Gilf, Adventure, and Horseriding
3. Sun-Beaches, Relaxation & Well-being
4. Sea -Marinas, Diving, Snorkeling, Coral & Sea Life
5. Lifestyle -Marine Conservation, Cruising, Shopping & Cuisine
Based on the above five values, Amaala wants to provide health and wellness experiences for the ultra-rich.
Together with the luxury accommodation on offer, there will be specialty health treatments in spas, relaxation clinics, massage, meditation, yoga combined with exclusive modern arts, cultural activities, fashion, sports, and red sea excursions. 
There will also be more than 200 high-end retail art and culture galleries, crafts and artisan workshops, bespoke retail shops together with a huge variety of international and Arab restaurants.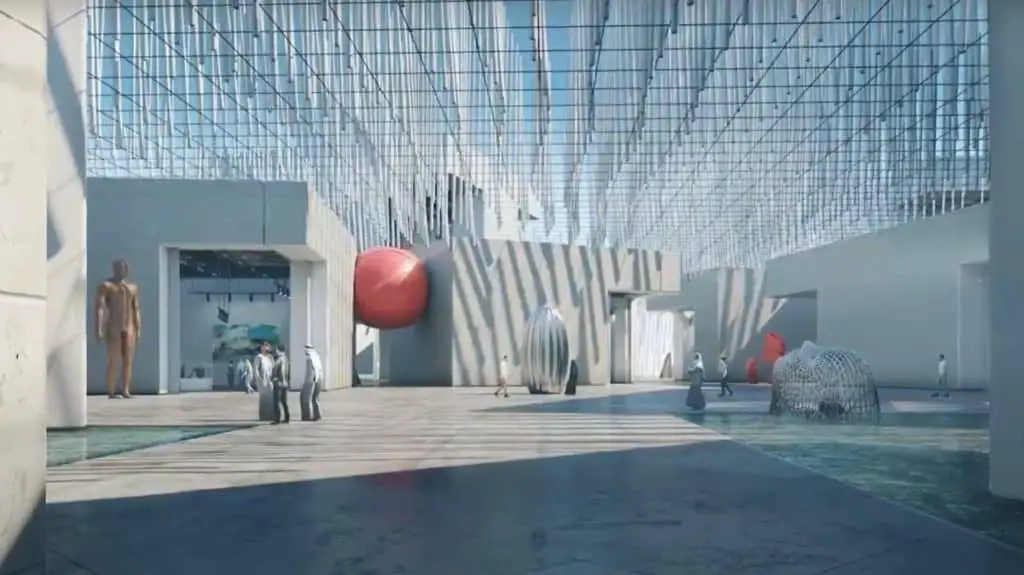 Each year, they hope to provide training for more than 400 Saudis, create 22, 400 new jobs, and attract 320,000 visitors annually.   
The World Travel and Tourism Council estimates that the income of travel and tourism-related GDP will result in $70.0 billion or SR 263.1 billion for the Saudi economy. Amaala will be a small part of that effort. 
 "The Island development will be an immersive and interactive art-inspired jewel. Its lifestyle components, its landscaping, the museums, and art installations together with the art community will transform this island into the "Diamond of the Red Sea".

Jean-Michel Gathy Principal Designer
What Are The Three Amaala Projects?
Triple Bay
Coastal Development
The Island
With ecotourism, conservation, and sustainability at its foundation, each of Amaala's development will offer different types of holiday experiences along 20 km of coastline. 
Triple Bay (3 Coves)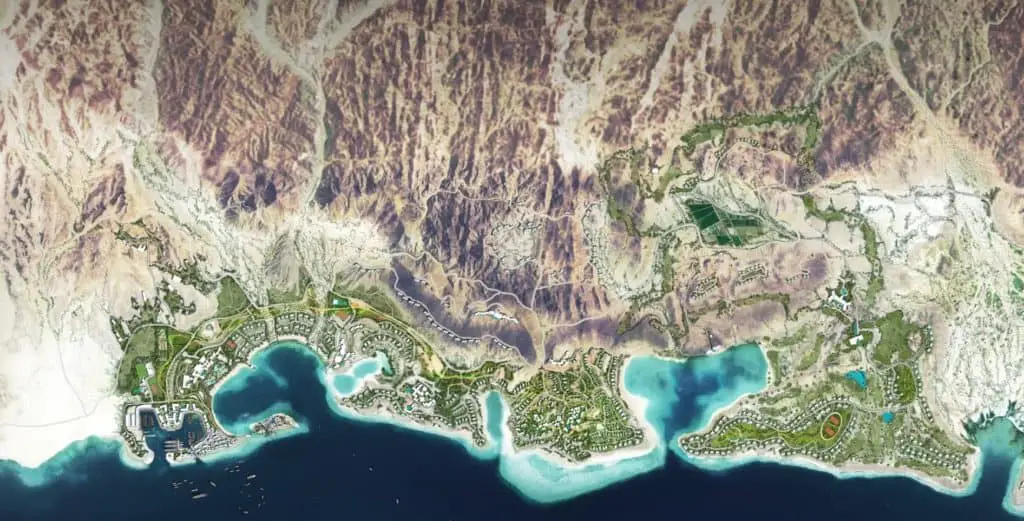 The focus of Triple Bay will be to provide luxury beachfront villas, apartments, and hotels together with a program of medical treatment, spas and wellness centers, integrated sports, and an entertainment community. 
World-Class Luxury Resort
16 Hotels-1325 Rooms
435 Villas and Condominiums
Marinas 
Marine Life Institute
Stunning Mountain Backdrops
Recreational Activities
Performance Academy
Sports Club Facilities
Horsemanship
Polo
Camel Racing
Falconry
Golf
Tennis
Yachting
Organic Farm
Coastal Development (Abu Salama)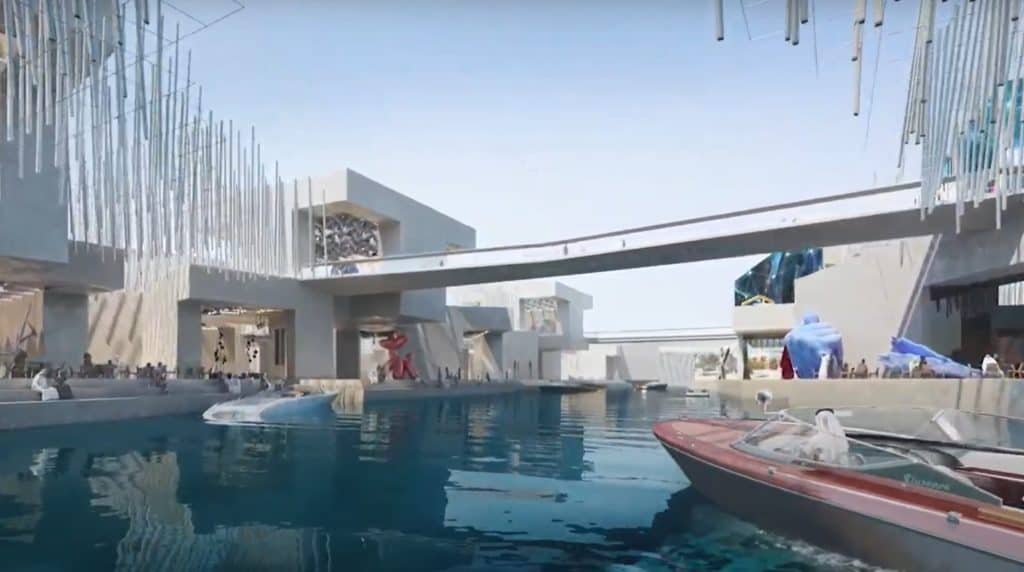 The focus of Coastal Development (6 km2) will be a modern art community with exhibitions, artist workshops, and spaces to hold international artistic and cultural events. 
220 Resort Villas & c#Condominiums
7 Hotels- 800 Rooms
Contemporary Arts Museum and Cultural Events 
Cultural Events 
A Confluence For Influencers and Connoisseurs 
The Island Enclave (Naaman)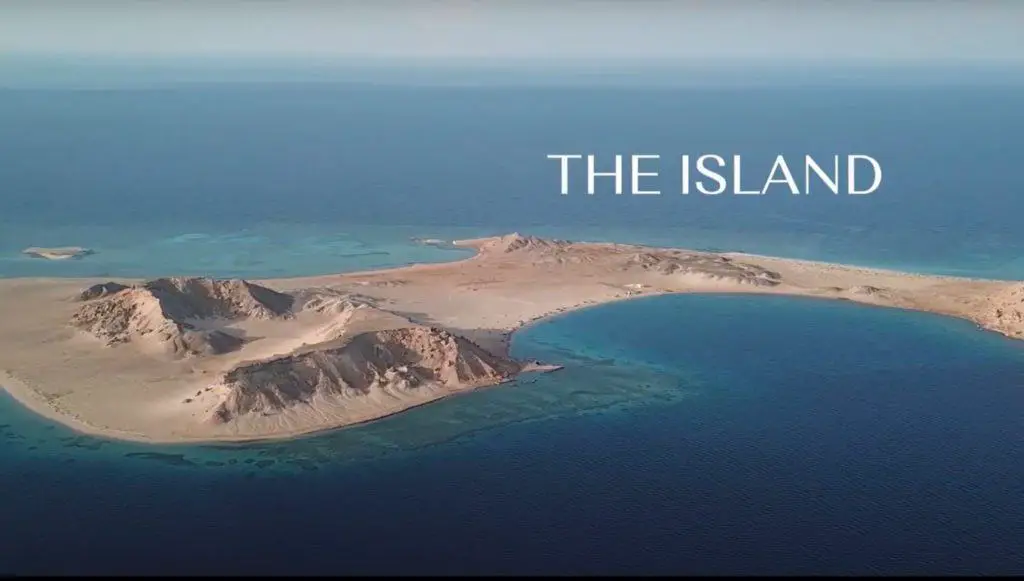 The focus of The Island (6 km2) will be a jet-set artistic community set amid sculpted gardens immersed in a tropical Arabic botanical garden environment.    
200 Private Resort Villas & Condominiums
7 Hotels – 400 rooms
Arabic Botanical Gardens
Underwater Aquarium and Museum
Landscapes
Marinas
Artists Village and Studios
Works of Arts and Sculpture
Ateliers or Craft Shops
Hosting an Active Arts Community
Exhibition and Theater 
Uber Luxury Beach Front Resorts
Diving
Snorkeling
Windsurfing
What Are Amaala's Goals For Eco-Tourism?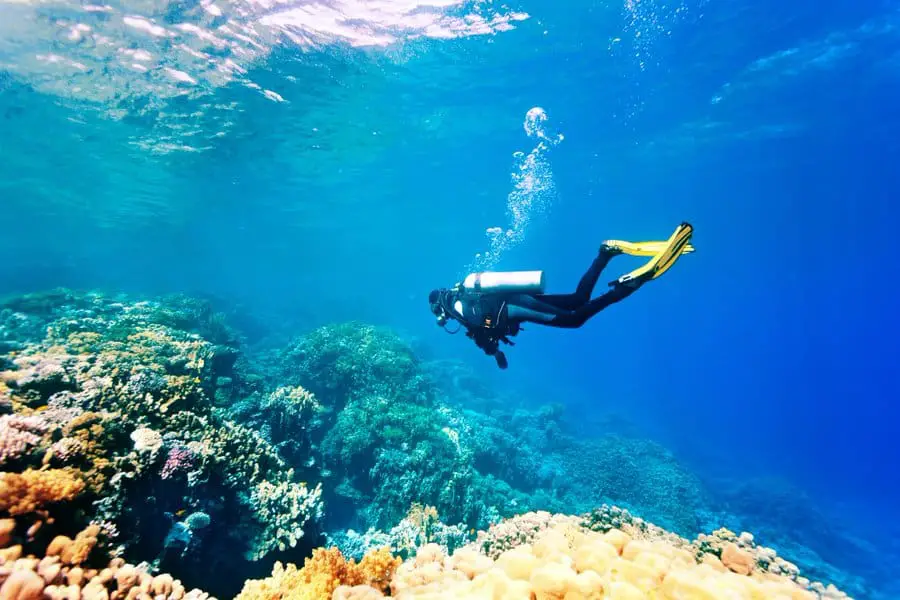 The aim throughout the project is to have zero impact on the environment and to keep sustainability and carbon-neutral activities at the heart of every step of the way during development. 
Development phases will be founded on high standards of sustainability and measured against a set of 15 or more criteria aimed at protecting the sea and the environment.
Amaala's Renewable Energy
Amaala will be powered using renewable energy sources such as solar power. Organic waste and water will be recycled and used in agriculture and cultivation of crops. Freshwater will be produced from seawater in a new desalination plant.  
Al the materials used at the reports will at the resorts are to be biodegradable and disposable plastic bottles will be banned. 
How Will Amaala Help Local Communities?
Amaala will contribute to the economic diversification of Saudi Arabia, provide investment opportunities that will translate into many new jobs, and support for the economic growth of the nation. 
Each year, Amaala will train 400 Saudi nationals and 20,000 to 50,000 new jobs, directly and indirectly, will result. (Enshallah) 
As a whole, the Amaala project will contribute as much as 0.64% to Saudi GDP by 2030. 
How Will Amaala Compare To The Competition Worldwide? 
Amaala will offer potentially transformative holiday experiences and create possibilities to journey towards greater self-discovery in addition to the best that other international resorts and vacation destinations are able to provide. 
This means Amaala will reinvent the luxury resort experience by offering personalized holiday programs and entirely original facilities and amenities. 
What Will Amaala Be Like In The Future? 
As yet, Amaala is still a dream and exists only in a blueprint. As of March 2020, the spread of COVID 19 virus placed Saudi Arabia in almost complete lockdown and major building projects were severely delayed. 
The hopes were to start the groundwork beginning in 2020 and to finish in 2028. That all seems rather optimistic now. 
The subsequent phases will take 8 years and in 2028 or thereabouts Amaala is set to become the premier luxury holiday destination- the French Riviera of the Middle East. 
What Is The Location Of Amaala?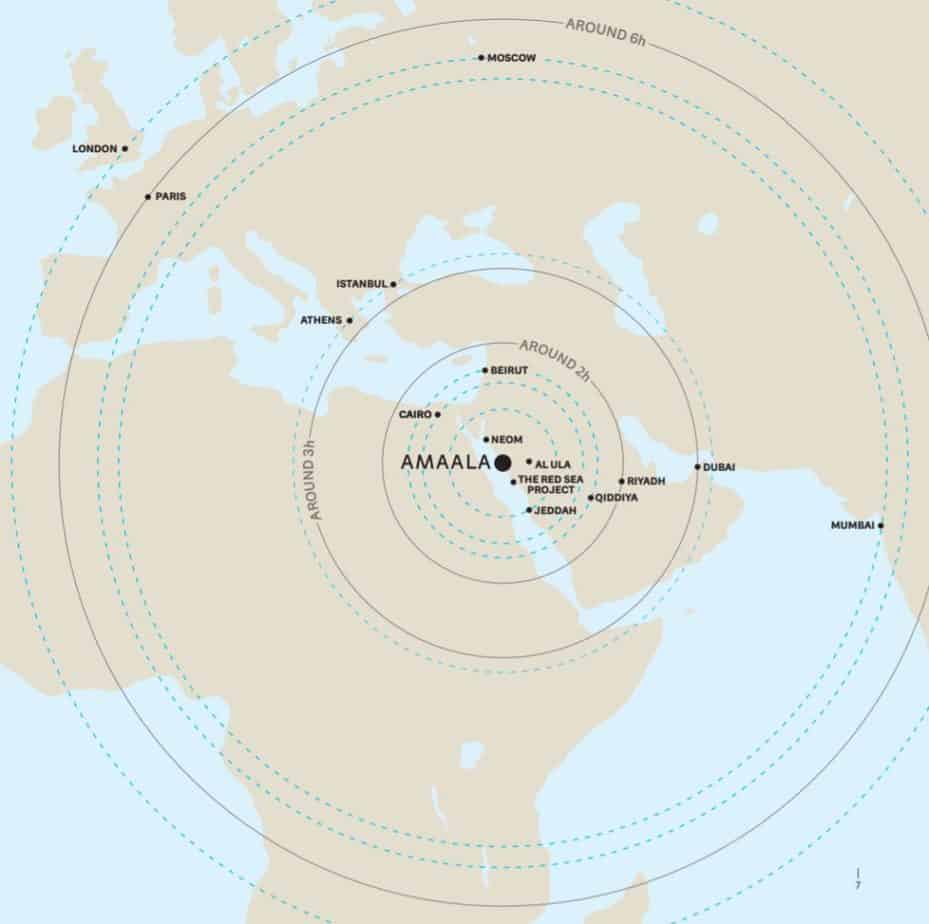 Amaala resorts are to be located between the Red Sea coastal towns of Al Wajh (South) and Duba (North). Both towns are 150 km apart. It is to occupy an area of more than 3,800 sq. km. a
The resorts are located between the two towns. Triple Bay resort is 55km north of Al Wajh and both The Island and The Coastal Development resorts are 100 km south of Duba.
There is a distance of 80 km between Triple Bay and The Island and The Coastal Development. 
Related Questions
How Do You Get To Amaala Resorts?
Currently, the Amaala developments are only accessible by road (National Route 55) some 700-800 km north of the city of Jeddah. 
Amaala resorts will be serviced by two airports. The first will be the new Red Sea Airport after its completion near Umluj. The distance to the resorts from the new airport is 150 km and 220 km respectively. 
The second will be the exclusive Amaala resorts airport to be built on location next to the Triple Bay resort. 
Can I Find Work At Amaala? 
Amaala has recruitment drives for jobs which from time to time are posted to their Twitter and Social Media pages. They are mostly for Saudis only. However, you can check by clicking to see the latest Amaala news on AMAALA

.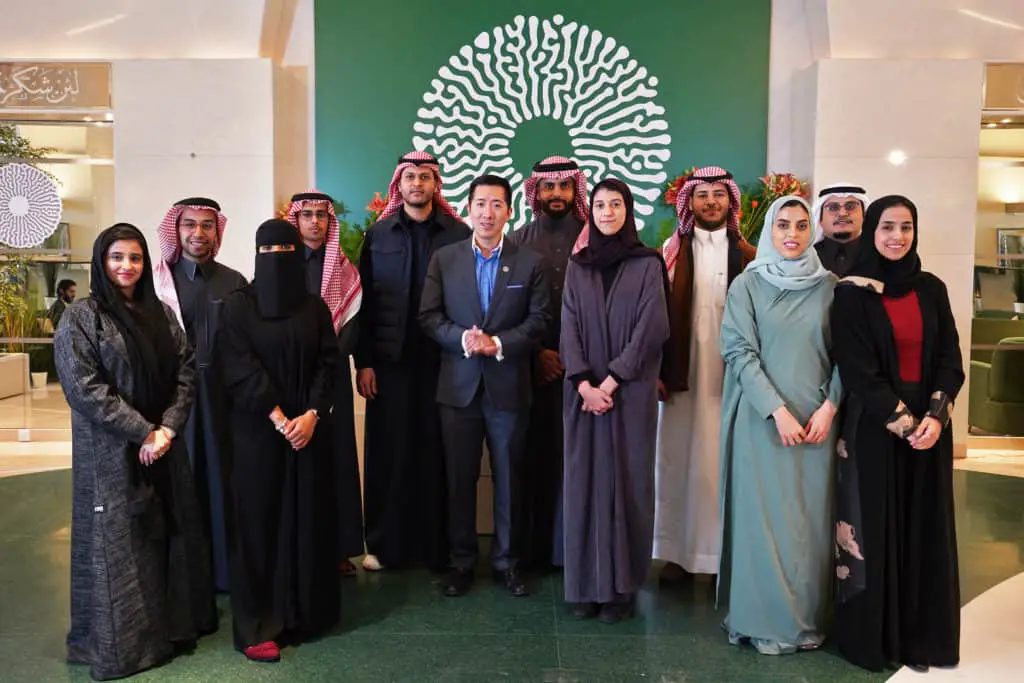 Projects on the Red Sea will be better than the Maldives and compete with the top 20 global destinations.

Farah Zafar, Chief Legal Officer (PIF) 
Amaala Developments And Updates
Amaala Reaffirms Health And Safety For Workers At Thier Sites
29th April 2021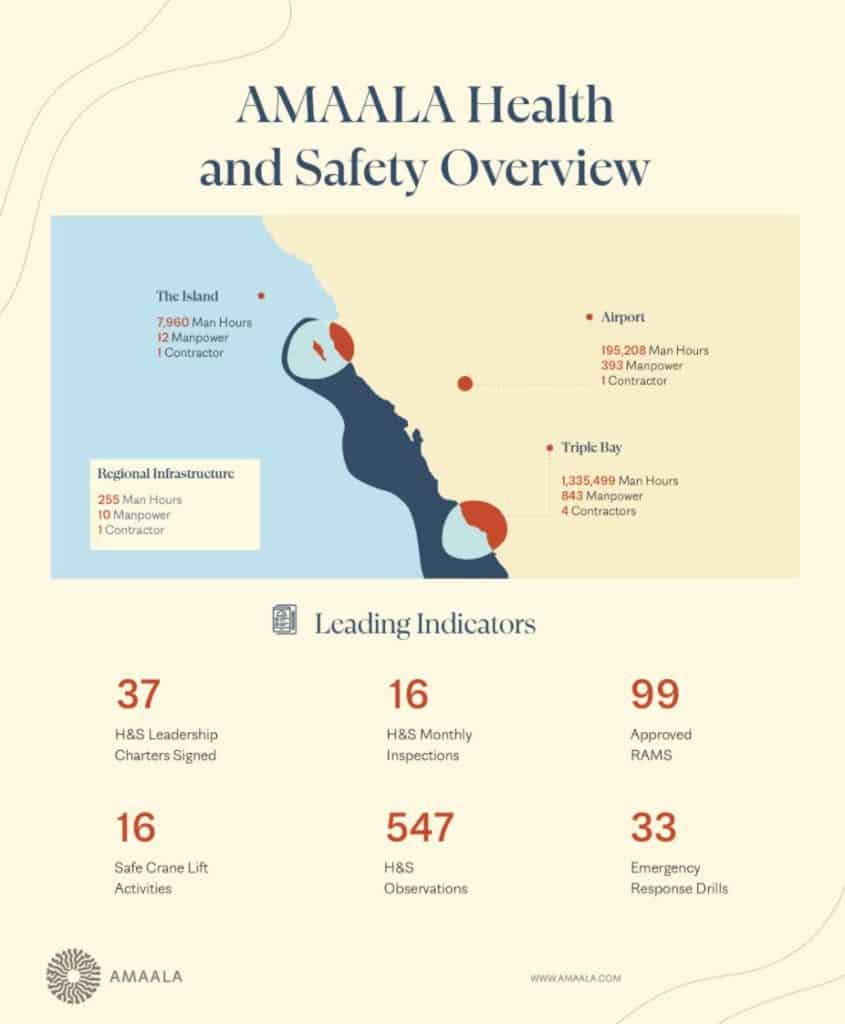 Amaala- an Artistic Vision
13th April 2021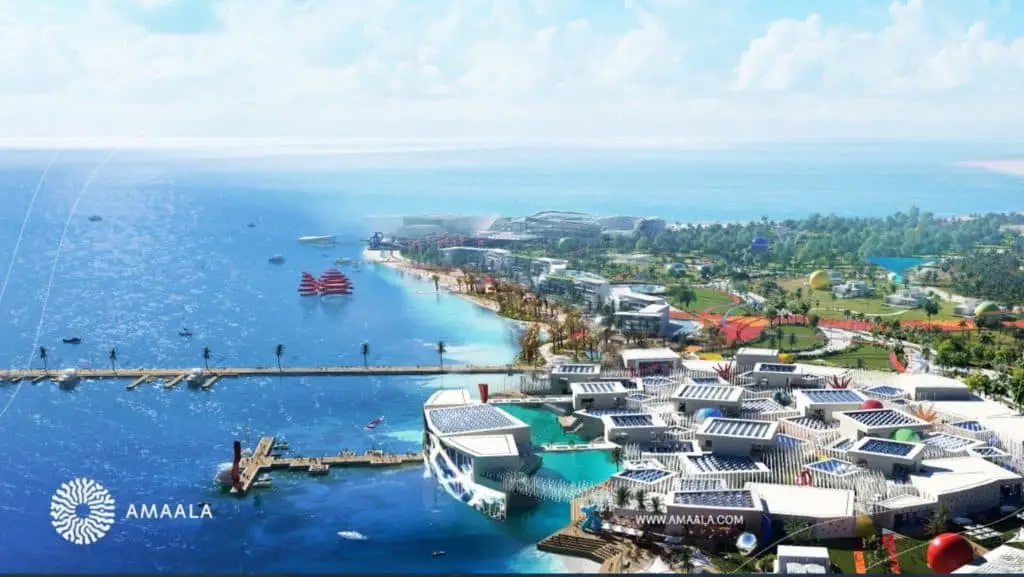 Amaala Replants Ancient Trees and Woodlands Blown Down In Recent Storms And Flooding
25th March 2021
The video narrator (in English below) describes the project very well.
Amaala On The Verge Of Issuing 100 Projects Worth Close To 5 SAR Billion
22nd March 2021
Amaala CEO makes the announcement below.
الرئيس التنفيذي لشركة #أمالا:

الفترة القادمة ستشهد منح 100 عقد للإنشاءات بقيمة تقارب 5 مليارات ريال في مشروع أمالا pic.twitter.com/oadCa5jJqd

— مشاريع السعودية (@SaudiProject) March 22, 2021
Amaala Signs Memorandum Of Understanding (MoU) With the Saudi Contractors Authority (SCA)
22nd March 2021
SCA

is a government subsidiary of the Ministry of Municipal and Rural Affairs. Together they will set up staff training courses, collaborate and share studies and statistics relating to the local construction sector.
Read Amaala's press release

to know more.
Saudi Future Projects Forum-Digital Edition-Meet Amaala's David Watkins, A Keynote Speaker 22-24 March 2021 (9am-3pm)
11th March 2021
Learn about Future Projects and Amaala's role. Intended for suppliers, banks, and others Saudi Contractors Authority

TRSDC and Amaala John Pagano Reaches The Forbes List of Top CEOs In The Middle East For 2021
7th March 2021
See Forbes Listings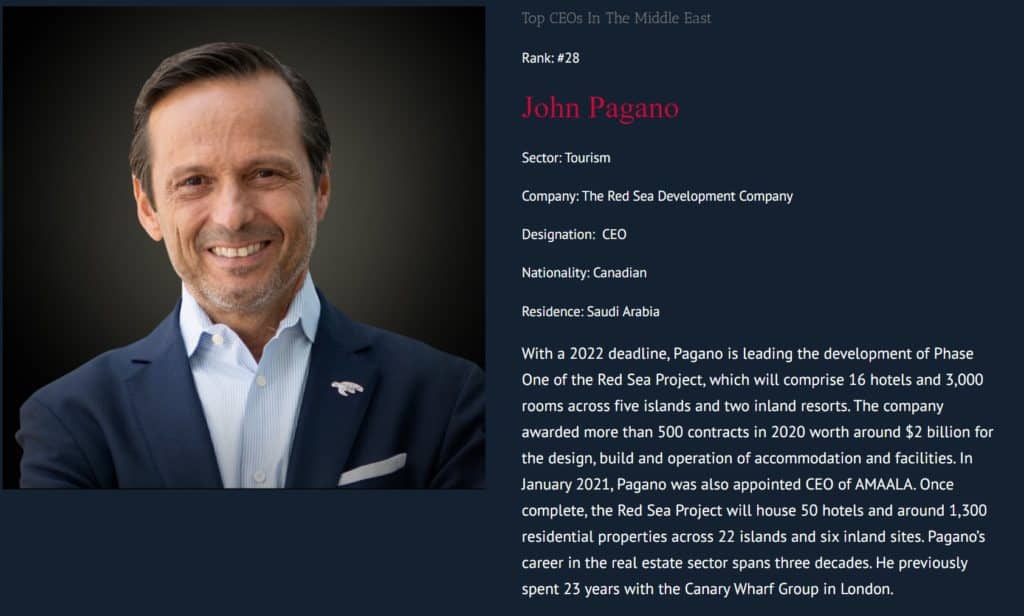 Amaala Signs A Memorandum Of Understanding With Saudi Federation for Cybersecurity, Programming and Drones (SAFCSP)
28th Feb 2021
TRSDC wants to have unmanned aerial vehicles, AR, and programming capabilities and has co-opted the SAFCSP

To Help Them.
Amaala Awards 100 Contracts Worth SAR 4.1 billion
15 February 2021
Details are scant. However, the CEO of Red Sea Development Company & Amaala, John Pagano announces what has been spent so far

at Amaala.
See what they are doing at the TRSDC & Amaala in the video below!
Project Amaala -Marine Life Institute
15th February 2021
The Marine Institute will be for research and education. The focus will the ecosystem and finding ways to preserve it and make it even better.
The modern center will be fully equipped and a major hub of coastal investigation.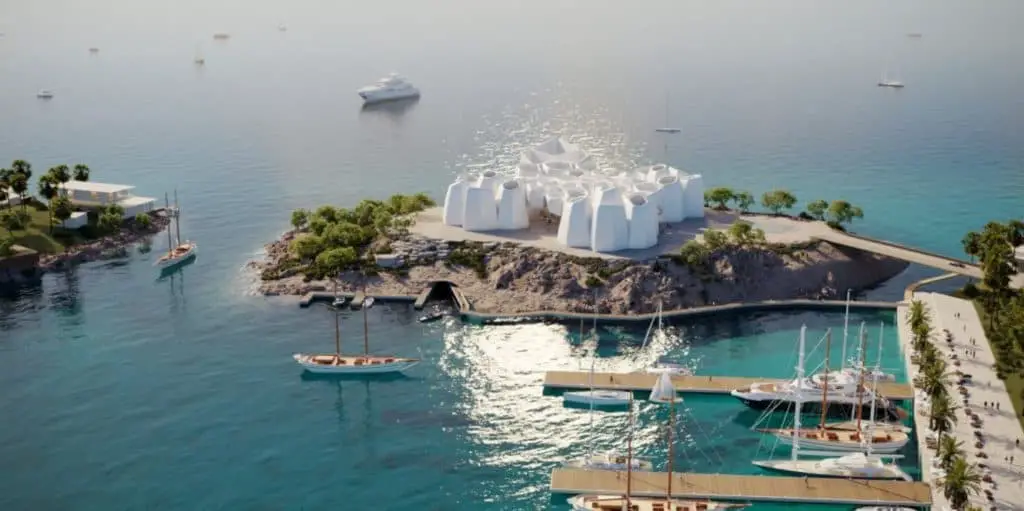 Argentine Polo Star Nacho Figueras Describes How Wonderful Polo Will Be At Amaala
28th January 2021
Neil Jacobs CEO Of Six Senses Hotels Briefly Explains Amaala's Great Potential
23rd January 2021
John Pagano (TRSDC CEO) Becomes CEO Of Amaala Project Replacing Nicolas Naples.
16th Jan 2021
John Pagano will now wear two hats; one as head of TRSDC and the other as the head of Amaala project.
Read more about the move at Arabian Business Industries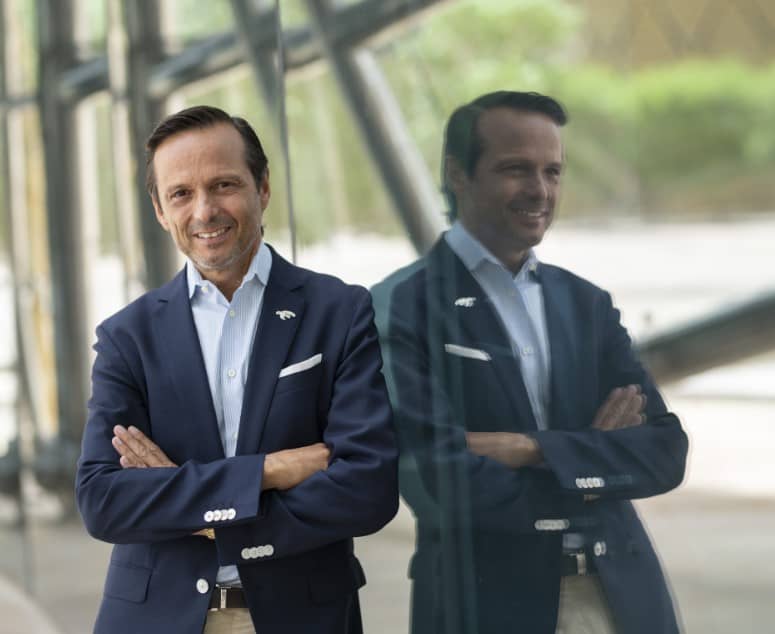 Leading Hotel Business Developer Arbash Azarbarzin Joins The Amaala Advisory Board.
26th Dec 2020
Successful US-based hotel brand developer Arbash Azabarzin

becomes the latest advisor to Amaala.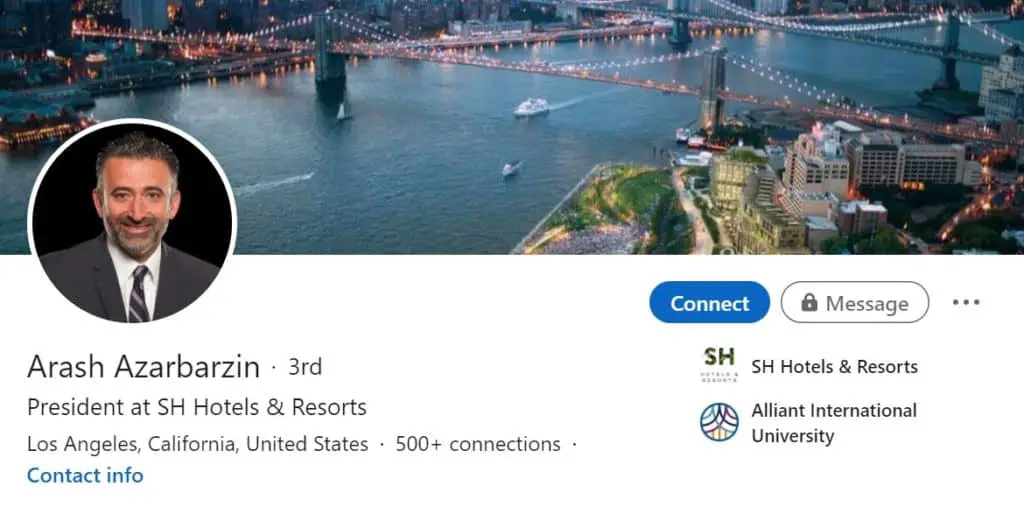 Amaal Partners With The Ministry Of Communication And IT To Maximize The Efficient Use Of Technology And Resources.
14th Dec 2020
Nicolas Naples Signed The Accord With Dr. Munir Eldesouki.
Amaala Signs MoU With The Ministry of Municipal and Rural Affairs
3rd Dec 2020
With the ministry, Amaala sets up a support office to issue project licenses

.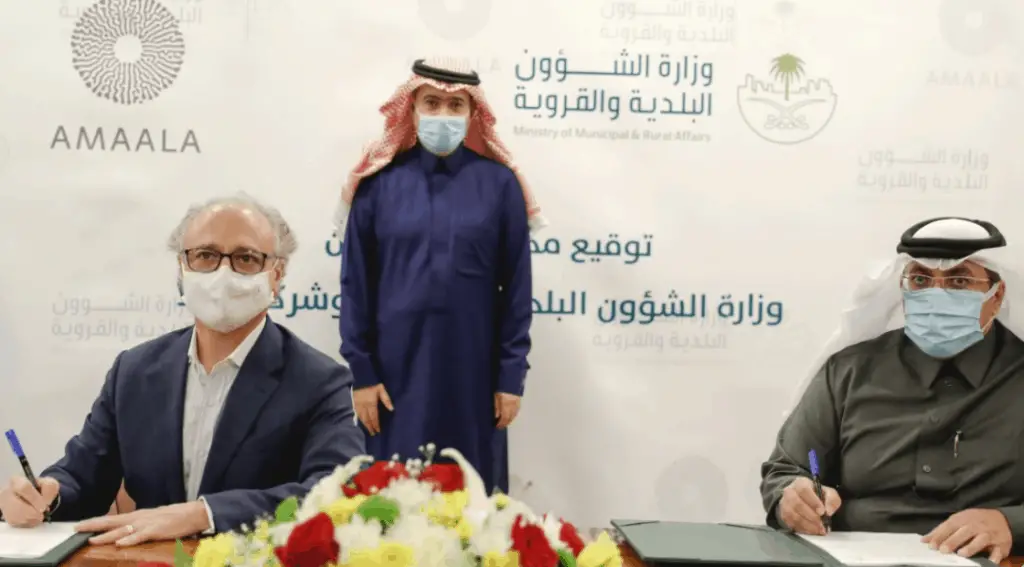 Amaala Vows To Protect The Red Sea Coral 7,000-year-Old Coral Reefs
3rd Dec 2020
The preservation of the ocean's ecosystems are Amaala's highest priority. Click to see a nice video of the existing Red Sea coral reefs.

Amaala Signs An MoU With The Saudi Council of Engineers
Nov 5th 20202
The MoU is an agreement

to train and employ Saudi engineers and to support local engineering companies.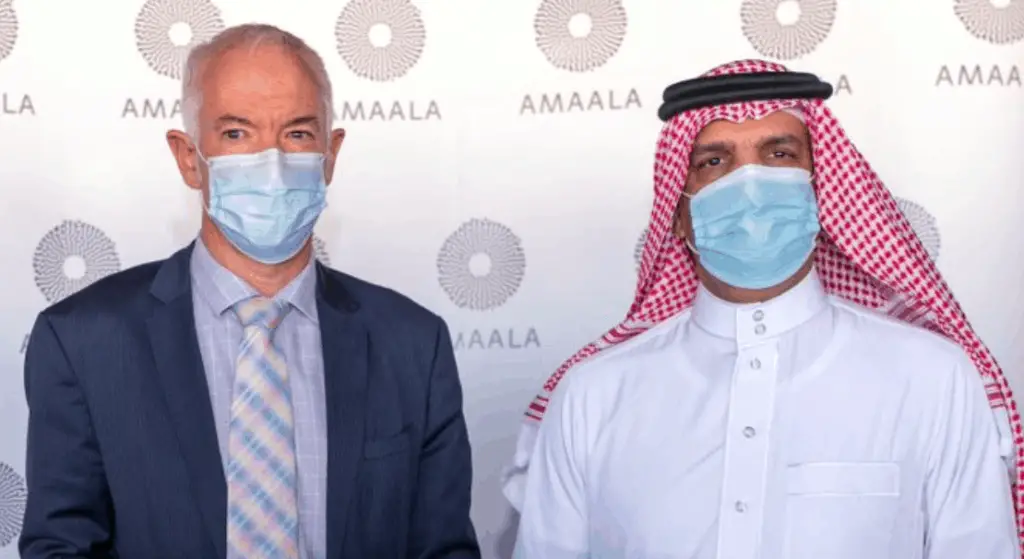 The Amaala Explorer Returns To Saudi Arabia.
29th Oct 2020
Amaala Signs An MoU With Ministry Of Environment, Water And Agriculture
Oct 22nd 2020
The agreement

is to facilitate the granting of environmental permits and approvals.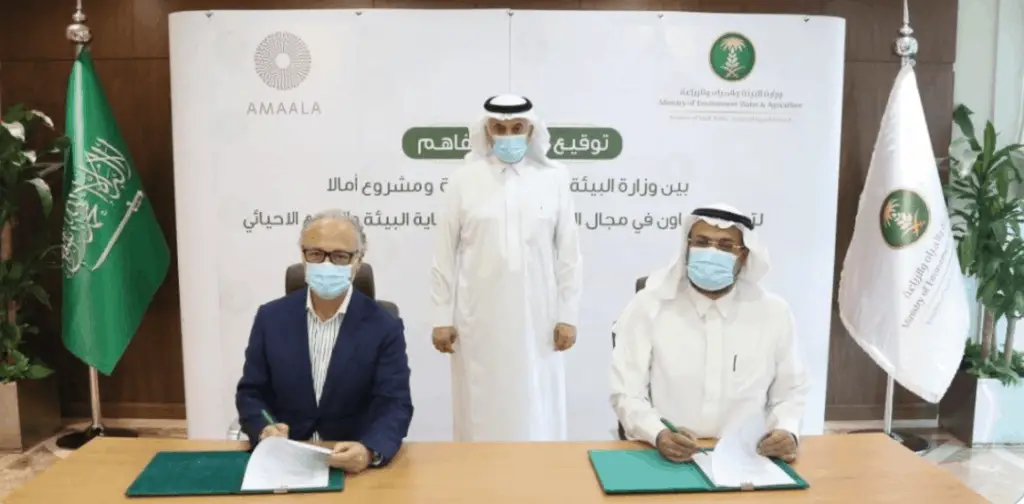 Victor Clavell is Appointed As Chief Operating Officer
12th October 2020
Victor Clavell

is appointed to head and lead operations division for all three Amaala projects and its communities that include Triple Bay, The Coastal Development, & The Island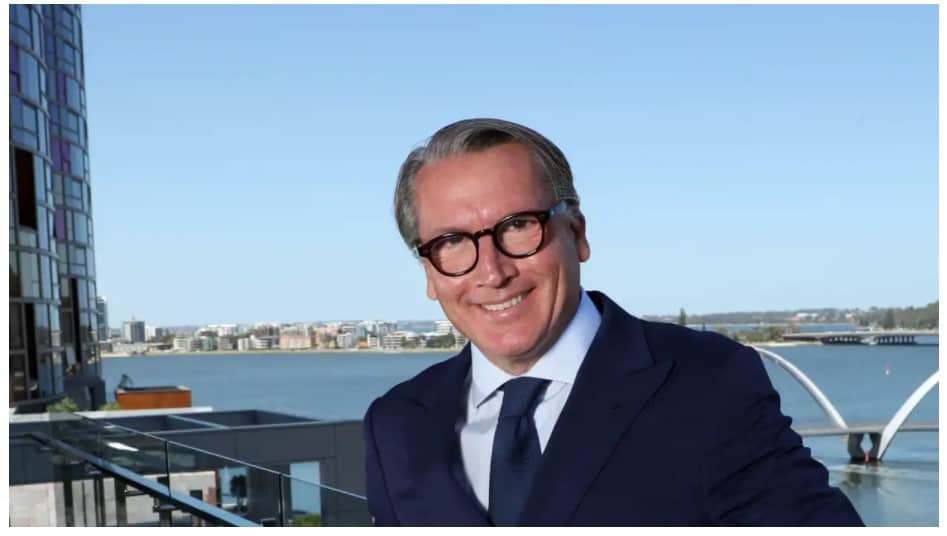 Tamimi Global (TAGA) Awarded Contract To Build Triple Bay Construction Village
8th October 2020
Project Amaala recently contracted Tamimi Global (TAGA) to build the Amaala construction village to house 15,552 staff members.
The building will be done in three stages to accommodate 5,184 residents per stage and include state of the art civil and infrastructural programs for the village.
The goal is an operational zero carbon footprint and to build sustainable accommodation for the various categories of the workforce.
To read more about the award click through to Construction Business News

.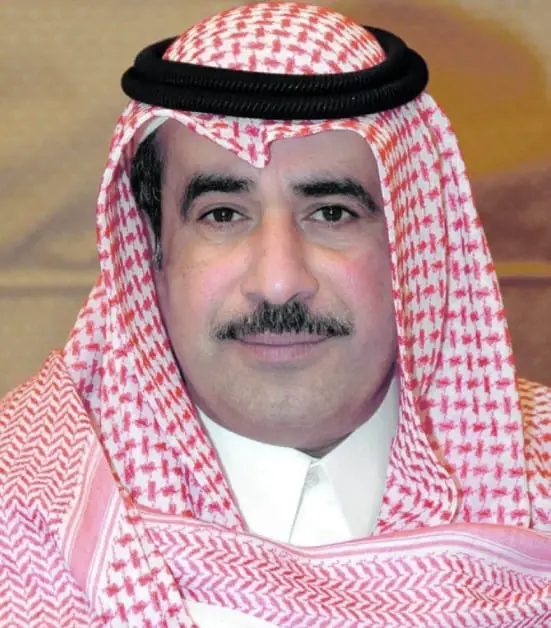 Fosters and Partners Amaala Airport Design Selected Entitled The Mirage
24th June 2020
Project Amaala's Advisory Board has chosen a haunting desert-inspired design for the new Amaala airport that will service more than 1,000,000 passengers after completion.
Click on the Amaala project video below to get the location of the new airport.