Several readers messaged me to ask how I manage to have so many picnics at the weekends. I love being outdoors with my family, especially with my fun-loving kids. People want to know how I organize and plan my outings so well.
Frankly, my mother taught me everything. She is the expert. I learned fantastic organization skills and how to prepare and plan for hassle-free picnics.
I learned step-by-step organization that includes choosing the right location, the best foods, the right equipment, etc., and many other tips. 
By Author Maryam Hussein

©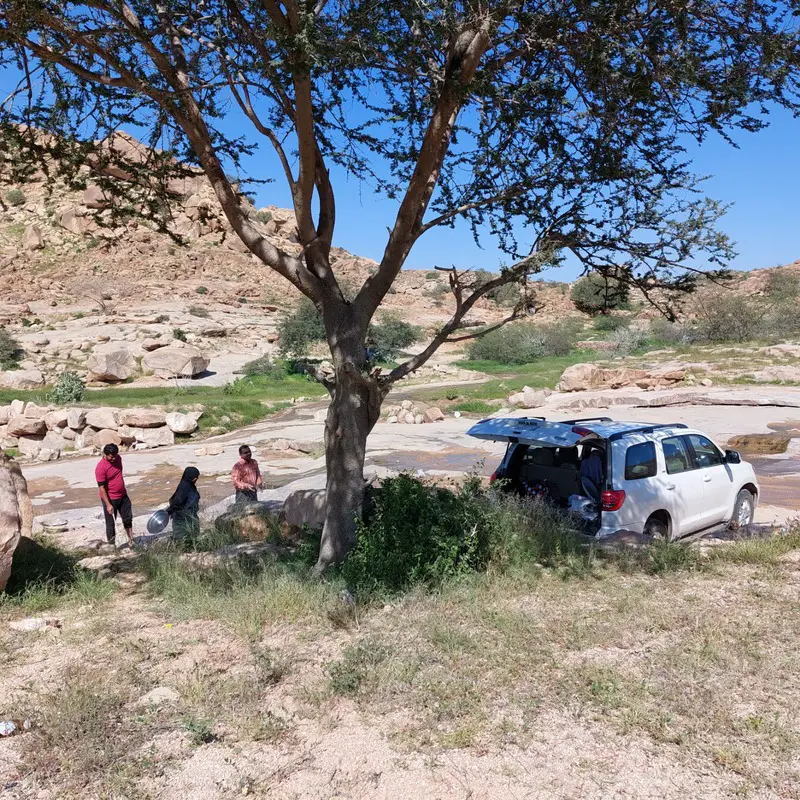 So, How Do You Plan The Perfect Outdoor Picnic in Saudi Arabia?
The perfect picnic should be in a park, on a beach, or in a natural setting with temperatures between 19 and 25 degrees C. Ideally, take sandwiches or cooked pot food, plastic mats, outdoor rugs, gas stoves, utensils, disposable cutlery, and bin bags. Also, include fun kids' games and activities.
However, to do picnics well, you should consider several important things first. 
In this article, I share the steps in full. They are how to choose the ideal weather, popular picnic spots, the ideal foods and equipment, my advice, and all my preparation secrets. 
If you take all the steps into consideration, I guarantee that your next picnic will be a total hit, and in no time you will easily be planning picnics every weekend just like me! 
Table of Contents
(Click link to jump to section and arrow to return)
1. The Best Picnic Seasons in Saudi Arabia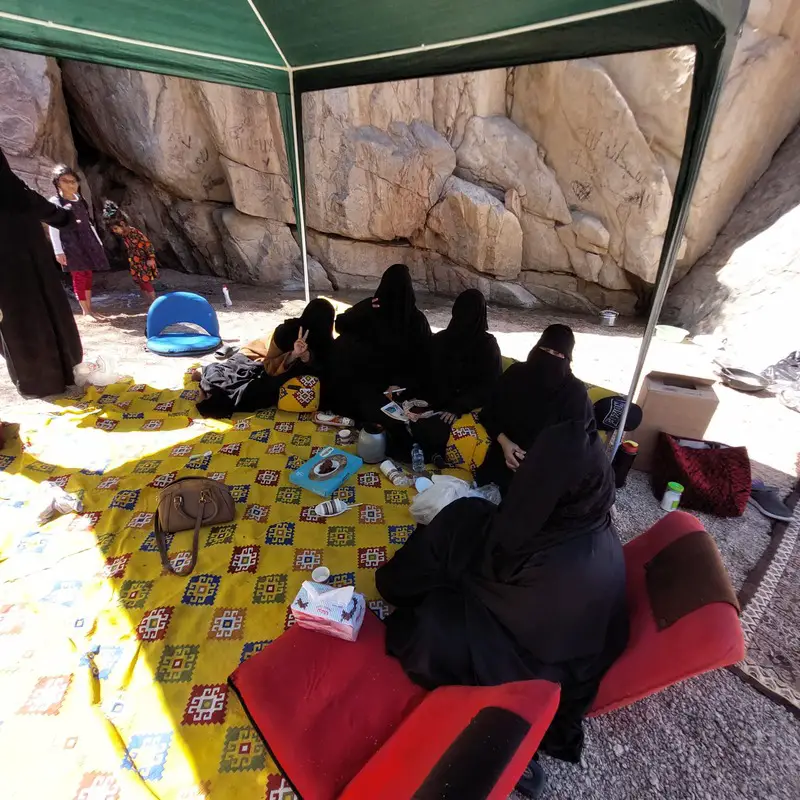 In the kingdom, choosing good weather for picnics is a matter of common sense. It can make or break your picnic experience.  
The temperatures in Saudi Arabia are usually too high in the summer. However, during the spring and autumn months, they are perfect.
The temperatures in these two seasons are generally cool, with a warm sun, but sometimes it is stormy and wet, too.  
Here, the spring months are late February, March, April, and May. The autumn months are October, November, and early December. 
Seasons, Temperatures, & Measures For Having Picnics
Season
Months
Temperature 0C
Necessary Measures
Recommended
Spring 
March 
April
May
34 high – 15 low
Warm Clothing Partial Shade 
Highly
Summer
June
July
August 
40 high – 27 low  
Full Shade And Cooling 
No
Fall
September October November 
30 high – 23 low
Caps and Lightweight ClothingPartial Shade
Highly
Winter
December January 
February
29 high – 10 low
Blankets and Warm Clothing No Shade
Maybe
2. What Is the Ideal Picnic Weather?
In Saudi Arabia, plan picnics on days with temperatures between 19 and 25 degrees Celsius, no or little wind, and warm sunshine.
The human body feels comfortable in this temperature range, does not sweat much, allowing us to be active outside. 
Also, in calm, low wind conditions, cooking food and sitting on the ground in a natural environment are easier and more enjoyable. 
During the day, winds pick up and can be very strong in the spring and autumn. However, in most Saudi regions, they calm down and soon dissipate after 4 p.m.
3. What Are The Best Picnic Locations?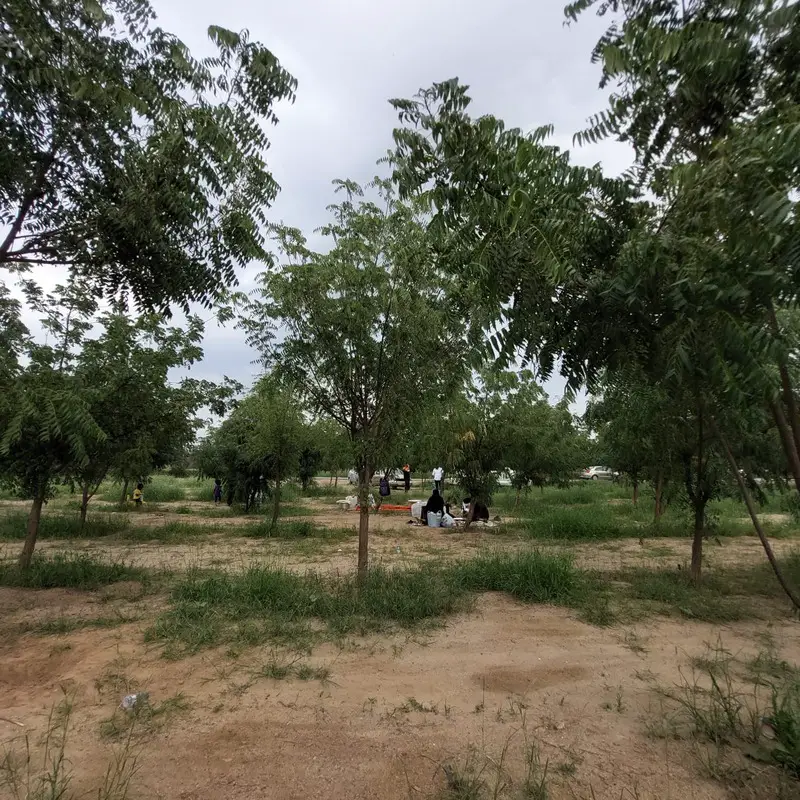 People in Saudi Arabia love to have picnics in a park, on a beach, in the desert, or in any other kind of natural setting. 
Saudis especially love the cooler spring, autumn, and winter months for spending time in large desert camps with families and friends.
They have huge tents with excellent facilities and welcome visitors at any time. However, city dwellers prefer to picnic in parks and other natural settings. 
Every Saudi town and city has unique natural and green spaces for families and friends to enjoy, such as public parks and beaches. 
Most have car parks, mosques, restaurants, food trucks, cafés, toilets, running water, showers, kids' playgrounds, and scenic views. 
Sometimes, they offer free internet and outdoor chairs and tables to rent for about SR200- SR 300 for the day or evening. 
Click here to read about some of my three favorite locations for having picnics with my family in Jeddah 
4. What Are Perfect Picnic Foods?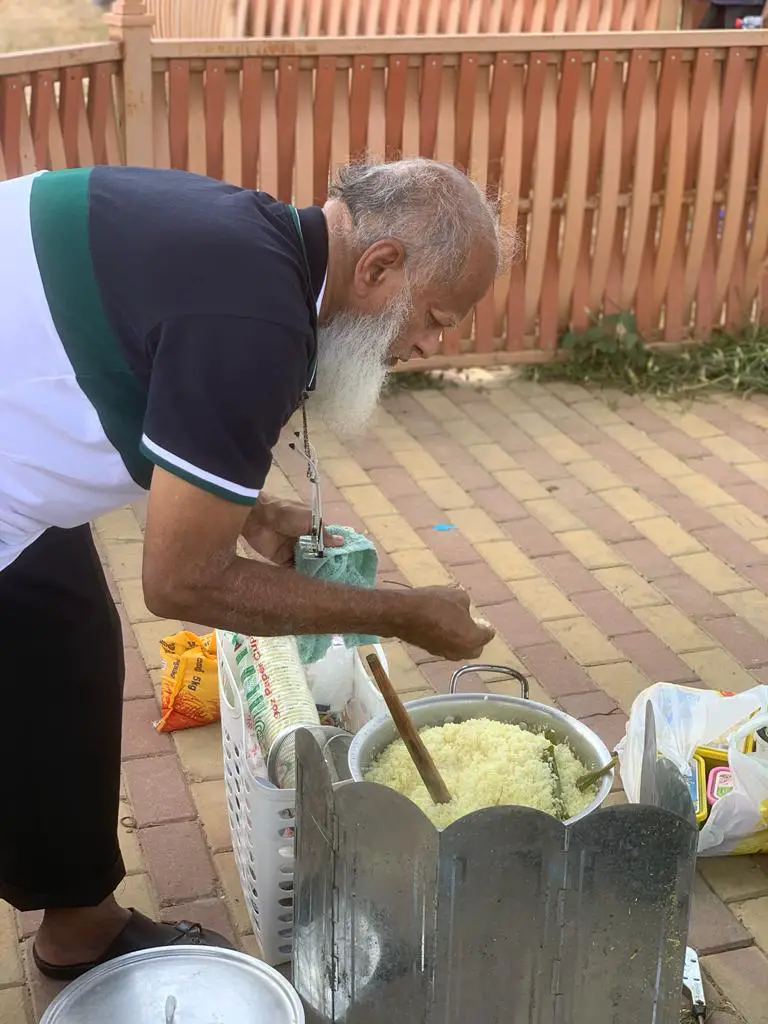 Ideal picnic foods are homemade sandwiches that include tuna fish, luncheon meat, hard cheese, chicken strips, and sweet spreads. 
Kids also love packets of crisps, cream-filled biscuits, small cartons of juice, and gummies.
However, adults prefer cooked foods like chicken and rice, burgers, Shawarmas, and hot sandwiches; cold water, soda, and tea and coffee from a flask.
To begin, calculate the number of people attending the picnic and the hours you intend to stay. This will help you decide the type and quantity of food to bring on a picnic. 
You will also need to be mindful of food safety when packing food for a picnic.
Ordering Picnic Foods From Restaurants
Most likely, there are times when you feel like taking a break from all the cooking. 
You might prefer to buy food from a store instead of preparing your own food for a picnic.
In that case, make sure to buy the food close to where you're having your picnic to ensure that it's warm and fresh.
Additionally, you can order food online and have it delivered to the site of your picnic, and without any fuss or hassle, your meal will be delivered to you hot and fresh.
However, not all restaurants provide delivery service to every point in the city. 
If you plan to order food online before your picnic, make sure they can deliver to the place you plan to have a picnic. 
And, of course, eating out at restaurants is more expensive than cooking at home.
Making Picnic Food At Home
In my opinion, making your own food and preparing your picnic at home is better. With home-cooked food, you can ensure its quality and flavour.
If the weather is warm or hot, and you plan to be outdoors for more than two hours, make sure to keep raw or cooked food in a portable cooler.  
Food left at temperatures above room temperature for more than one hour will result in rapid bacterial growth and potential health risks. 
Tip: To carry food from the car to the picnic site, you should use either a basket or rucksack, depending on the terrain.
If your picnic spot involves walking a long distance or clambering up a mountain or rocks, it is much easier to use backpacks to carry food and equipment. 
5. Foods I Recommend For Larger Groups
A Pot Luck Meal
Make it a point for each guest to bring a dish from home to share at your outdoor picnic. 
This helps you save a ton of time and effort. Encourage guests to use food warmers.    
The ideal food warmer for picnics and travel is one that is sealed and insulated, which keeps food warm for a long time.
Food warmers have double-walled insulation, so cooked food stays warmer longer, thereby preserving its flavour and nutritional value. This allows you to enjoy warm meals without having to reheat them on site.
To get started, simply transfer cooked food into the warmer container, put on the lid, and seal it. 
Do the same with cold food. Put fresh salad or vegetables in one of the insulated dishes to keep them chilled!
Food will stay hot or cold for up to 4 hours.
Cold Drinks
Cold drinks will quickly warm up in the hot sun. So, you can buy them at a grocery store nearer your picnic spot or keep them on ice in a cooling box. 
To do this, first freeze plastic bottles filled with water and place them in a cooling box or bags before you leave home.
In outdoor temperatures greater than 30 degrees C, water will remain frozen for about an hour.  
In an insulated cooling box or bag, ice remains frozen for about 5–7 hours, which is enough time to keep your drinks cold until the end of the picnic day.  
For children, small juice boxes are simpler, less messy, and more convenient than large tetra packs or bottles. 
Hot Beverages
There are two ways to prepare hot drinks: either brew tea at home and bring it with you, or make tea right away.
Since tea stored in flasks for longer than two hours loses flavour and quality, I prefer to make fresh tea on site.
Your flasks can be filled with hot water at home. Take milk, tea bags, or sachets of coffee, and sweeteners in separate plastic containers with a stirring spoon.
Because they don't require heating or boiling, I prefer using small amounts of evaporated milk. You can transfer evaporated milk from the can into picnic sized, waterwatercapped bottles. 
Simply add a tea bag or coffee to hot water in a cup, followed by evaporated milk and sweetener, and serve with dates.
I like to have my tea with dates sprinkled with roasted sesame seeds. It is delicious.
If you have a camping stove, you can simply boil water and make fresh cups of tea as you would at home.
Take a small gas kettle to boil the water, and strainers if you plan to use loose tea.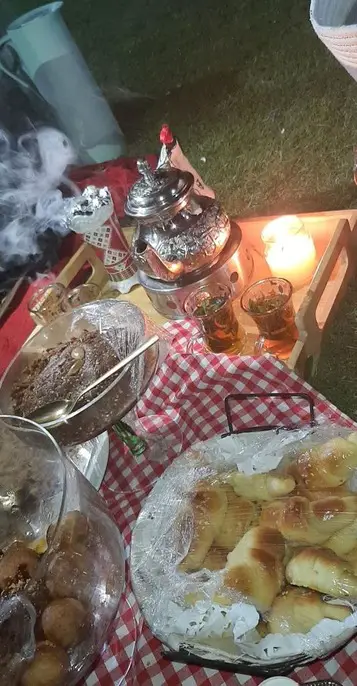 Sandwiches
Set up a sandwich bar at the picnic site. This is when you bring the bread and the raw ingredients to make the sandwiches to the picnic location separately. 
Prepare salad, cold cuts, cheese, and breads ahead of time. Store them in plastic containers. Don't forget to pack sauces and dressings as well.
In addition to salt and pepper, I suggest bringing small sachets of mayonnaise, pesto, labneh, and chipotle sauce.   
Bring a variety of breads, including milk bread for children, baguettes, brioche, brown, and tortilla bread.  
Simply arrange the containers in a row on a table or a picnic blanket.
People can create their own unique sandwiches by picking the breads and fillings they prefer as they go.
6. My Recommendations For Picnic Sweets And Deserts
Hard sweets, toffees, and dry cakes and fruit bars are ideal picnic foods. Avoid bringing cakes and puddings to picnics that need the fridge. 
The following are three desserts I recommend:
1. Milk Toffees – I make them at home from three ingredients, sugar, milk, butter, or cream. You can add golden syrup to stop the toffee from crystallizing. Heat the mixture to 140 degrees C to produce a soft crack and to 160 degrees C for a hard crack. Allow the mixture to cool and set. 
Milk toffees are the perfect sweet treat after a meal. They are creamy fudge and have just the right sweetness. They do not melt or break.
2. Apricot Jam Bars – Mix butter, sugar, eggs, almond flour, vanilla extract, baking powder, salt, and apricots to prepare these delicious, fruit bars

. 
You can eat them hot or cold. The sticky, sweet treat melts in your mouth and is the ideal dessert for a picnic.
3. Fruit –  Most fruits tolerate higher temperatures. At the picnic site, cut up some sweet, juicy seasonal fruits like mangoes, watermelons, apples, peaches, and grapes.
They make an excellent, healthy dessert.
Be sure to bring a cutting board. It will double up as a serving dish. 
Healthy Snacks For Kids 
Kids love eating raw carrots and cucumbers outdoors on hot days. They are ideal healthy snacks.
We also like serving tasty Baba Ganoush or cream cheese dips. Check out my quick Baba Ghanoush dip recipe on Maryam's Diary

. 
Other options may include popcorn, nuts, and dried snacks and fruit.
Tip: Avoid foods that go bad quickly, such as French fries and deep-fried snacks. They tend to get soggy in closed containers and are not very nice to eat.  
Also, avoid any foods that will get runny in hot weather, such as Coleslaw and cucumber salads.
Pack your salad dressing in a separate container with a tight-fitting lid.
Just before serving, drizzle the dressing over the salad. This method prevents the salad from wilting and turning soggy.
7. My Favorite Cooked Food Picnic Recipe – Biryani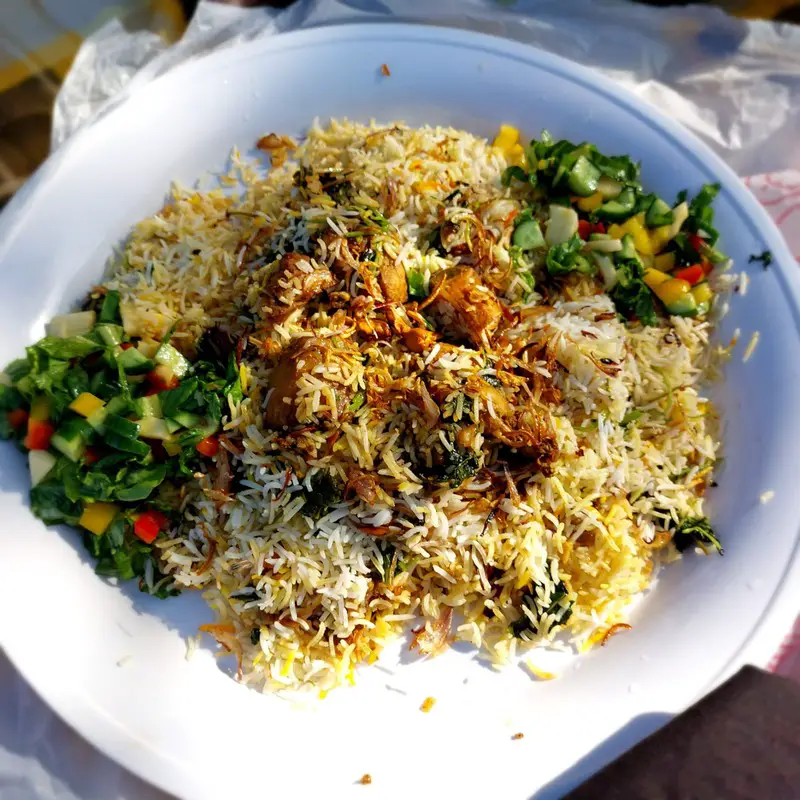 My favorite food for outdoor picnics is biryani. It is a popular one-pot dish. My mother loves to prepare it for picnics and outings because it is easy and versatile. 
The following is my recommended recipe for 6 to 7 adults: 
Beef, Mutton or Chicken Biryani Recipe
| | |
| --- | --- |
| Ingredients  | Quantity |
| beef/mutton/chicken | 1 kg |
| basmati rice | 750g (soaked for 30 mins) |
| tomato | 3-4 coarsely chopped |
| onion | 4 sliced |
| ginger paste | 1 ½ TBS |
| garlic Paste | 1 ½ TBS |
| potato | 3 peeled and cut in halves |
| yoghurt | 1 cup & whipped |
| coriander leaves | 1/4 cup chopped |
| mint leaves | chopped |
| lemon juice | 2 TBS |
| oil/ghee | 1 small cup |
| biryani masala (any kind) | 1 sachet- 65g |
Tip: The best biryani masala I like to use is Mehran Bombay Biryani. You get a twin pack of 130 grams for SR15. It is available in most supermarkets and mini stores (Baqala).
How To Make Beef, Mutton or Chicken Biryani
Step 1: Heat oil or ghee on medium heat in a large pot. Add and fry onions until they become golden brown.
Step 2: In the same oil, add the tomatoes and fry them for 8 to 10 minutes, until they turn soft and the oil separates. 
Step 3: Add the beef, mutton, or chicken, along with the ginger and garlic paste, and sauté for 2 minutes. Then, add a cup of yoghurt, chopped potatoes, and biryani masala before frying for a further 5 to 7 minutes.
Step 4: If you use chicken, add basmati rice, mint, and coriander leaves, and fill up the cooking pot with boiled water until it is 1 inch above the mix. Now, cook for a further 20 minutes. 
For beef and mutton, you can add 3 to 4 cups of water to the pot and let it cook for 30 minutes before adding the rice. Then, cover the pot with a lid and cook for another 20 minutes.
Step 5: Once the rice has cooked, drizzle 2 to 3 tablespoons of ghee into the pot 
Add crispy fried onions as a garnish.
Serving suggestions: Serve the biryani with a cucumber salad and Raita, a yogurt mixed with sugar, spices, and vegetables.
Tip: Keep your rice and biriyani separate and transfer them into sealed vacuum cooking pots. This will keep your food hot and fresh until you reach your picnic destination.
8. Equipment You Need For Cooking Outdoors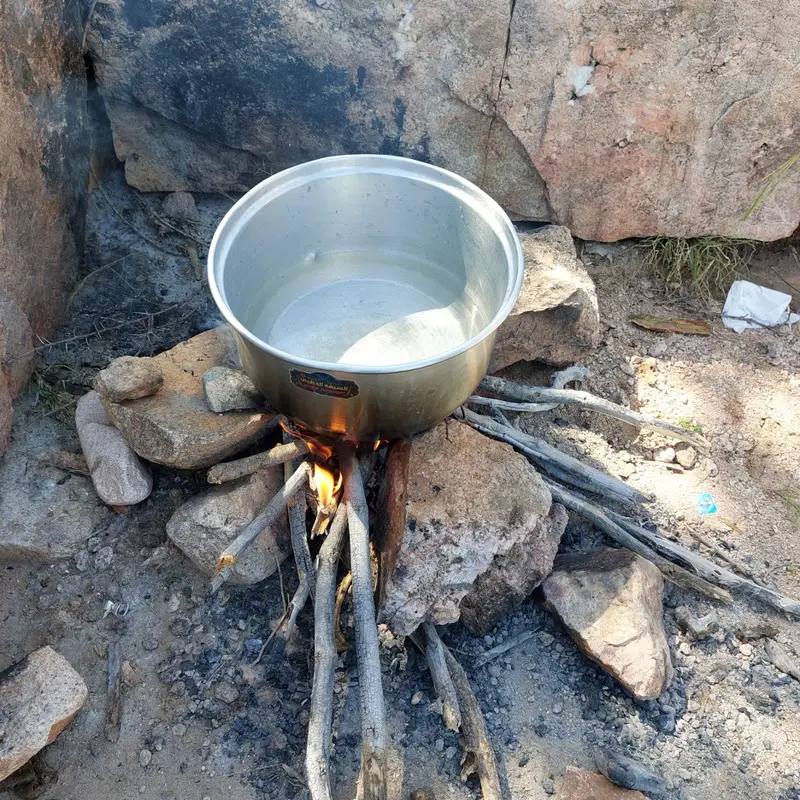 My family and I love cooking at the picnic site. We enjoy nature, the sun, watching the birds, and enjoying the breeze as we prepare food. 
The following is a list of items you will need to use for cooking outdoors. 
Camping Stove
Wind Breaks
Cutting Boards
Knives
Prewashed and sliced vegetables
Herbs and Spices 
Washing Water
Large cooking pots
Small kettle or pan
Thermos Food Warmers
Mixing bowl
Serving Spoon
Disposable plates and cutlery
Napkins, wipes and hand sanitizers
Insect repellents
Lighter or matches
First Aid Kit
Camping Stove – My recommendation is a portable two-burner gas camping stove with a wind shield. It uses LPG, is light to carry, and is easy to clean.
I love the Coleman Gas Camping Stove,

but you can buy any other alternative in a supermarket, or camping shop. 
The average cost is between 70 and 90 riyals. Be sure the gas cylinder is full before you go. 
Wind Breaks – Try to avoid areas exposed to the elements when setting up your picnic. Even the slightest breeze can blow out gas fires and disrupt your cooking efforts.
Set up tarpaulin wind breaks around your cooking area to protect it from gusts or strong winds. 
I love the colorful tarpaulins on the poles. You insert them into the ground, and they enclose your cooking area. I recommend the Trail 4 Pole Standard Windbreak, 7 Ft

Picnic Table and Chairs – Portable picnic tables come in all shapes and sizes. Most are lightweight and foldable, with built-in seating. These are good for people who find it difficult to sit on the ground.
However, I recommend you buy a simple, small, aluminum folding table

from SACO. It is very light, easy to set up, and good to use when sitting on rugs on the ground. 
I find it useful to keep sweet foods out of the reach of insects.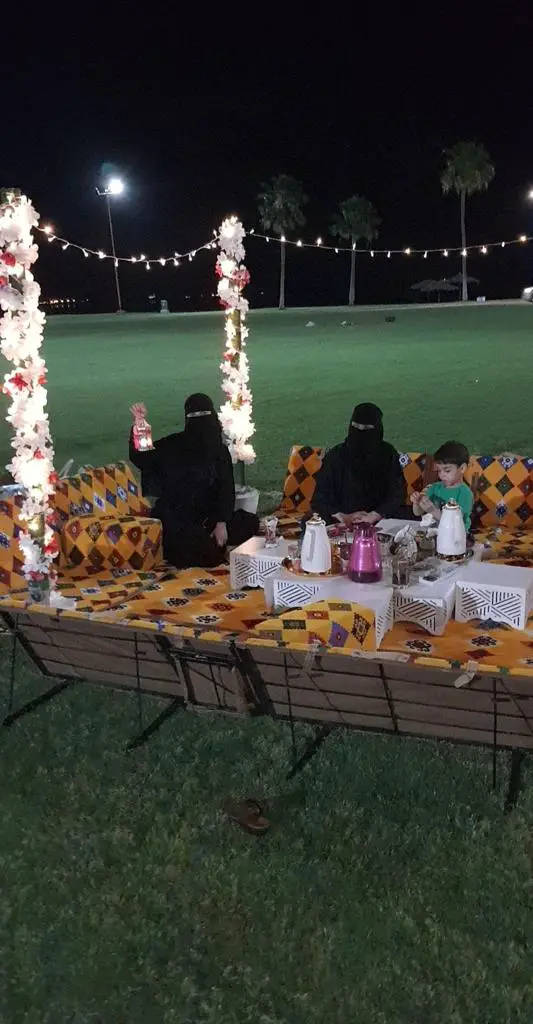 Camping Chairs  – SACO also sells several kinds of lightweight folding chairs. Unfortunately, they are uncomfortable to sit on for long periods of time. 
I recommend you buy a simple folding beach chai

r with armrests. This type of portable chair is sturdy, lightweight, collapsible, and easy to carry from place to place.
Camping chairs cost between SR 70 and SR 150 depending on the size, material and quality. 
Large Rugs – You can't take a household carpet to a picnic, but you can buy large, lightweight foldable cotton rugs for picnics or sitting outdoors. 
These are available at most camping shops, chain supermarkets or household products shops in Saudi Arabia for about SR 80 to SR 200. 
Such rugs are not long-lasting, and they will only do for occasional outings. However, they are soft, comfortable and washable as well. 
I suggest using thick rugs because they are more cosy and shield you from sharp rocks or other hard surfaces.
Plastic Matting – On dry days, you can use picnic rugs, but after rain or high humidity, the beach or the park ground will be wet or damp. 
On these days, put down polypropylene plastic matting

under the rugs to prevent water seepage and getting your clothes stained.
They also help to raise your picnic surface keeping it a little higher off the sand and so protecting your food. 
Plastic mats are less durable than woven rugs. They quickly wear out with use and will disintegrate with time.
You can buy smaller foldable polypropylene Relax beach mats

at Lulu supermarkets for SR 40 – SR 50. 
However, it is cheaper to buy the larger area plastic rolled matting at camping shops.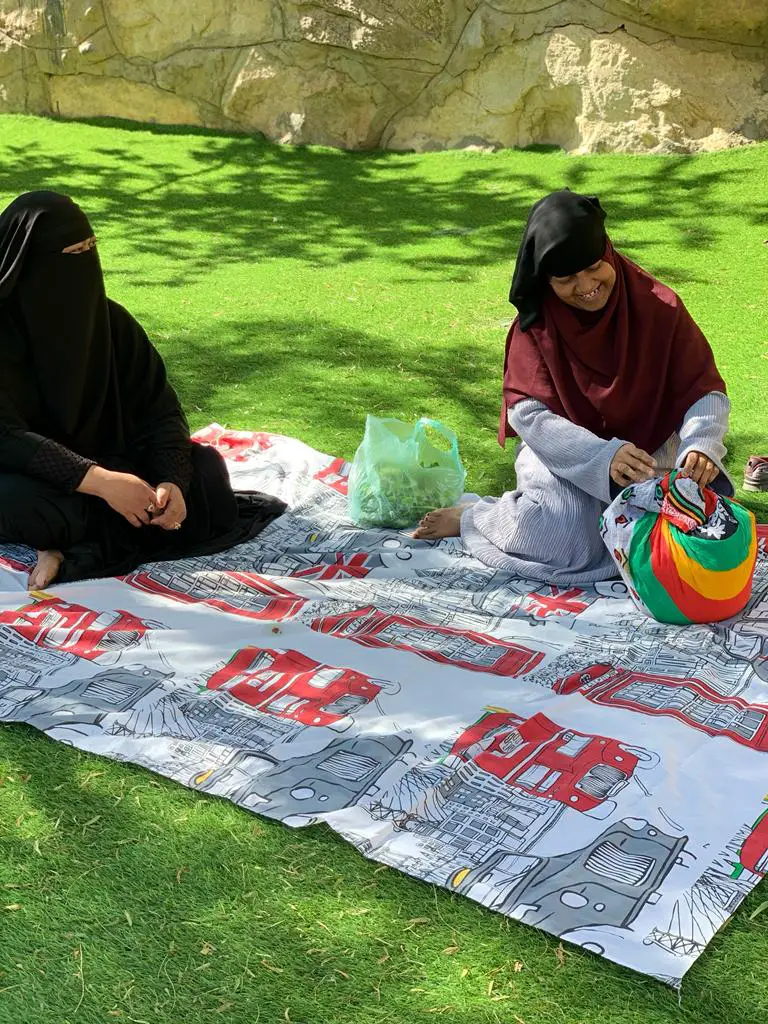 Cutting Boards – Take two wooden or plastic cutting boards to prepare cooking ingredients or sandwich fillers. 
Knives: You'll need one large knife for slicing bread and one small serrated knife for chopping salad and vegetables.
Tip: To carry knives to the picnic site, wrap them in thick dish clothes. 
Prewashed and Sliced Vegetables – Wash and precut your vegetables and salad items at home. Place them in plastic storage bags to keep them fresh, and put them in the fridge or cooling box.
Herbs and Spices – I put herbs, spices, and curry pastes into tiny plastic containers with lids beforehand and have them ready to use for cooking at the picnic site. 
Washing Water – Take plenty of water for washing and drinking. Prefill a water container and a water spray bottle for cleaning and washing dishes.  
I recommend buying the 20 litre orange Bashwat with a tap

. It costs about SR 100–130 in camping shops. The smaller ones are SR10.
Large Cooking Pots – Lightweight aluminum cooking pots with tight-fitting lids are best. 
Thermos Food Warmers – Sealed thermos food warmers are excellent and come in all shapes and sizes. They are lightweight, easy to open and close, and the lids are sealed to keep food hot or cold for extended periods of time. 
Each one costs between SR 30 and SR 100. I recommend this type; Solar Deluxe Casserole – 2.5 L
Mixing Bowl – Bring a large plastic mixing bowl for tossing salads or mixing vegetables. You will also need a large wooden or plastic spoon for this purpose. 
Disposable Plates and Cutlery – You will need plenty of paper napkins on a roll, wipes, and hand sanitizer. Eating outside with children can easily get messy. 
Use disposable tablespoons for eating cooked food.
Insect Repellents – You can buy essential oils, sprays, and skin creams to deter insects and mosquitoes.
Also, wipe your picnic table using garlic or vinegar. Spray with garlic water, vanilla extract, or mint extract. Bugs hate these.  
My favorite is the All Terrain, Herbal Armor, Natural Insect Repellent, Deet-Free Pump Spray. 
You can prepare your insect repellent at home or buy it in shops between SR 15 and SR 60.
Lighter or Matches – Keep a lighter or matches in a sealed container to avoid humidity. Always have a spare!
First Aid Kit – Have creams, iodine, plasters, and bandages ready in a kit for emergencies. You can buy them at pharmacies. 
9. Perfect Outdoor Activities – Adults & Kids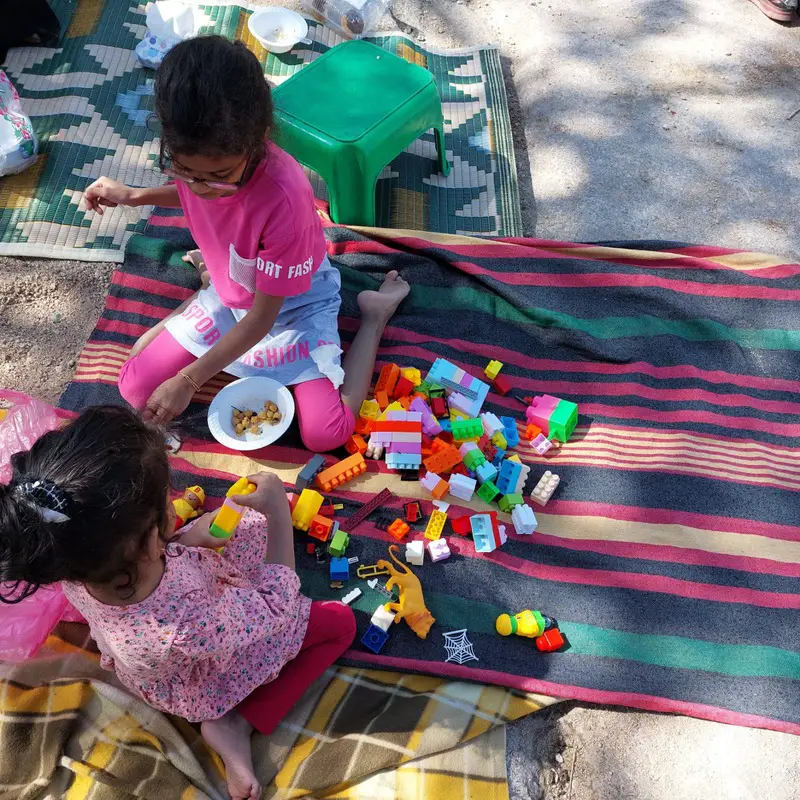 Bring outdoor toys and board games and prepare activities.  
Outdoor toys can include:
Balls
Frisbees
Skipping ropes
Bat and Ball
Board games can include:
Snakes and Ladders
Ludo
Jenga
Uno
Prepared games can include:
10. My Recommended Locations For Picnics In Jeddah
The obvious locations for picnics in Jeddah are the local parks and beaches because they have wonderful facilities. 
There are also plenty of other locations offering stunning scenery not very far from the city.
I recommend the following top three destinations for family picnics in Jeddah:
(Click the link to jump to the section and arrow to return)
1. Eastern Forest Park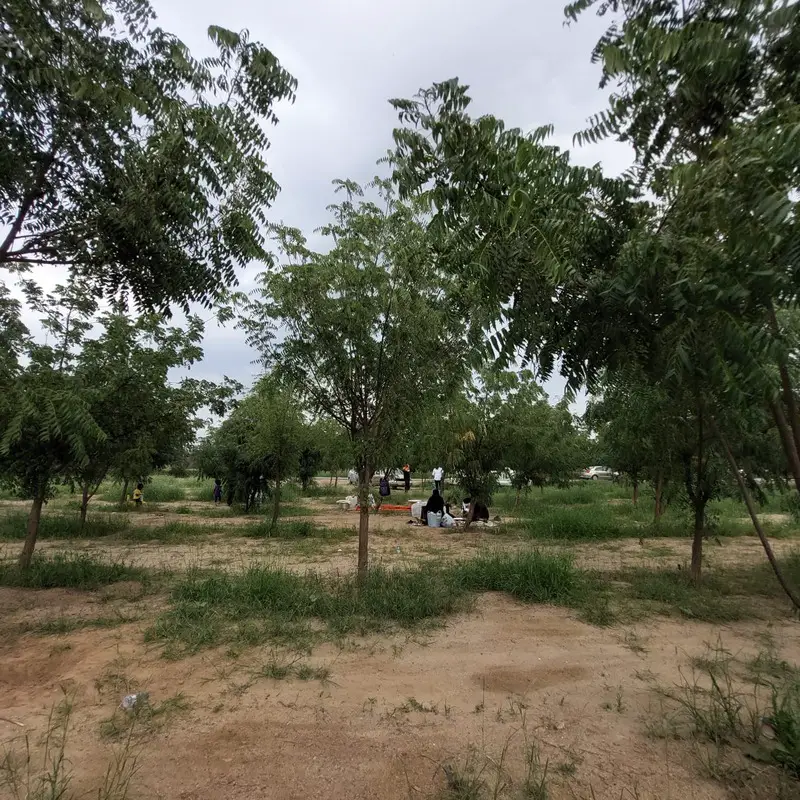 Eastern Forest Park is a hidden gem 60 kilometers east of Jeddah. It has lovely, expansive open green spaces with plenty of shady trees and grassy picnic areas.  
What You Can See Here
There are more than 80,000 plants and trees in its forest sanctuary, which is about 2.7 million square meters. 
You can enter the park in your car, drive along its winding roads, and leave your car inside the park.  
Tip: I recommend you put your vehicle in a safe spot and explore the area on foot.
In addition to beautiful grassy areas and borders, you can see colorful butterflies, exotic insects, and a variety of birds.
What You Can Do Here
Families are welcome to come here with bicycles, skateboards, and electronic scooters, as there are flat, paved roads between the forests for such activities.
There is also ample space for putting up tents, camping, outdoor cooking, and barbecues. 
However, if you intend to camp until late at night, you should bring your torches, lighting, and a bug repellant.
The Best Time (s) To Visit 
Avoid coming to Eastern Forest Park in the sweltering summer heat. In the summer, daytime temperatures are too high, and humidity levels are unbearable. 
The best seasons to visit are in the winter and spring.
An ideal climate is one with temperatures between 19 and 30 degrees Celsius. You will feel comfortable, sweat less, and enjoy the park to its fullest.  
Who Will Love It?
Adults and children love and appreciate the lush, verdant surroundings in Eastern Forest Park. 
It is free to enter, but only families and groups of females are permitted to go inside. 
Single males or groups of males are barred. 
What Are the Public Services?
Eastern Park has several restrooms, running water, and mosques. However, there is no public lighting, so it is better to come during the day. 
After sunset, mosquitoes swarm, so it is better to leave the park by 6 p.m.     
Eastern Forest Park does not have any shops or restaurants, so you have to bring your own food and water.
It is open to the public on Fridays and Saturdays only.
Tip:  Wear hats, sunglasses, and sunscreen. As nice as it is to spend time outdoors, Saudi Arabia's sun is quite harsh, even during winter. 
Also, wear clothes that completely cover your body to avoid being bitten by insects and mosquitoes.
Click here for directions to get to Jeddah's  Eastern Forest Park, Jeddah

2. Banyan Tree Park 
Tucked away in a Jeddah suburb, you will find the small but gorgeous Bayan Tree Park. It is not well-known, but families and children go there to spend quality time together in a tranquil setting.
What You Can See Here
This park has many large, mature, shady Banyan trees. They help to maintain a cool, breezy, and shaded environment during the hot summer. 
With its tall trees and lush, green grass, the area has a 'secret garden' feel.
Beautiful, vibrant flowers line the perimeter of the space. Pleasant, shady stone benches with views of the lovely gardens are available everywhere.
You'll be entertained by a lot of friendly stray cats as they frequent the park in search of food and to play with children.
In the evenings, local residents walk their dogs in the park. 
Large fluffy dogs, rare breed cats, and the incredibly amiable and endearing monkey I once got to meet are just a few of the unusual animals you can see there.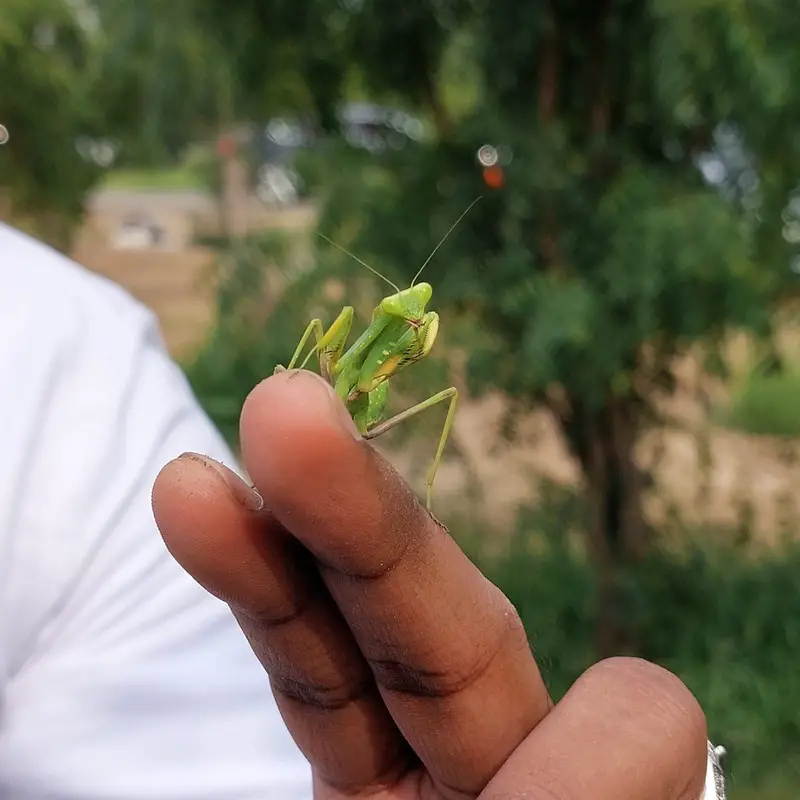 What Can You Do Here?
The playgrounds for kids in the park are decorated with bright colors and have a variety of swings and slides.
In addition, the park has many areas where you can easily cook your own food or use a barbecue. These locations are compact brick stations with built-in fire pits.
You must, however, bring your own starters and any necessary outdoor cooking supplies. 
(See my checklist for a picnic at the end of the article)
You are allowed to bring your own rollerblades, skateboards, and bicycles. Kids can play safely inside the park on the wide, smooth pathways.
The Best Time (s) To Visit
The park is always cold and windy thanks to the big trees and rich grass that cover it. Any time of year is suitable for visiting this location.
Nighttime lighting, however, is sadly inadequate. You must leave the premises no later than six o'clock.
Who Will Love It?
There are many playgrounds for kids with swings, slides, and fun rides. On the weekends, a lot of families visit the park to cook barbecues while their children play on the playground.
What Are the Public Services?
The streets around Banyan Park have plenty of parking areas. It is also close to a magnificent mosque, set in a beautiful location with spotlessly clean bathrooms that are easily accessible on foot.
There are no stores around the park, so I suggest you bring your own food and water or cook your own meals.
Tip: Bring plastic matting and rugs since the ground can be damp due to the long grass and irrigation. Also, bring cushions and armrests for the ultimate lounging experience and comfort.
Click here for directions to Banyan Tree Park, Jeddah

3. Al Hamrah Bay

Al Hamrah Bay is a perfect spot for fishing. Here, you can catch fish, clean it, and cook it right away on coals or barbecues.  
What You Can See Here
There are breathtaking views of the magnificent blue waters and rocky coastline that divide the bay. 
Fishing here is fun and easy. It is also easy to store your tackle. The sea is mostly calm and serene during the daytime. 
The area has wide pavement and walkways strewn with stone benches and colorful ice cream vans. My children love to cycle and fly their kites in these large public areas. 
In the evenings, Saudis and visitors alike love to take long strolls. 
What You Can Do Here
You can have picnics, cook food, prepare your meals, and make barbecues unhindered. Such activities are permitted. There are few, if any, restrictions on food preparation. 
Opposite the bay, there is also a large sandy field. Here, many children and adults play football and cricket for no charge.
The Best Time (s) To Visit 
Avoid visiting Al Hamrah Bay during the hot, humid summer months. The best seasons are spring, autumn, and early winter. 
I recommend going in the cool, breezy months of November, December, and January. During these months, the temperature ranges from 29 to 19 degrees Celsius with no humidity. 
The best times are during the day or night since all areas are well lit up, especially at night. 
Who Will Love It?
Al Hamrah is a wonderful palace for families. They come at the weekends to do picnics and go fishing.  
What Are the Public Services?
Close to Al Hamrah Bay, there is a mosque with toilets and washrooms with good accessibility.  
There are also some boutique shops selling snacks, sweets, drinking water, and condiments. 
Click here for directions to Al Hamrah Bay, Jeddah

Picnic Equipment Checklist
Camping stove
Windshield
Lighter
Thermos Flask
Tea bags, milk powder and evaporated milk tins for tea
Pre-cut and prepped cooking ingredients
Cutting boards and knives
Cooking pots
Large bowl
Wind breakers
Plastic Matting
Picnic Table & Chairs 
Picnic blankets 
Food and drinks
Snacks
Drinking water 
Water for washing 
Hand pressure garden pump
Trash bags
Lighter and matches
Disposable plates, cups, bowls, and cutlery
Bin Bags
Bottle and can openers
Cooler with ice
Cardigans or blankets (in case the temperature drops)
Bug repellant
Sunglasses, hat, sunscreen, and large umbrella
Emergency first aid kit
Games
References and Useful Links
Buying Popular Board Games – Ludo, Snakes And Ladders – Toys R Us
Where To Buy Children's Games Online

– Noon.com
My Popular Baba Ghanosh Recipe

– Maryam's Diary 
Easy Apricot Jam Bars Recipe

– Allrecipes
Where to buy standard windbreakers

– Desertcart
Folding chairs and tables for picnics with armrests

– SACO
Travel Water Dispenser With Tap

– Bashwat
Thermal Food Warmers

– HomeBox
Where To Buy Insect Repellant Online

– iherb
Family Outing To Valley Al Khashaa Naman, Taif

-Inside Saudi
About The Author
Maryam Hussain is a renowned cook and writer. She lives in Jeddah, Saudi Arabia, with her husband and two young daughters. Sister Maryam is also the founder and owner of a business, Royal Organic Spices. 
When she isn't busy parenting or blending spices, she enjoys writing food-related articles and short stories for her Facebook page, Maryam's Diary

. 
Sometimes, when she feels like doing neither, she indulges in reading novels and experimenting with recipes.