Recently, I took my family to visit Ta'if city in the province of Tabuk, Saudi Arabia. It is a lovely city with lots of things to do both for adults and kids. 
However, we later decided to spend a few enjoyable days at the cool mountain top resort town of Al Hada about 15 km north of the city. 
In English Al Hada means 'Peace' & 'Tranquility'- an appropriate description I think.
At Al Hada, we stayed a few days at a wonderful hotel resort, took exhilarating rides on the Cable car (Telfric), splashed around for hours at the water park and our kids (and me) enjoyed lots of rides on the many theme parks in and around Tai'f/Al Hada. (All described below)
We had so much fun that I decided to write this post entitled Al Hada (Ta'if) The Top 10 Most Terrific Tourist & Visitor Sites. 
The aim is not to describe our trip-though it was really great. Rather, it is to provide helpful information about 10 of the best places for you, your family and friends to should you decide one day to go to Al Hada.  
Incidentally, another post I wrote deals with exciting activities to be found in Ta'if City chosen with families and in mind. Click here to read Ta'if City-The Top 10 Most Terrific Tourist & Visitor Sites

Al Hada-Introduction
If you love mountains, you should try to visit the delightful resort town of Al Hada, Ta'if, Saudi Arabia. It is a cool, green, tourist village-like town that sits on top of the Sarawat Mountain range (1,879 m) and offers awe-inspiring scenic mountain views.   
Al Hada

is a popular destination for domestic tourists wishing to escape the raging heat of the towns and cities. The town lies 15 km southwest of the ancient city of Ta'if and 100 km inland of the Red Sea.
This resort town has plenty of entertainment, restaurants, and hotels, and accommodation for visitors. 
Kids love to experience water adventure parks and funfairs. Adults enjoy relaxing in the setting of stunning landscapes and natural wonders. 
Climate
Due to its high location, Ta'if/Al Hada is mild in summer 15 °C-38 °C and can get cold in winter 3 °C-23 °C. 
Average Temperatures Today!
Al Hada (Ta'if)- The Top 10 Most Terrific Tourist And Visitor Sites
1.The Delightful Resort Of Al Hada
Why Visit it?
Al Hada is a beautiful green resort town set right on the edge of the Sarawat mountain range (1,879 m) with stunning views overlooking the steep valley that eventually leads to the cities of Mecca and Jeddah. 
It is an established tourist town with excellent accommodation, theme parks, entertainment for kids, shops, restaurants and local amenities. 
It has many (50+) places to stay that include 5* hotels, apartments to rent and gated resort compounds with swimming pools and kids entertainments. 
What Can/Do/See there?
Al Hada is famous for its cool climate, amazing views and mountain landscapes. Visitors can simply relax in the wonderful nature, visit leafy gardens or go exploring, walking and climbing in the mountains.
It also has delightful fun amenities for kids. You can also buy high-quality locally grown Ta'if rose oils and water at wholesale prices. 
How Much $?
Visitors need to budget for accommodation, food, fun-fair rides, entrance tickets for water parks, etc, and for the purchases of rose water and oil products. 
When To Go? Timing
The summer months are the busiest and during the rainy seasons. Hotel prices are the highest due to the influx of domestic visitors from the cities. Any time is good to visit but I recommend April-May or Oct-Nov to enjoy the best of the seasons.  
Climate
Al Hada is warm in summer and cool in winter with an annual rainfall of 170-250 cm. Humid winds blow into the town off the Red Sea from the West. Winter is cloudy and humid. It rains a lot in spring and autumn. 
Visit Duration 
5-7 days
Who Will Love It?
Families, newly married couples and groups of friends, mountain, nature lovers and outdoor types.
2.The Naaman Valley And Deathly Serpentine Road 
Why Visit it?
The Serpentine Road

is a spectacular winding mountain route (22 km) that takes you from Al Hada town down a steep windy road to the holy city of Mecca some 50 km away.
The drive time to Mecca is about 40 minutes. 
The scary steep road leads you down and crisscrosses the Ta'if escarpment face in a slow, snake-like fashion from an elevation of 2,000 m down to 277 m (6,561 ft to 909 ft). 
This awesome snaky road arrives and ends in the Naaman Valley

after 22 km and the road continues straight to the district of Aziziya in the holy city of Mecca after 30 km. 
The total 22 km fall is 1,700 m or 5,557 ft. 
The descent begins at the top of the Taif escarpment at the official Al Hada Inspection Point

on the main road where police control the flow of traffic in and out of the town. 
The road leading to the Inspection Point and out of Al Hada also twice crosses the town's ring road and ends conveniently in Ta'if city 18 km away. 
What Can/Do/See There?
There are three ways to enjoy the Serpentine Road.

You can drive, walk, or take a cable car (Telefric). 
Driving Up And Down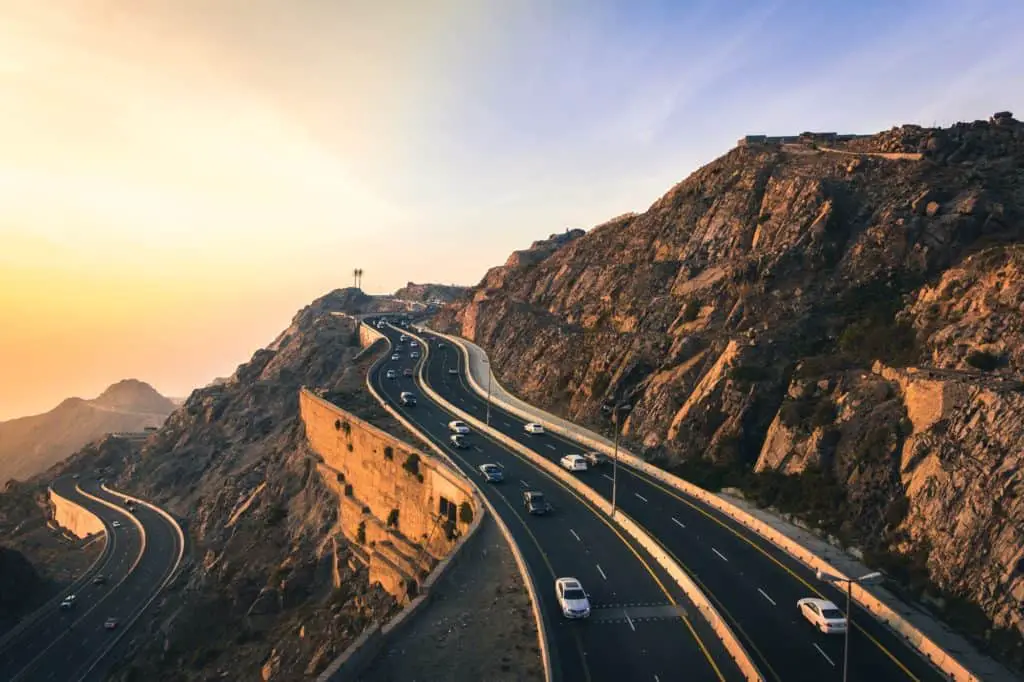 Drive out of Al Hada town south on the Ring Road or the main Route 15 towards Mecca. After passing the Inspection Point

you begin your descent. 
Before you go, make sure to pop in at the amazing Al Hada fruit open stalls

located at the start of the descent on the main road to the right of the Inspection Point and buy some delicious refreshments. 
Make your way down the mountain slowly. The well-made route has four wide lanes; two going down and two going up.
The downward ascent is speed controlled with warning signs, speed bumps, and parallel yellow road markings.   
Along the route, you can find intermittent rest areas and ample viewing points (in both directions) where drivers and passengers can stop to take a break and enjoy the spectacular mountain views and take photos.
Click to see astonishing views and pictures of Monkey View Point

. 
After 22 km you will arrive in the low-lying Naaman Valley and you can see a few hundred villas and private smallholding on either side of the valley. 
Baboons  
The wild monkeys of Ta'if are infamously cheeky. They appear in great numbers as casually as can be to pester roadside visitors.  
You can feed the monkeys, but try not to let them rob you. They will snatch food or just about anything you have on your person. Take care because some of them can also scratch and bite.    
Walking Up And Down 
It is possible to walk up and down the Ta'if escarpment using the old camel/caravan routes that still exist at various points up and down the valley.
The new Serpentine Road

sometimes crosses and comes close to the old ascents, steps and walkways.
You can spot them from your car as you ascend or descend.   
Today, if you are into hiking you can walk down the escarpment and return up it via taxi,  car or cable car.
Make sure you have strong walking shoes, lots of water, and shade. 
Also, make sure to choose the cooler months for hiking and to avoid the rainy seasons due to the annual flooding. 
Ancient Walking Routes 
Cable Car (Telefric)
The Cable Car ride (Telefric) is by far the easiest and most enjoyable way to get from the top of the Taíf escarpment to the start of the Numaan Valley and back again. 
Of course, there is no snow just amazing views of mountains and the winding Serpentine Road.  
The Cable Car (Telefric) station and ticket office is located opposite the two Ramada Hotels. 
It is operated by TaifSama company

. The ride ends exactly at the Al Kar Tourist Village

at the top end of the Numaan Valley.
The tourist village is also owned and operated by TaifSama

. 
It is very safe for everyone to ride even during windy weather. 
How Much -$?
Note prices can vary with combination and special offers available throughout the year. Buying tickets at the lower Nuuman Valley ticket office is SR 30 cheaper than at the top of the escarpment at the Ramada ticket office.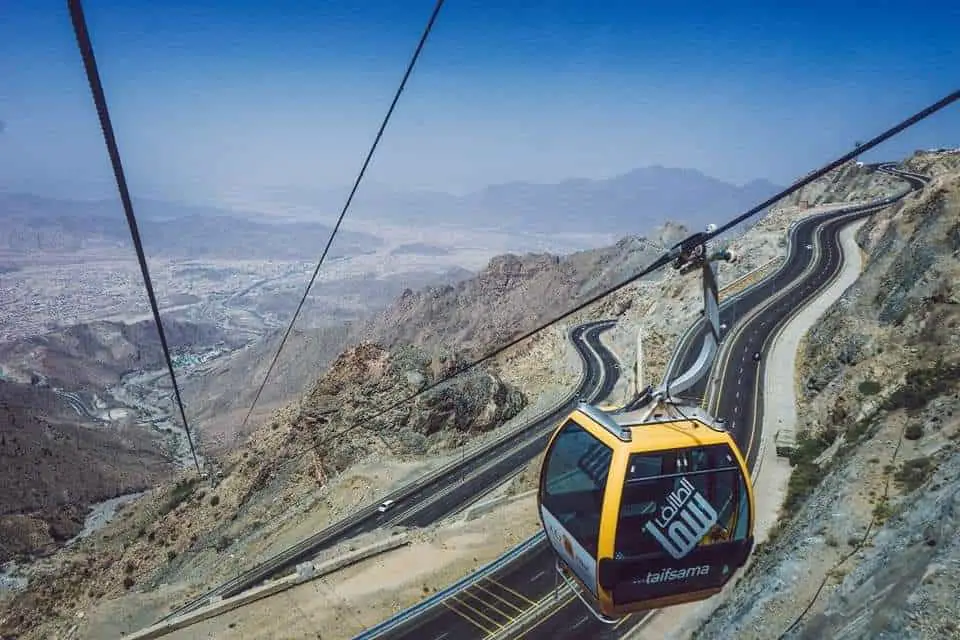 Cable Car (Telefric) ONLY Prices excluding 15% VAT
Cable Car (Telefric) & Water Park 
Zip Line & Water Park 
When To Go? Timing
Wednesday to Friday 1:30 pm to 8:30 pm
Sunday, Monday & Tuesday closed
Visit Duration 
The Cable Car (Telefric) ascends in about 20 minutes and covers a distance of 4 or 5 kilometers. 
Who Will Love It?
Families, young, old people, and groups of friends. Day-trippers from Mecca and Ta'if City. 
Location 
3.Spectacular Cliff Top Panoramas (Miradors)
Why Visit Them?
Along the mountainous Sarawat escarpment ridge there is more than 70 km of cliff top viewing points for visitors to enjoy the awesome scenery. 
You can see many local people and tourists at the mountain observation points (platforms) in Al Hada.
They are relaxing, breathing in the lovely fresh air, enjoying the astounding landscape, and eating homemade picnics.  
These viewing points are specially chosen for the eye-catching scenery and magnificent views they offer down into the expansive valleys below.
Because of its elevation nearly (2,000 m) and the fact the cool winds blow in from the Red Sea wafting in cool air over the escarpment, the weather in Al Hada is always cool in summer and mild in winter. 
What Can/Do/See There?
Look Over The Magnificent Valley 
Enjoy The Cool Weather
Go Quad Biking
Barbecues
Picnics
Grilled Sweet Corn Stalls
Tea/Coffee Stalls
Buy Sweet Fruit
Smoke Shisha or Hubbly Bubbly
All panorama points, platforms, and miradors begin close to Al Sail Al Kabeer

in the north, continue south to Al Hada and end with dramatic views at the southerly resorts of  Al Shafaa.
However, in Al Hada there are 5 main viewing areas that allow you to admire the vast escarpment.
What Can/Do/See There?
Visitors from towns and cities love to come to the viewing platforms and picnic spots during the cool months to sit and relax in open air. 
From these vantage points, you can get to fully appreciate the open mountain ranges and study the expansive valley river beds that run towards the Red Sea in the West. 
People love to bring coal, cook barbecues, heave picnics and make and coffee in the late afternoon and evenings. 
They are also great spots for photographers and drone operators looking for magnificent aerial shots.
The curious and hungry Baboons will some to entertain and pester you. They snatch anything, so be alert in their presence.
Here also, you will have time to meet and chat with many locals, breathe the fresh mountain air, and experience first hand a good variety of plant life, bushes, herbs, birds, and animals. 
Food and Drink
There are no shops close by but you will find many people making fresh tea and coffee, sell ice cream and cook coal-roasted sweetcorn on the cob.
You can also buy wood and coal to make your own open fire and cook food.
Also, if you have a thermos flask, the tea & coffee sellers will fill them up for you! 
How Much- $?
Miradors and viewing platforms are free of charge
When To Go? Timing
The best times to visit the viewing areas are during the summer, spring, and autumn. However, on rainy, humid days viewing is severely limited.
The climate is much cooler in Al Hada, so warm clothing is recommended for the evenings and night times. 
In the summer months, visitors love to sit out late in the afternoon and evening.
 Visit Duration
3-5 hours
Who Will Love It?
Families, groups of friends and nature lovers.  
4.Al Kar Tourist Village -Splash & Slide Water Fun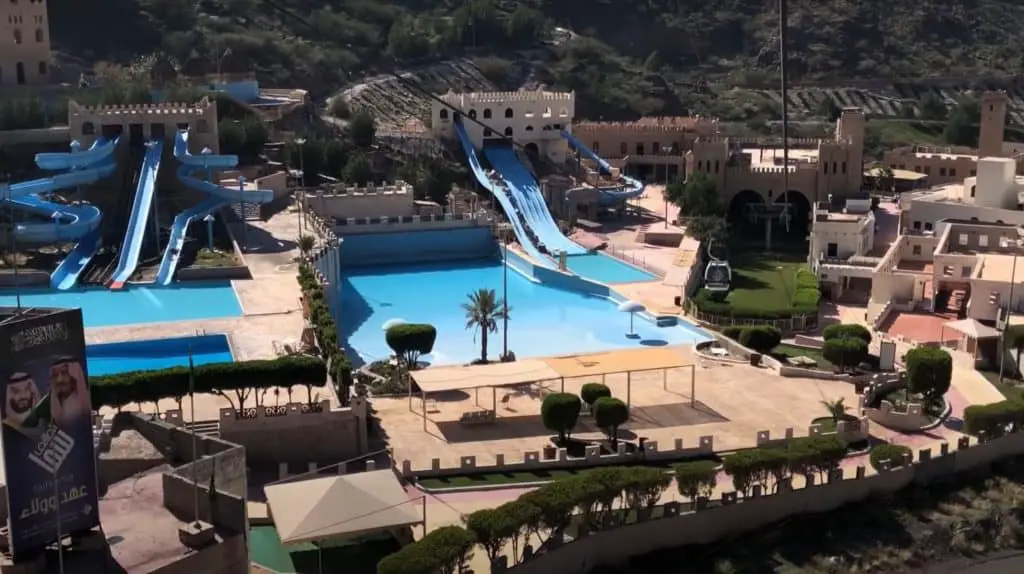 Why Visit it?
The lower station of the Cable Car (Telefric) is located at the Al Kar Tourist Village. Visitors like to combine a ride with a visit to the amusement theme park.
When you get off the Cable car (Telefric),  here you can pay to take a swim, enjoy the water shoots and slides, have a meal in the restaurant, ride a Toboggan, go Karting and relax in the cafeteria and buy goods in the mini-market. 
Opposite Al Kar Tourist Village, on the roadside, you will also find men with quad bikes to hire and horse riding excursions. 
What Can/Do/See There?
Ride The Cable Car (Telefric)
Ride The Zip Line
Enjoy The Water Park – Giant Wavy and Tunnel Slides, Wave Machine Pool, Restaurant and Cafeteria, Cable Car Station 
Swimming Competitions-Cable Car And Zip Line Prizes
Ride The Toboggan
Fight With Paintball (Group of 6 people)
Play Field Games
Go Karting
Play Laser Tag 
Eat In A Traditional Restaurant 
Sit And Drink Coffee Next To The Fountains At The Cafeteria
Eat Snacks
Shop At A Mini Market (Souq)
Buy Goods In A Shop (Dukan) 
Pray At The Mosque
Watch Evening Shows At The Open Air Auditorium/Theater
Join In Adventures At The Action Zone
 How Much-$?
When To Go? Timing
Monday to Saturday 1:30 pm to 9 pm 
Visit Duration
5-6 hours
Who Will Love It?
Children, Young Adults, and Families
5.Divine Aroma- Rose Farms & Shops
Why Visit them?
Every year, 300 million Ta'if Damask roses are harvested by more than 900 rose farms that exist in and around the Ta'if region. 
The rose harvest starts in April. The petals are cropped and quickly distilled to make pure essential oils and water products. Rose oils are expensive because the petals have very low oil content.
You need 500 kg of rose petals for every 1 liter of oil. 
The roses must be harvested very early in the morning and distilled as soon as possible to maintain their nice fragrance. 
To produce essential oil, rose petals have to be distilled twice. The first step produces only a very low yield of oil.
The second distillation step is done using the aqueous rose water that resulted from the first distillation. 
The oil obtained from this rose water (second distillation) is added to the oil from the first distillation to produce the oil for sale. 
These 30 petaled fresh Damask rose blooms are eventually turned into quality oils, perfumes (Attar), soaps and lotions.  
See both the traditional and modern processes used to make Ta'if Rose Oils at the Rashid Al Qureshi plant in Al Hada. 
What Can/Do/See There?
Walk Around And Enjoy The Rose Gardens
See Flowers And Plants 
Pick Rose Buds If In Season
See The Distillation Stations Exhibit 
Buy Products In The Shops (Rose Water, Spray Perfumes, Soaps, Lotions, Creams and Essential Oils)
Enjoy Natural Surroundings
Buy Snacks, Drinks, Tea, and Coffee
How Much-$?
Entrance to Rose oil producing factories is usually free but product prices are generally as follows.
General Rose Products  
Pure Oil Products
Timing
Farms and Ships open at Various Times During The Day and Early Evenings 
Visit Duration
1-2 hours
Who Will Love It?
Women, children and perfume buyers
Location
Rose Farms and Factories in Al Hada
Rose Shops in Ta''if City 
Rose Farms and Factories In Al Shafaa/Abha
6. Breathtaking Al Hada Mountains
Why Visit Them?
Saudis, foreign workers and tourists love to explore the Ta'if region for its famous mountainous landscape. 
Also, many day trippers who are Ta'if locals  too drive out to Al Shafaa to have picnics, looking down over the escapement and to explore the dramatic countryside. 
The mountains around Al Hada are amazing enough. However, many confuse the resort town of Al Hada with an even more spectacular cliff top holiday town called Ash Shafaa. 
In English it is pronounced Ash Shafaa and it means Healing.  
Al Shifaa is located about 30 km south of Al Hada as the crow flies. You can reach it by driving along the escarpment through the villages. 
However, the quickest and safest route is to go from Al Hada to Ta'if and then head south to the village of Al Shifaa. 
Route 15 South Hada To Ta'if (15 km)
Ring Road 281 Ta'if South      (12 km)
Route 267 Al Shafaa               (21 km) 
There are a number of resort type hotels in the area at reasonable prices. However, Al Shifaa can get busy during the peak season.
What Can/Do/See There?
Admire The Magnificent Death Defying Cliff Faces, Mountains and Valley Views
See Great Views
Stay At Hotel Resorts
Explore Lovely Views At Jabal Dakah And The Shafaa Mountain Park 
Explore Rocky Terrains And Drive Off Road
Camp Outdoors
Enjoy The Very Cool, Often Times, Cloudy Rainy Weather
Make Open Fires And Cook Food
Make Camel, Horse & Pony Rides
Photograph Amazing Scenery
See trees, Bushes, Birds, and Exotic Plants
Go Rock Climbing
Funfair Rides
Toys and Stalls
Bouncy Castle 
Go Quad Biking-Karting
Buy Food & Provisions At Baqalas
Barbecues
Picnics
Feed Pesky Baboons
Grilled Sweet Corn Stalls
Tea/Coffee Stalls
Buy Sweet Fruit
Buy Honey, Dates & Fruit
See Rose And Flower Gardens 
How Much-$?
Pay for fun fair rides, camel and horse riding and for your supplies only!
Visit Duration
5 Hours +
Who Will Love It?
Families, groups of friends, nature lovers and explorers. 
Location
Hotel Resorts in Al Shafaa
7.Natural And Fun Themed Adventure Parks
Why Visit Them?
What really surprises us about Taíf City and Al Hada are the great number and variety of parks and funfairs. 
The Ta'if Municipality

has gone the extra mile to cater for families and visitors in terms of natural and amusement parks. Hats off to them.
The best of them all is the amazing Al Raddaf Park

with its awesome laser light fountains, wonderful gardens and flower beds, rocky terrain features and amenities. 
I dealt with Al Raddaf Park in some detail in the article  Ta'if City-The Top 10 Most Terrific Tourist & Visitor Sites.
It is a brilliant new park that hosts many Seasonal Events including the annual Taíf Rose Festival.  
The Ta'if parks are popular with families and young people looking for healthy distractions.
They are great venues for enjoying the natural trees, flowers and plants that thrive in Taíf's cool, nurturing environment.  
What Can/Do/See There?
Two Well Established Fun Fair and Action Activity Adventures for children one adjacent to the other in the city of Ta'if but heading out to Al Hada. 
Shady Palm, Juniper and Eucalyptus Trees
Purple and Yellow Bougainvillea Plants & Shrubbery
Grassy Road Side Banks
Cool Grassy Lawns 
Lighted Pathways At Night
Beautiful Grassy Banks Next To Main City Routes For Picnics & Relaxing
King Fahad Park Masarah2 Taíf- Al Hada Road –Location

Two Big Car Parks
Hillside Chalets To Rent
Huge Fun Fair Rides (Big Ferris Wheel, Slow and Fast Rides, etc)
House Of Fun For Kids 
Electronic Games Hall
Night Time Entertainments
Huge Shows And Events Arena
Small Boating Lake
Cool Grassy Lawns 
Lighted Pathways At Night
Ample Picnic Spots
Lovely Trees and Shrubbery
Pythons and Viper Snakes In Glass Cages
Snacks and Drinks Stalls
Cooked Food Stands
Popcorn
Well-Illuminated Pathways and Lawns 
Modern Fancy Street Lighting
Cool Green Spaces
Rocky Hilly Backdrop Landscapes
How Much-$?
15 Rides for SR 100
30 Rides for SR 200
 Rawabi Land Park, Families ONLY King Fahad Road Location

Medium Sized Fun Fair For Small Kids- Ferris Wheel
Water Fountains
Row of Snacks and Candy Floss Shops
Outdoor Tea/Coffee Sellers
Climbing Frames For Small Kids
Well illuminated and Busy At Night
Stage Events For Small Kids
Large Sand Pit With Plastic Shovels and Buckets
Face Painting
Al-Baijan Tourist Resort & Park Location 
Hillside Tourist Chalets For Rent 
(Bedrooms, Kitchen, Outdoor Grill Space  Bathroom, Lounge, Balcony & Car Lot)
You can book chalets for 6 (150 SR) or 12 hours (200-300 SR)
Quiet and peaceful location
Full-Sized Fun Fair For Older – Ferris Wheel and Fast Rides
A row of Snacks and Candy Floss Shops
Outdoor Tea/Coffee Sellers
Mosques for Men and Women
Criticism
The park is old and chalet accommodation overpriced SR 200 + and not to standard. Music is played too loud in speaker system. Though, Al Baijan is great entertainment for families the rides and games are overpriced.
No restaurants only snack shops and not very hygienic. No green spaces. 
Green Mountain Resort Ta'if – Al Hada Road  Location

How much $?
Rides 10 SR +
Chalets 150-300 SR
When To Go?-Timing
Afternoon and Evenings
Visit Duration
4 -12 hours
Who Will Love It?
Young children and youth
Locations
8.Hotel Resorts & Self Catered Apartment Complexes 
Why Visit Them?
Accommodation in Al Hada consists of some 5-star hotels, charming chalets and self-catering apartments. 
Most are called resorts though in actuality they are more like small holiday parks.
Also, standards vary from good, clean, well-presented accommodations to basic and not so well maintained. 
In and around Al Hada there are more than 50 resorts and rented apartments styled accommodation available so visitors have a wide selection to choose from. 
What Can/Do/See There?
In chalets and apartments, you can get a 2-3 bedroomed housing unit (Villa, apartment, or studio) with a kitchen, lounge, bathroom, maids room, balcony, and a space to park your car. 
Some of the best resorts have an open 'Majlis', snacks and drinks available, nice flower gardens, swimming/splash pool for children with good mountain views.
Most good establishments provide sheets, bedding and extra put ups.
However, if you have a car consider bring your own including warm clothing for the cold weather in winter.  
How Much-$?
Prices range from 300 SR to 2,000 SR per night pus 15% VAT
Visit Duration
1 -3 Days +
Rating
1-5 Star *
Who Will Love It?
Families and groups of friends
Locations–Al Hada Resorts
Check out the list below at your leisure and refer to hotel bookings sites for seasonal prices and upgrades etc.
Some resorts don't use online agents so call them direct to get availability and prices.
Locations-Ash Shafaa Resorts
9. Bird Farm Sanctuary Park
Why Visit It?
All kinds of parrots and exotic birds roam free on the grounds. They perch up in the banana trees and shrubbery. A beautiful garden and environment, clean and very well presented. 
What Can/Do/See There?
You can see various species of parrots, peacocks, budgies, cockatoos, guinea fowl and let them rest on your arm and you can pet them.
Tables and seating available in a pergola covered garden where you can sit and drink tea and coffee.
The Bird Sanctuary is so delightful and should not be missed. 
How Much-$?
Adults                20 SR
Kids 3-10 years 10 SR
When To Go?-Timing
9 am-6 pm
Visit Duration
1-2 hours
Who Will Love It?
Small children and families
Location 
10.Miqat-Wadi Muharram Pilgrim Station 
Why Visit it?
Muslim pilgrims travelling overland from the East, (UAE & Far East) Al Najd, Riyadh and Ta'if  stop at this Miqat (station) to assume Ihram (dress for Hajj or Umrah) and pronounce Niyah or intention to perform the pilgrimage. 
This Miqat is exactly 76km from the Haram Mosque in Mecca and 20 km from the principle Miqat called Qarn Al Manazil

in the town of Sayl Al Kabeer

in Northern Ta'if.  
What Can/Do/See There?
The Ministry of Islam has built excellent facilities there including a big park park, shower rooms, ablutions areas for men and women.
There is also a huge mosque 1000 m2 that can hold 2,000 worshipers.
At the Miqat main entrance, you can find shops that sell clothes and accessories for Hajj and Umrah pilgrims such as towels, belts, sandals, bags umbrellas, beads and ladies shawls and head dress. 
There is also a perfume shop.
From the Miqat there is an impressive view of the Al Hada valley hillsides.
Unfortunately, it lacks restaurants and food supplies shops.      
How Much-$?
Showers and toilets are free of charge
When To Go?-Timing
Facilities are available 24 hours a day. 
Visit Duration
30 minutes- 1 hour
Who Will Love It?
Muslim Pilgrims Men, Women and Children
Location 
References And Useful Links
Explore Tai'f- Trip Advisor