In Saudi Arabia, friends very often ask me what documents they need for their wives (dependents only) in order to get a Saudi driving license. This is because women driving in the Kingdom is still quite new. So, to answer the question precisely, I made a number of official inquiries at the local Saudi Police Traffic Office.
(See Foot of Article for the Latest March & May 2021 Updates)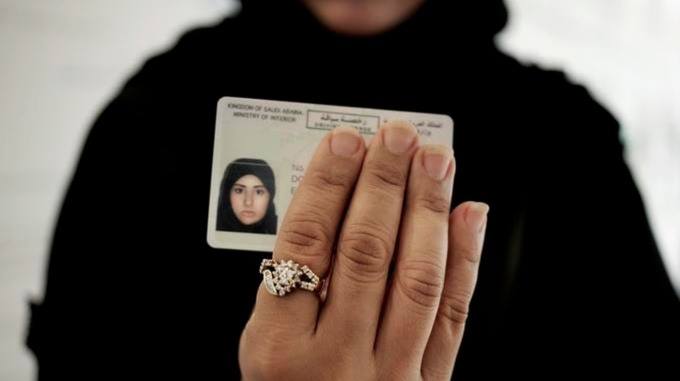 So, What Do (Dependent) Women Need To Do To Get A Saudi Driving License?
In brief, you should convert your original home country license into a Saudi driving license. For this, you need to make an appointment on Abshir to visit the traffic office, prepare and upload documents, take a pretest, have practical and theoretical driving lessons (if applicable), and take the driving test before finally getting your new driving license.
The application process is almost the same for dependent females learning to drive for the first time.
Beforehand, to get the new license you will first need to prepare, scan, and then make available or upload some documents listed below using the dependent's Abshir account.
Today, female and male applicants use the Abshir

landing page.
Residency Permit (Iqama ID)
Your (home country) Driving License
Arabic Translation of your current Driving License
Embassy Attestation Of Your (Home Country) Driving License (Except UK, USA, Canada & European Embassies)
Verification From The Ministry of Foreign Affairs (MOFA) & The Chamber of Commerce (CoC)
Six Passport Size Photos 4×6 cm
Print A Copy Of Your Travel Records Located On Abhsir
Photocopy of Passport AND Original Entry Visa In Passport
Medical Report (eyes, blood, and general health) (This transfers automatically to the traffic office)
NOTE: Use YOUR Abshir account NOT your sponsor's. (husband)
Many people face obstacles and feel very frustrated during the process of registering, collecting/uploading documents and following the correct steps in order to get the Saudi license.
There is quite a lot to it, but there are ways you can save yourself a lot of time and unnecessary effort.
Note: It is legal in fact, to drive using a foreign non-Saudi license in Saudi Arabia. However, the issue is one of insurance.
If you decide to use your foreign Driving License in Saudi Arabia check your car insurance policy to check you are covered in the event of an accident.
In the event of an accident, many insurance companies may not honor contracts if the accident occurred when the driver was using a foreign license. Check with them.
However, note that as of 2020, eVisa tourists and Visit Visa holders can legally use their foreign licenses for up to three months to drive or to rent cars in the kingdom.
Check the October 2020 update at the end of the post.
Right Steps to Obtain Saudi License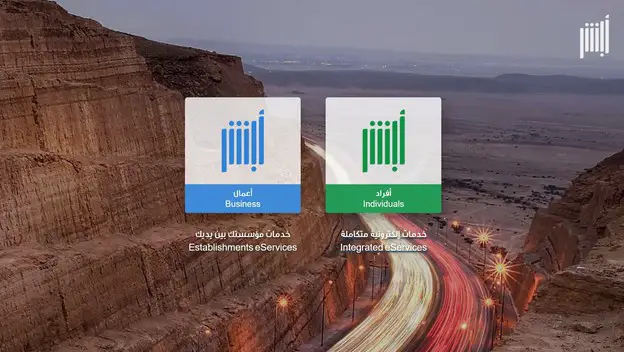 Follow the steps below for a (relatively) frustration-free experience. Use this list and tick the boxes as you go.
Register yourself 'Abshir' (Dependents can now open and apply from their own Abshir account. March 2021)
Register with SDLP (above) for an Appointment (dependent)
Get your Medical Report (dependent)
Translate your Original License (even if it is expired)
Take Your passport, original license, and the translation to your Embassy or public/private notary for attestation.
Get Chamber of Commerce & Ministry of Foreign Affairs (MOFA) stamp on attested home country license.
Obtain Ministry of Foreign Affairs (MOFA) stamp on Letter of Verification.
Pay for new License SR 85 for 2 years, 200 SR for 5 years, 400 SR for 10 years.
Go to your Appointment (Driving School)
Pay for and Get Driving Lessons (See below)
Take your Driving Test (unless exempted)
Get your new Saudi Driving License
1. What To Do On 'Abshir.'
All Saudi Ministry of the Interior matters regarding foreign residents is primarily dealt with online using a very useful application called 'Abshir.'
In Arabic, it means, 'At Your Service.' You or your sponsor needs to register himself/herself on the website. Here is the direct link

to 'Abshir.' You can get to it online using your PC and you can download it onto your preferred device.
First, click on the 'Abshir' link (above). Then, choose English. After that, select and click on the New User account. To complete the form, you'll need to enter your 'Iqama' ID number, together with your email and mobile contact number.
Later, you need to activate the account. For this, you should enter your 'Iqama' number together with a 'verification' code number which will be sent to your registered mobile phone number.
Then, you can choose a new User Name and Password which you will use each time you log in to use the 'Abshir' app on your device or online.
Now, you are registered with 'Abshir'! This online application contains all the information about everything you related to the Ministry of Interior affairs.
Tips for Applying Abshir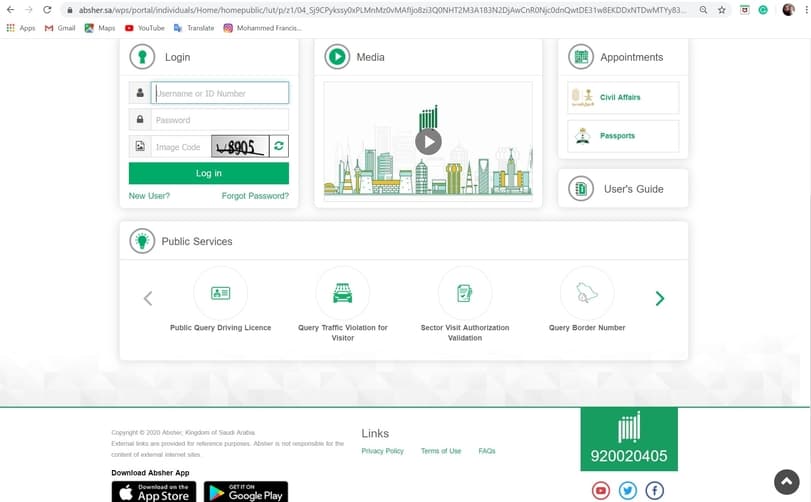 Now, after registering on Abshir, click through to the SDLP website link and enter your sponsor's 'Abshir' User Login Name and Password. Then, enter the site and follow the steps given.
Here is the link to the SDLP website

. (Abshir portal)
You'll need to fill out an application form and then choose a date to attend the Traffic Office/Driving School for an appointment. After that, upload the documents listed above in pdf format.
Remember, you can get an appointment first and then upload the required documents at a later time.
Don't forget to take ALL the original documents listed above with you to the appointment. SDLP will send you an SMS message confirming the appointment time and place. (MFS)
In the past, for some countries, a driving test was not necessary. In the past, the Traffic Office would automatically convert the licenses of the following countries into a Saudi Driving License.
This is no longer true. All nationalities are tested as of Jan 2020.
They test your driving skills according to a set routine. However, many applicants are allowed to skip the theoretical Highway code exam. (See the video below that shows the driving test in its entirety.)
Be warned, test centers require all nationalities to undergo a driving test. Including:
UK
USA
Gulf Countries-Bahrain, Oman & Kuwait
2. Get A Medical Report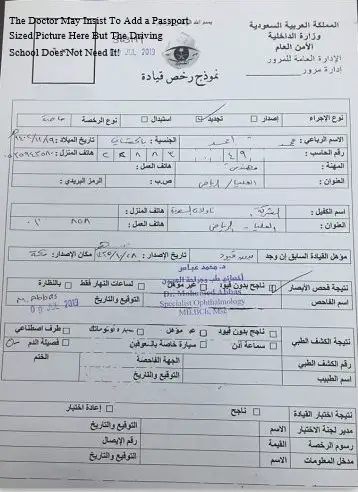 At the SDLP site, clinics and hospitals offering medical certificates for driving licenses will be listed. Choose one and then go there for a medical check-up.
Clinics usually assign one doctor to fill out your Medical Application Form. The form is available at the Local Traffic Office and very likely at the clinic itself.
Make sure you have a passport-sized photo to tick and stamped it over on the application form. The doctor may ask for it, she may not. The school does not need it. They have a photo of you on Abshir and THAT is the one they use in the actual license.
First, they will test your eyes (with glasses) to see if you need glasses for driving. The test is a standard chart eye test. So don't forget your glasses if you use them for driving.
Then, they will check your records for health issues, take a blood sample, test it and ask you to return at a later time after entering the results on the form.
You also have to pay a fee of 20 SR with insurance or 105 SR without. Prices vary!
Make sure you have the form signed and stamped and you should also receive an SMS text message notification as soon as the form is attested by the clinic.
3. How To Translate A Foreign License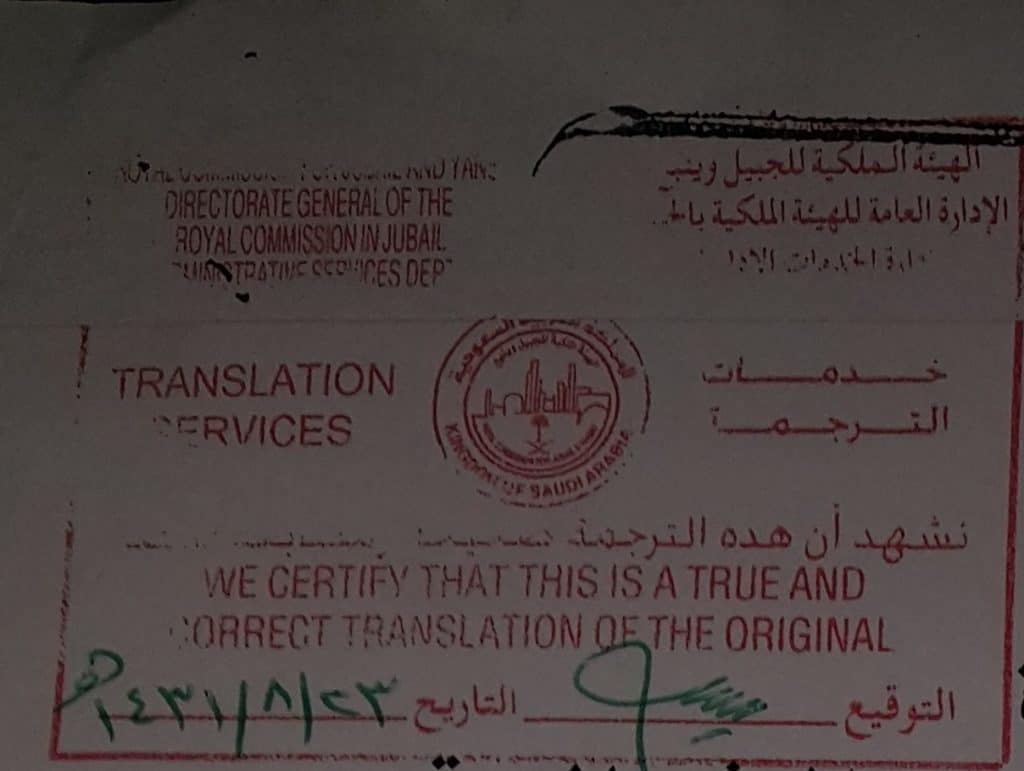 You'll also need to get your foreign driving license translated to Arabic unless, of course, you are from an Arabic-speaking country.
Take it to a recommended translator's office. They have templates and can do the job quickly; the same or the next day. Now, they can also apply for a Chamber of Commerce Stamp on your behalf
They usually photocopy your license first, then staple a copy of the Arabic translation to it, fold it and stamp the folded bits so the one half of the stamp inks the photocopy of the original and the other the translated copy. The charges are 50 SR and above!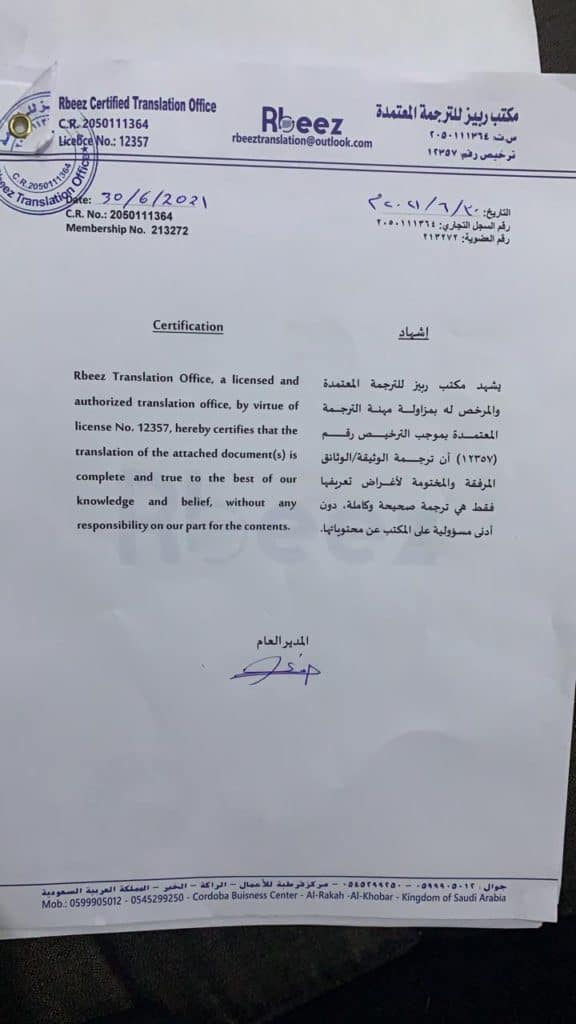 Later, take your passport, Iqama, the original home license, and the translation to be attested at your Embassy or Consular Services. The attestation costs about SR 40-60 Plus VAT and about 100-150 SR plus VAT for a Letter of Verification.
The Embassy will issue you a verification letter that looks like this.
Note: UK, USA, Canada & European Embassies ONLY need a Chamber of Commerce (CoC) and Ministry of Foreign Affairs Stamp (MOFA)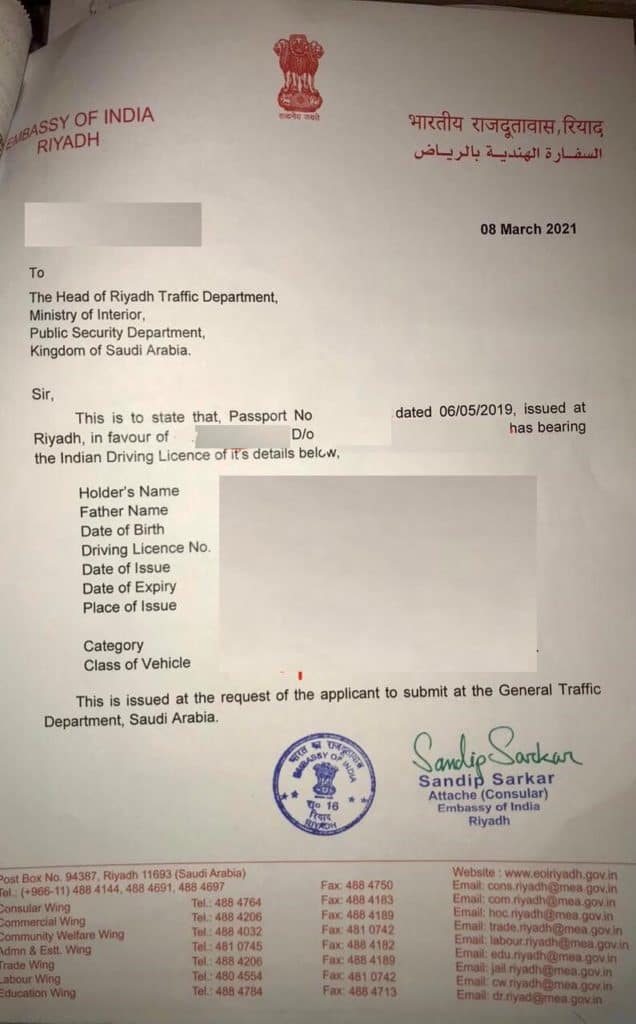 Now, Get CoC & MOFA Stamps As In The Examples Below!
If you have a US, UK, Canadian or European passport, ask the Translation office to register your Home Country Driving License online at the Chamber of Commerce (CoC) Portal.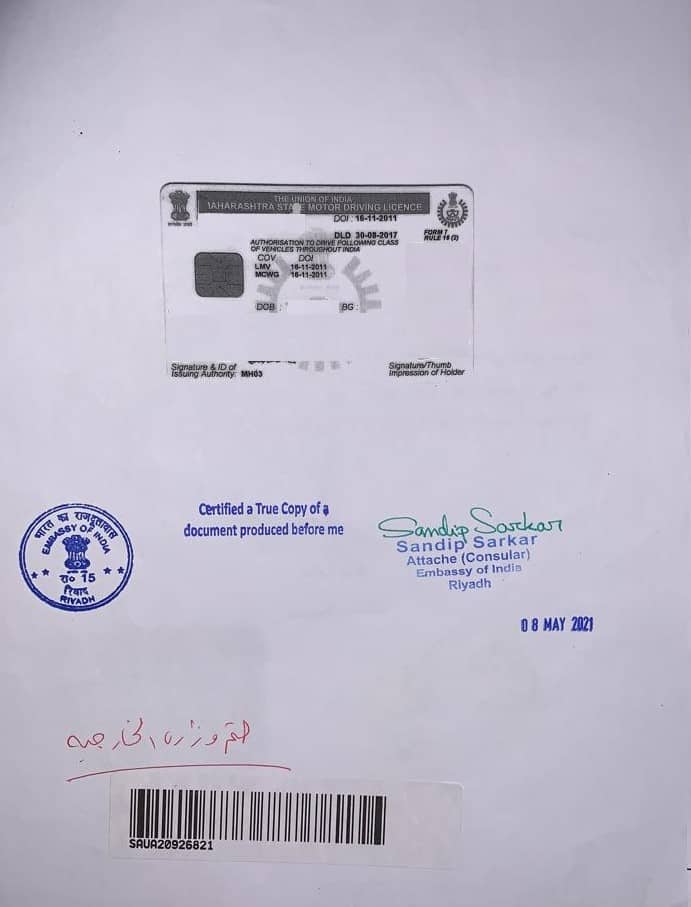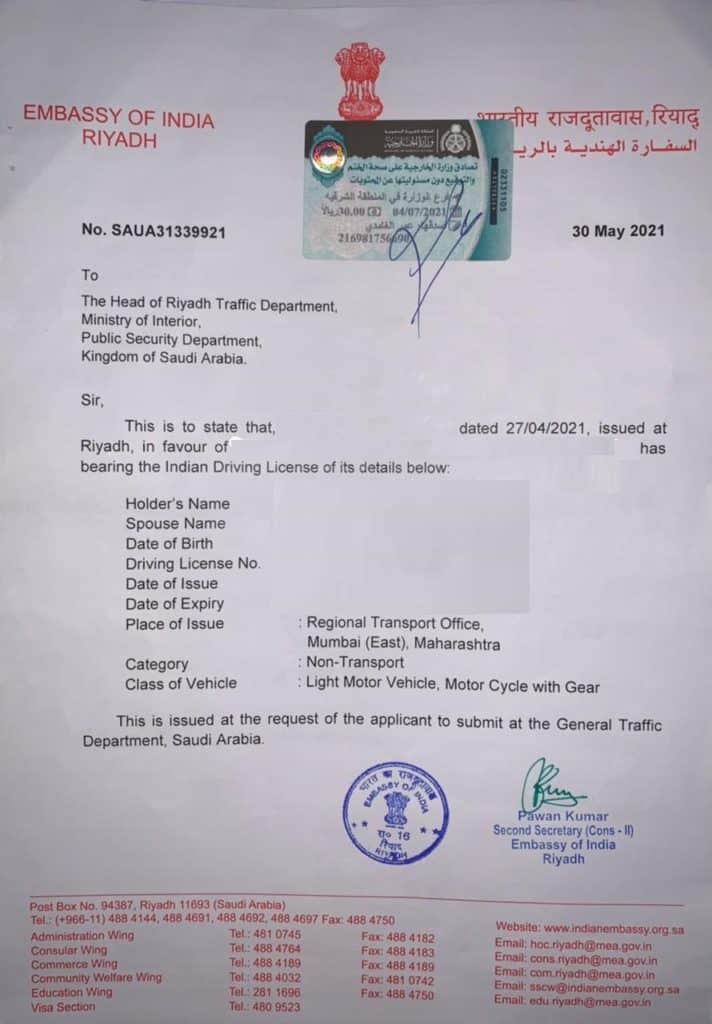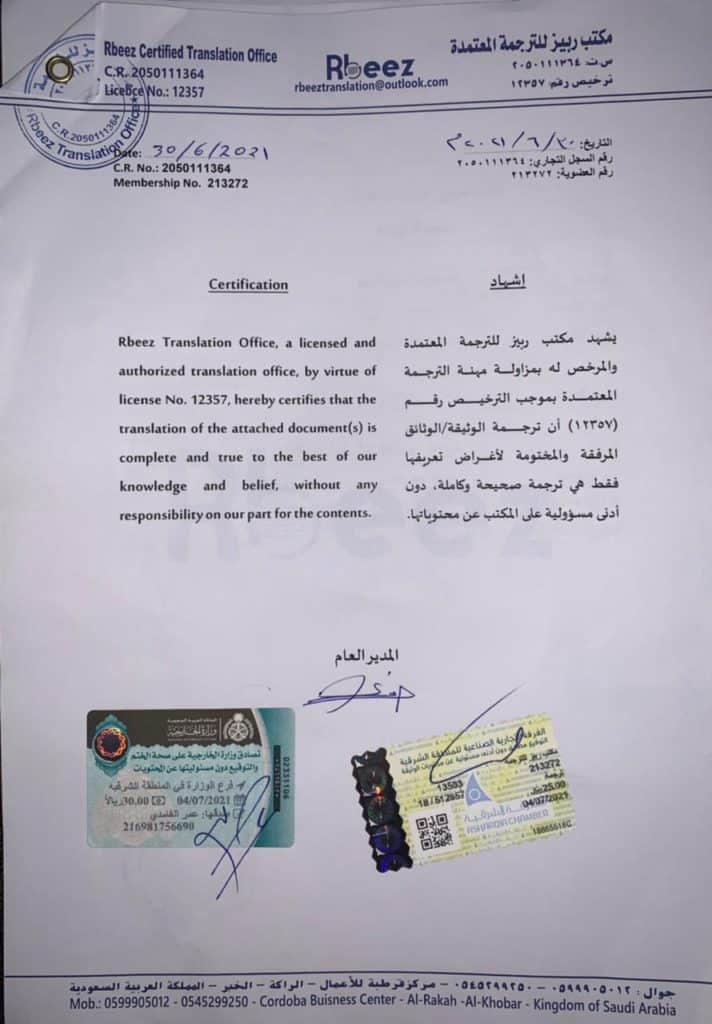 Note For Indian Applicants: You need to make two appointments with the Indian Embassy.
The first is to get an Attestation of your home country license. (Attestation Section) The second is for you to obtain a Letter of Verification (Passport Section) certifying that your home country license is a genuine one and not a forgery.
At the start, you will have to take your home country license to the Indian Embassy in Jeddah or Riyadh via VFS consular services.
Other towns and cities may have regional VFS Global offices and diplomatic services.
Here is a link to the VFS Portal for Consular services

.
However, since you need BOTH the verification AND attestation, it would be better to complete these processes on the same day.
Verification Letter (95 SR + VAT)
Home Country License Attestation (55 SR + VAT)
Courier Home Delivery (40 SR)
To do this, you log into VFS Global

website to obtain both appointments. The VFS portal offers a variety of services that include attestation, verification, and/or passport services.
Use both the Attestation Section AND the Passport Section.
The appointment system limits the use of the same passport number twice for two appointments on the same day.
The Solution: You can only get one appointment per day using your Indian passport number. To get two appointments, staff at VFS recommend using the same passport number but changing only one of the numbers.
You enter this 'new' slightly altered number in the VFS appointments application form.
In this way, you can take two appointments for the same day- one for attestation and another to obtain the Letter of Verification.
(In Dammam there are some agents who help people to fill online passport forms. They make appointments for you and charge 10 SR.)
On one day of the week, (Friday or every other Friday in Dammam), Riyadh Indian Embassy staff visit VFS regional offices to conduct attestations, and consular services, etc.
On one of these days, your home country license can be attested by an Indian Embassy official which he/she will hand to you personally in about 15-20 mins at VFS without the need to courier it to you.
However, the VFS does not produce Letters of Verification, rather they send bulk applicant requests to the Indian Embassy in Riyadh to be processed.
The completed signed and stamped Letters of Verification are then couriered by fast post from the Indian Embassy in Riyadh to the applicant.
The postal charge is 40 SR per individual item.
Here is an example of a VFS receipt (2021) for the Letter of Verification, with a breakdown of fees.

Note: Check at the Embassy or Consular Services that the local traffic office will accept a verification letter from your particular Embassy.
Some embassies such as UK, US & Canada refuse to attest their own official documents such as passports and driving licenses.
In this case, use a public notary.
4. Pay The License Fees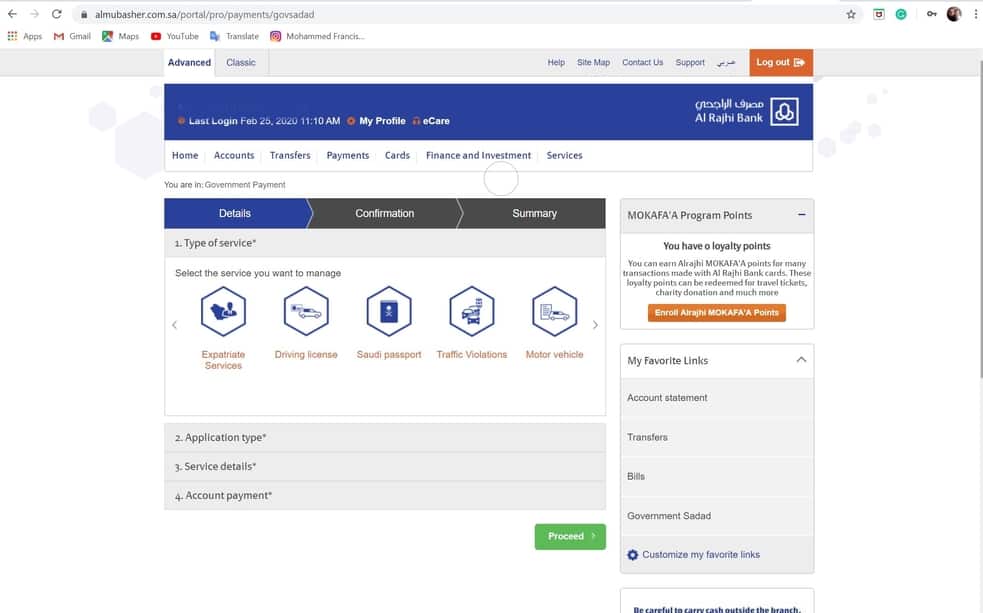 Payment for government SADAD services is done via the banks, ATM, by phone, or online. Pay the fee as you might pay online for your electric or water bill.
The SDS Traffic Office/Driving School will automatically 'see' the payment has been made on the system. However, it is advisable to print off a copy of the payment and take it with you to the Traffic office.
The fees are as follows:
2 years – 85 SR
5 years- 200 SR
10 years-400 SR
Most guest workers in Saudi Arabia are employed on renewable one or two-year contracts, so it makes sense to only pay for a 2 or 5-year license.
5. Go For The Appointment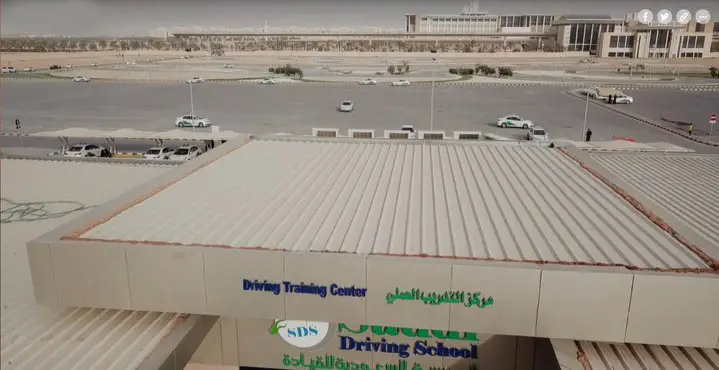 Call the SDS Saudi Driving School for an appointment for a pre-test evaluation of your driving. The number is 920011136. They will send you an SMS confirming the date and location.
In Riyadh, the Driving School is based at the Princess Norah University Campus.
The evaluation is a kind of pretest to check how many hours driving lessons you need. After the pretest, they tell you how many hours of driving lessons are required for you.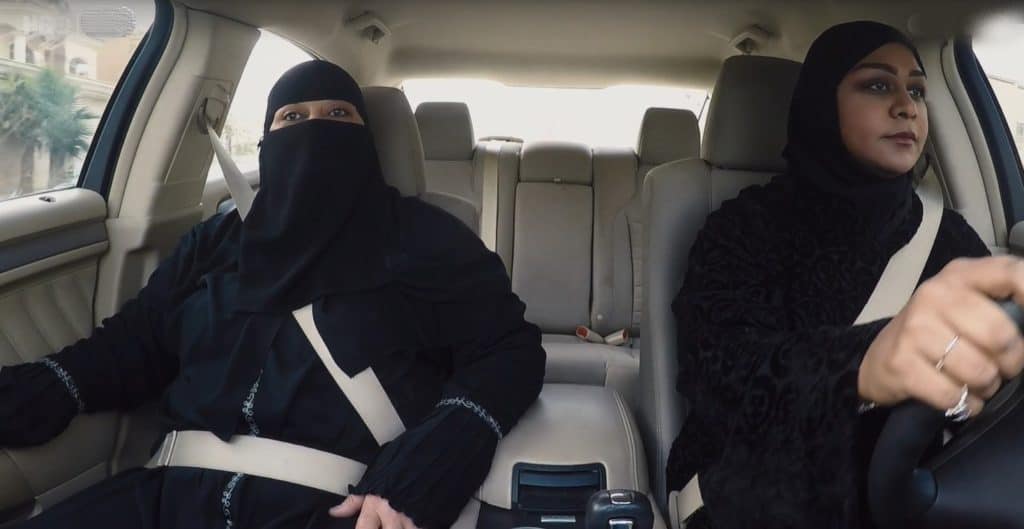 Click here to see the trailer of the new 2020 documentary film about women being allowed to drive for the first time.

Currently, they are:
6 Hours Of Lessons
12 Hours of Lessons
30 Hours of Lessons
Lessons are conducted in blocks of 2 hours per day maximum of 3 hours per day. Driving lesson days are to be booked in advance and can be held on consecutive days.
Because of the high demand, the SDS will call you to arrange dates to come for the driving lessons. Currently, it can be after 1 or 2 months. For new female drivers, the waiting list is 7 months and counting. (April 2021)
Then after the driving lessons are finished, you have to attend AGAIN to do the ACTUAL driving test itself. The SDS will call you to arrange an appointment.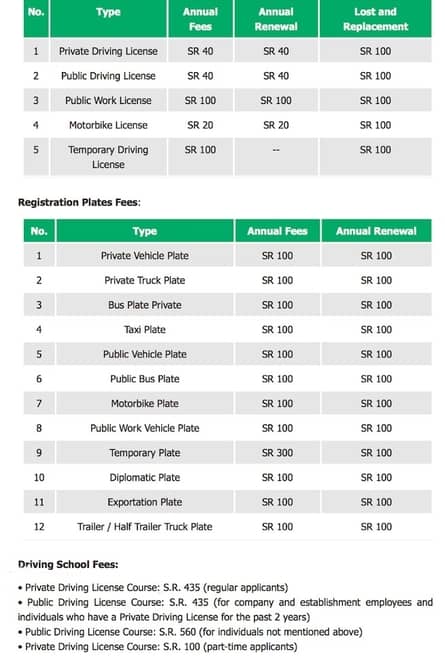 When you arrive at the SDS location, make sure you go to the correct building. Go to the Information Desk. They will instruct you what to do.
Before going to the pretest evaluation appointment make sure you have already uploaded a scanned PDF copy of the following documents to SDLP:
Residency Permit (Iqama ID)
Home Country License (Not expired)
SADAD Payment for New License
Medical Report (done at an approved center & automatically transferred)
Arabic Translation of your current Driving License
The Embassy Attestation Letter Of Your (Home country) License (Not US, UK, Canada and European Countries)
Pledge That Official Documents Are Genuine And Not Forged
In the Appointment verification SMS, the SDS requests that you get to the test center, 30 minutes before the appointment time.
Also, take the originals of the above documents with you. The official will want to see some, if not all of them, for verification.
They do not usually want passport pictures, but always have some handy just in case- six passport size 4×6 cm photos.
For issuing the new Saudi License, they will use the same photo they have on your Abshir record and the same one you have on your Residency Permit (Iqama).
On the day of the appointment in the Traffic Office/Driving School present your actual Residency Permit (Iqama) at the registration window.
At this point, they deal with you directly, or else if they are busy will give you a number to wait.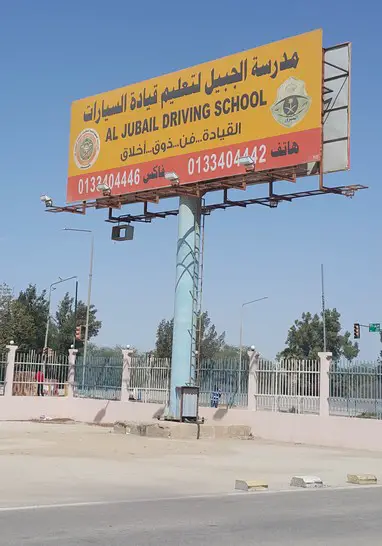 When your ticket number is called, go to the desk and show both your Residency Permit (Iqama) and (home country) Driving License.
The Traffic Office WILL NOT keep them, rather simply use them for verification purposes only.
If you are exempt from the driving test, your fingerprints and any additional information about you may then be taken.
They use electronic eye and finger scanners, so no dirty ink stains. In many cases, this has already been done for residency purposes, so no need.
6. What Is The Cost Of Driving Lessons, The Test, And Obtaining The Saudi Driving License?
Theoretical classes cost 75 SR per class. There are eight hours of classes. The total is now SR 600. 
Practical driving lessons are SR 75 per hour. The total number of hourly lessons needed is about 20 hours depending on your home country license and driving ability.
The total cost for practical lessons is about SR 1,500 + VAT. 
20 Lessons X SR 75= SR 1,500
However, if you already have a home driving license it is likely you will be exempted from the theoretical exam. (Highway Code)
The Actual Driving Test itself costs SR 75.
The Saudi License Issued SR 400
Total Costs are: SR 2,575 + VAT
Princess Noura School Prices
Medical Certificate
 
SAR 50 +
Theoretical Lessons
 
SAR 600
Practical Lessons
 
SAR 1,500
Driving Test (Practical and Theoretical)
 
SAR 75
Actual License Issue fee
400 SAR 10 years
200 SAR 5 years
85 SR 2 years

 
SAR 400
Total
SAR 2,675 +VAT
7. Can I Learn To Drive At A Private Driving School?
Yes, you can! There are a number of private schools in the major Saudi cities where you can get lessons. Check online!

Private Schools Prices ( Note: Fees Vary)
Medical Certificate
 
SAR 50
Join Private Course 
 
SAR 450
School Admission Fee 
 
SAR 100
Car Insurance
 
SAR 350
Driving Test Fee
 
SAR 100
Actual License Issue fee
 
SAR 400
Total
SAR 1,450
8. The Driving Test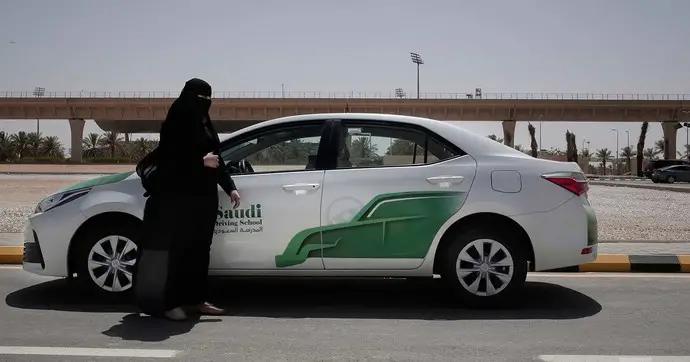 The Theoretical Test
The theoretical test is computer-based. It consists of 20 questions with 30 minutes to answer. Applicants are allowed to make ONLY 2 mistakes in the test.
At the 30-minute mark, the test stops automatically, and it is scored according to all the answered questions.
During the test, you can leave a question unanswered if you are unsure, and simply click through to the next question. In preparation for it, the driving school provides the trainee with 8 (one hour) theoretical lectures.
Officers will carefully explain how to do the simple driving test using visual aids and clear instructions. You take the test in a small automatic car.
The Practical Test-Preparation
Before the actual driving test, the school will first assess your driving ability. From this assessment, they will determine how many hours of driver training you need.
Some applicants need a complete course of driving instructions. Others need only a few hours. A few will not be asked to do any practical driving lessons at all.
The Practical Test-Actual
The test itself is conducted in a circuit that is within the boundaries of the Driving School, including a test of your general driving ability.
They will also test:
Driving Around Cones
3-Point Turn
Parallel and Reverse Parking

During the test, an officer standing outside the car with a clipboard will instruct you what to do for each maneuver. By all accounts, the test is very easy, especially if you already know how to drive.
Some candidates report that instructors are very leneint and easy on women drivers during the test. After finishing the test, the officer will tell you immediately if you have passed or failed.
9. Issuing Your New Saudi License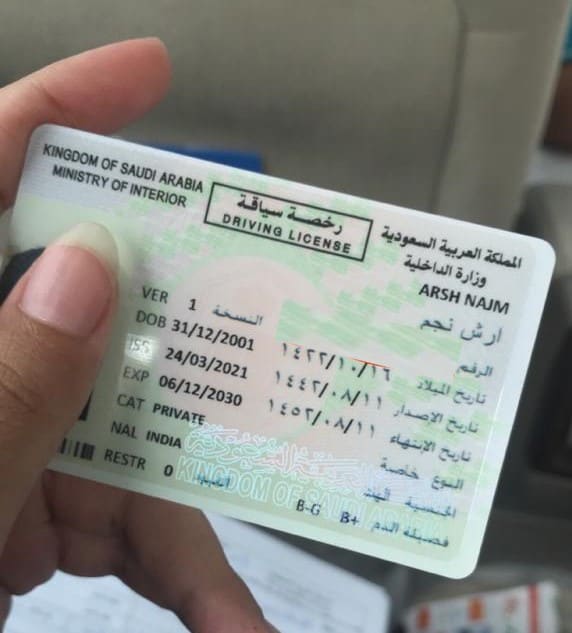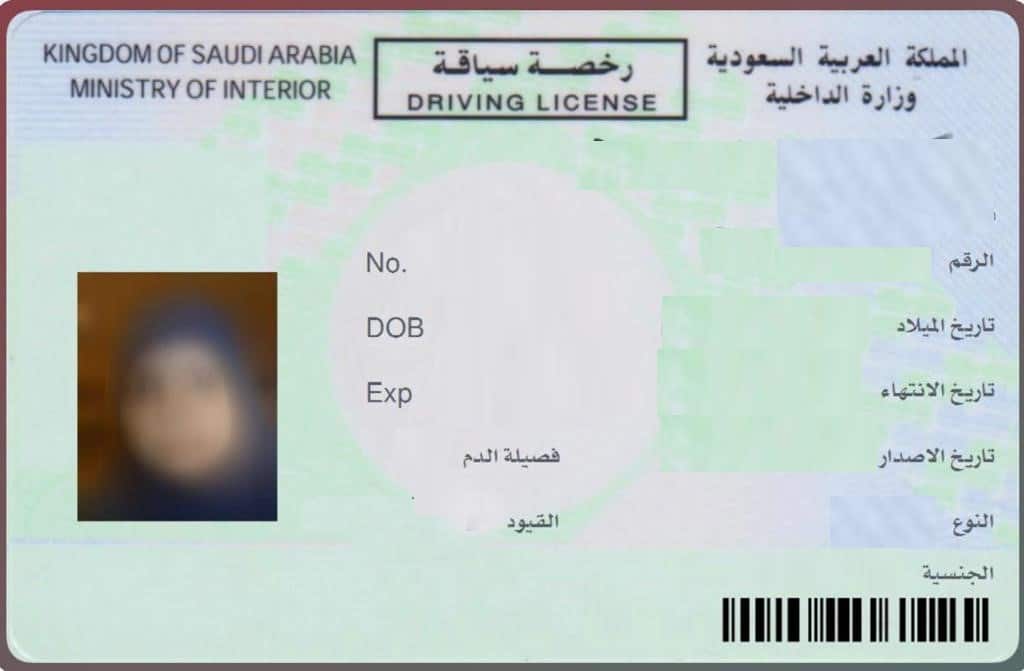 The final step of issuing the new Saudi license is straightforward. The license is printed and issued to you within a matter of a few minutes.
You just wait and they will hand it to you. Since many people take tests each day and many licenses are issued, the process at most of the Traffic Offices is streamlined and quite efficient.
Unlike the Residency Permit, the Saudi Driving License is written in both English and Arabic. It includes your:
Name
Residency Permit Number
Date of Birth
Blood Group
The License Type
Nationality
The actual Saudi Driving License number is written on the back top left-hand side.
10. Viewing And Downloading Your Saudi License Electronically
Install then login to the Tawakalna App to download your new Saudi license details via a QR code. You can keep a digital copy of your new license on your phone without needing the internet.
Related Questions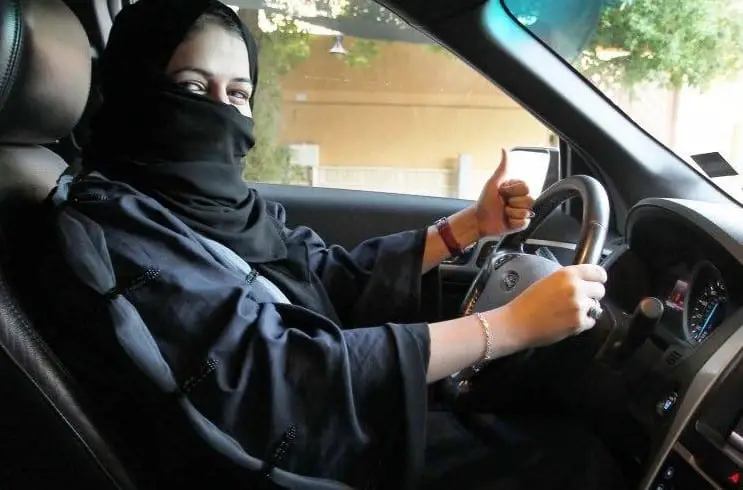 What can I use my new Saudi Driving License for? The new Saudi Driving License is issued for personal use only. You can use it to drive an automatic or manual vehicle for non-commercial use.
When do I need to show my new Saudi Driving License? Take it with you each and every time you drive on Saudi roads. Sometimes, at Police CheckPoints, you will be asked to produce it together with your insurance card. You will also need it to buy insurance.
Addendum January 2019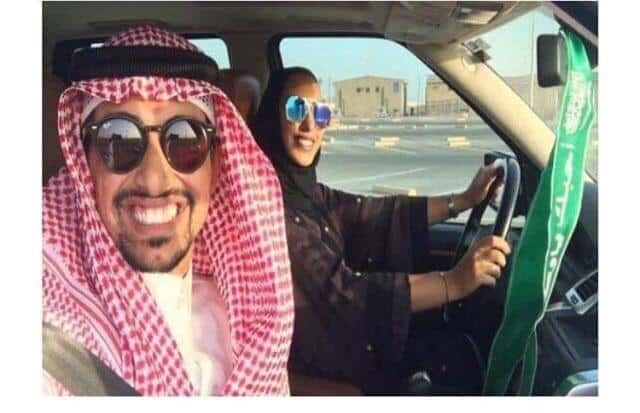 As of January 2019, applications for new Saudi Driving Licenses for foreign applicants on the SDLP website have been suspended due to high demand.
Currently, traffic offices are ONLY dealing with female Saudi applicants until further notice. Watch this space.
Addendum February 2020
As of July 4th, 2019, only professionally employed expat women with a work contract, i.e. doctors, teachers and of any nationality can apply for and get a Saudi license. Their profession should show on the Iqama. 
Unfortunately, it is no longer possible for housewives, daughters, maids, etc sponsored by their husbands/fathers to apply for and to obtain a Saudi driving license.   
There are NO immediate plans to restart fresh applications for nonemployed expat women in the near or long term future.
Note: It is legal in fact, to drive using a foreign non-Saudi license in Saudi Arabia. However, the issue is one of insurance.
In the event of an accident, it is not clear if car insurance companies would honor a claim where the driver was not in possession of a local Saudi license. Consult them or your insurance policy to confirm.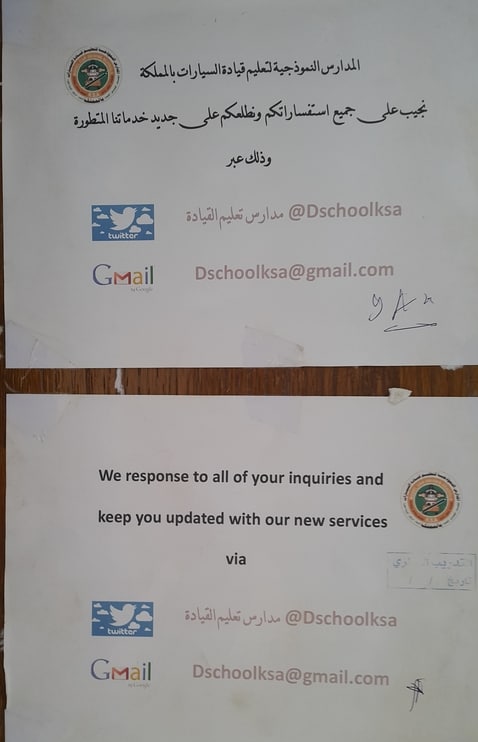 Addendum October 2020
I made further inquiries at the Saudi traffic office in mid-October and it is still the case that only employed expat women are able to apply for and obtain a Saudi driving license.
To that end, their profession must appear on the Iqama. 
The police captain at the traffic office mentioned that any change to allow dependent women would come after 3 to 4 months.
Watch this space for updates.
Addendum March 2021
Today, (11th March 2021) I inquired at the Police Traffic office and the driving school. The system for non-employed dependents to get a Saudi driving license is now open. Do it using the dependent's OWN Abshir account.
They began two weeks ago. However, you must have an original (home country) license to complete the transfer or take lessons if you don't. The waiting times to get a slot are currently very long. They are 2 months for home country license holders and 7 months for new female drivers.
Some Abshir users are you are experiencing problems getting an appointment. Once the rush has subsided, the system will start to cope more efficiently.
Addendum May 2021
Applications are open for transferring home country to Saudi licenses. In certain regions, demand is high, and they have long waiting lists. Also, new drivers are experiencing it very difficult to get appointments for classes with a driving test. You can select to go to a traffic office in another region where appointments are more likely available or choose to wait it out.