In 2014, my family and I made the 2-hour sea ferry trip crossing the Gulf of Aqaba

 to the small town of Nuweiba in Egypt. We were actually on our way to the popular seaside resort of Sharm Al-Sheikh for our annual holidays. 
As we drove up the Saudi Red Sea coast, we decided to stop off for a few hours at a little town called Al Wajh

. Later, we spent the night there, too. 
Unlike the busy town of Umluj

 165 km to the South, Al Wajh is very quiet indeed. It seemed as if we were the only visitors in town.
I liked this old town so much that I decided to write this post.
Al Wajh Tabuk
My goal is not to tell you about our trip, though it was spectacular

. I wish to provide you with some useful information about the top 10 things you could do in Al Wajh if you decide to visit there one day too. 
I wrote another post that deals with exciting activities I found in Ta'if City chosen with families in mind. Click here to read Ta'if City-The Top 10 Most Terrific Tourist & Visitor Site

s.
Al Wajh- (Tabuk) The Top 10 Most Terrific Visitor And Tourist Sites
1. The Old Quarter & Old Manakah Market Place
2. Al Wajh Ancient Port/Marina
3. 100 KM of Unspoiled Beaches
4. Incredible Islands Around Al Wajh 
5. Abundant Sea Life, Coral Reefs And Diving
6. The Lovely Mosques Of Al Wajh
7. Stunning Mountain Ranges And Volcanoes 
8. Old Restored Turkish Forts 
9. Peculiar Rock Formations 
10. Ancient Neolithic Stone Circles 
If you love exploring quiet seaside towns, then you will love the delightful port town of Al Wajh. Its location is on the Red Sea coast between Duba (150 km) and Umluj  (165 km).
Al Wajh is quite large-15 km long and 2 km wide. It has a population of 45,000 consisting of mostly Saudis, Egyptians, and Asian workers. The locals are from the tribes of Balawi, Bedaiwi-Al-Ali, Al Huety, and Al Johani. 
The most important industry is fishing. People there buy and sell fish and lobsters in the region. In the past, they also used to build boats and ships.
For the future, there are also big plans to develop tourism in the town. 
The main residential areas are Al Balad (The Old Quarter), Al Aziziyah (Residential) Al Khalidiyah (The Municipality Area). Al Safa (Government offices) and Al Nahda (The New Area). 
These five areas overlook the delightful Red Sea. Abu Bakr As Siddiq Road and King Abdullah Road connects them all in one big main street.
There is a domestic airport lying 4 km south of the town marina.    
Al Wajh In General 
In English, Al Wajh means The Face. The name possibly refers to the shape of the town marina/port. When viewed from the air, the town looks like an actual face

. 
Also, it may refer to the relatively high elevation. The town overlooks the Red Sea. Sailors approaching land would easily see and turn to face it as they sailed into port. 
However, in Arabic dictionaries, Al Wajh also means a water-filled valley or even a waterless valley. 
In the past, Al Wajh had other names. They were: 
Al-Wash
Al-Washa
Bandar Al-Wajh
Mina Al-Wajh
Al-Wajh Al-Hassan
Al Wajh is the nearest seaport to Al Ula

 and Madain Saleh

. It is also close to the future new city of NEOM and included in development plans for two other mega projects; the Red Sea Development and Amaala projects.
These three projects will help develop Al Wajh city, improve its economic growth, and provide many more job opportunities for people in the local community. 
History
For centuries, the easily accessible, circular natural port served as the main shipping gateway into the country from the Red Sea destined for Saudi Arabia. 
More than 3,00 years ago, Al Wajh was the stopping point for Chinese silk route merchant ships coming to Europe to sell their wares up through the Red Sea and then back down it again as they returned to China.
At Al Wajh and Al Khurayba

 ports, the Chinese traded extensively for oils, incense, frankincense, copper, and pearls with the Arabs of old who carried their goods on the backs of heavily laden camels. 
The Chinese merchants often landed in Al Wajh port and ventured inland to trade their goods on the North-South Wild Incense caravan routes. 
The Arab merchants of the time made fortunes doing business with the Chinese traders.   
For hundreds of years, the ancient Nabataean

 sailors had used the town. Also, endless streams of international traders and Muslim pilgrims arrived at the port from Egypt, North Africa, and Turkey. 
Al Wajh was the first commercial port in the kingdom. Ships brought goods to the port from Egypt, such as coal, millet, and corn. It continued to be one of the major shipping destinations until about 60 years ago.
Local historian and researcher in Tabuk, Ali Bin Suleiman Al-Balawi

 stressed that the Al Wajh port was vital to trade and commerce during the Islamic eras.   
Ayyubid, (12th-13th centuries)
Mamluk, (12-15th Centuries)
Ottoman (13th-19th centuries)  
The Weather In Al Wajh 
Average Temperatures
The weather is too hot in the summer months, May to September. In spring and summer, temperatures are between 24 and 28 °C- perfect for a family visit.  
Cities & Distances From Al Wajh
1. The Old Quarter & Old Manakah Market Place
Why Visit Them? 
The old market area called Al Balad

 was once the heart of a bustling fishing community and a thriving commercial district. 
Sadly, for decades it has been abandoned and left to fall into rack and ruin. Recently, there have been efforts to renovate ancient 12th-century houses and public buildings. 
However, you can find most of the old-style Hejazi buildings

 in an area of less than 1 km2. They are where the port dwellers once lived. However, they are nearly all in a state of collapse. 
What Can You See/Do There?
Though in ruins, people continue to love the old Al Balad architecture. Locals and visitors can wander around and peep into the interior of many of the collapsed houses to see how the people of Al Wajh lived for hundreds of years.
The streets and alleyways are full of simple homes styled in the characteristically 12th century Rawashin wooden window and doorway designs. They are marvelously carved latticed upper windows that stand out proudly from the walls.
The best-preserved buildings are those nearest to the seaport and include:
The Old Houses In Al Balad, Al Wajh
You will be impressed by the simple, beautiful building facades of the old houses. The Rawashin

 design helped reduce indoor temperatures during the hot summer months with slatted windows and Venetian type blinds to block the sun.   
The design was also an effective ventilation system as it employed elevated water jars to control airflow.  
In the old quarter, you can also see:
City Walls and Three Gates
An Old Cannon (Boom, Boom!)
Delightful Inscribed Arched Doorways & Windows
Outdoor Stairways leading To Elevated Entrances
The Al-Badawi Mosque
Outdoor Fruit and Vegetable Vendors
Palm Tree-Lined Streets
The Port Mosque With An Old Wooden Beamed Interior
Wonderful Sea Views
Boats Entering And Leaving the Marina
Lawns And Public Gardens
Nice SeaFront Promenade
These glorious buildings deserve proper renovation. To that end, the city and the islands surrounding Al Wajh are at the center of The Red Sea Development Company's (TRSDC) plans to develop high-end holiday resorts for international tourism by 2030. 
We expect to see the historic old quarter buildings restored to their former glory very soon. 
Click here to read the insidesaudi.com in-depth article about plans by TRSDC for the region entitled What Is The Red Sea Project In Saudi Arabia?

How Much-$?
Al Balad, the old quarter and marketplace are free to visit. 
When To Go?-Timing 
Spring and Summer seasons -October to May 
Visit Duration
1-3 hours
Who Will Love It?
Adults love the architecture and fresh sea air. Kids love the freedom to run around safely and unimpeded. It is also great for photography. 
Location
2. Al Old Wajh Port And Marina
Why Visit Them? 
Al Wajh (15 km long) lies between the two natural ocean inlets and along a coastline that offers outstanding views of the Red Sea.
North of Al Wajh Port

, you can find Zaeem Bay

 with its lovely promenades and beaches. 
The main port offers lovely views of the Red Sea. Visitors can watch the boats come and go, hire a pleasure boat for fishing trips or visit the beautiful islands.  
The port itself is 1 km deep and .5 km wide and has a circular face-like shape. There are two docks; one marina to park small fishing boats near the shore and another deeper area for bigger cargo ships with a large square pier for loading and unloading goods. 
What Can You See/Do There?
The Al Wajh Port Area
There are two ways you can see the port area. First, you can drive your car into the port area and park your car directly in front of the sea. 
Second, you can climb up to the upper floors of the Al Wajh Castle/Fortress that overlooks the calm, transparent waters of the Red Sea. 
From here, you can get a great view of the beautiful seaport and on a clear day, see miles out to sea.  
In the mornings and late afternoons, visitors love to buy lovely fresh fish at the port side Fish Market.

The officers of the Saudi Border Marine Guards

 control sea traffic from a big station. 
Do not forget to visit the 200-year-old Al-Ashraf Mosque

 overlooking the bay with its marvelous wooden beamed ceiling.
Finally, a long promenade offers magnificent views over the bay. It also has play areas for kids. Early morning and late afternoon joggers use this stretch to enjoy healthy walks.  
The sunsets over the turquoise blue horizons are astonishing to watch. 
Hire A Boat For Fishing Or Trips Out To The Islands 
Al Wajh Marina

 has many small boats for hire. You can also hire a boat with a captain included for fishing trips or family picnics (4-5 hours) to one of the many islands dotted along the coast. 
The following is a list of only a few boats for hire at the marina. Boat owners charge between SR 200-300 ($70-80 per person) and around SR 1,000 ($266 per group) for a four/five-hour excursion. 
You can take your party or join an existing one and pay a share for the cost of hire.  
Make sure you have your Iqama ID or a passport handy. The boat captain MUST register you at the Saudi Border Marine Guards

 before you depart and after you arrive back to port.
The port authorities also limit the group sizes on the boats. 
Bring your fishing gear, food & drink supplies. Life jackets are usually available onboard. Most captains will supply line, hooks, fishing bait and catch storage boxes, etc. Ask them first. 
They usually have cold water and snacks on board too. 
If you are taking a trip to one of the islands, do not forget to bring a sunhat, glasses, sun cream, a prepared picnic, and you should not forget your masks and snorkels to witness the sea life. 
Fishing/ Picnic Boat Trips
The following is a recent list of boats for hire and contact numbers.
You can call or text the above numbers to get an idea of the times, availability, and prices. 
The best way to hire a boat is to get a recommendation from a friend. 
Otherwise, you can wander down to the port to chat with the boat owners, crews, or maintenance workers.
Some boat owners speak English. Others do not. However, you will find Bangladeshi nationals working on the boats. They will provide you information. There is wiggle room on the price of boat hire.
In Saudi Arabia, prices are ALWAYS negotiable. 
When To Go?-Timing 
The weather in Al Wajh is good all year round. The best time of the day to catch fish is at sunrise and sunset. Red Sea fish love to feed at these times.  
Plan your boat trips to begin early morning or later in the afternoon. You want to avoid the hot sun.
Note: I found that a boat speeding through the water does not cause seasickness. It is only the side to side movement when it is anchored and at rest that can cause you to feel nausea and to throw up. 
If you need them, buy some seasickness pills before you go. 
How Much-$?
The port is free to visit. The price of fish at the market varies, of course, according to the type, quantity, and time of day. 
Boat trips cost about SR 300 per person and SR 1,000 or more per group. Pay in cash!
You should haggle the prices. Note that Fridays, boat owners like to land before noon for the weekly congregational prayers (Salat Al Jumah).   
Visit Duration
Port Visit (30 mins-1 hr)
Fishing Trips (4- 5 hrs)
Who Will Love It?
Groups of friends and families
Location
3. 100 km of Unspoiled Beaches
Why Visit Them? 
There are eight main beaches in the Al Wajh region. The best ones are a few kilometers in Al Wajh north. 
Most are unspoiled and a mixture of sandy and rocky terrain. Families, singles, and tourists use them. Some divers also use them.  
Tourism has not yet developed in Al Wajh, so the main town beaches have limited facilities such as restaurants, cafeterias, food trucks, and public toilets.  
Also, the distant, wild beaches are difficult to access due to the lack of paved roads and limited public transport.  
Breaking Ramadan Fast
The public beaches are very popular with locals and visitors in the spring and fall when the weather is cooler. They are also busy during Ramadan when families like to sit and meet to break their daily fasting.
What Can You See/Do There?
The following is a list of beaches in and around Al Wajh. 
Al Wajh Town Beach
The pleasant rocky town beach is at the heart of Al Wajh. It is located in the town and spans the seafront districts of Al Safa and Al Nahdah.

The town beach is popular with locals, day-trippers, tourists, and beachcombers. You can enter the sea to swim in some stretches of the beach, but most of it is rocky with pebbly sand underfoot. 
On Al Wajh Town beach you can trek among the large rocks, discover the sea life, and enjoy the fresh air. It is also close to the town facilities of shops and tourist hotels. 
The beach is clean and well maintained. It is a great place to relax. Along the seafront, there are also beautiful gardens and walkways. The municipality lights up the spectacular giant ship, (Dhow) the Al Wajh Gateway Arch and an oversized coffee pot at nighttime. 
Location
Zaaim (Singles) Beach
The nearest public beach for swimming to Al Wajh is Zaaim Beach. It is a beautiful bay 300 m deep and 300 m wide. It is a mixture of sand, shells, and stones and the first beach you see at the north end of the city as you leave the district of Al Nahdah

. 
Locals always praise Zaaim Bay

 as an excellent spot for swimming with its large sandy areas to sit in, and its calm waters. The beach gets busy at the weekends. 
The waters are shallow and excellent for kids. You mostly see bachelors use the beach, though families love it too.   
Until 2020, there were no toilets and changing rooms. However, you can find two coffee/snack stalls

. Near the cafeterias, there is a beautifully kept garden and a grassy play area for small kids with slides and swings.  
Location
Zaaim Family Beaches And Promenade
The design of the Zaaim Family Beach and Promenade is for children and families. You can find the beach about .5 km north of Zaaim Bay Beach

. 
The lovely park and promenade are 1 km long. It also has football pitches and sports playing areas. 
The gardens have extensive grassy, sitting areas, palm trees, play areas for kids. It is well maintained. There are good car parks, wide pavements and 1 km of pathways for people to walk, take exercise or a stroll. 
The local council placed public benches in and around the park and along the length of the promenade. 
Public toilets exist, but locals complain that they are not always clean. You can take a picnic and buy coffee and snacks at the food trucks. 
The family beach is sandy, clean, and easily accessible by a series of steps that lead down to the beach. The park and promenade offer great Red Sea views, and it is a romantic setting, especially at sunset.
Location
Darar Wild Beach 
About 1 km north of Zaaim Family Beach and Promenade,

 you will find the wild and wonderful Darar Beach. It is 2 km long and is rocky, sandy underfoot. 
The beach is expansive and has lots of space. It is accessible by car, and off-road vehicles can easily access it.  
The beach is popular with day-trippers and campers. Local Saudis love to pitch up their tents on the beach, cook barbecues and meals, make campfires and sit to enjoy the sea views. 
Darar Beach is also a favorite spot for divers and has lots of interesting sea life. The waters are crystal clear. It is famous for the abundance of rocks, fascinating sea life, and coral reefs.  
Unfortunately, many visitors are not environmentally conscious, leave their rubbish on the beaches, and do not use the bins provided. 
Before the local council gets around to cleaning the beach, it can look a bit trashy. 
Location
Al Antar Bay
Drive 45 km directly north of Al Wajh, and you will arrive at the Bay of Antar.

 This beautiful round bay is 300 m wide and .5 km deep. The area around the bay is 3 km long. Bare hills and trees surround the bay, and it has excellent coral reefs that are great for diving.  
Al Antar Bay is one of the main areas for development by the upscale Amaala Triple Bay tourist project. 
Read about the Amaala project on my insidesaudi.com website- What is Project Amaala on The Saudi Red Sea Coast?

Location
Sharm Hawaz Bay/ Beach 
Local people consider Sharm Hawaz Bay as one of the most beautiful wild beaches. It is 45 km north of  Al Wajh city. 
It occupies an area of ​​3.5 square kilometers and is six kilometers long. It lies 2 km north of Antar Bay

.   
The waters of Wadi Hawaz Bay are 1 km long and .5 km wide. It is also a circular shape and is a natural inlet, with unspoiled beaches and with massive areas of coral reefs.
There is also one area of the beach reserved for turtles prohibited to visitors. Today, it is closed for the Amaala Tourist Development Project.
For more details about Amaala and its plans to develop Sharm Al Hawaz Bay click to read my insidesaudi.com article entitled What Is The Amaala Project On Saudi Arabia's Red Sea Coast?
The Shipwreck
At the edge of the shore, you will see an old 80-year-old abandoned shipwreck. It ran aground when returning to Egypt and was laden with goods and food. It belonged to the merchant Ibrahim Ghabban. 
Today, it is a tourist attraction and a popular subject for photographers.
Due to the Amaala development project, swimming in the bay is prohibited today.  
Read about the Amaala project in my insidesaudi.com article What is Project Amaala on The Saudi Red Sea Coast?

Location
Rusaifeh Beach 
The Rusaifah Beach is sandy, rocky, and is three km long. It lies 60 km north of Al Wajh and is old and rugged. 
Location
Al Hadiya Beach
Al Hadiya (The Gift) lies 6km at the south end of Al-Wajh. It covers an area of ​​seven kilometers. It has a paved dirt road leading to it and consists of a sandy beach with gradient depths of five kilometers. 
Location
Other Beaches In And Around Al Wajh. 
There are other beaches close to the city. They are: 
Haramel Beach 
Al Mekayser Beach
Al Muddid Beach
Al Mounibra Beach
Al-Malik Beach
Shaq Al-Abed Beach
Al Qaf Beach
Haban Beach 
In The South Of Al Wajh
Al-Masdud Beach 25 km South
Haban Beach
Al-Haraba Beach
Al-Muayliq Beach
Al-Falaq Beach
In The North Of Al Wajh
Antar Bay/beach 50 km
Umm Anam Beach 52 km
Al-Seh Beach
Al-Nakhira Beach
Umm Al-Tien Beach
How Much-$?
All the beaches are free in Al Wajh.
When To Go?-Timing 
Spring or Fall-September to April 
Visit Duration
3 hrs – one or two full days 
Who Will Love It?
The beaches are for groups of bachelors, families, divers, sea lovers, naturalists, and off-roaders.
Note: Some beaches north and south of Al Wajh will be closed to the public for development during the next ten years 202o–2030
Location
4. Incredible Islands In And Around Al Wajd
Why Visit It /Them? 
Though there are 1,285 islands throughout Saudi Arabia, the Saudi Red Sea boasts an incredible 1,150 of them. They are beautiful, soft sandy sand bars, great for sunbathing, swimming, fishing, and exploring the sea life. 
Al Farsan Al Kabeer is the biggest and is off the coast of Jazan

 in the Saudi Arabia South. This archipelago has nearly 200 islands that have rich and diverse ecologies.
Of all 1,150 islands in the Red Sea, 405 of them are well known, visited, and used by the locals and tourists due to their exciting geographical features, for picnics, swimming, diving, and day trips. 
Boats can easily access the Al Wajh islands

. They have clean golden sands, with see-through waters, camping areas, and are great places to hang out for an hour or two with friends or families.  
Some are big and long-established islands. However, many of them are small archipelagos with sandbars that jut out of the sea.
What Can You See/Do There?
Sunbathing
Bird Spotting
Island Hopping
Picnics
Swimming
Witness Exotic Fish, Crabs, Coral and Sea Life
16 Island Bird Species
Sixteen species of birds nest on the 16 islands nearest to the shores of Al Wajd

. The main species you can see are: 
Osprey
Caspians
Sauders Terns
Lesser Crested Terns
White Cheeked Terns
Bridled Terns
Birds breed earlier on the Al Wajh islands

 than islands in the south of the Red Sea because they have plenty of food there. 
Unfortunately, the bird populations are always under threat. Egg hunters, high temperatures disturb the nests, and other birds and rats attack them. 
Also, oil pollution from shipping is widespread in the Red Sea- nearly 7 kg per square km per year. 
This amount of spillage is 11 times greater than the global shipping average of .5 kg. Pollution is also a threat to birds and the ecological balance in the Red Sea waters.
Al Wajh Islands
There are seven main islands close to Al Wajh. 
Muraykha Island
Al Rakha or Muraykha island

 is a 3 km long sandy archipelago that lies 9 km into the Red Sea opposite the Al Wajh Domestic Airport

. 
It has the name Dolphin Island because the island shape resembles a dolphin. Muraykha Island is its mouth. 
Muraykha Island lies 10 km south-west of the Al Wajh Port

.  
It is 3km long. The Saudi Border Guard allows visitors to travel and visit it. 
The island has natural boat landing points, a road, and a few tourist facilities on the south side. 
The coral reefs surrounding the island are stunning and well worth a visit. 
Location
Dhahara Island (Dolphin Island)
Dhahara Island is .5 km long. It also forms part of the dolphin where the tail joins the body. It lies only 8 km south of Al Wajh port.

The island is a popular destination for day-trippers. However, there are no tourist facilities. It is small and quite beautiful. It has golden sandy beaches, azure waters, some scrub, exotic birds, sea life and turtles can be seen there. 
Location
Maraduona Island 
The Maradouna Island is a long sandy sandbar located 20 km south of Al Awajh Port

. It is located 5 km off the coast. 
You can reach Maradouna Island from the small quay at a natural, wild, but beautiful spot called  Haban Beach

, a 1 km long inlet located 25 km directly south of Al Wajh.  
It is a popular area for fishing and diving. 
Location
Um Malek Island- Sandbars 
Starts At Um Malek

 island is 40 km from Al Wajh port and is the northernmost island of a group of archipelago islands belonging to Umluj.

However, the island is 117 km north of Umluj. There are more than 50 natural islands between the cities of Umluj and Al Wajh.
Um Malek and the surrounding islands are known locally as the Saudi Maldives because of their beauty and similarity to the Maldives Archipelago

 in Sri Lanka. 
Here you can find wonderful, sea-washed white sandy beaches, excellent coral, birds, turtles, and fascinating sea life.  
Um Malek is one of the islands soon to be developed by the Red Sea Development Mega Project. (TRSDC). 
To get more updated information about the Red Sea Development work in the region, read the insidesaudi.com detailed article entitled, What Is The Red Sea Project In Saudi Arabia?

Location
Zabeeda Island
Zabeedah Island is a 3 km long wild, natural stretch attached to the Red Sea coast and naturally bridged to the land. 
Location
Naamen Island 
Naamen Island is a 6 km long, sandy island and is 24 km from the town of Duba

. 
Smaller, But NOT Less Beautiful Sandbar Islands.
Location
An Nabqiyah Island 
An Nabqiyah is a 200-meter island that the Amaala Project

 is currently developing, 70 km north of Al Wajh port.
Location
Abu Libdah Island 
Abu Libdah is A group of beautiful, small atolls 25 km north of Al Wajh port. 
Location
Al Uwanidhayah Island  
Al Uwandayah Island is a 13 km long island that the upscale Amaala Project

 is developing 65 km north of Al Wajh city.
Location
How Much-$?
The island is free to visit, but you pay 300 SR ($80) per person or about 1,000 SR ($266) per group to hire a boat. (prices are negotiable)  
When To Go?-Timing 
Spring and Autumn Seasons October – April 
Visit Duration
4-5 hours
Who Will Love It?
Singles and families!
5. Abundant Sea Life, Corals And Diving
What Can You See/Do There?
Spotting Marine Turtles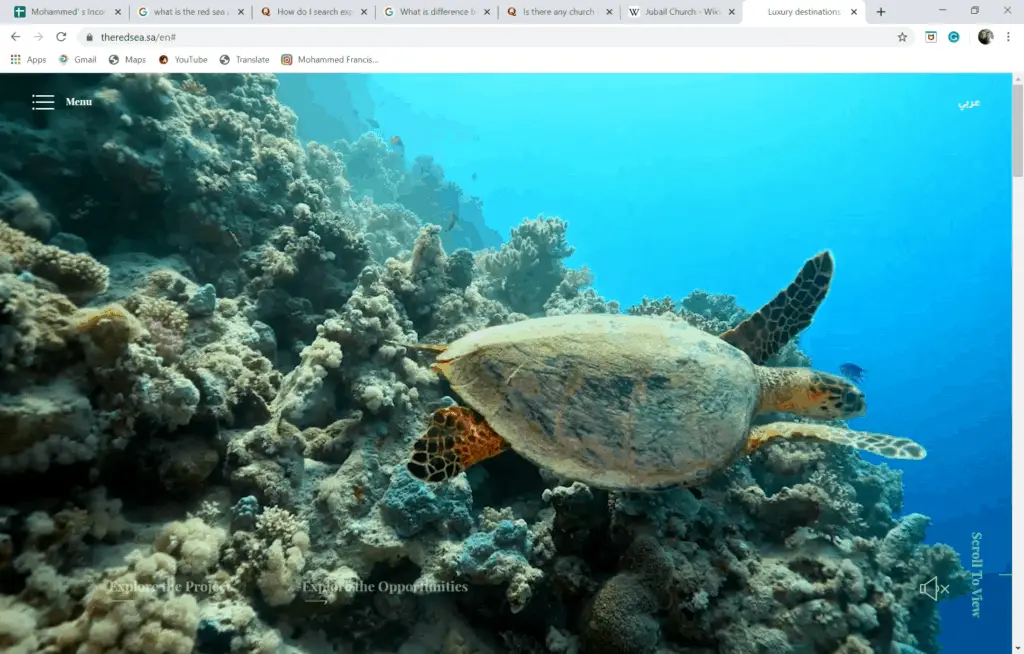 Marine turtles are a common sight in and around the islands of Al Wajh.
There are five species to be seen:
Green Turtle
Hawksbill Turtle
Loggerhead Turtle
Ridley Turtle
The most common is the Green and Hawksbill. The Green turtle has a large tear shaped back, paddle-like flippers, is light coloured and feeds (herbivore) on seagrasses in shallow lagoons.
The Hawksbill is related to the Green turtle is distinguishable by its sharp curving beak, serrated knife shaped back and grows to about 1 metre in length.
Turtles migrate long distances between feeding grounds and the females use island beaches to dig out nests in the sand and lay their eggs during the night. Hatchling turtles later break out and head back to the sea. Turtles can live up to 80 years.
Today, the Green Turtle is listed as an 'Endangered' Species due to over-collection of its eggs, rising temperatures, being caught in fishing nets and sea pollution. The Hawksbill is a 'Critically Endangered' Species.
Real estate development, oil spills, metal and chemical pollution is causing serious habitat loss and destruction of essential nesting sites which has resulted in a serious decline in turtle populations.       
Witnessing Dugongs
A Dugong is a cow like marine animal that populates the shorelines of the Red Sea. It lives in warm waters on seagrass meadows in wide, shallow protected bay areas such as mangroves channels and inshore islands.
The Dugong is a common sight in and around the islands of Al Wajh.
They prefer shallow waters because they can only hold their breath for two to four minutes under the water.
When diving they rarely go lower than a couple of meters. Dugongs can live up to 50 years. The oldest known Dugong lived for 73 years.  
Traditionally, this mammal was hunted for its meat and oil. As expected, populations around the world have depleted and in some cases to almost extinction.
The Red Sea population of Dugong was guessed to have been around 4,000 thirty years ago. Today, the numbers are considerably less. Because of this snorkelers and divers get very excited to see them in the Red Sea.
Excellent Coral Reefs – Al Wajh And Duba
Exploring The Coral Reefs
The vast white sand plains that lie in the shallow submarine shelf like waters off the mainland and the islands are great for swimming, diving, having all-out fun.
Adventure lovers can hire boats (400-500 SR for 3 hours) and go out to the nearest islands with snorkel and flippers to explore some of the vast expanses of coral reefs that lie beneath the surface.
Coral lovers can dive off boats and with their snorkels explore the fringing reefs- the most extensive of all reefs- which grow directly out from the Red Sea shoreline. The most common type of coral to be found there is the high branched species called 'Acropapra' and 'Porites'.
How Coral Reefs Formed
The offshore reefs vary in types but include atoll ring coral (not barrier reefs) which are coral towers rising out of the sea depths with curious shapes and patterns.
These were caused by the millennia of clashing of the tectonic plates under the sea bed.
Under the water, you can see more than 300 hard coral species in the Red Sea which is about four times the amount found in Caribbean reefs. The diversity and color of corals recorded here compare favorably with those in the Indian Ocean such as the reefs in the Maldives and Seychelles.
How Much-$?
You should pay for boat hire (SR 400-SR 1,000), a guide, and hire diving equipment.
When To Go?-Timing 
Early and Late Summer
Visit Duration
One day
Who Will Love It?
Divers, Biologists, Nature lovers and groups of adventurous friends.
Diving Center And Fishing Tackle Shops
Al Wajh Dive Center 
You can rent Diving Equipment and Oxygen Tanks. Buy reels-hooks floats and weights, nets and lures
Recommended Dive Site 55 South
6. Lovely Mosques In Al Wajd
Why Visit Them? 
Local people use all the mosques in Al Wajh to pray the five daily prayers. However, the ones listed below have so much historical merit and architectural beauty that non-visitors should try to see them.  
What Can You See/Do There?
Al-Ashraf Al Mari Mosque
The 275-year-old Al-Ashraf Mosque

 is right next to Al Wajh Port overlooking the beautiful Red Sea. It was built in 1845 by Ibrahim bin Omar bin Mari Al-Husseini Al-Badri.

It is an architectural masterpiece indicative of the old Ottoman building style.
The local municipality restored the mosque several times. The first time was in 1888 and the last one in 1989.
Eight large, circular pillars made of marine stone support the mosque.
The walls are blocks of coral, and it has a lovely wooden roof. Its dimensions are 23 m long, 12 m wide, and 5 m high.
The wooden pulpit is old and beautifully crafted in Egypt and used in the past for Friday sermons. Today, it is out of commission. 
At the rear of the mosque prayer hall, a tiny little staircase leads to the minaret Manara. Traditionally, the callers made the Adhan calls to prayer from the minaret without a microphone. 
The 14 m high minaret is famed as the most beautiful example of Ottoman Islamic architecture in Tabuk. Its shape is octagonal on the outside, cylindrical on the inside, and conical at the top.
How Much-$?
Entrance is Free of Charge
When To Go?-Timing 
The mosque will be open just before and immediately after the five daily prayers. See the daily prayer schedules for timings.
Visit Duration
30 minutes
Who Will Love It?
Lovers of architecture and history
Location
The Old Al-Badawi Mosque
The 240-year-old Badawi mosque located in the old town of Al Balad was built in 1878 by Sheikh Bediwi Ali Shehata.
As well as being a place for prayer, it was a famous school for learning the Quran. It has beautiful old Ottoman

 Islamic architecture and decoration. 
It is close to the old palace where the prince of Al Wajh lived in the past. 
Sheikh Abdul Hafeez, a working Immam began calling to prayer at the mosque at eight years of age. He comes from a long line of a family Imams at the Al-Badawi Mosque that goes back to eight generations to the first Imam at the mosque, Sheikh Muhammad Ahmad Issa. 
Al Bedawi Mosque had its first microphone and loudspeaker in 1957. 
Outside the mosque, you can buy fresh fruit and vegetables each day from the many street vendors. 
How Much-$?
Entrance to the mosque is free of charge.
When To Go?-Timing 
The mosque will be open just before and immediately after the five daily prayers. 
Visit Duration
30 minutes
Who Will Love It?
Muslims & Lovers of architecture and history
Location
The Prince Fahd Bin Sultan Mosque 
The Prince Fahad Bin Sultan is a big, beautiful mosque in the Al Khalidiya/Al Tayma

 district. It is close to the residential areas on Tabuk Road.
It was built in 2000-2002 and cost SR 5 million, paid for by the governor of Tabuk Prince Fahad Bin Sultan.

It has an area of 15,000 m2 and can hold up to 1,500 worshippers. It has two floors, and the upper floor is for women. It also has a residence for the Imam, ablutions, and toilet area of 140 m2.
The system of the Doka styled building is easily constructed and with an excellent finish. 
The roof has three domes, one large and two small domes on either side. They are in the shape of broken ribs.
It has beautiful Islamic decorations and two minarets 28 m high. The roof is 8 m high. The building is prefabricated, quick to erect, easy to construct, and has effective thermal insulation.
It has beautiful internal decorations, carpets, and a powerful AC system. The new car park can hold 350 cars. 
Due to its large surface, the Prince Fahad Bin Sultan Mosque is a venue for Friday, Eid prayers, and Sunnah prayers. 
How Much-$?
Entrance is Free of Charge
When To Go?-Timing 
The mosque will be open just before and immediately after the five daily prayers. 
Visit Duration
30 minutes
Who Will Love It?
Lovers of modern architecture. Muslims! 
Location
Abdullah Ismail Señor Mosque 
Abdullah Ismail Señor Mosque is a popular venue for worship located in Al Aziziyah and one of the largest and most beautiful mosques in Al Wajh. 
How Much-$?
Entrance is Free of Charge
When To Go?-Timing 
The mosque will be open just before and immediately after the five daily prayers. 
Visit Duration
30 minutes
Who Will Love It?
Lovers of modern architecture and history
Location
7. Stunning Mountain Ranges and Volcanoes
Why Visit Them? 
The vast, wild natural parks surrounding Al Wajh are breathtakingly beautiful. In the region, you can see rocky deserts, mountain ranges, volcanoes, and undulating valleys. 
The most famous is the Harmal Valley and Wadi Al Zarayb.

Locals know The Al Wajh region for its rocky granite landscape, the abundance of plant and wild animal life. They include domestic goats, honey bees, wildcats, and birds of prey. 
What Can You See/Do There?
Mount Radwa (Arabic -Jabal Radwa) 
Radwa mountain or Jabal Radwa is also known as Jabal Ja'l or Jabal Ra'l. It is an impressive range with a 2,300 m peak (7546 ft) located 375 km south of Al Wajh. It properly belongs to the Red Sea city of Yanbu

. Mount Radwa is 75 km away from Yanbu and closest to the village of Rakhou

.  
Mount Radwa takes the shape of a giant heart that points to the Red Sea. It is not one mountain but many in one. The Nakhil range on which Mount Radwa sits runs 70 km North to South. 11 populated villages sit at the mountain base. 
They are:
Radwa mountain has jagged, red peaks. They are so impressive that they influenced the works of the Arabic poet  Hassan Bint Thabet. He was one of the companions of Prophet Mohammed (SAW).
The Radwa mountain has generations of honey farms that produce high-quality honey from the beautiful flowers that occupy the slopes. 
In Radwa mountain, there are a lot of traditional beehives. Young people in the area inherited them from generations of family beekeepers. For centuries, grandparents, parents, and their children have produced honey   from wildflowers that grow in the Radwa mountain region. 
The flowers and plants include: 
Wild Mint
Arar 
Shohat
Al Shath
Al Basham
Palm Trees 
Al Khazam
Several wild animals roam the Radwa Mountain region.
The wild animals include: 
Ibex
Gazelle
Arabia Leopard
Wolf
Lynx
You can also spot the following birds:
Partridges
Lunars
Pigeons
Falcons
Eagles
Organized tours to Radwa mountain are available starting and ending in Yanbu City

 to explore the region. 
How Much-$?
Road Access is Free
Visit Duration
One day or more
Who Will Love It?
Nature Lovers, Hikers, and Mountain Walkers
Location
Al Lunayyir (Harrat) Volcano Field 
Why Visit It? 
The Al Lunayyir Volcano and lava fields are within easy reach of the Red Sea town of Umluj

 (80 km) and Tabuk

 (55km), 
Today, the volcano is dormant and did not erupt for over 1,000 years. It is basaltic with vast lava spills covering an area of 180,000 m2.
In 2009, there was an earthquake that prompted the evacuation of people living in the surrounding villages. As a result, large fissures opened in the ground as molten magma forced its way up to the surface. 
North of Jabal Radwa, you will find the Al Lunayyir Volcano and lava Fields. 
The volcano is 265 km from Al Wajh. 
What Can You See/Do There?
Harrat Al Lunayyir volcano is a basaltic field on the Red Sea coast of Saudi Arabia. 
The entrance to the site is 85 km east of the beautiful town of Umluj. 
The field is worth a visit, and it contains the following features: 
Volcano Summit (1370 m / 4,495 ft)
50 Scoria/Cinder Cones
Lava Flows Running North-South
2 Huge Lava Flows That Reach The Sea
Al Lunayyir Earthquake
On 19 May 2009, there were 31 earthquakes (seismic swarm). They occurred near the volcano and reached a magnitude of 5.7. 
The magma wall below the fissure came within 1 kilometer of the surface at the Harrat. The eruptions caused deep volcanic ruptures to open in the ground. 
After the quakes, the government evacuated 2,889 local people to Yanbu

 City. Those evacuated live in a 20 km area around the volcano and included 326 families. 
Today, Al Lunayyir Volcano Could Be Active
Supposedly, the Al Lunayyir volcano is not active. It is 200 km away from the Red Sea continental rift or zone. 
However, since the earthquakes, it may have become active again. 
The evacuees returned home in August 2009 after the all-clear.
How The Al Lunayyir Fissures Formed
As the continental plates pull apart, magma shoots up to fill the space. Scientists cannot access these plates easily to study them. 
For more information about the Red Sea continental rift, read the King Abdullah University of Science Kaust

 article. It describes the rising wall of magma and the widening fissure at Harrat Al Lunayyir

.
One of the existing fissures measuring 3 km opened up to 8 km wide during the swarm quakes. Radar satellite pictures determined that magma had likely entered the widening rift and reached a shallow 2km in an area of 10 km along the fissure. 
As a result, scientists are on the alert for further quakes or seismic activity. 
How Much-$?
It is free of course and the cost of petrol and enough food for the trip. 
When To Go?-Timing 
Spring and Autumn Seasons October- April (Sunrise and sunset)
Visit Duration
Half to one day.
Who Will Love It?
Explorers, adventurers, off-roaders, walkers, hikers, and nature lovers
Location
8. Old Restored Turkish Forts
Why Visit It /Them?
There are three castles/forts you MUST visit in the Al Wajh region. The first, Al Wajh Castle/Fortress

, is in the port area. 
The second is the famous Al Zurayb Castle/Fortress

. It is 10 km away from the city. 
The third is properly called Al Aznem or else known as Al Ozlam castle/fort

. It is near the Red Sea town of Duba

, 70 km from Al Wajh city. 
Al three are centuries-old lovingly restored military/civilian fortifications. 
They were used to house and protect Egyptian and As Sham Muslim pilgrims traveling long journeys back and forth to Mecca. The route is known as the old Hajj road. 
The Wajh Castle/Fortress (Port Entrance)
What Can You See/Do There?
The 15th-century castle/fortress, now beautifully restored, commands an open view of the port shipping entrance and exit. 
There is some confusion as to its construction. Some claim it is originally 18th century, others that it is older.  
In the past, it served as a garrison and as protection and temporary resting place for the stream of North African, Bilad Ash-Sham (Palestine, Israel, Jordan, Lebanon, Syria), and Turkish Muslim Hajj pilgrims arriving at the Al Wajh port. 
It must have been a welcome sight after their long journey across land and sea. 
The Fortress Dimensions
The fort is 23 m wide, 23 m long, and 4-5 m high. Its shape is a square. The walls are white stone.
There are two floors, the ground and the first floor has defensive embrasures

. They are a kind of peep holed slits for shooting arrows, dotted along the exterior walls. 
The western corners have observation towers. The arched entrance is on the west side too. 
As you enter through the main door, a covered corridor with seating leads onto an open courtyard. The floor has earthen tiles. The yard is illuminated and with a working restored water well at the center. 
On the Eastside, lovely old stairs lead up to the second-floor level. It is roofless and has walls full of embrasures

 or crenelle, bayed slits in the thick walls for firing arrows and spears. 
From here, visitors can look down over the interior courtyard. They also have a view of the sea and the entire area on all sides of the fort.
The Fortress Museum   
The museum is a small room at the interior that displays old framed pictures and photographs of the fort throughout its history. 
How Much-$?
Free of Charge
Visit Duration
30 minutes
Who Will Love It?
Read about the Al Wajh Castle/Fortress to discover its history. 
Heritage lovers, history buffs, adventurous kids, patriotic Saudi nationals will love it. 
Location
Al Zurayb Castle/ Fortress 
What Can You See/Do There?
The Ottoman Turks built the Al Zurayb Fortress in 1617. It was a garrison for troops and used mainly as a stopping place, protection, and supply area for overland Hajj pilgrims on their way to and from Mecca (740 km). Pilgrims would sleep at the castle for 1-3 days at a time. 
To get there, you drive eastwards for 9.5 km out of Al Wajh towards Al Zurayb district, and you will arrive with ease. 
The fort is now beautifully restored and surrounded by stunning mountains. 
Next to the fort is an old cemetery containing graves of soldiers who protected the travelers and pilgrims. 
Many overland pilgrims from Turkey and the Sham region (20%) died

 before arriving in Mecca due to the dangerous mountainous conditions.   
History of Al Zurayb Castle/Fortress
The Turkish ruler, Ottoman Sultan Ahmed 1 (April 1590–22 November 1617), constructed Al Zurayb Fortress. He also built the Blue Mosque or the Sultan Ahmed Mosque

 in Istanbul.
The Arab armies attacked and bombed the Al Zurayb Fortress during the Arab revolts of 1916. They were campaigns to end the Ottoman Turkish occupation of the Hejaz.  
The Arab armies led by Emir Faisal with help from British forces and the infamous T E Lawrence of Arabia at his side captured Al Wajh in 1917. 
Prince Faisal used Al Wajh as a base to ambush Turkish trains on the Hejaz railway

 by blowing up small sections of the track, bridges, water towers, and stations. 
Al Zurayb Fort -The Dimensions
The shape of the Al Zurayb Fortress is a square. It is 47 m wide, 47 m long, and 5 m high. At each corner, there is a lookout tower. At the center are two open courtyards and deep water wells. 
In the above video, the curator described the fort (in Arabic) as a mini-city. Inside are residential areas for pilgrims, a large prayer room, water wells next to the stairs that lead to the upper walls.  
The western entrance into the castle/fort faces the Red Sea (just like Al Wajh Fortress)

.
After an official visit by King Salman

 to the region, the municipality fully restored the Al Zurayb fortress.  
The beautifully hewn new stonework is the same as the material originally used to build the fort.
There is more to learn about its history at the King Abdul Aziz Foundation For Research And Archives (DARAH)

 that has published a book about the Al Zurayb Fortress. 
Much of its historical publications and studies can be read online or downloaded

 using Open Access. Most publications are in Arabic, but plans are to produce English versions and translations.
How Much-$?
Visits to the Al Zurayb Fortress are free of charge.
When To Go?-Timing 
Spring and Autumn Seasons October- April
Visit Duration
Half a Day
Who Will Love It?
Read about the fortress to discover the history of Al Zurayb castle/fortress. 
Heritage lovers, history buffs, adventurous kids, patriotic Saudi nationals will love it. 
Location
Al Aznem (Al Ozlam Castle/Fort)
Why Visit It?
Drive south from Duba

 for 45 km to Al Wajh

, and you can see the Al Aznem Fortress

 from the main road to your left. It sits 220 m from the highway in the Wadi Aznem Valley. 
A makeshift road takes you to the site. However, you do not need an off-road vehicle to get to it. 
The fortress was constructed in 1341, then restored 150 years later in 1509. 
Another four hundred years later, in 1917, the Saudi Tourism ministry spent SAR 5 million for its complete restoration.
The man who ordered its construction was the Egyptian-born Sultan Muhammad bin Qalawun

, (1285-1341) nicknamed Abu Maali. 
He was one of the Mamluk

 rulers who occupied the Saudi Hejaz before the Ottomans controlled the region.  
Al Aznem is the only surviving Mamluk fort remaining in Saudi Arabia. 
What Can You See/Do There?
Al Aznem Fortress is square, 39 m wide, and 39 wide. It also has four 6 m diameter octagonal-shaped lookout towers on each of the four corners. 
The open courtyard interior 22 m wide and 23 long contains six/ seven residential/office sections, a lovely stone stairwell leading up to the ramparts, two water wells, and a millstone for grinding wheat.
The walls of the fortress walls are an assortment of large, square limestone and granite blocks. They are a mix of black, brown, and white colors.  
The appearance of the fortress is simple, striking, and very square and is about 1,500 m2.
The large square stoned construction reminds me of the way of building in the online Minecraft

 game.
Over the main entrance and the interior doors are beautiful three-point arches. The upper ramparts have lovely round-arched recesses in the walls.
Today, a 400 m perimeter fence protects the site. Lights illuminate the fort at night. You can only see the fortress 30 m away from the outside perimeter fence. 
Signs have been posted warning visitors not to enter the site without permission.        
How Much-$?
The Aznem Fortress

 is free to visit. However, at the time of writing, it is closed for restoration. Usually, no one lives there, but every Sunday, a team of workers arrives to tidy and spruce up the site.
When To Go?-Timing 
Spring-Summer October-April Best Seen in the day time.
Visit Duration
30 min-1 hour
Who Will Love It?
Be sure to read about the Al Aznem fortress before you go to appreciate its architecture.  
Heritage lovers, history buffs, adventurous kids, patriotic Saudi nationals will love it. 
Location
Ancient Water Wells
Why Visit It /Them?
Today, almost everyone gets water straight from the tap. However, for centuries in the hot, dusty mountainous region of Tabuk,

 freshwater was not available. 
To that end, the Ottoman builders of the castles and fortresses also constructed deep water wells. 
They built them to keep the Old Hajj Road

 supplied with fresh water for the pilgrims and travelers from Egypt,  As Sham, and Turkey who passed by on their way to and upon returning from Mecca.
What Can You See/Do There?
Water Wells 
There are old water wells in the Al Wajh port. Besides, old Ottoman wells still exist next to Al Zurayb Castle/Fortress and other valleys in the region. 
Today, you can still visit many of the old wells, but a number have been washed over and buried out of sight over time. 
Al Wajh City- The Old Wells
In the Al Wajh Port

 area, you can find a rectangular water harvesting building that holds rainwater. 
It is 12 m long, 5 m wide, and 5 m deep. 
Rainwater passes through openings at the bottom of the collection tanks and is stored there.    
The Al Wajh city residents constructed 20 of those tanks to supply water to all the city residents. 
The tanks supplied drinking water to the local population during periods of drought and water shortages. 
Out of 20 water collection buildings, only one still exists today. Residents demolished 19 water collection buildings. It still belongs to the Al Señor family.  
Location
Al Zurayb Water Wells
Dotted around the Al Zurayb Castle/Fortress

, there are 11 water wells

. The fort area has an ample supply of groundwater. 
For centuries, pilgrims and travelers drank from these water wells. They are the oldest of all and are 10 km Northeast of Al Wajh

 city. 
Wadi Al Zaryb Valley Wells
The following is a list of names of the old water-wells in the Al Zarayb Valley.
Muwailha Well
Amara Well
South Maqumah Well
Al Tejaria Well 
Al Ajwa Well
Al-Shadouf Well 
Al-Muqrinah Well
Al-Qalaa Well 
Al-Manzalawi Well
Location
Wadi Al Sail Valley Wells
You can visit other water-wells in Al Sail Valley.  
They are known as:  
Sabeel Hadaj Well
Al Manshiyya Well 
Al Naqaa Well
Al Mualim Well
Al Senussi Well 
Al Zurayb Valley Dam and Reservoir
From Al Zurayb Fortress

, you drive north for 5 km and arrive at the Al Zurayb Valley Dam and rainwater collection area. 
It is about 10 m high and 160 m wide. It blocks the passage of rainwater that flows down the Zurayb Valley

 towards Al Wajh city. 
You can drive up the valley to the dam and clamber onto the viewing platform. The rainwater in the lake accumulates behind the dam wall.  
In summer, it is almost dry. However, after the heavy rains in spring and fall, the natural lake fills up.   
The water level rises to the top of the dam to just below the blue railings on the viewing platform.   
The dam controls the flow of water down the Al Zurayb Valley

 that eventually ends in Al Wajh city. 
The lake is a great place to see migrating birds and wildlife that live in the lovely mountains surrounding the dam. 
How Much-$?
The Al Zurayb Valley dam is free to access.
When To Go?-Timing 
Do not go to the dam during periods of heavy rain to avoid getting stuck in floods and gushing water. 
Spring and Autumn are the best. October- April
Who Will Love It?
Day trippers, families, and sightseers
Location
9. Peculiar Rock Formations In Al Wajh  
Over the centuries, the wind and natural elements have created strange sculptures out of the sandy rocks that exist around Al Wajh. 
You can easily see them as you drive towards Al Wajh city on the main road. Listed below are two of the most famous natural rocks that appeal to visitors. 
What Can You See/Do There?
Camel Shaped Rock
Al Wajh has a famous 12 km long island in the shape of a dolphin- Murekha Island

. It also has a rock that looks like a camel.  
It is located exactly opposite the Saudi Electricity Company Power Plant

. 
Many rock formations in the area are weird and wonderful. However, the enormous, famous, sitting camel is the most visited rocky feature. 
Location
Cowboy Rock Formations
Another rock formation is called Cowboy Rock. It is about 750 m long that looks like a background to a cowboy movie.

Here you can stop your car, buy snacks at the food truck, and wander around the weird formations.
How Much-$?
The rock sculptures are free of charge.
When To Go?-Timing 
The best time to see the formations are in the cooler seasons of spring and fall. October-April
Who Will Love It?
Kids, families, and landscape photographers love it. 
Visit Duration
1 hour 
Location
10. Ancient Neolithic Stone Circles
Why Visit It /Them? 
The archeological ruins in Al Wajh are a testament to its ancient history and shed light on how previous civilizations thrived in the strategic city.
Surprisingly, there are thousands of neolithic sites

 scattered across the Saudi Arabian peninsular. 
In the Umluj /Al Wajh

/ Duba regions, more than sixty ancient sites exist. 
They purportedly date from 8500 to 6500 BC. Amazingly, people have been living, working, and have thrived in the Al Wajh region for thousands of years. 
The ancient stone sites usually can be found on the tops of hills or at the edge of plateaus. 
Many of them are far from populated areas. However, they appear to have been constructed along travel routes and may have been signs or indications intended for strangers. 
When seen from the air, they have the shape of enormous:
circles or rings 
triangles 
mounds
dotted needles 
lines or tails
bars
enclosures
irregular shapes 
kites
What Are The Rock Formations?
The neolithic communities made these relics using loosely piled rocks. They put them one on top of the other without mortar. 
The stone circle walls are usually 30 cm to 60 cm high. They have a diameter of between 5 m and 100 m. 
Many of them have long tails that are hundreds of meters long. Others have triangles pointing towards/away from the circles. Many look like large animal enclosures. A few others look like kites (birds).  
When viewed from the air, the odd shapes are similar to the famous gigantic Nazca lines and shapes in Western Peru.
For What Were the Formations Used?
Thousands of years ago, water was abundant in the inhospitable regions where the stone formations are today. 
This likely means that there was more agriculture and busier, thriving human settlements. 
However, archeologists and scientists are scratching their heads to understand why the Stone Age people built them. 
Some researchers suggested they could be any of the following:
ancient gravesites
decorative desert carvings
ancient signposts 
pointers to fresh spring waters
ancient caravan routes
pointers to desert paths
However, more research is needed to find out more about them.  
What Can You See/Do There?
Types Of Ancient Stone Structures 
Stone Circles Or Rings
The majority of the shapes to be found are stone circles. They have perfectly round shapes with small mounds at their centers. 
They are between 5 m and 100 m in diameter. 
The ancients built the stone circles at the top of hills or along the edge of plateaus. If a mountain was very high, they constructed the formations on the hill slopes. In this way, people could easily see them from below.  
Stone Circles With Triangles
Many stone circles have large triangular shapes next to them that point towards, away from the stone circles, or in no particular direction. 
Sometimes, there are just single triangles and no others in their vicinity. 
Stone Mounds
When viewed from the air, stone mounds vary in shape. There are thousands of examples throughout Saudi Arabia.  
Flat Topped Mounds
Depressed Shaped Mounds
Donut Shaped Mounds
During the neolithic age, the people used them as burial chambers. They built them high up in the hilly regions close to other stone existing stone circles.
These possible burial mounds should not be confused with the thousands of similarly shaped scoria or cinder cones in the many basaltic volcano fields

 of Saudi Arabia. 
Dotted Line Needles
In this shape, two dotted lines begin at two separate mounds and converge to become one. They look a bit like a stick man without arms and a head. 
Lines Or Tails
Long lines of trailing rocks emerge out of stone circles or mounds and continue for meters. 
Bar Shapes
These formations have bar shapes. 
Enclosures
The enclosure shapes may have been just that-enclosures for animals. They are circular but inexact. Unlike the stone circles, there is no mound in the middle, and they are in the low lands. 
Irregular Shapes
The irregular shapes seem haphazard, but they were well constructed. 
These random shapes are abundant across the Saudi peninsular. They may have been homes, even pens for livestock. You can see them at the bottom of hills, on slopes, or the edge of volcano cones. 
Kites (Birds)
There are only four examples of kite shapes on the Saudi peninsular. These bird-like formations also contain pens used to hold captured animals after a hunt. 
Ancient Stones Relics – Al Wajh Region
How Much-$?
The stone circles are free to visit if you have the vehicle to access them. 
When To Go?-Timing 
The best time to see the stone formations is in the cooler seasons of spring and fall. October-April
Visit Duration
Half a Day
Who Will Love It?
Archeologists, nature lovers, and history buffs will love them. 
Ancient Stone Circle 1 
Location
Ancient Stone Circle 2 
 Location
Ancient Stone Circle 3
Location
Neolithic Triangle
Location
Read the April 2021 NBC News Article About The Ancient Rectangles Mustaatils

with great ariel photos
Al Wajh Domestic Airport
Also known as Paracetamol International Airport, Al Wajh Domestic Airport

 offers three flights daily to Riyadh and Jeddah.
The longest route from Al Wajh is a non-stop flight to Riyadh (1,034 km). The flight takes 1 hour and 40 minutes. 
Saudi Airlines operates the flights.  
Al Wajh Domestic Airport Destinations
Jeddah- 14 flights a month
Riyadh – 9 flights months
The other nearest domestic airport is the Prince Mohammed Abul Aziz Airport

 at Al Ula

, 200 km from Al Wajh city. This airport is 50 km south of the Al Ula ruins

.
Prince Mohammed Airport in Al Ula can handle 100,000 passengers, is very luxurious, and cost SAR 143 million to construct. 
Other airports in the region include the Prince Muhammad Bin Abdul Aziz International Airport

 in Madinah and Prince Abdul Mohsen Bin Abdul Aziz Regional Airport in Yanbu.  
Location
Hotels and Places to Stay in Al Wajh 
Video Showing Top 10 Restaurants In Al Wajh
Diving And Fishing Tackle Shops
References And Useful Sites