I first visited Disah Valley called Wadi Al Disah, Tabuk in 2014 and frankly, I found it breathtakingly beautiful.
As it happens, I discovered the place almost by accident. I was in the region exploring some ancient Nabatean sites and in particular the scoria cones of the Harrat Al Rahah volcano field.
Did you know that Saudi Arabia has more than 2,000 volcanoes.? Read insidesaudi's 10 of the best in the kingdom at The Tourist Guide To The 10 Most Amazing Volcano Fields In Saudi Arabia.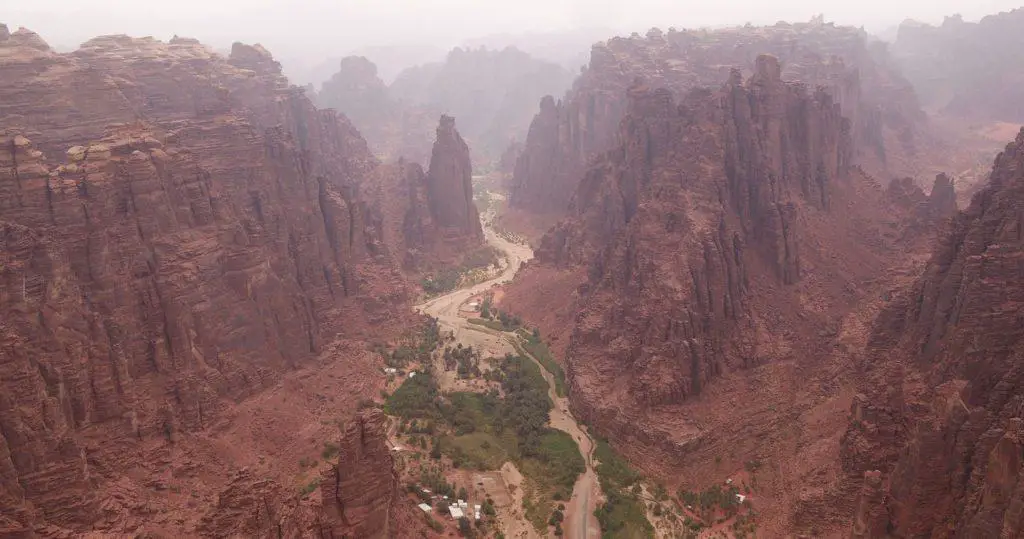 At that time, there was little, if any, tourist or online information available about this amazing valley. So no one really knew about it back then.  
As I traveled about the region, so many local people mentioned Wadi Al Disah. It is also called Wadi Al Qirqir. I felt intrigued to visit it.  In Arabic, a Wad is a river bed.
What I found amazed me and left me feeling quite awestruck. 
I don't wish to recount the details of my trip. This is not a travel blog. Rather, I simply wish to entice you and to present as much information as possible about the valley to help you decide if the Wadi Al Disah is a place that one day you might like to experience for yourself in the future. 
So, what is Wadi Al Disah or the Disah Valley? 
Al DEE-sah is an astoundingly quiet, picturesque 25 km long valley of sandy river beds with cool shady palm trees surrounded by towering red sandstone escarpments, breathtaking canyon peaks, and lined with gushing freshwater streams, and an oasis. The dramatic cliff faces contain ancient caves, hidden tombs, and delightful centuries-old petroglyphic writing & artwork of human and animal figures (camel, ostrich, and antelope). 
Fact Sheet 
Features
Fact
Wadi Al Disah (Arabic)
Valley of Palm Trees (English)
Length
25 km East-West Direction
Volcano Field
Harrat Al Rahah
Location 
Tabuk Region, NW Saudi Arabia
Map Coordinates
27°38'02.9″N / 36°30'59.0″E
Link To Google Maps
Wadi Al Disah,Tabuk
Geology
Red Sandstone Escarpments
Geography
River Bed, Oasis, and Springs
History
Thamud and Nabatean
Reputation
Outstanding Natural Beauty
Fossil
Caves, Tombs, Rock Art
Activities
Off-roading, CampingWalking, ClimbingPicnics, Photography
Other Urban
Jeddah 880 km
Madinah 800 km
Red Sea
Umluj 428 km
Al Wajh 263 km
Tabuk 143 km
Duba 115 km
Where Is Wadi Al Disah Located, Exactly?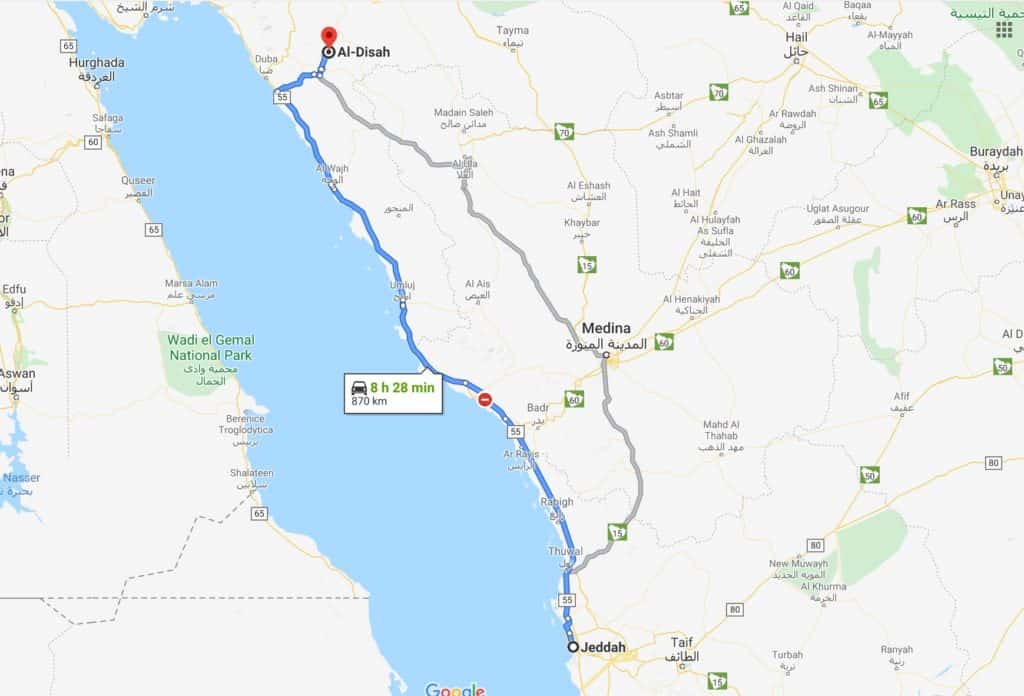 This picturesque valley called Wadi Al Disah is in the region of Tabuk, North West Saudi Arabia in the Mohammed bin Salman Natural Reserve exactly 143 km south of the city of Tabuk

or 115km from the Red Sea town of Duba.

Wadi Al Disah Is One Of Six Stunning Valleys
Wadi Al Disah is one of a complex series of 6 sandstone canyon-like valleys that run in an East to West direction.
The valleys flow down in a south-westerly direction towards the Red Sea beginning at ancient volcanic fissures that comprise the North-South running Harrat Al Rahah volcano field. 
Click to read and a watch video about Harrat Al Rahah volcano field in The Tourists Guide To The 10 Amazing Volcanoes In Saudi Arabia. 
Wadi Al Disah is the greenest and the most beautiful of all the six valleys, but each has its own particular virtues and they all can be visited and explored. 
The riverbed running through the valley is properly called Wad Qirqir pronounced locally as Geer-gEEr after the Jabal Qirqir the name of the mountain range in which the village of Disah

is located.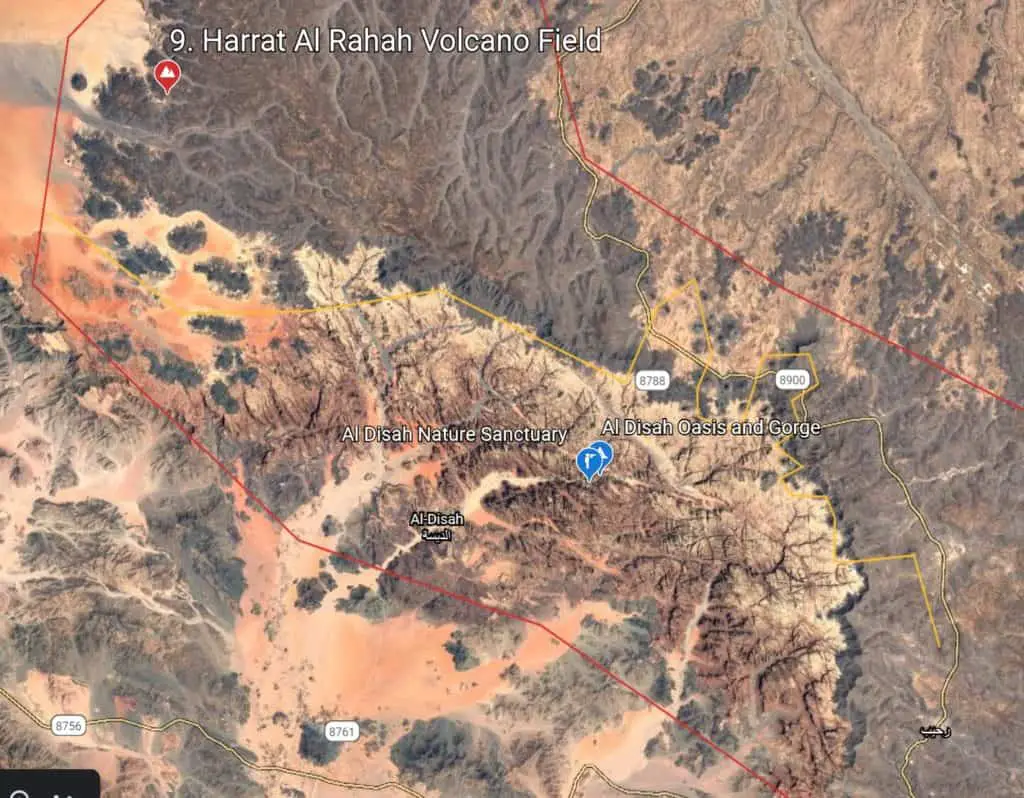 Only Two Roads Lead To Wadi Al Disah
Only two roads provide access to Wadi Al Disah (Wadi Al Qirqir). The first is north of the valley coming from the city of Tabuk

on Routes 8900 & 8788 (143 km).
The second comes from the West beginning at the Red Sea town of Duba

via Routes 80 East and 8756 SouthEast. (115 km)  (See actual directions below)
What Is The Historical Background To Wadi Al Disah (Wadi Al Qirqir)?
Ancient Civilizations From 4-5,000 Years Old

There is evidence of human occupation in the region starting from as early as the Bronze Age 2,000 BC. 
Later, the Dedanites ruled the region from 600-700 BC followed by tribes of Lihyanites

from 500 to 200 BC. 
The Lihyan/Nabatean civilization occupied the area until 106 AD until their empire capital in Petra, Jordan got annexed by the Romans after which they moved their base of power to Hegra Mada'in Saleh

, 28 kilometers north of the ancient Nabatean town of  Al Ula. 
To read a potted summary of the history of the ancient peoples of the Tabuk region click through to a Disah and Archeological Treasures section on an insidesaudi.com

article on Umluj.

What Can I See At Al Disah Valley?
Towering Escarpments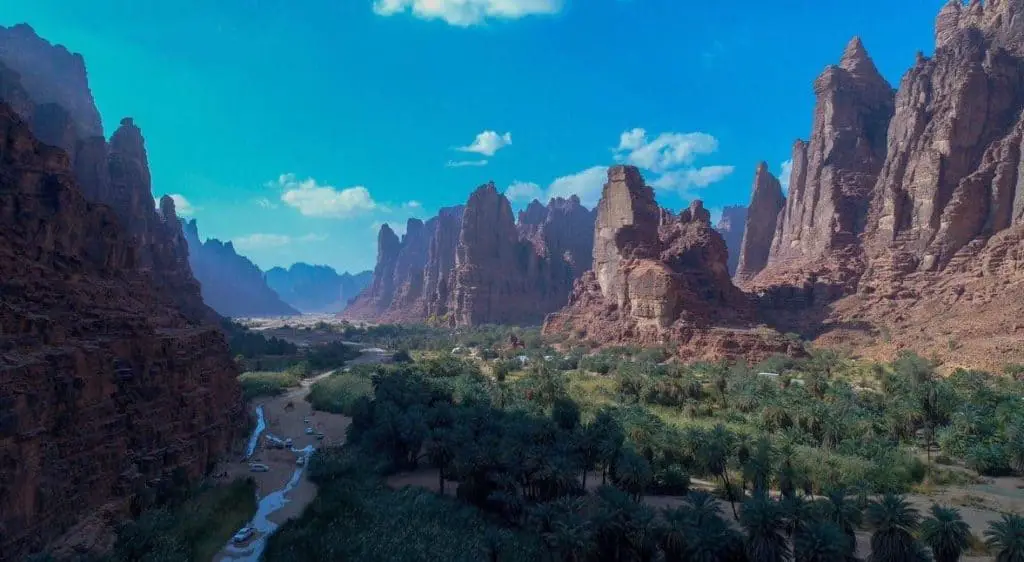 Approached from the South, the Wadi Al Disah begins properly 25 km north of the village of Budiyidaa.

(Route 8756). 
The approach to the Al Qirqir valley is across a spectacular red plain sandy desert (Route 8761) that meets the edge of the sandstone escarpments.
Entering the valley, you reach the Disah village

after 8 km. 
At this point, the rocky valley sides are sloping softly and set wide apart. Disah village

sits in a wide-open sandy area adjacent to the Wadi Al Qirqir river bed at the lower end of the valley. 
Continue through Disah village

and past the farms on your left and right as you go, the height of the valley side escarpments will start to increase to 100m +. 
As you head East, the valley river bed will gradually rise, its width decrease and the escarpment start to look more and more dramatic. 
Breathtaking Peaks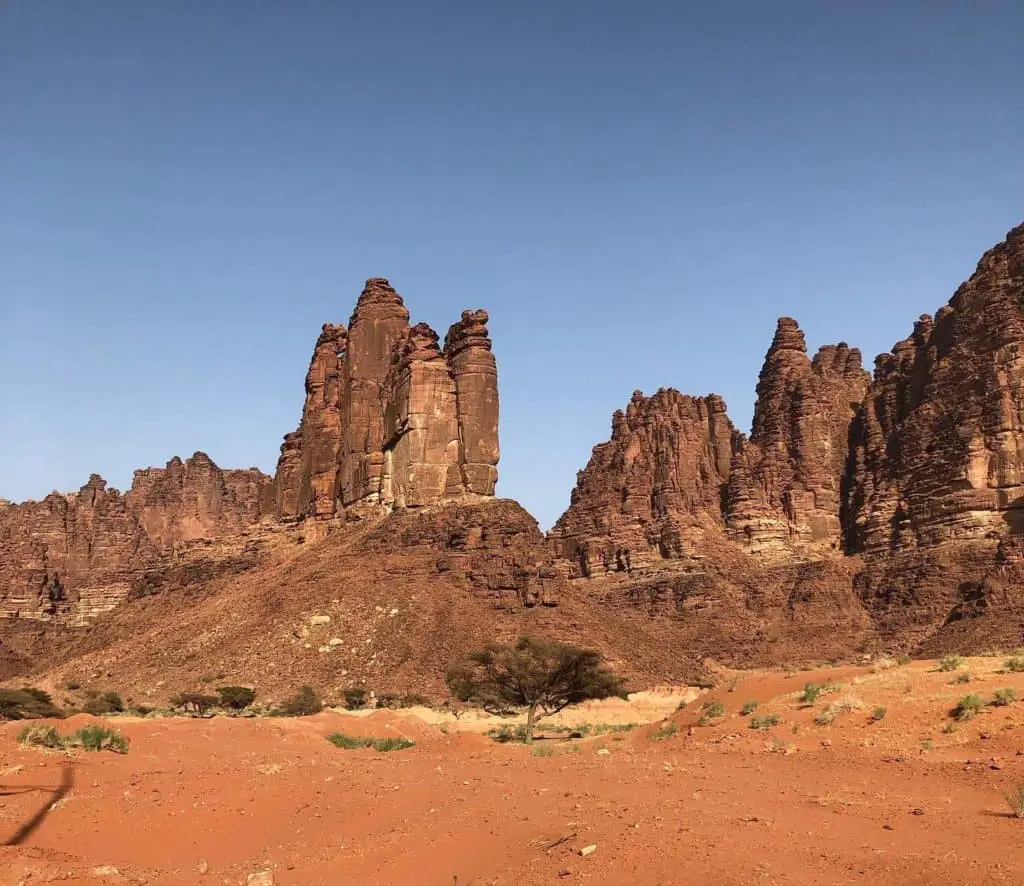 Two kilometers East of Disah village, you will see the lovely The Disah Public Gardens

on your right.  
Drive east for another 6km until you reach the Ein Al Disah

(Disah Mountain Spring). As you approach the spring, you will pass by homesteads, ranches, and farms. 
Depending on the time of year the spring may be gushing and overflowing down the valley or just a trickle in the hot summer months. 
At this point, the beautiful river bed valley narrows, and the escarpment peaks rise some 400m-500m high above you in a chain of breathtaking peaks on either side of the valley.  
Caves, Rock Carvings, Kufic Writing, and Ancient Art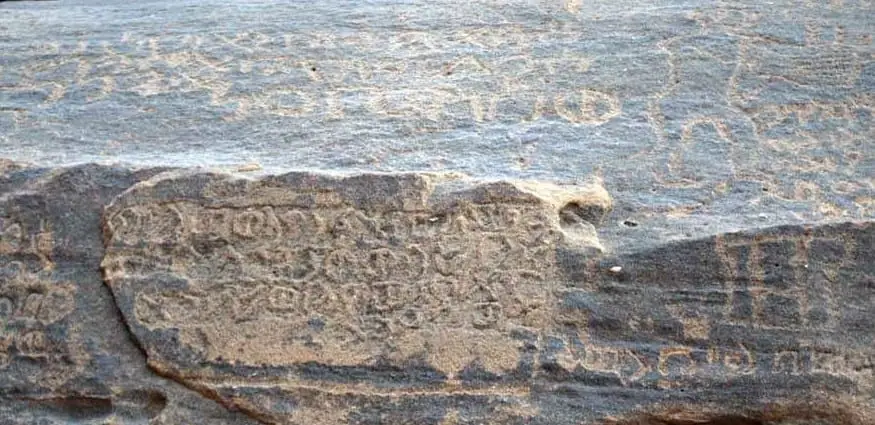 For thousands of years, the people of old, Thamud, Lihyan, and the Nabataean civilizations successfully inhabited the region. 
There are many caves in the cliff faces that contain remnants of those societies including Nabatean tombs and instances of Arabic and petroglyphic (Kufic) script and wall art of animals including camels, ostrich, and antelope. 
Disah Village -Nabatean Tombs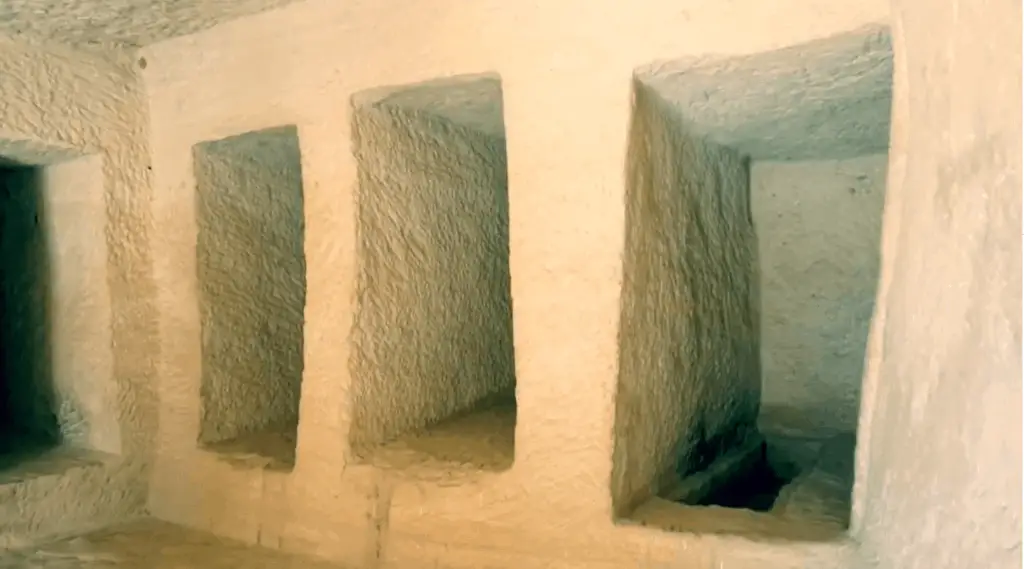 There are numerous Nabatean remains you can view in Al Disah village such as tombs and wall art scripts. 
Last time I was in Al Disah the Nabatean tomb was fenced off and closed to the public. I hope it has opened now!
Click to read a little more detail about the people and lives of the ancient civilizations that existed in Tabuk in another article about Umluj

entitled  15 Awesome Reasons To Visit 'Umluj' In Saudi Arabia With Photos,

Wadi Qirqir -Dry In Summer But Flowing In The Rainy Season
The myth goes that there are only two seasons in Saudi Arabia. Actually, it isn't true. There are 6. They are:
Winter (Dec-Feb)
Rainy 1 (Feb-April)
Spring (April-May)
Summer (June-Sept)
Rainy 2 (Sep-Nov)
Autumn (Oct-Nov)
Rainfall in the kingdom is erratic, but more rain falls in the Eastern province (77mm) than in the Western province (60mm). However, the central province gets the highest of 111mm. 
In Wadi Al Disah,

the highest levels of rainfall are in March-April and in Oct-November. They also happen to be cooler months and very enjoyable for taking excursions. 
However, because of the elevation 400m above sea level and proximity to the Red Sea, the valley is cooler than the rest of Saudi Arabia. 
The temperatures range from about 12 °C in the cooler months up to 31 °C during the summer. This makes it an optimum climate for production of fresh fruit and vegetable crops in the area.  
During the two rainy seasons, water will gush down in torrents over the massive escarpment peaks down into the valley riverbed. 
From here, rainwater fills up the riverbed and meanders down the valley forming pools and gushing streams.
This makes it difficult sometimes impossible for normal road vehicles to traverse.
When Is The Best Time To Go To See Disah Valley?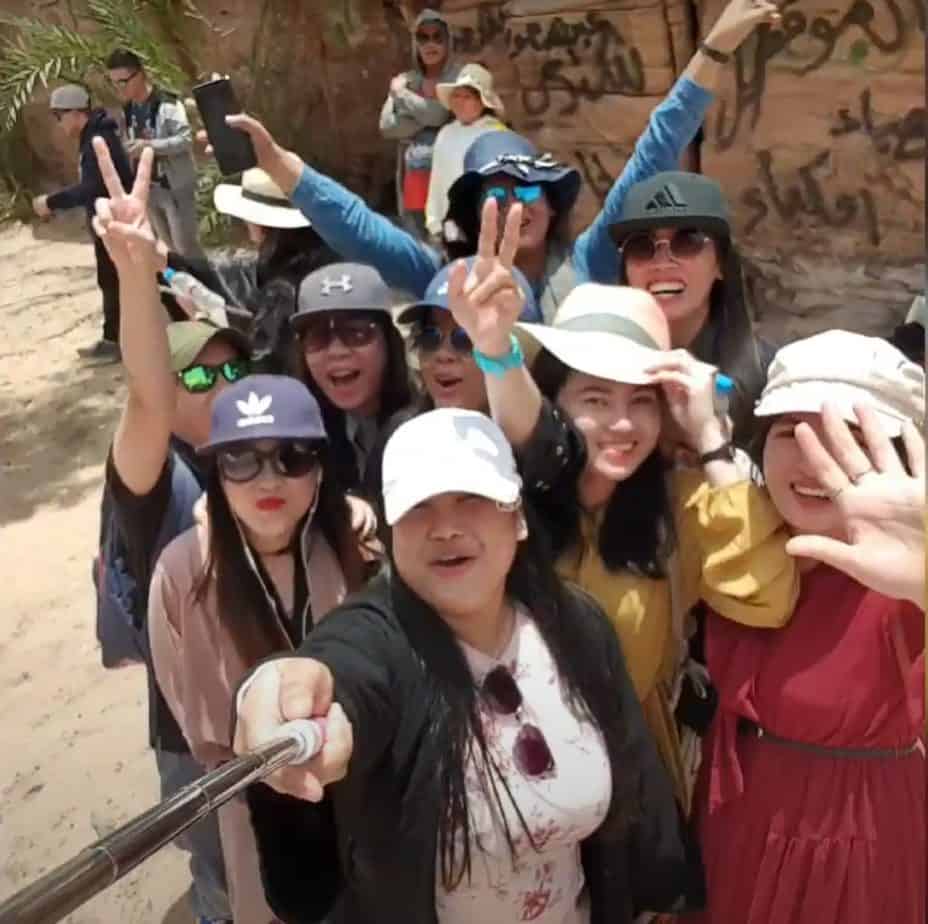 You can experience Al Disah or Wadi Qirqir at any time of the year. Most popular are after the rainy seasons and in the cooler months.
If there is lots of water flowing in the river bed then an off-road vehicle is highly recommended. If you wish to camp out, then a warmer, drier period is recommended.  
Tourism to the area is still minimal. However, in 2018 the Saudi government made plans to develop the area for touristic purposes.  (See details below).
The best time to go to the site today is before the area becomes too developed and in anticipation of the future invasion of waves of tourists that are likely. 
What Can I Do At Wadi Al Disah?
There are a number of activities to do in Al Disah:
Off-Roading Adventures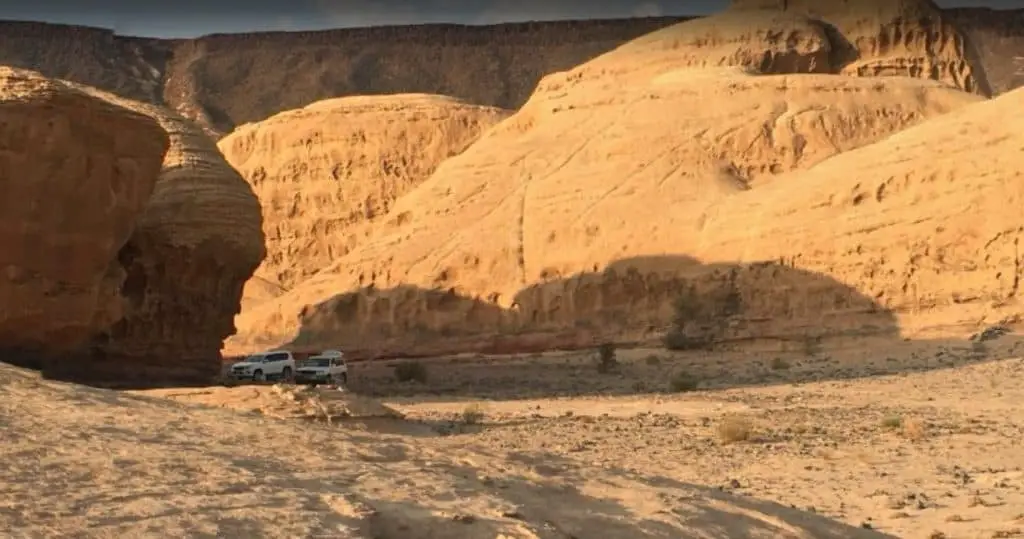 The landscape in the 68km stretch of river valleys is very beautiful and evocative. The sand is red and pristinely clean. 
The area abounds in strange and unusually shaped rocky features and ancient sites that can only really be explored if you get off-road.
For this, you will need a high wheel SUV designed for this purpose.
Bird and Animal Watching
Wadi Qirqir is a paradise for exotic birds, insects, and animals. Since there is water, greenery, and agriculture migrating birds and animals are found in abundance at various times of the year.  
Landscape Photography
The valleys make an enviable backdrop for landscape photographers to produce stunning pictures. Popular rocky open desert plains, volcanic scoria cones, and the imposing sandstone peaks that dominate the valley skylines.
Flying Drones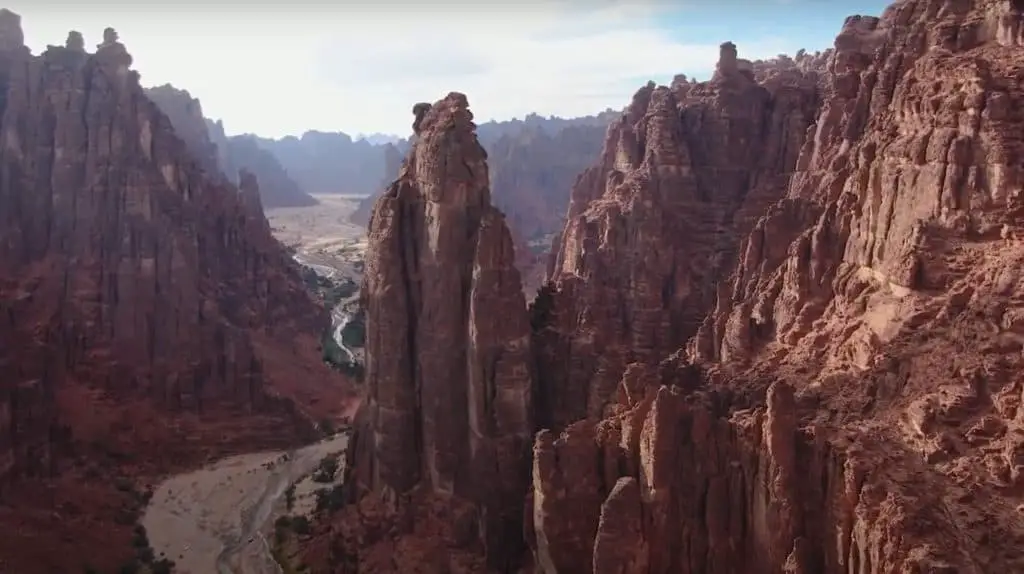 The sheer awesomeness of the mountain peaks that make the Disah valley a spectacular venue for drone flying and recording landscape videos.
Drones are the perfect means of recording birds-eye footage to gain a deep appreciation of the beauty of the rocky landscape. 
Rock Climbing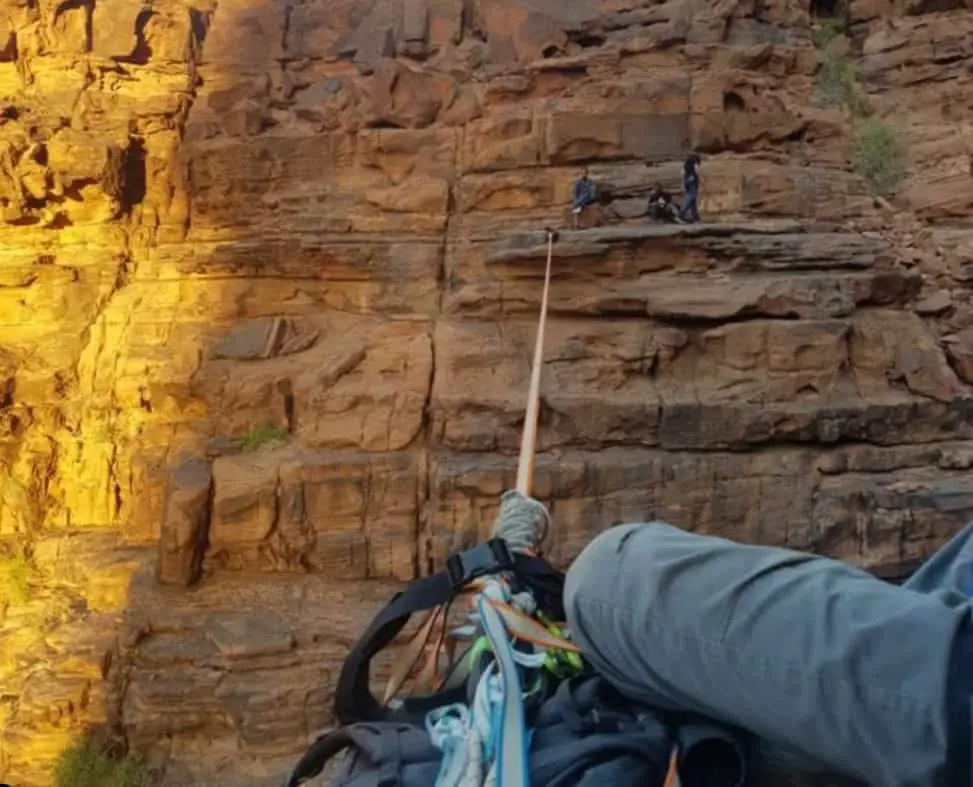 Free climbing or using ropes, there is an unlimited number of spots where you can scramble up rock surfaces or go off on mountainside adventures.
Great for kids and young adults.   
Hiking
This is not a popular activity in Saudi Arabia, but the area offers great tracks and circuits for hikers and adventure lovers. 
Picnicking
The Disah valley is dotted with makeshift camps and picnic spots where visitors can barbeque and enjoy a day out. 
What Is There To Enjoy In Al Disah? 
Campsites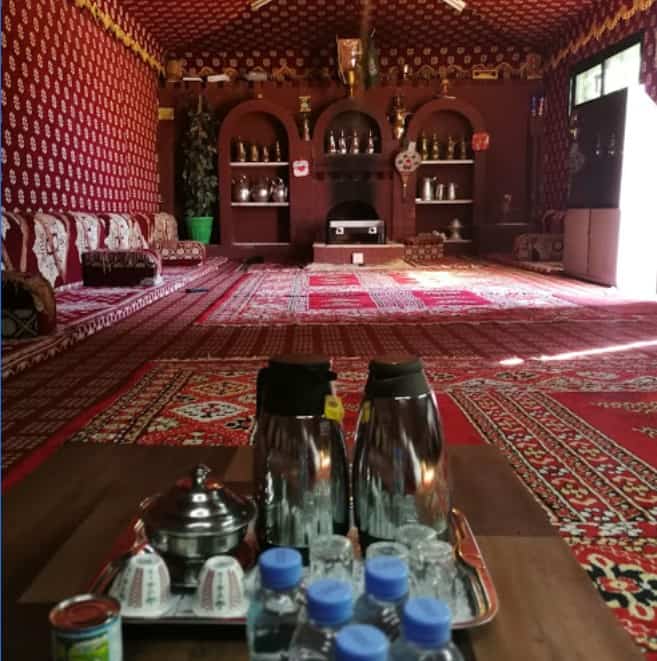 The area around Al Disah is relatively undeveloped. However, local people exploit the opportunity to be close to nature by building farms, campsites, and rest houses.
There are places to eat, drink tea and coffee and sleep the night. 
Quiet, Cool Fresh Mountain Air
The 400-500m elevation of the valleys results in lower temperatures and the lush green landscapes produce fresh cool mountain air.
In Al Disah you can taste the freshness of the air and enjoy its pureness in the absence of industrial and urban pollution. 
Camels, Goats and Sheep and Migrating Birds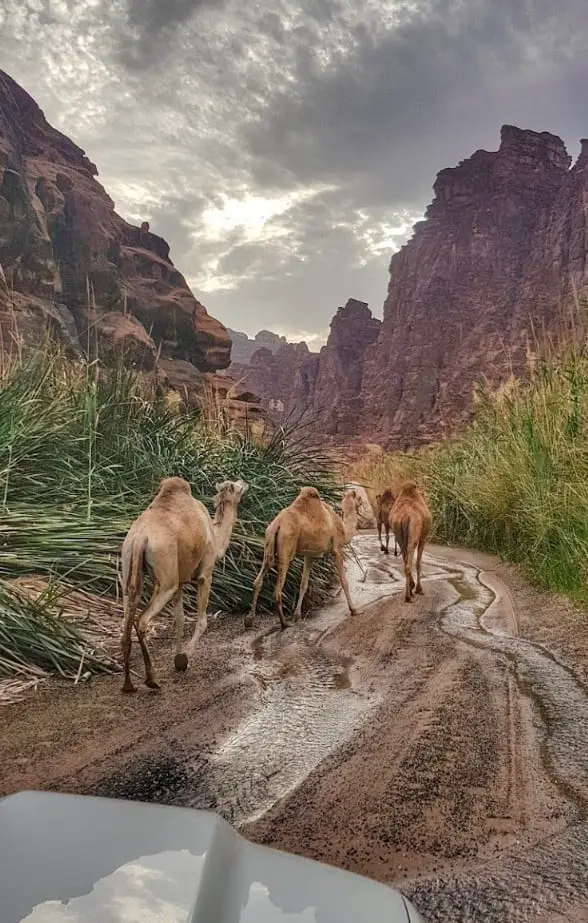 As you drive or walk through the valleys, you will be surprised to see a herd of goats, a bedouin driving his camels, exotic birds, curious-looking insects, and nocturnal animals. 
They are delightful!
Hadiqa Or Gardens for Kids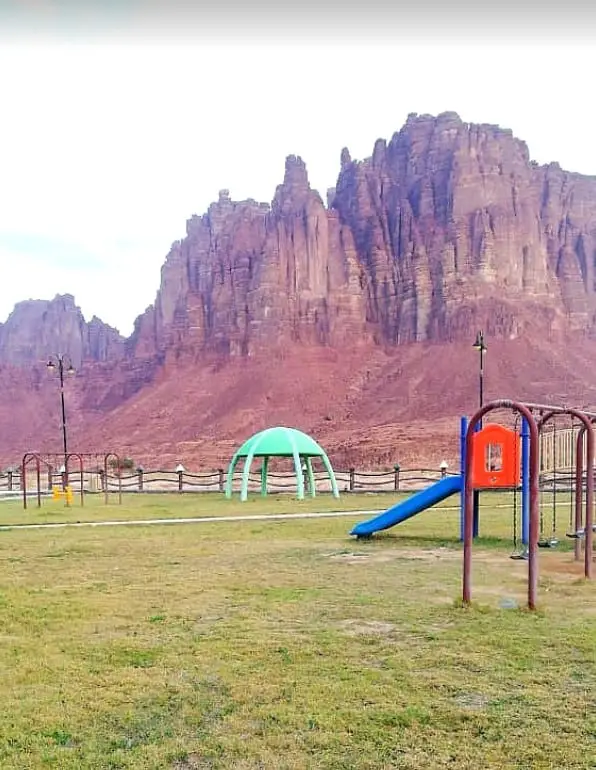 At the 0.5 km long Al Disah Gardens, there is a big play area for kids and the municipality regularly hosts family entertainments, events, and shows in the (Hadiqa) park to enjoy in the evenings.
Check the events schedule.
What Can I Eat And Drink At Wadi Al Disah? 
Springs/Fresh Mountain Water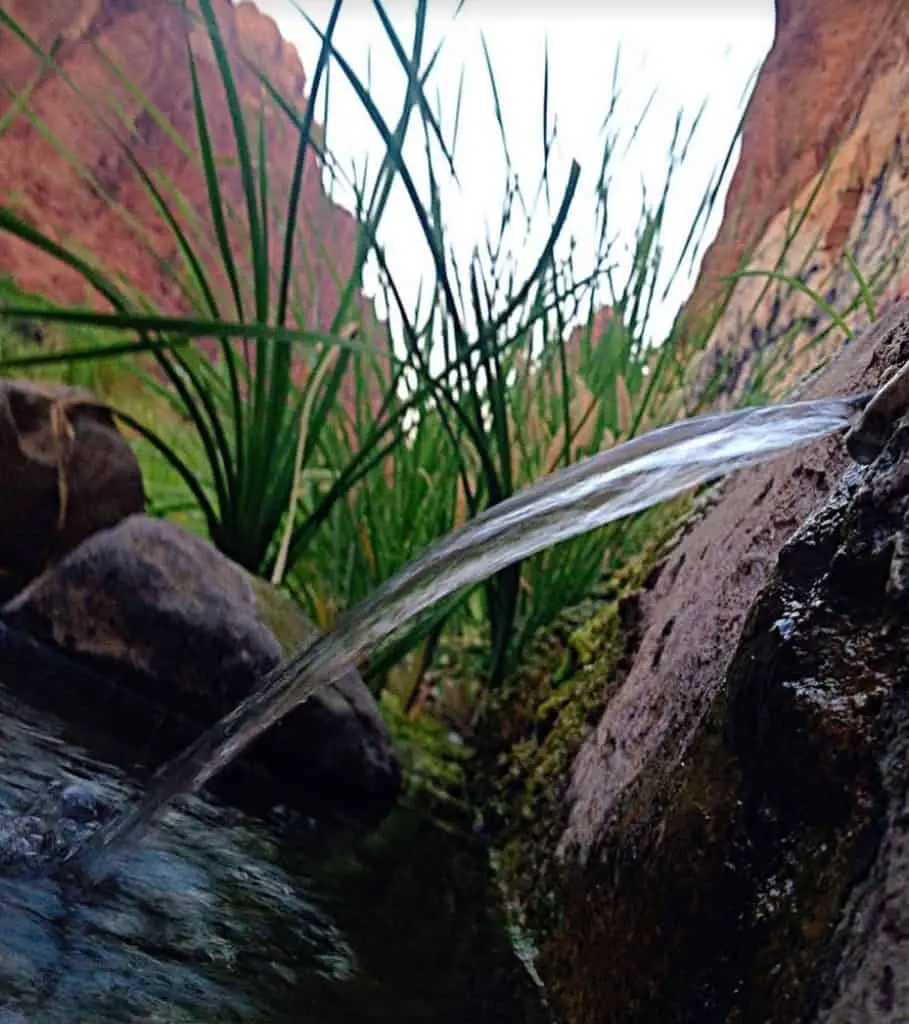 Naturally, you can drink pure mountain water from the spring points along the valley. 
Camel Milk
If you dare, you can enjoy camel milk. You can get it is you ask for it and the herdsmen will not usually charge you of they have some spare.
For the sake of your stomach, heat the milk first and then cool it before you drink.
Barbeques 
Most visitors prepare coals, food supplies and set up a base along the river valley to prepare dinner, rest, and to chill out. Food cooked on open fires is followed by tea, coffee, and sometimes a smoking session of the famous Shisha or Hookah.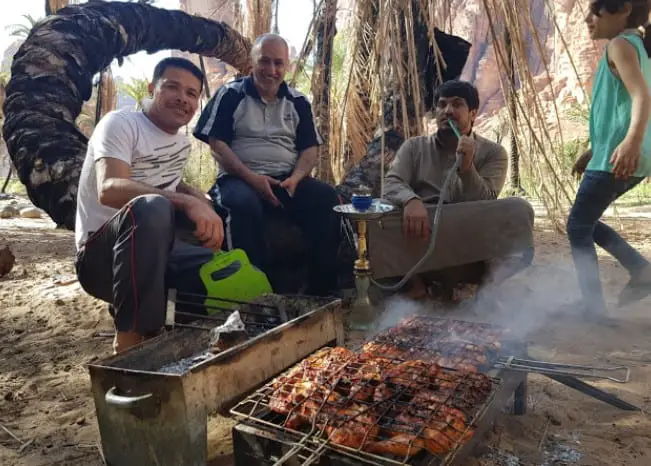 Local Food
You can find fruit and vegetables for purchase on local farms and homesteads.  These include mangoes, dates, oranges, and limes in abundance.
Also available are tomatoes, red and green peppers, and other seasonal vegetables.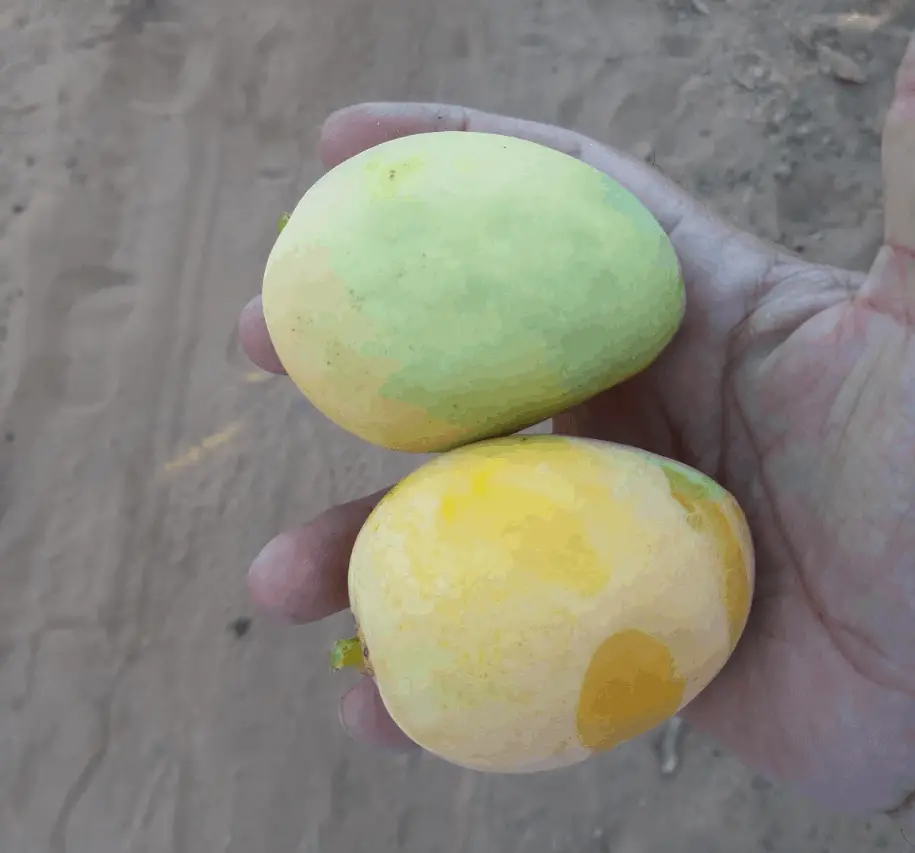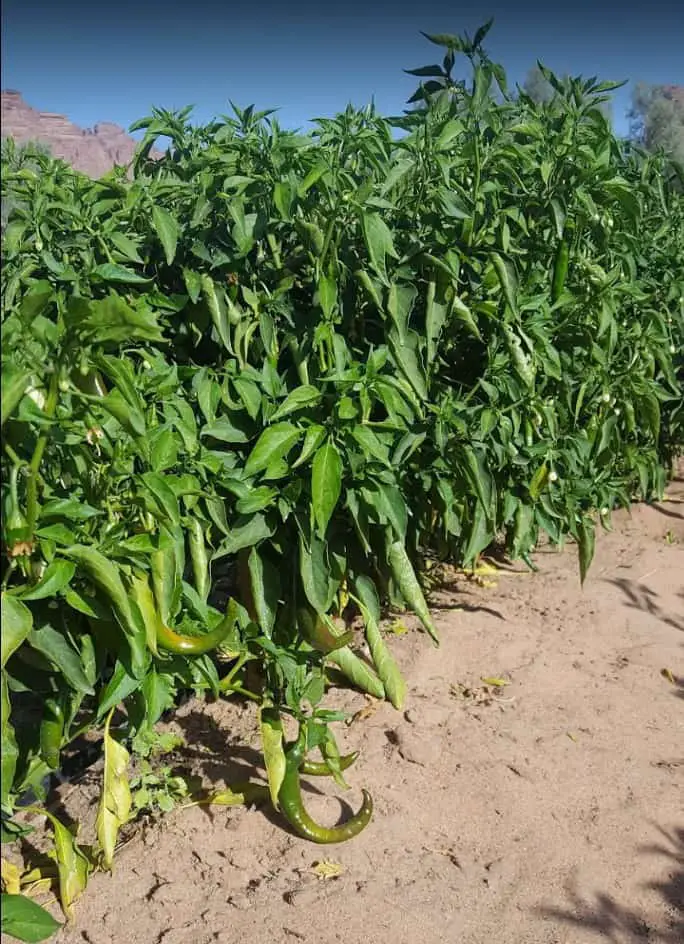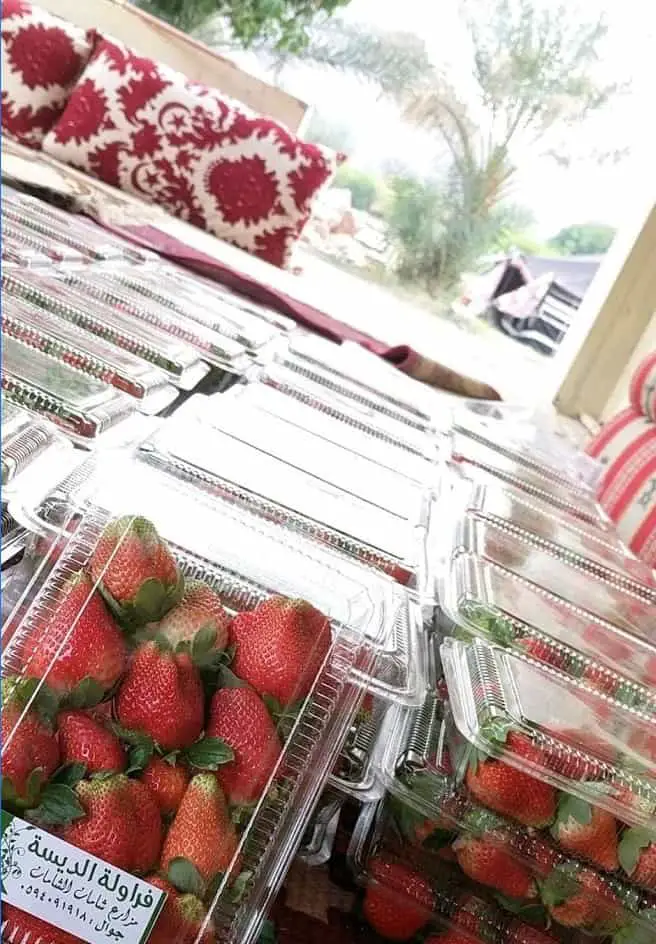 How Do I Get To Wadi Al QirQir? (See Video)
You can conveniently reach the Disah valley

beginning at Tabuk City or Duba on the Red Sea Coast.
Directions By Road Via The City Of Tabuk
From Tabuk, drive south on either Route 8900 or Route 80.

The first takes you through the lava fields and off-road to the north entrance of the Disah valley.

The second approach is the main road Route 80 (Al Shigry) & Route 8756 entering from the lower south end approach to the Disah valley

. 
Directions By Road Via Red Sea Town Of Duba
Imagine you have arrived at the small Red Sea coastal town of Duba

and have parked at the roundabout on the Tabuk city Exit 80 out of the town. 
Keep your back to the Red Sea and drive out of the town on Route 80 East for 20 km. Then, look to your left. You will see the peak of the amazing Jabal Shar

(Shar Mountain) rising up to 1,800m.
The mountain range is 18 km long and is shaped like a cob loaf. 
Drive for another 7km on Route 80 and you will find a petrol station. Continue further for another 20 km and you will find two more petrol stations either side of the right turn off (8756) heading towards Budaiyaa

(36 km) Al Shuwaq

(60km) and the hamlet of Al Disah

(67 km).
Note: Al Shuwaq

has a Mall, supermarkets, a hospital, schools, and ATMs, etc. 
Fill up with petrol, then make a right towards Al Shuwaq and Al Disah on Route 8756. You will drive along with a mountain range and kilometers of red, rocky sandy plains to your left. 
After you pass through the hamlet of Budaiyaa

(36 km), continue for another 7.5 km and you will see the left turn off Route 8761 towards Al Disah

. 
Turn left on Route 8761 and drive for 4 kilometers. (Al Shuwaq is further on Route 8756)
Then, you will come to a very small village with Baqalas (Grocery shops, etc) and a larger supermarket. Continue north on Route 8761 and you will arrive at the hamlet of Al Disah

. 
To get to Wadi Al Disah

, you need to drive through the hamlet and continue up the valley riverbed. 
What Is The Best Approach When Driving To The Disah Valley? 
If you travel from Tabuk,

you need an off-road vehicle since Route 8788 ends on the volcano escarpment on sandy sometimes water-soaked beds approx 11 km from the north end (top) of the Disah valley.  
If you travel on Route 80 from Duba

(East) or direction Tabuk-Shigry

(West), you can use a normal car as far as the hamlet of Disah

and drive easily further up the canyon depending on the weather. 
Enjoy!
Who Visits Wadi Al Disah?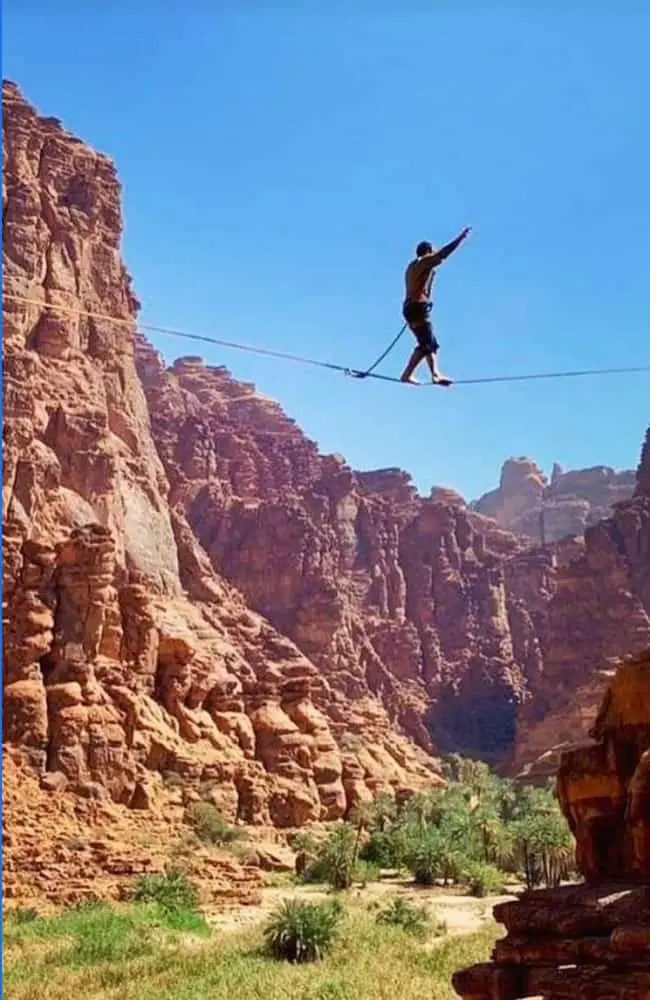 Anyone, but especially Saudi families and young, outdoor type, adventurous people.
Wadi Al Disah is undeveloped so it is not especially well known. After 2020, that is all about to change and it will be exploited for tourism. 
Where Can I Stay? 
There are hotels in Duba, apartments for rent in villages approaching the Al Disah valley (Budiyaa and Al Shuwaq).  
You will also find rest houses, campsites and places to pitch your own tents higher up in the valley.  
Where Can I get Supplies?
It is better to buy your supplies in Jeddah, Tabuk, or Duba and bring them with you. However, you will find plenty of shops in the village of Al Shawaq and in other villages along the way including in Al Disah itself. 
Related Questions
What Are The Public Investment Fund (PIF) Development Plans for Disah Valley? 
Plans are afoot to develop Disah Valley for touristic purposes. They were announced in Nov 2018 by PIF. However, to date, no specific details have been revealed.  
In a statement

, PIF will form a company to carry out the Wadi Al Disah Development Project with the goal of creating a location for major sustainable tourism and as a means of  'preserving the local environment and wildlife' and creating new job opportunities.
I would suggest hotels, rental apartments, campsites, restaurants, excursions, a visitor center, vertical balloon rides, guides and sign posting.
References and Useful Resources
Natural Springs in NorthWest Saudi Arabia-Mohammed Abdullah Saleh
PIF Development Plans For Disah Valley-Tabuk-PIF Media Center