I always worry that my car will FAIL the periodic inspection at the Motor Vehicle Periodic Inspection (MVPI) center. It's an old car and it sometimes does. When it fails, I have to run around looking for expensive spare parts and get a reliable mechanic to do the repairs in time for the imminent retest.
So, I know it is better to prepare my car for the inspection (Fahas) before I go for the inspection. However, out of laziness, I rarely do.
This article shows how, in Saudi Arabia, you do a periodical test (Fahas) for your car. It tells you what the test procedure is about and what the inspectors look for during the test.
It also details what you must do if your car fails the inspection.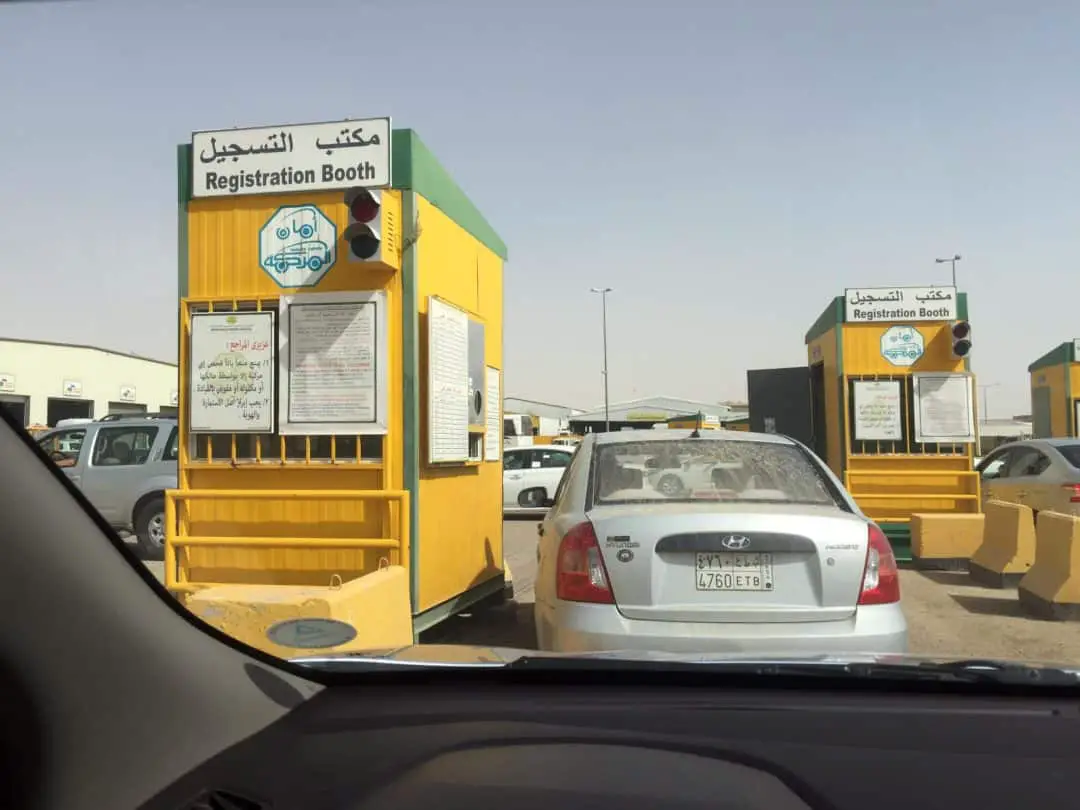 So, How Do You Get A Car Inspection (Fahas) In Saudi Arabia?
Only the registered owners of the cars/vehicles can present them for the Fahas inspection. They will ask you as you drive into the MVPI test center.
You can take your company car or your wife's car, but you should not be getting paid for doing the service.
Here are the steps:
Drive your car to your local Motor Vehicle Periodical Inspection Center (MVPI).
At the Registration Booth, submit your Iqama, driving license, car registration (Istimarah) plus 84 SAR payment.
You can show them Tawakalna electronic documents. They will accept.
Drive your car into one of the inspection lanes.
Hand your car over to the inspector and walk to the outside pedestrian lane.
Wait 5-10 minutes for your car to be tested.
Collect your car and Final Inspection Report (تقرير فحص) showing a Pass or Fail at the cabin at the end of the test lane.
Go to the Engineer's Office have him explain any repairs you might need (use Fail Item Report).
On the Inspection Report, check for the Overall Evaluation section at the bottom of the form.
If it reads PASS, (اجتياز) then it means your car has successfully passed most if not all the Inspection Stages (خطوات فحص).
If however, it reads FAIL, (فشل) it means that your car has failed at least one or more of the Inspection Stages.
What Should I Do After I Get A PASS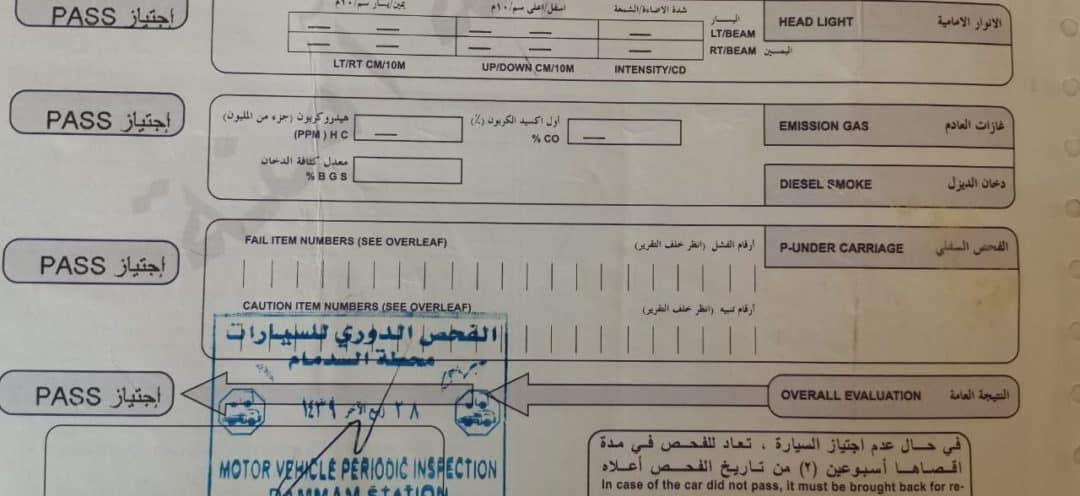 As soon as you get the Inspection Report, you should first celebrate with a sandwich and a nice hot/cold drink at the public cafeteria located next to the inspection lanes.
Here, a sandwich and tea/coffee costs 6 SAR. You can also buy juices (2 SAR) and cold water (1 SAR). You will need the refreshment since you have been waiting for a long time in line under the hot sun.
Second, you should peel the back off the new periodic inspection disc, and stick it carefully on the car window screen on the top right-hand side.
At the roadside checkpoints, the Saudi police will look at the top right-hand side of your window screen for the sticker to ascertain if you have an updated inspection (Fahas).
Finally, you can leave the Motor Vehicle Periodical Inspection Center (MVPI).
Note: This Inspection Report is valid for ONE year ONLY. You can use this to update your vehicle registration (Istimarah) and/or sell your car.
After one year has elapsed, if you decide to sell the car you will have to do any repairs on it and then follow up with another MOT Inspection (Fahas) at the MVPI test center.
What Should I Do After I Get A FAIL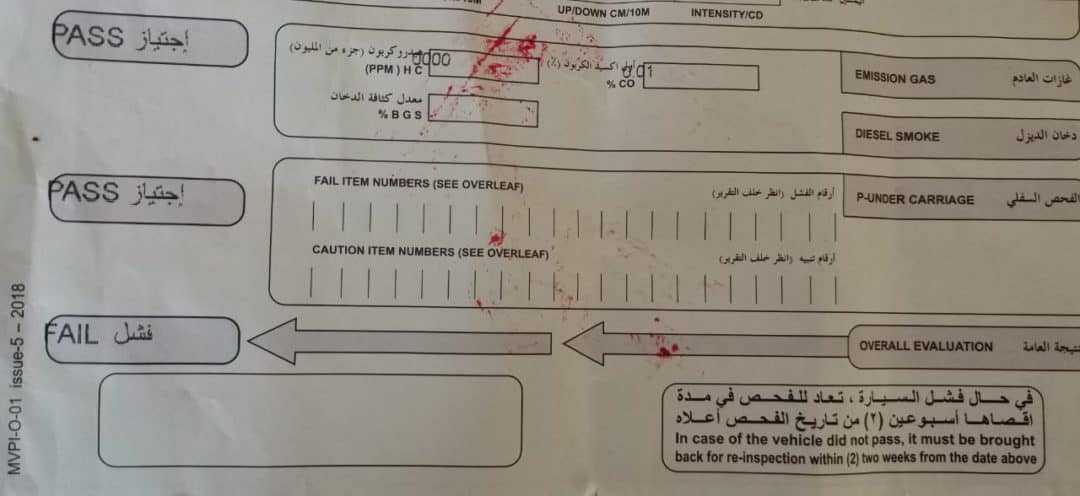 Upon getting a FAIL, (فشل) in the Overall Evaluation section of the Car Inspection MOT Report you should first go to the engineer's office to take advice about how to repair your car.
Then, show him the attached Fail Item Report. This is an additional small report that the Test Inspectors have detailed with a list of failed items to help you understand what needs fixing on your car.
In Arabic, the engineer will read the detailed Fail Item Report attached and offer you advice on how to repair the car so that you can get it ready for a reinspection.
Then, you should have a sandwich and a hot or cold drink. (6 SAR) There is a small cafeteria next to the inspection lanes. The weather is hot, and you will wait more than 30 minutes in line to get your car inspected.
Later, if the repairs are simple, you will find mechanics workshops close to the MVPI. In order to get customers, they will usually stand on the streets and stop you are you approach the test center. They are usually Yemeni or Arab nationals.
Actually, at my last visit in November 2021, a Yemeni mechanic quickly inspected my car and told me what was wrong with it. Surprisingly, he quoted me a fair price to fix the problems which felt very reassuring.
The Fail Item Report For Repairs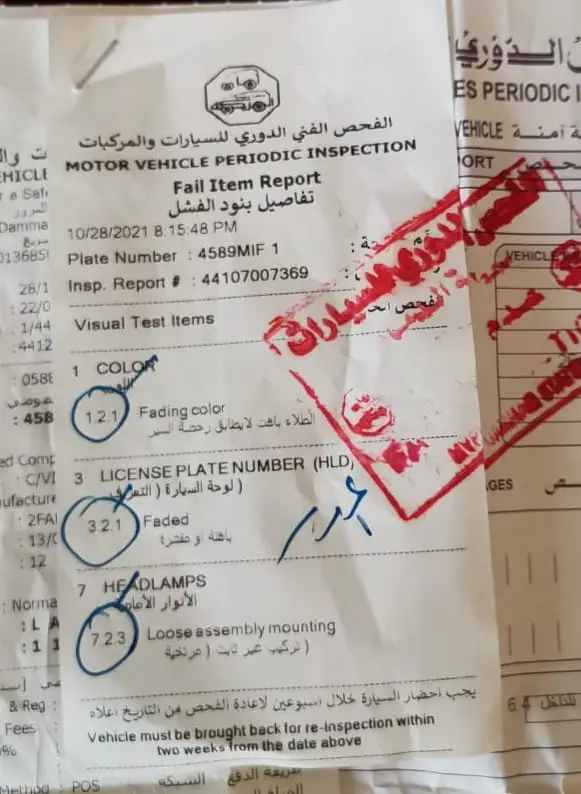 The Fail Item Report contains a list of items lifted from the Inspection Report that tell you what needs fixing on your car. They also give short instructions in Arabic and English detailing the failed issues.
To get a better understanding of what fixes are required go directly to the engineer's office, and he will explain them to you.
The report also informs you that you have two weeks from the date of the original inspection (Fahas) to reinspect your car.
The Re-Inspection Of Your Car Of The Fail Items
After completing repairs, take your car back to the MVPI to retest the items mentioned in your Fail Item Report.
For the retest, show your car registration, (Istimarah), driving license (Rucksa), residency permit (Iqama) plus 30 SAR at the registration booth.
The inspectors will retest the FAIL items ONLY provided you have returned within two weeks of the original inspection date.
Keep the original Inspection Report with you. This time, the MVPI will issue you with a fresh Inspection Report indicating the Overall Evaluation of PASS or FAIL.
How Do the MVPI Inspectors Test Your Car?
The vehicle test (Fahas) in the Saudi MVPI. begins as soon you hand your vehicle over to the Test Inspector who is working on the inspection lane.
The vehicle test (Fahas) procedure has six main steps.
Visual Inspection
Wheel Alignment
Brake Test
Headlight Test
Emissions Gas Test
Undercarriage
What Do MVPI Test Inspectors Look For?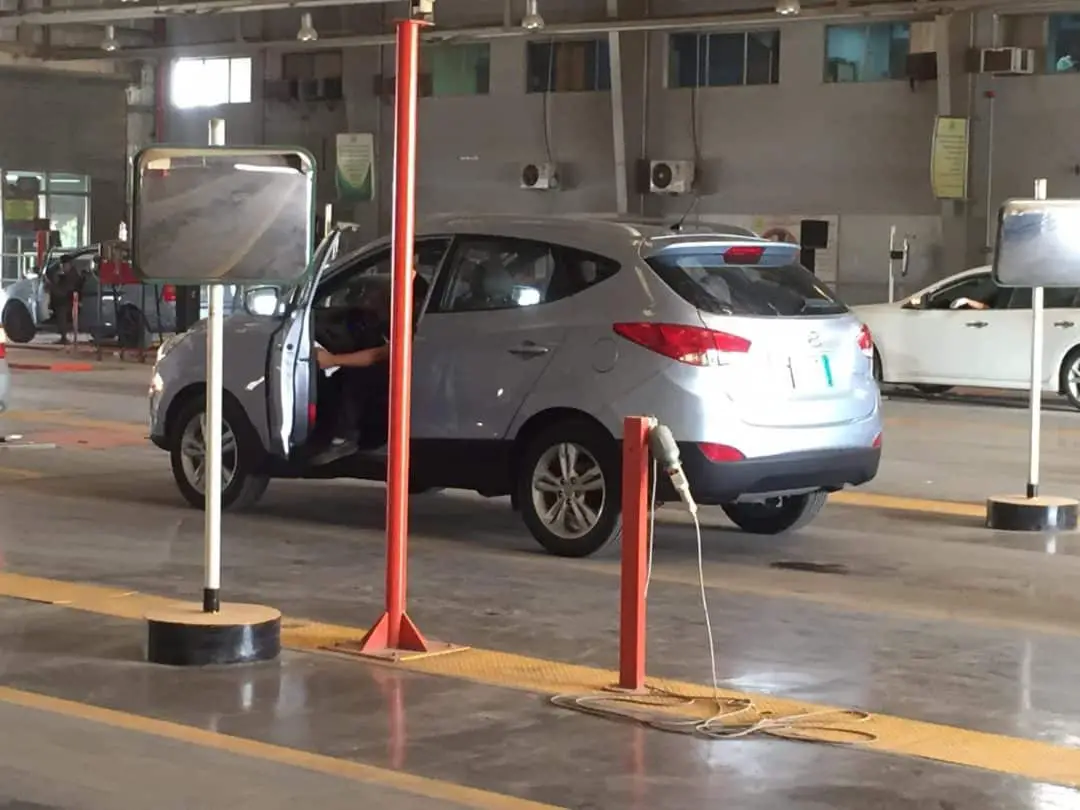 1. Visual Inspection
The following is a comprehensive list of items that Test Inspectors look at during the check (Fahas)
A: The Car Body
| | |
| --- | --- |
| Color | Fading or not matching color stated on the car registration (Istimarah) |
| Damaged Body | Dents, dings smashes, and holes |
| Corrosion | Rust spots and environmental corrosion |
| Fuel Tank | Not leaking and capped |
| License plate (Front and back) | Black letters and numbers are not faded and are clearly visible |
B: The Lights
| | |
| --- | --- |
| Head Lamps | Secure, well-positioned, aim and illumination |
| Tail Lamps | Secure, well-positioned, and illumination |
| Directional Lamps (Front and Back) | Secure, well-positioned, and illumination |
| Brake Lamps | Work With brakes, secure, well-positioned, and illumination |
| Hazard Lamps | Function and synchronized |
| License Plate Lamp | Functions and Illuminates the plate number |
| Auxillary Lamps | Secure, well-positioned, and illumination |
C: The Cables And Belts
| | |
| --- | --- |
| Main Cable Connections | Secure and not worn |
| Engine Belts | Secure and not worn |
| Seat Belts | Fasten Securely and function |
D: The Chassis
| | |
| --- | --- |
| VIN or Chassis Number | Still visible on Driver Side Door |
| Body Mountings | 6-12 bushing mounts not worn, dried out, fracturing or malfunctioning |
E: The Windows and Doors
| | |
| --- | --- |
| Windscreens | Front, Back, and Side Not Broken |
| Front Wipers | Not malfunctioning and worn |
| Front Windscreen Washers | Spray jet function |
| Doors, hinges, hood, and trunk | Not malfunctioning oiled and open with ease |
F: The Vehicle Interior
| | |
| --- | --- |
| Brake Master Cylinder Assembly | Hydraulic pressure, fluid leaks, spongy feeling, and sinking brake pedals |
| Horn | Beeps Audible and Loudly |
| Rear View Mirror | Functions and fixed well |
| Signal Equipment | Emergency lights or horns functions |
| Steering Wheel & Column | No clunking, banging free play (How To Diagnose Issues With Steering Joints) |
| Parking Brake | Doesn't hold the car, the brake is stuck, jammed or doesn't work |
| Brakes & Pedals | Air in lines, fluid leak, pad wear, master cylinder failure |
G: Wheels, The Engine And Exhaust
Smoky Engine
Overheating, faulty wire casings, overheated oils, fluids, or cooling system
(How To Stop An Engine Blowing Smoke)
Tires
Tread is not worn or possible misalignment issues
Wheel Nuts/Rims
Secured and tightly fastened
2. Wheel Alignment-Front And Back Wheels
The Side Slip Test
Next, the test inspector drives your car onto automated rollers. They test the car for wheel alignment. This precision machine measures how much your wheels 'slip' on the road surface, therefore, creating increasing friction.
So, if your tires are set pointing in the exact same direction as they are set to roll, there is no side-slip or angle of slip on the road surface.
This can be achieved by having your wheels computer aligned and adjusted before you take the inspection test.
One section of the rolling machine shows how much side-slip there actually is on the wheels and indicates if they are aligned and/or within the acceptable limits.
The slip angle of the front and back wheels should be the same in order to achieve a steady, neutral road handling of your car.
Aligned front and back wheels allow you to go round corners smoothly and without noticeable under or over-steering of your vehicle.
Click below to see my favorite YouTube video explaining side-slip or steering angles related to tire friction coefficients.
3. The
Brake Test
Before you go for an MVPI inspection, test drive your car and check if there are any vibrations or pulsations as you press the brake pedal at both low and high speeds.
To find faults, you can hear any strange sounds well by driving close to walls or buildings. This will reflect any sound better and may help you diagnose any brake issues you may be experiencing.
At the test, the inspector will open the hood/bonnet and first check the Master Cylinder. The low brake fluid in the reservoir may indicate worn brake pads or shoes and even a leak of brake fluid in the system.
They check for leaks in the Master cylinder, the booster, the ABS control module, and in areas along the brake fluid lines to the front and back brakes.
Leaks can also occur in the seals on the brakes themselves.
The test inspector uses a chassis dynamometer to calculate the braking efficiency of your front and back brakes. The following items are checked in a typical automated MVPI machine test.
Brake Drag
The extent to which calipers release the brake rotor when the brake pedal is depressed. Slight drag is normal. However, too much drag on the brakes can be caused by corroded or broken springs on the brake drums.
Measured in acceptable
drag percentages %
Differentials
Computers in modern cars control brake pressure so that equal pressure is applied to all four brakes to make your car stop in a straight line.
Measures any difference in the differential as you apply the brake in %
Axle Weight
The MVPI measures the axle weight which of the total weight of the carload, the two wheels, and the axle which transmits to the road surface.
Measured in kilograms for front and back axle weights.
Right Tire
Brake effort- the force required to the car
Measured in kilograms
Left Tire
Brake effort- the force required to stop the car
Measured in kilograms
Parking Brake
Brake efforts- the force required to hold the car
Measured in kilograms
Summary
The automated device calculates the brake efficiency of your vehicle by dividing the total weight of the car by the brake effort to stop the car multiplied by 100 gives you the brake efficiency.
Brake efficiency or how good the breaks are is calculated in % terms
4. The Headlight (s) Test
First, your headlights should illuminate. They should also be aimed, so the beams shine at the right position and height. The low beam should shine on objects slightly below the height of the light lenses.
The light pattern on the passenger side (right) should be such that it illuminates road signs, and it should be set lower on the driver's side (left) so as not to produce glare and blind oncoming drivers.
Inspectors will check for cracked, broken, or loose lenses, dull bulbs, and faded obscured covers. They also test for light intensity or the brightness of the headlights.
Left and Rights
Headlights
Intensity cd/m2
(Candela per meter squared)
Specifies brightness
Headlight beams are visually tested at high and low beams

Your car will likely have a 60 cm height and at low beam a range of 60 meters (at 1% forward tilt = 10 cm inclination to 10 m range).

5. The Emissions Gas Test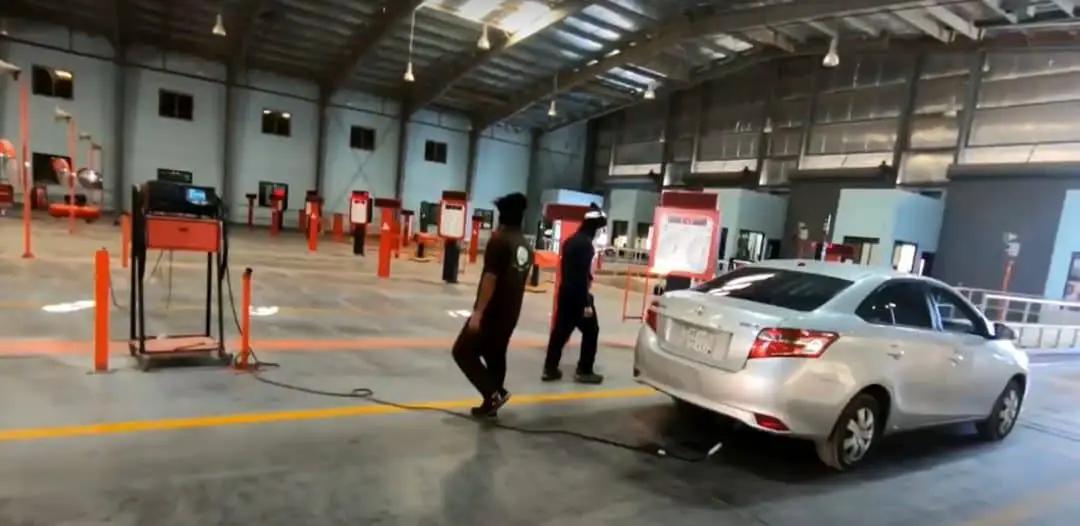 The MVPI inspectors also hook up a test device to your car exhaust to test the emissions. They do this to measure the level of air pollutants.
There are two types of exhaust tests:
OBD
The DSL test or On-Board Diagnostics OBD measures the efficiency of your car's control system. It is the system that regulates your transmission, engine, and fuel system.
The OBD also checks your model of car is operating efficiently to recommended standards and includes both evaporative and exhaust emissions.
It can detect poorly performing engines, fuel wastage, and high emissions.
Gas Exhaust Analysis
A gas line analyzer attached to your exhaust tests emissions for excessive levels of 5 gases.
1. carbon monoxide
2. hydrocarbon
3. carbon dioxide
4. oxygen
5. nitrogen/nitrous oxide
Excessive levels of emissions gas may be caused by:
faulty ignition system
bad timing
blocked air filter
worn spark plugs
old fuel injectors
worn-out engine
broken sensors
bad cooling system
vacuum leaks
6. The Undercarriage Inspection
An MVPI inspector will also perform a visual inspection of the underside of your car. They are looking for steering and brake problems, worn ball joints, rusty fuel tank, power transmission, and oil leakages, worn-out springs, poor suspension, worn-out engine mountings, bushings, and shock absorbers.
They will report oil leakages and indicate which parts should be replaced by listing FAILED items by numbers that match with inspection items shown on the back of the Inspection Report.
Related Questions
Can I Pay A Mechanic To Prepare Car For The Inspection (Fahas)? Yes! Some garages and workshops will check your car over for a fee of about 200-300 SAR. They will diagnose issues with the car that might cause it to fail and if you chose, do the repairs for you before you go.
Can I Pay Someone To Drive My Car To The MVPI For The Inspection on (Fahas)? Today, this is no longer (legally) possible. Drivers must take their own cars to the test center by themselves. At the gate, the security guard will check your documents and ask you if you own the car. However, some security guards are flexible and if you deal with him well, he will allow you in.
How Long Do I have To Do Repairs Before The Inspection Retest? Two weeks! If you FAIL an inspection, you have two weeks to do the repairs. Then, you should go back to the MVPI test center to retest your car. They will retest only the items for which have a FAIL. There is no need to do a complete retest of the car.
What Must I Do If I Have To Replace My Car Number Plates? MVPI test inspectors will FAIL the two-car number plates where the letters and numbers have faded or have been erased. You are usually not allowed to write over them in black pen or paint. First, pay 100 SAR SADAD at the bank to replace your plates. Then, apply for an appointment at the Abshir portal to visit the traffic office to get new plates. Choose Vehicle Appointments then select day/time to come to the traffic police station (Muroor). Take your driving license, residency permit Iqama, and car registration (Istimarah) and a photocopy of these. At the traffic office, fill in the form below and have an officer order your plates and the captain sign and stamp it. The new number plates will arrive for collection in two weeks. Show your Istimarah, driving license, and residency permit Iqama to collect them at the traffic office. Show this form at the MVPI and they will PASS your old number plate. YOU have 15 days to collect and replace the old plates.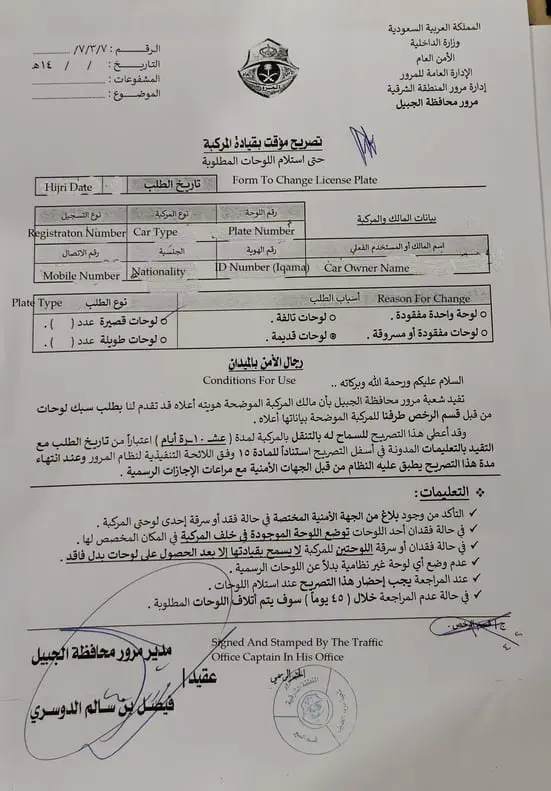 What Should I Do If My New Number Plates Do Not Arrive In The Police Station Muroor In Time for The Retest? If the collection date of the plates exceeds two weeks, show the above form to the MVPI inspectors at the retest. They will give the number plates a PASS and a further two weeks to collect before mounting them on your car.
Can I Do A Car Inspection Test At The MVPI Without Having Car Insurance? No! Car insurance is obligatory if you wish to do an MVPI car inspection. They will have a computer record of your insurance details. There are booths selling NCCI insurance

at the test centers where you can buy insurance just before you test the car. However, it is always cheaper to buy your car insurance online beforehand.
Can I Drive My Car On The Road Without Insurance? It is illegal, but many drivers take the risk. However, in the event of an accident, you will be responsible for accident costs which can be substantial. At police checkpoints, they may ask to see your insurance policy. Without insurance, the police will give you a fine of 100 SAR.
References And Useful Links
How to Perform a Complete Brake Inspection-How to Automotive
2. How To Diagnose issues With Steering Joints

-1A Auto: Repair Tips & Secrets
3. How to Make a Motor Stop Blowing Smoke

– eHow
4. How To Check Your Handbrake

-DVSA
5. Headlight Testing

– Consumer Reports
6. Headlight Adjustment

-hella
7. What Do They Test For In An Emission Inspection

Test-motobiscuit
8.

Undercarriage & Engine Inspection

-monkeysee