Recently, my wife and I wanted to visit the beautiful city of Ta'if with our boys. However, the online tourist information about the city is very scattered.
We wanted to know the best places for us as a family to visit and the best things for the kids to do there.
So, I decided to write this post entitled 'Ta'if City-The 10 Best Sites For Tourists And Visitors'. It contains detailed information about the 10 best places for families to visit in Ta'if City.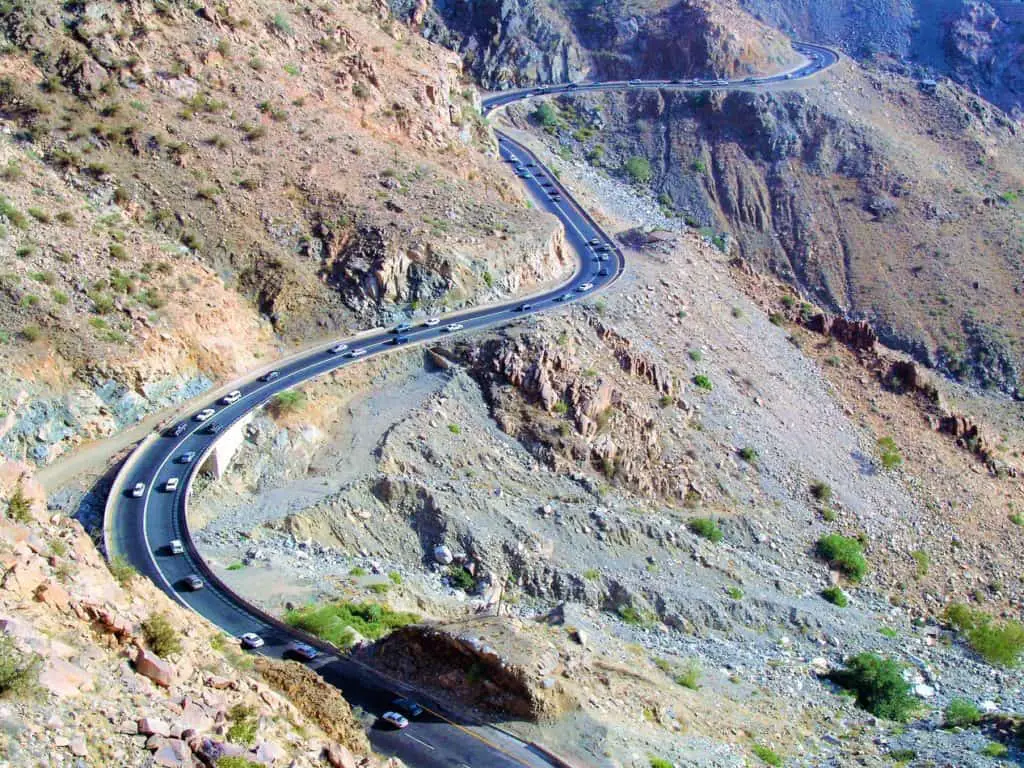 Another post I wrote deals with the exciting activities to found in the lovely resort town Al Hada, 15 km north of Ta'if city, and on the way to Mecca.
Click here to read about. Al Hada (Ta'if City) The Top 10 Terrific Tourist and Visitor Sites.
The following are my recommendations for you next time you travel to Ta'if.
I made them with my kids in mind. Apart from the one place, the rugted Saiysad National Park, my kids thoroughly enjoyed visiting them all. 
If you follow my recommendations, I hope you and yours will feel the same.
Swipe and zoom the pictures to see the details of the top 10 Ta'if attractions.
10 Best Sites For Tourists And Visitors-Handy Google Maps Coordinates
Ta'if (The City of Roses)
Introduction 
Ta'if (known formerly as Waj) is a lovely city located exactly 83 km from Mecca in the southeast of Saudi Arabia. It lies high up on Mount Ghazwan (1,879 m) that separates the Sawarat Mountains from Mecca and the flat, plains to the north. 
1,200,000 people live in the region and many more outsiders come to stay in Ta'if during the summer months because of the comparatively cooler weather. 
The wall surrounding the city is called Waj.  
Traditionally, people of Ta'if work on farms growing grapes, pomegranates, figs, and honey. It is especially known for the production of Damask roses.
Before Islam, Ta'if tribespeople worshipped a pagan god called Al-Lat. Mughirah bin Shu'bah destroyed it and subsequently, the city produced staunch Muslims and defenders of the faith.  
Weather 
The humidity is low and temperatures generally moderate. Due to its high location, Ta'if is mild in summer 15°C-38°C and can get cold in winter 3°C-23°C. 
Actual Temperatures Today!
| | |
| --- | --- |
| Jan-April  | 22°C-30°C |
| May-Sep | 33°C-35°C |
| Oct-Dec | 30°C-23°C |
Tribes And Its People
The following tribes are well known in Ta'if and its borders. 
| | |
| --- | --- |
| Main Tribe | Branches |
| Thaqif | Bani Thabet |
| Al Qahtani  | Bani Hareth |
| Adnani | Bani Adwan, Utaibah, Otaibi |
History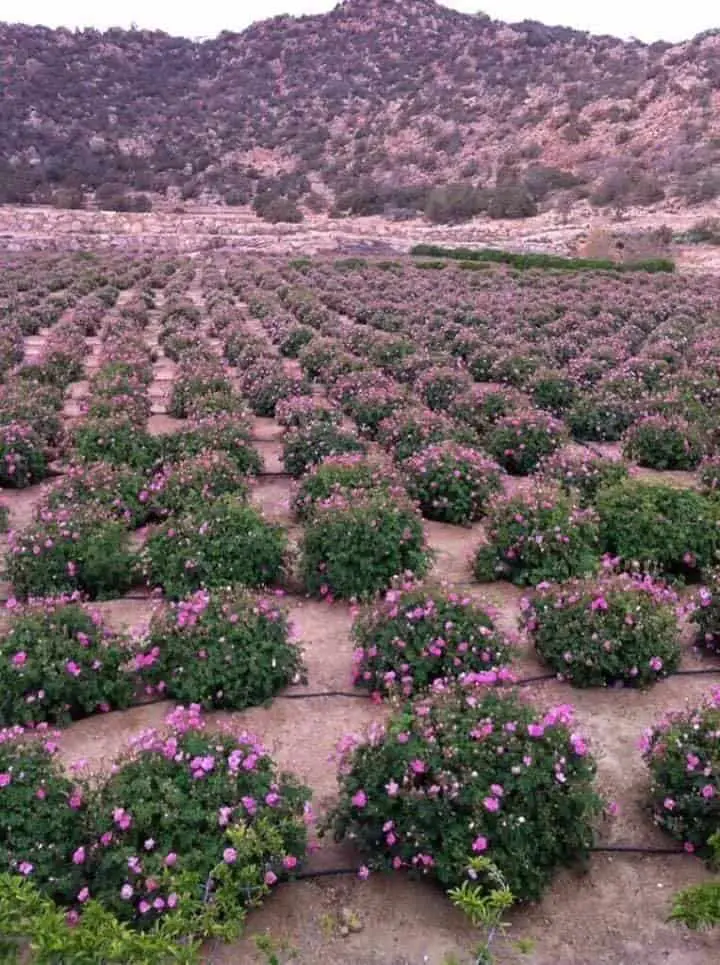 Ta'if was a tiny agricultural village until Abdullah Ibn Abbas,

a companion to Prophet Mohammed (SAW) moved there. After that, the city grew and grew.  
It has fertile soil and lots of water so was an important ancient destination for traders on the caravan routes. 
Over the centuries many travelers past through the city leaving carvings and inscriptions on pathways and rock surfaces many of which can still be seen today.  
The region and its people are fiercely independent having resisted much aggression and a number of hostile takeovers. The city finally succumbed to the Ikhwan, the forces of King Abdul Aziz Al Saud in 1926, and by 1960 had become modernized and fully integrated into the unified Kingdom of Saudi Arabia.  
Location
Fun Fact: Ta'if was the first city to be visited by Prophet Mohammed (SAW) after he left Mecca. 
Guided Tours 
To get a guided tour of Ta'if city, click on the government official tourist website

for details.  
1.Shubra Palace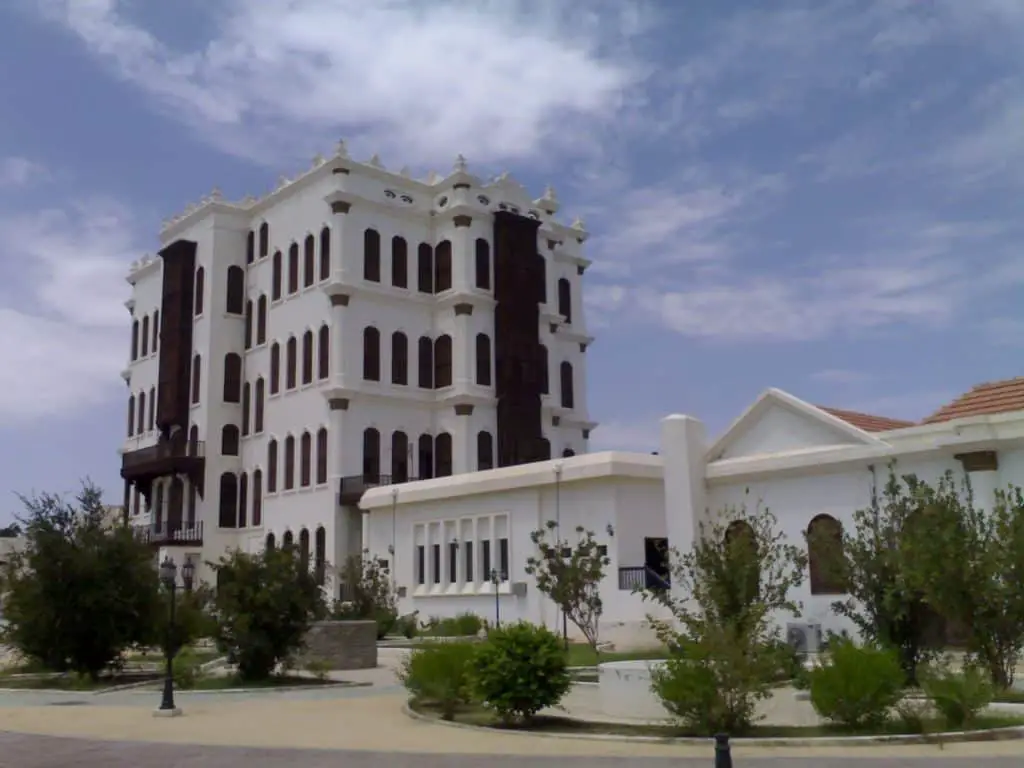 Why Visit It?
Shubra is a beautifully decorated palace in the city of Ta'if. Completed in under two years, it was built in 1905-7 by the order of Sharif Ali, (Pasha) the then ruler of the Kingdom of Hejaz

1916-1925. 
With time, the Kingdom of Hejaz was conquered by King Abdul Aziz Ibn Saud

in 1925 before becoming fully unified into the Kingdom of Saudi Arabia with the regions of Al Hasa, Qatif, and Nejd. 
King Abul Aziz used the palace as his summer house. Both sons, King Saud

1953-1964 and King Faisal

1964-1975 subsequently had their residences there too. 
Shubra Palace was later used to house the Saudi Ministry of Defense and Aviation and to host international events. Other ministries occupied the palace until King Fahd

1982-2005 had it converted into a museum.   
The palace building has a basement level, 4 upper floors, and 150 rooms. There are a number of entrances and four facades. The palace's stone walls are Romanesque and Islamic with traditional Hijazi architectural styles. 
It has etched columns and a huge entrance hall with two long hallways that lead to large palace rooms. Gardens surround the palace.
A carpeted Italian stairway connects the 4 floors. There are beautifully carved arches, traditional doors, walls, and gorgeous latticed style window shutters. 
What Can/Do/See There?
The Heritage and Antiquities Museum
The exhibits are in three parts:
Pre Islamic Period (Stane Age to Jahileya or period of ignorance)
Period of Islam
Saudi Unification
The exhibits consist mainly of old photographs and artifacts of the bygone eras. It is definitely worth a visit to witness the excellent craftsmanship, to see the exhibits of old Saudi Arabia, and to experience the impressive decorated interior spaces and pristine (Italian Cararra) marbled floors. 
How Much $?
The palace has recently been renovated so entrance fees are still unknown. 
When To Go? – Timings
Sunday-Thursday 9 am-1 pm
Friday & Saturday Closed
For More Information Contact: 050 371 5949
Visit Duration 
1 hour +Guided Tour 30 minutes
Who Will Love It?
Photographers, historians, lovers of architecture, and royal places. 
Location
Shubra Street
Fun Fact: Ta'if has two more old palaces; the Palace of Shaikh Abdullah Al Sulayman & the Palace of Al Kateeb. 
2. Taif Zoo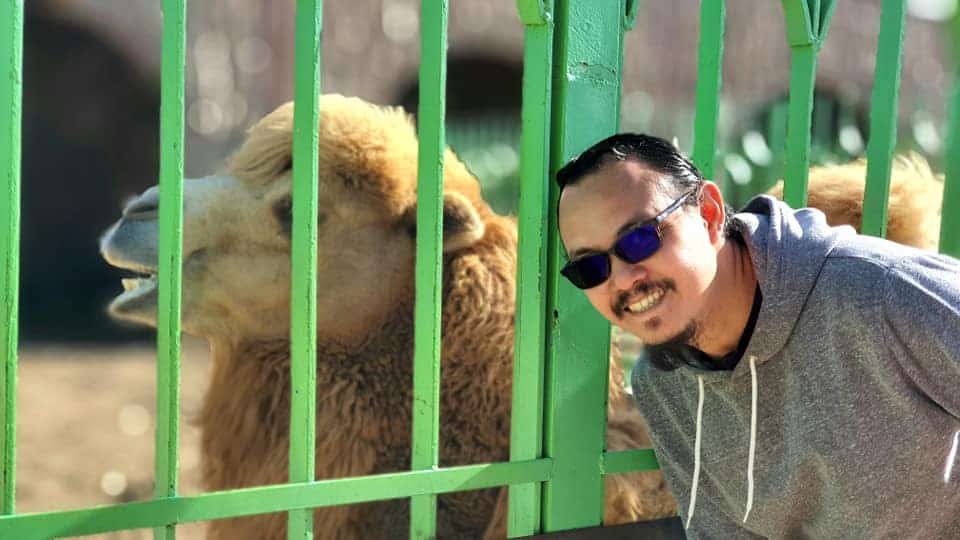 Why Visit it?
Ta'if Zoo is an excellent chance to see a wide variety of animals, reptiles, and birds in a beautiful natural, clean environment. 
There are also exciting funfair rides for kids, playgrounds, gift shops, tasty snacks, grassy areas where you can sit and relax. 
Included are fun daily sea lion and dolphin water shows where the kids can watch dolphins and sea lions performing jumps and tricks.  
What Can/Do/See There?
The wonderful Taif Zoo contains animals in large cage-like enclosures. The animals on display to the public are as follows:
Lions
Tigers
Desert Cats
Foxes 
Gazelle
Brown Bears
African Elephants
Giraffes
Zebras
Oryx
Llamas
Camels, (Bactrian & Dromedary)
Deer  With Antlers
Horses  
Deer  
Goat 
Bison
Hyenas 
Ducks 
Snakes  (Vipers, Adders, Burmese Pythons)
Dolphins
Sea Lions 
Lizards 
Donkeys 
Monkeys
Marsupials 
Baboons
Vultures
Peacocks 
Ostriches
Emus
Gophers 
Eagles
Geese
Guinea Fowl
Blue Macaws 
Green Parrots
Giant owls
Turkish Sheep
Rabbits
Mongoose
Badgers
Guinea pigs
Porcupines
Hedgehogs
Cats
Dogs
Crows
Fancy Pigeons
Tortoise
Chickens
Bulls
Exotic birds 
All the animal enclosures are signposted in English and Arabic with information about the animals in the cages. At night, the enclosures are illuminated in colored lights and visitors can see the animals clearly. 
Facilities
The Taif Zoo has good facilities. They include: 
Parking Area for 250 cars
Public Toilets
Zoo Mosque
A Row of Gift & Toy Shops
Fast Food Stalls- Fries, Candy floss, Soft Drinks
8 Cafeterias & Tables and Seating
2 Ice Cream Shops
Tree-lined and Grassy Sitting Areas
Water Fountains
Colorful Paved Walkways
Large Kiosk to Buy Rugs and Picnic supplies
Activities For Visitors
Funfair with Kids Rides- Ferris Wheel and Merry-Go-Rounds For Kids
Inflatable Bouncy Rides (Spiderman and Pirate) 
Self Driving Buggies 100 SR 
Horse Shows & Rides Cost Unknown
Dolphin & Sea Lion Arena for Shows 30 SR 
Ride Inflatable Boats With The Dolphins Cost Unknown
Animal Feeding Times 
Camel Rides
Animal Petting Sessions
Duck Farm With Large Pond
Donkey Sanctuary
Snake World Exhibitions 12 SR
Some visitors voice concerns and criticism that the Ta'if Zoo is old, rubbish-strewn, smelly, and poorly managed with underfed animals. They also say that some animals are sick.
I agree that no one likes to see caged animals especially of they look sick. It is unnatural and cruel. At the same time, caging them does provide an opportunity for everyone to experience a wide variety of wildlife and animals from different countries all under one roof. 
Also, it seems unreasonable to suggest that the zoo starves animals if they are the stars of the show. The zoo has a vested interest in feeding them well and taking great care of the resident animals. 
In fairness, the zoo does get renovated and those that throw litter and dirty the zoo are visitors themselves, not the zoo staff.  
Admission- How Much $?
Entrance Fee is 12 SR per person
Children Under 2 year Free
Daily Shows 31 SR
Reptile Show 12 SR
When To Go? -Timings
Monday-Thursday 9 am-12 am (Midnight)
Friday-2 pm-1 am
Sunday 3 pm-1 am 
Closed During Rainy Season 
Visit Duration
2+hours  
Best Time To Visit?
The best time to visit Ta'if Zoo is when the weather is coolest. This means that the cooler winter season December to March is the ideal time. 
Also, on warmer days, the early morning, late afternoon, and night time is the best time to see the animals since the sun is at its lowest points and there is plenty of shade. 
At these times animals will come out of their dens.
Who Will Love It?
Great place for the family especially young children
Location
As Saddad, Taif 26514 
For More Information Contact: 0564458515 & 0506194088
Fun Fact: Ta'if Zoo also has weird animals; a three-legged camel, a five-legged buffalo, and one huge elephant. 
3.Al Rudaf Park (Pronunced Arrudaf)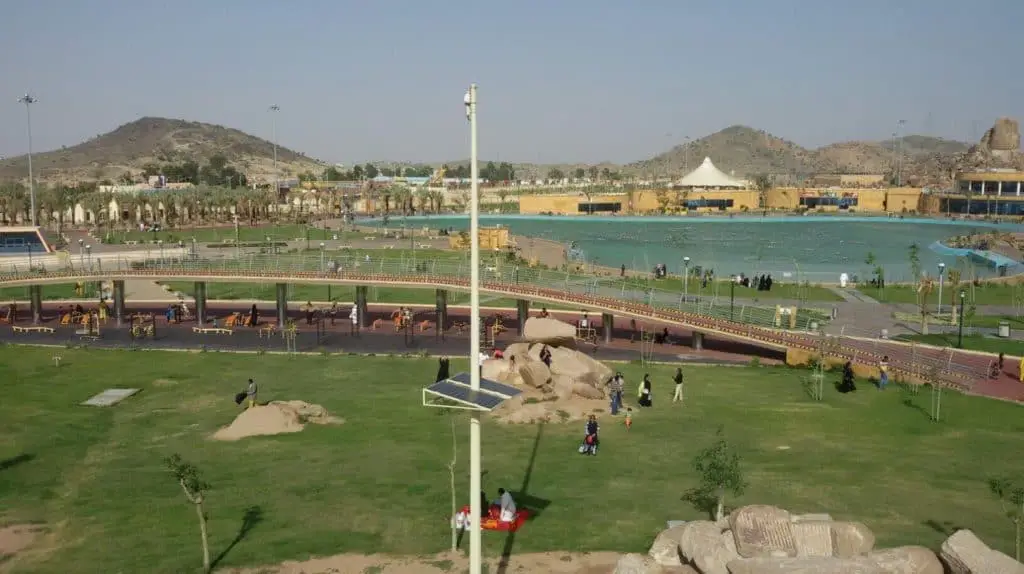 Why Visit It?
Exactly opposite the Ta'if Zoo is a new, (Gates 5 & 6 ) beautiful natural public park with trees, stunning landscaped lawns, with 8 granite rocky landscape features, fountains, and a giant water feature. 
Built in 2015, the park is huge, 1km long & 1km wide with an overall circumference of 3km. It has 6 main entrances. It is set against the mountainous backdrop of Taif. 
The Al Rudaf Park centers around a massive lake in the shape of a giant fidget spinner with towering fountains that illuminate at night. 
Kids and adults can have fun scrambling up rocky hills, enjoying the shaded playgrounds, sitting, relaxing, having picnics, playing sports, running around, and quietly enjoying the evening water shows and entertainments.
It has good security and any loutish behavior is prohibited and controlled. Only families are allowed to enter. Possible but NOT entirely wheel-chair friendly. 
You can buy rugs and picnic accessories from vendors selling outside the park. No cooking or fires allowed inside the park.  Bring your own food or picnics. 
It is a stroller and a pushchair kid-friendly environment! No bicycles or mechanical vehicles allowed inside. (Kids and adults). The car parking area gets crowded.  
During the August 'Ta'if 'Season' the park becomes decorated and transformed into a village of roses. Plays, traditional dances, shows are performed and exhibitions held. 
All displayed focus entirely on roses. Growers and Farmers sell roses and the park becomes blanketed in beautiful, colorful roses and flowers.
Overall, in Al Rudaf Park you and your family can escape the heat and enjoy a spacious, very clean, and beautifully maintained environment. 
What Can/Do/See There?
Free Parking
Good Seating 
Restaurants-Herfys, Jan Burger, Fanadeer, Canton, Pizza Inn
Coffee Shops- Options, Cinnezeo, Ineed 
Snack Bars, Movenpick, Koob Kubeez
Shops (Flowers and Perfumes) 
ATMs SAAB
Sports Stadium 
Mosque
4-5 Clean Bathrooms and Toilets
Park Offices
Large Lake (400m In Circumference) 
Dancing Interactive Fountains (7 pm – 10:30 pm Hourly)
Hot Air Balloons
Visitor Centre
Floral Exhibits
Umbrella Visitor Shading
Shaded Gazebos 
Manicured Lawns And Features
Large Grassy Spaces
Lots of Palm Trees
Eucalyptus Trees
Bouganvilla 
Colorful Flower Bed Displays, Hanging Baskets, Shrubbery
Cactus Exhibition 
Picnics
Playing Areas for Kids
Kids Gym
Firework Displays
Trees
Picnic Areas
Rocky Mountain Areas (Beautifully Illuminated At Night)
Solar Lightening (Walkways and Hills) 
Activities
Festivals (Rose Festival) 
Fun Fair Rides
Circus Shows
Musical Water Shows (loud) 
Walkways
Jogging/Walking/Rollerskating Tracks
Raised Walkway Bridge, Curved for Public Viewing
Horse Rides
Camel Rides
Quad Bike Rides
Playground Areas
Rare Bird Shows
Basketball Courts
2 Big Football Pitches
Tennis Courts
Repeated Musical Fountain Shows 7 pm until 10:30 pm Hourly 
Admission -How Much $?
Entrance is Free 
When To Go? -Timings
Daily 
Opening 1 pm
Closing 1:30 am (Midnight)
Sunday-Closed All Day and Night
Visit Duration
4 + hours. However, it gets busy on Thursdays and Fridays after 4 pm. It requires two days or more to explore fully
Who Will Love It?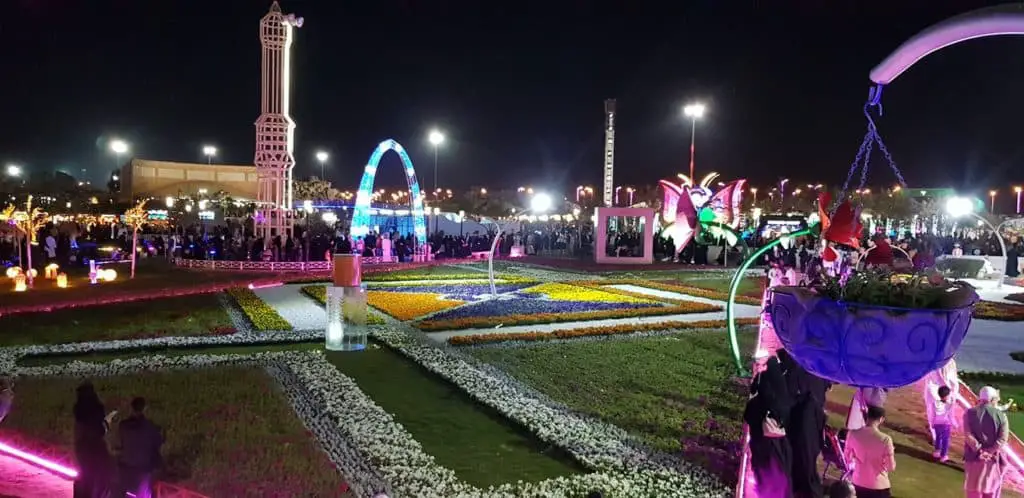 Families and Kids Really Love It
Al Rudaf Park is very popular, well attended and highly rated for visitors
Photographers, garden, nature-lovers, groups of friends, and romancers. 
Caution: Weekends & Autumn, Spring & Winter Times Get Crowded
Location
South Central Taif & 12 km from The City Centre 
Abu Talib, Al Sadad, Taif 26515
4. Taif Old Historical Centre (Sooq Al Balad)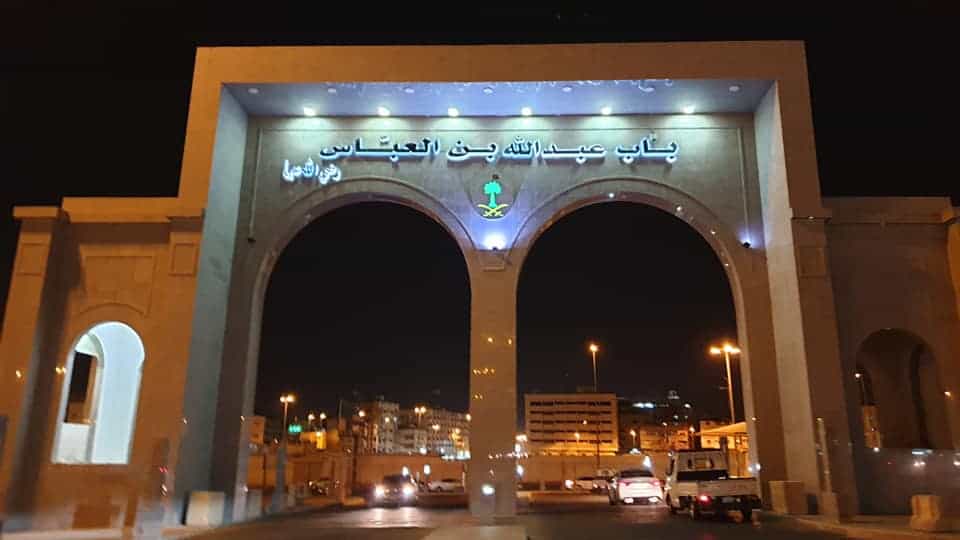 Why Visit it?
Ta'if historical market area (Sooq Al Balad) is a busy hustle and bustle of street vendors, bazaars, plazas, hidden souqs, and little narrow alleys leading you around a labyrinth of old shops, restaurants, market stalls, and historical buildings.
There are more than 2,000 shops.
What Can/Do/See There?
Most people go there to shop for traditional and Islamic clothes, buy gold, perfumes, eggs, butter, ghee, fish, spices, honey rose water, oil, herbs & spices, and to enjoy the nightlife and Arab and Asian restaurants. 
In this are you will find:
Market Area
Older & Historical Building 
Traditional Clothing
Asian Dresses, Scarfs, Abayas, Niqqabs, etc 
Thobes, Jackets, Shoes, Sandals & Accessories    
Gold and Bazaar (Qasariyah) 
Watches
Herbs and Spices
Variety of Honey 
Rose Water 
Traditional Medicine and Herbs
Hair and Beauty Oils
Makeup Brands
Gifts and Curiosities
Kitchen and Home Furnishing
Fresh Fruit and Vegetables
Nuts, Sweets, and Snacks
Old and modern Restaurants 
Turkish, Indian, Arabic, Egyptian, and Philippines
Landmarks
4 Beautiful Mosques 
Admission-How Much $?
The old market area is public so there is no charge. However, before making purchases you should learn to haggle prices.
When To Go?-Timings
Evening times! Some shops open in the mornings, especially in the cooler winter months. However, most of the trade occurs from 4 pm until 11 pm. 
Visit Duration
3-4 hours
Who Will Love It?
Adult men and women who love traditional Indian clothing, Arabic thobes, gold, perfumes, and jewelry lovers.  
Location
Abdullah Ibn Abbas Street, Taif 
Note: There is a coach station and plenty of car parking spaces especially in those of three of the above mosques. 
5. Souq Al Okaz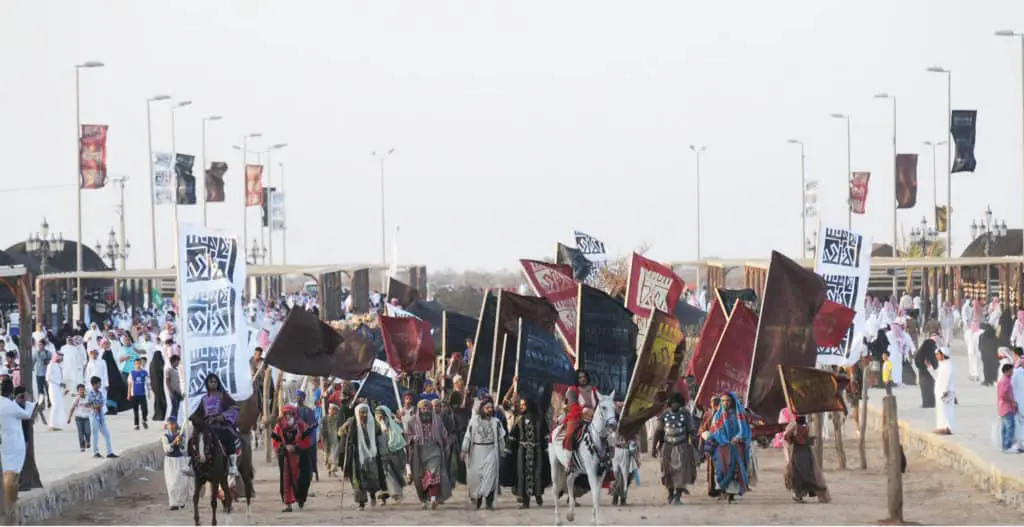 Why Visit it?
The Arabic word Souq (السوق) means a market. However, Souq Al Okaz is not a market for shopping as we generally understand it. Actually, it is an age-old festival that celebrates the lives, the poetry, and the cultural works of ancient Arabic ancestors. 
Today, it is an annual, open-air event that brings together master poets, craftsmen, historians, singers, and performing artists from the GCC countries, and around the Arab world.
Every night for ten days to one month they meet at the Souq Al Okaz site

to celebrate history, culture, Arabic literature, music, and especially Al Mo'alagat poetry that include the lives, culture, and ways of their Arabic ancestors. 
In the past, Souq Al Okaz ran from the 1st to the 20th of the Islamic month of Dhuhul Al Qaidah. When it ended, shoppers moved to the Majna Souq to buy their goods. 
Today at Souq Al Okaz, people still dress in traditional costumes and reenact the past through imagination and playing make-believe.
Souq Al Okaz has a loud, bustling, energetic atmosphere. There are formal Arabic poetry recitals, many musical concerts, competitions, arts and crafts exhibitions, horse and camel races. 
Workers and entertainers dress in Arabic costumes of old in recognition of the past.    
Each year, the development and history of Arabic poetry are explored through recitals and the names of the ancient poets celebrated through professional theatrical performances. Each year's event is dedicated to one renowned poet of the past.   
These include poets from:
Early Arabian Era
Islamic Era 
Umayyad Era
Abbasid Era
Andalusian Era
They tell of wars of the ancients, the soldiers, the lives of the people, poets, love, and death. Present-day performances also show the history of Souq Al Okaz, its historical place in the development of the Arabic language, poetry, and culture in Saudi Arabia. 
History
A recent study

of artifact rocks and ancient sites around the Okaz shows it had been inhabited since the stone age. Also later, just before Islam beginning in 501 AD, the old Arab tribes formally gathered at Souq Al Okaz. 
They met to see friends, to chat, to share news, to judge in disputes, and even to start off wars. It was also a place to discuss intertribal problems and to find ways of settling ongoing disputes. 
Importantly, famous poets would recite beautifully inspired poetry to lament, laud, and boast of the virtues of their people. The recitals were always executed in the competitive Al Mo'alagat spirit. 
Arabic Language Diwan
Together with the buying and selling of Persian silk, weapons, perfumes, leather, fruits, and goods from all over the world,  Arabic literary and poetic prowess was the focus and hallmark of Souq Al Okaz. 
Al Mo'alagat poets were eager to present their new poems and they recited their poetry in loud voices to their fascinated listeners. 
Some Of The Famous Al Mo'alagat Poets To Recite At Souq Al Okaz were:
Al Nabigah 
Al Zebyani 
Al Nabigah 
Al Ja'adi 
Hassan bin Thabit 
Amr bin Kalthom 
Al Mostawgar bin Rabia bin Kaab bin Saad
Ghairan bin Salmah 
Al Ashah 
Al Khansa (Tamadir bint Amr)
Al Aglab 
Al Ajali 
Hadeem bin Jawas Al Tameemi
Al Rahib Al Moharbi
Al Saleeb bin Al Selkah
These poets wanted to share and spread their poetic works far and wide as they were possibly able. They even hung written versions of poems on the buildings for others to read. Souq Al Okaz was the Amazon of its time. 
After the arrival of Islam in 610 AD and its subsequent popularity, trade at the Souq Al Okaz traditional market shifted to the more permanent Souqs in the city of Mecca. 
Later, Prophet Mohammed (SAW) visited Souq Al Okaz. He (SAW) loved and was friends with a man called Giss Bani Saedah. Prophet Mohammed (SAW) loved his sermons and in a conversation remarked on the beauty of his words.     
''When Prophet Mohamed asked the Ilyad tribe about Giss Bani Saedah, they said "He had died". Then the Prophet (SAW) said; 
"I'm like still seeing him on his camelback with parchments saying sweetest words, though I can't remember." 
Then one of the delegation members replied, 'I have memorized them.' Then, the delegate recited to him parts of Giss Bani Saedah's sermons.''
The general public is not allowed to bring picnics, food, and drinks. There are gated entrances for special needs visitors and electric golf carts available for the disabled and infirm.
Criticisms
Many visitors complain that restaurant prices are high and the weather in summer is too hot to bear. Also, there is insufficient AC in pavilions and stands and the car park is located too far away from the event. 
Othrcomplain that events get overcrowded. The songs and sounds from neighboring loudspeakers get mixed up and are too loud. They cause annoyance, discomfort, and headaches. 
There is a shortage of bathrooms and it seems the Souq Al Okaz staff and officials have difficulties with organizing and managing large crowds.
What Can/Do/See there?
Ample Free Parking 
Traditional Saudi/Arabic Clothing
Poetry Recital Competitions
Folklore, Poetry, Song, Dance, and Food
Large Open Air Theater & Stage
Giant TV Screen For Televising and Viewing Events
Laser Light Shows
Illuminated Models of Traditional Houses, Forts, Houses, Majlous, Boats, etc
Pavilions With Government Ministry Stands/Displays
Many Individual Concerts and Events Held Across The Venue
200 Artisan and Craft Shops 
Pottery, Silverware, Glassware, Wall Arts and Old Manuscripts For Sale
Horse Shows & Riding 
Camel Shows & Riding
Bus Rides Around The Site
Long Walkway- (called Al Jadeh)
Restaurants and Food Stalls with High-Quality Food
Beautiful Historical Displays- Wooden Chairs and Old Household Items
International (GCC & Arab) Stands With Performances
Prayer (As-Salat) Areas for Men and Women
Admission-How much $?
Entrance Fee is 10 SR
Pay cash at the gate but it is better to buy the ticket online

to avoid the inevitably very long queues. 
When To Go?-Timing
Souq Al Okaz is a month-long event celebrated in June, July or August. Traditionally, the event occurred during the Islamic month of Dhuhul Al Qaida.  
Visit Duration 
They occur nightly for 10 days + during the Souq Al Okaz month. (August)
Who Will Love It?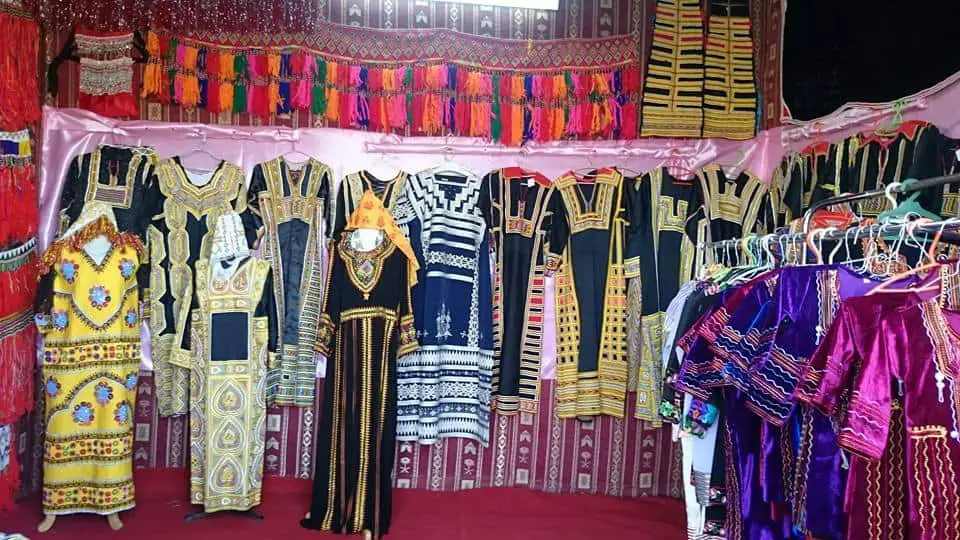 Saudi, Arab nationals, and international tourists. The events are for adults, but there are so many fun things for kids to do and enjoy. 
Location
Souq Al Okaz is located on Okaz Road, which is in NorthEast Taif. It is exactly 15 km east of Ta'if International Airport and can be reached via the north Mecca road, Route 80. The Souq Al Okaz venue covers an area of 14,000 meters square.
For More Information Contact: 012725 3100
Caution: The events are loud and it can get very crowded.
6. Al Shareef Museum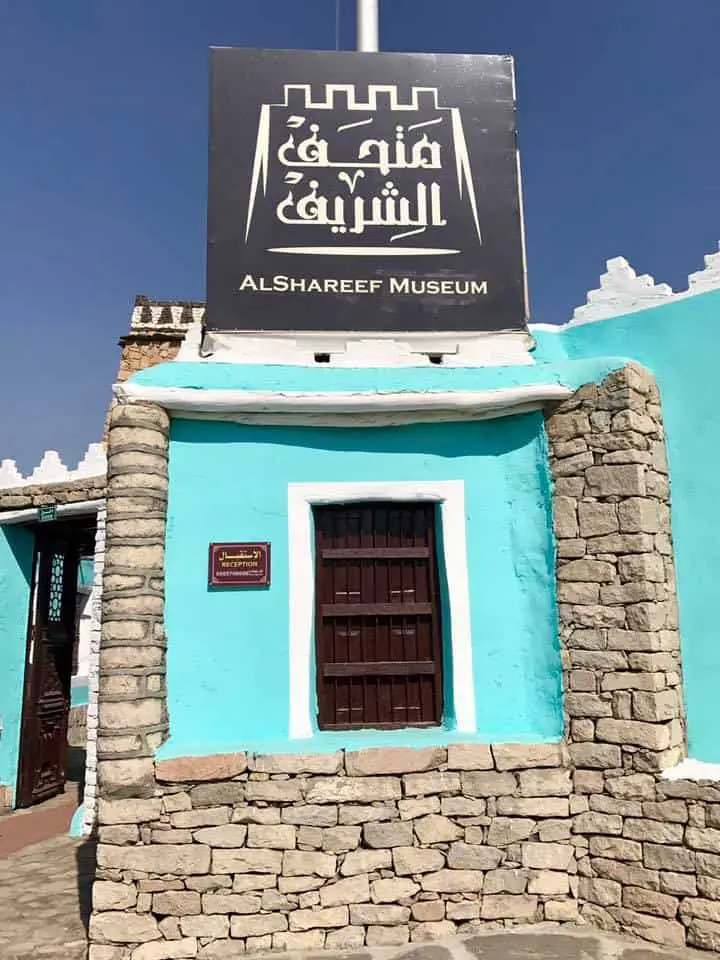 Why Visit it?
Established in 2005, the very traditionally built old Arabic house style Al Shareef Museum takes you by the hand and leads you into a past world environment of Arabic street life, the homes, and arched rooms crammed with a veritable treasure trove of ornaments and decorative items actually used by people in Saudi Arabia long ago. 
The staff dress in old Arabic costumes, as craftsmen and inhabitants of home environment from the past. 
There are a series of 12 rooms centered around a huge old world courtyard with interiors decorated like old, traditional houses that you can enter and leave as you view and enjoy the artifacts they contain.
Currently, signs and exhibition information are in Arabic only!  There is a restaurant serving traditional meals of chicken or meat Capsa.
What Can/Do/See there?
Old World (Arabesque) Ticket Office
12  Sections for Exhibitions
20,000 Artifacts
Open Courtyard Restaurant
Old US and European Cars, Trucks, And Buses Used in Saudi Arabia
Old Water Mill And Well
Minaret 
Old Weighing Machines And Scales
Giant Arabic Coffee Pots
Traditional Diwan (Sitting Rooms) With Shelves of Old Coffee Pots
Old Wood Burners
Hanging Lanterns
Traditional Baqala or Shop Selling Tea, Coffee and Herbs
Beautiful, Colorful Traditional Handmade Ladies Dresswear
Big Old Jewellery
Ladies Boudoir
Copper Engraved Doors
Traditional Janbiyas or Holsted Sheathed Daggers
Beautiful, Red Hand Made Rugs 
Old Guns, Decorated Mirrors, TVs & Radio
Large Copper Plates, Ladles, Bowls and Cooking Utensils
Old Chairs & Camera Contraptions
Wide Flowing Men's Thobes Of The Past
Incense Burners
Thatched Roofs
Clay Drinking Water Carrier/Holders
Aprons And Working Skins
Bread Bakers Ovens
Black And White Photos Of The Past
Ancient Wooden Doors
Gorgeous Lattice Trellised Screens
Old Saudi Money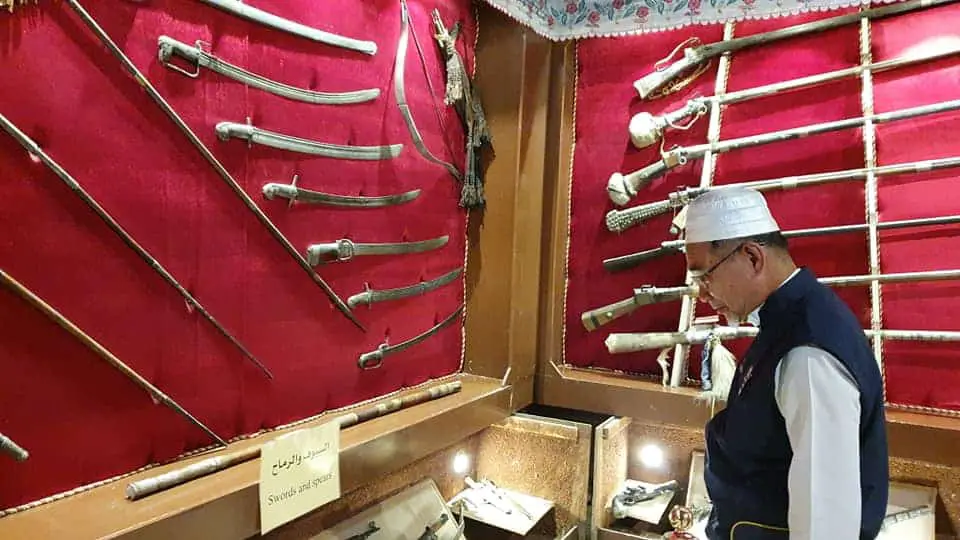 Admission -How much $?
35 SR
When To Go?- Timing
Daily 4 pm-8 pm
Visit Duration
2-3 hours
Who Will Love It?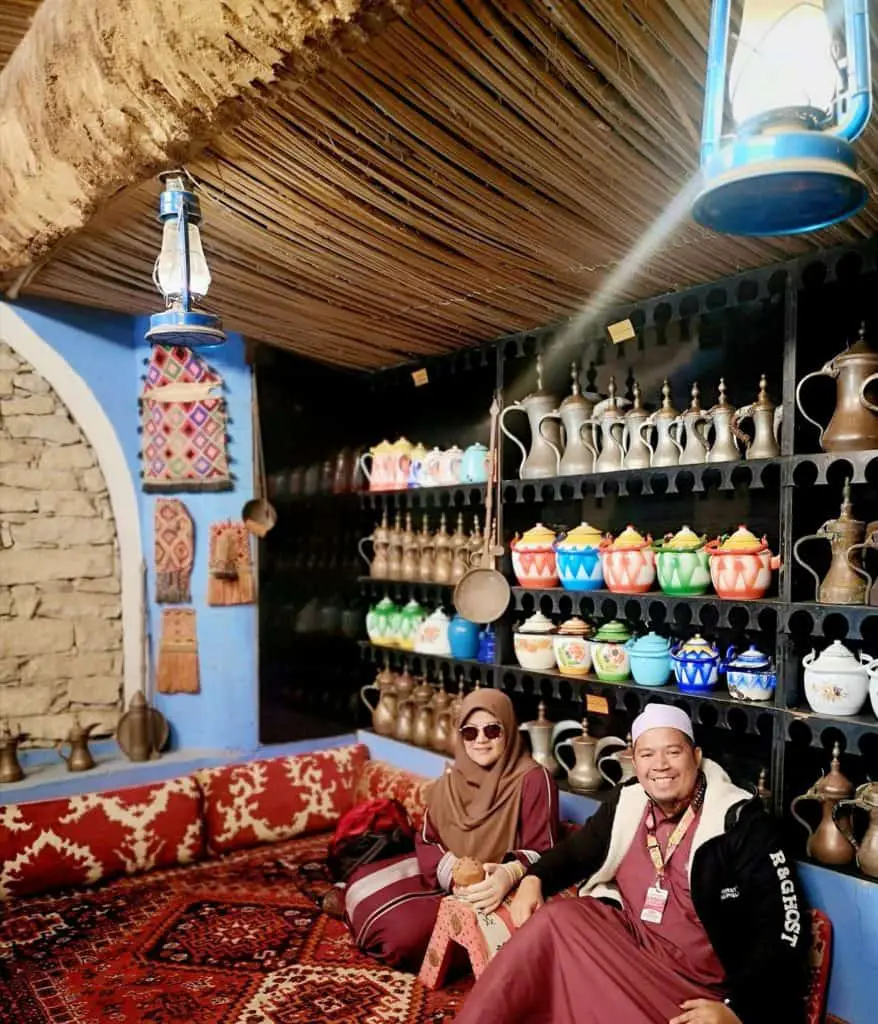 Kids, History buffs, The Curious, School Groups etc. 
Location
Um Sabah District, Al Sadad, Taif 26514
Contact: 0555700008/Mobile: 0555700008
7. Jouri Mall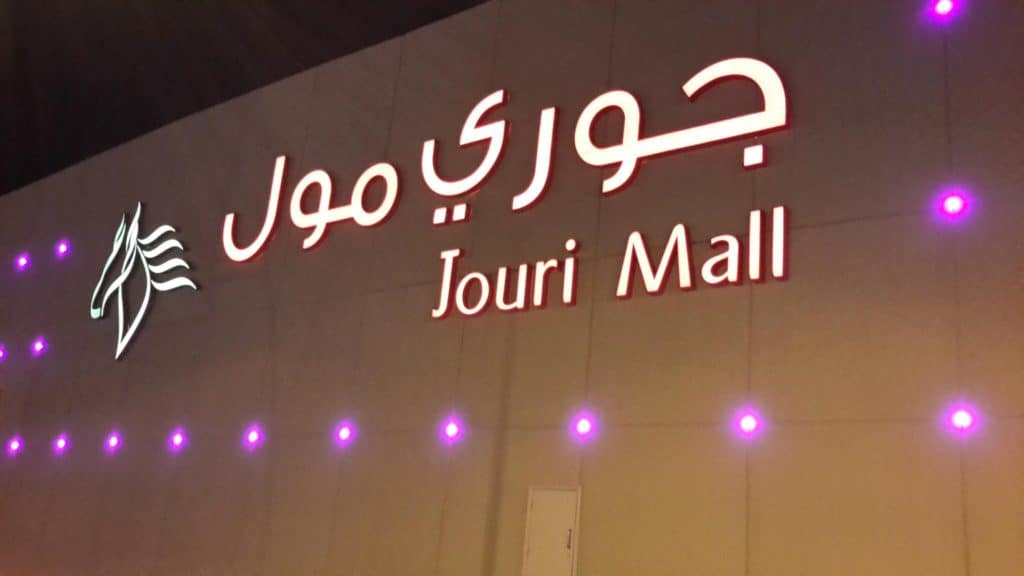 Why Visit it?
Jouri Mall

is a popular, shiny, high-class shopping center occupying several floors with water feature and fountain at its center. 
The Mall offers tens of international brand stores, a huge food court, 2 children's indoor play areas, and ongoing fun events and entertainment for kids provided by the Arabian Centres Group

who own it. 
Most of the stores sell ladies high-end clothing and accessories, but men and children are catered for too. 
Facilities within are very good as you'd expect in a high-class Saudi shopping center. 
The Jouri Mall floors and walkways are made of highly reflective marble. There are clean toilets and bathrooms for women, children, and babies only. The spaces have a great AC system.
A First Aid room, a Lost & Found Service can be had at the Customer Service Desks. 
Wheelchairs and baby carts are available for the disabled and the infirm.  
There are plenty of ATM Machines and the shopping public is monitored using state of the art CTTV cameras by specialized Mall security personnel. Also, locals use the Jouri  Mall's cooled environment to walk and to stay fit. 
What Can/Do/See There?
5 Entrances and Main Gates
Plenty of Free Parking
Clean & Spacious Mall
Good, Well Serviced Bathrooms
Excellent Air Conditioning
Many Branded Stores
International Food Court With 20 Restaurants
Cafes
Ample Seating 
Lots of Kids Events 
Indoor Play and Game Parks- Billy Bees & Sparky's
The Champion Ships (Sheep) Game Competitions
Muvi Cinema Coming Soon
Fun Fair Rides
Sparkys Entertainments Center
What Kinds Of Outlets Stores Are There?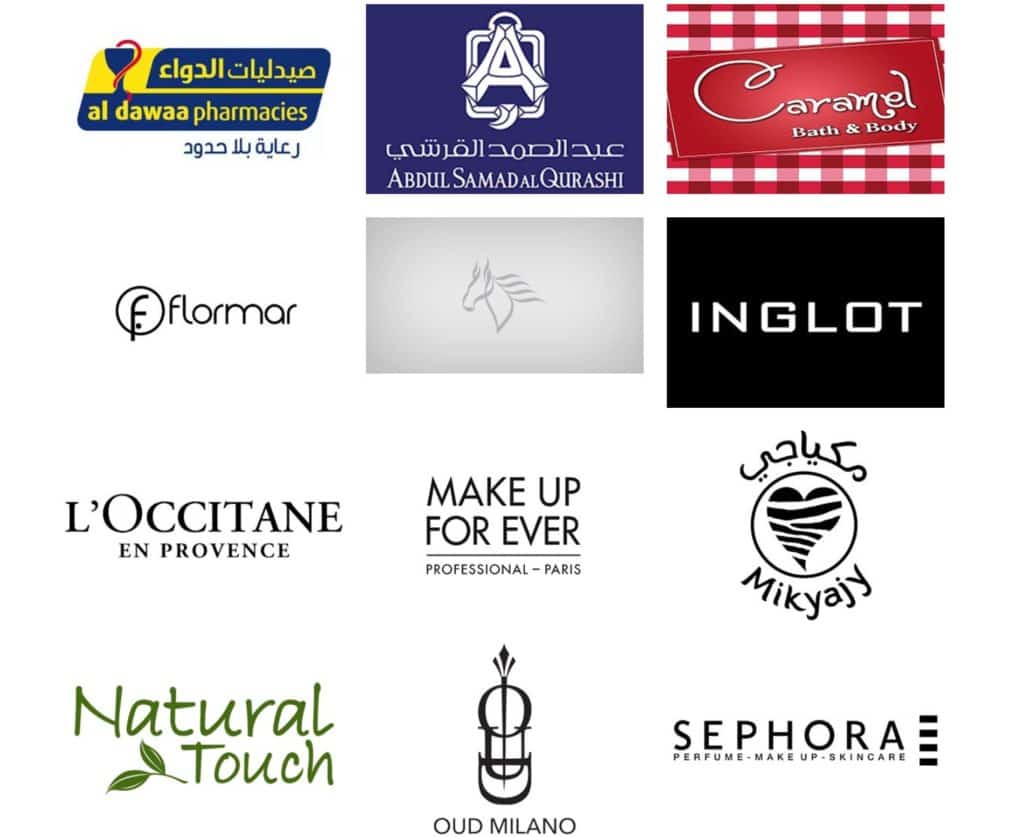 Clothes, Shoes, Bags & Accessories
Marks and Spenser's Louzan,  Mayoral, Okaidi, Sergent Major, Tape A  L'Oeil, The Children's Place,  Ziddy, Actan, adl, Anotah, Camaieu, Cortefiel, Desigual, FG4, Jennyfer, Koton, Lipsy London, Miss Selfridge, Monsoon, Oxxo. Promod, Quiz, Rina, Riva, Sfera, Stradivarius, Terranova, La Senza, Oysho, Springfield, Blueage, Giordano, Mahyaaz, US Polo, Adidas, Ibrahim Qurayshi, Company's, F&F, Gap, Mango, Zara, Quiz, Carpisa, In In, Girls On Film, Nine West, BanShow, Call It Spring, Guess, Blooming, Steve Madden, ViVi, Choice, Oysho, Lausanne, Giordano, Ice Cube, Bermuda, My Size (Plus Size), Loya, SuiteBlanc, Nichi
Ladies Abayas
Nawaaem Villo,Rashmesh, Ramsha
Jewelry & Accessories
Aldo, BijouBrigette, I Am, Alpha, Abdul Ghani Jewelry, Swarovski, Al Daham Watches, Cardial, RG, Ibrahim A Qurahsi, F&F, Majed For Accessories, Astani, Violet, Tous, Naomi, Gingersnaps, Accessorize, Albaroo, Patchi
Eye Glasses
Alpha Optical
Perfumes & Cosmetics
Abdul Samad Al Quraishi, Caramel Bath & Body, Flormar, Inglot, L'Occitane En Provence, Make Up Forever, Mikayyajy, Natural Touch, Oud Milano, Sephora Body Care, The Body Shop, The Face Shop, Zohoor Al Reef, Smash Box Cosmetics, Ibrahim Al Qurashi, My Songs, Extra Ordnery, Moment, Rapesez, Violet, Alesayi, Femi9, It's Maine, Nour Maysan, Tutex, Fluor, Not In Rose, Choice, Shield, Paris Gallery, Angellete, Reef Perfumes, Beauty Secrets, Madame Coco, Zavis, Terra Nova, 2 Tex, Al Jazeera Perfumes, Natural Touch
Incense
Inglot's
All, Kids and Household 
Centrepoint, Early Learning Centre, Season Lights, Orange, Red Tag, Mango Kids, Home Sweet Home, Aqua Life, Promise, Athletics Co
Ladies Lingerie, Swimwear, and Pyjamas
Oysho, Undiz, Women's Secret
Men's, Kids & Watches
Arabian Oud, Biscuit, Springfield, Blueage, Gap, Giordano, US Polo, RG,  Ibrahim Quraishi, Oud Milano, Al Daham Watches, Cardial Watches, Old Navy, Princes Houses, The Swiss Corner Watches, Elite Watches, Roberto Cavalli, Emporio Armani, Boss, Mahair's  Thobes, Pull and Bear, Sun and Sand, iOud, Gingersnaps
Health and Personal Care & Food Supplements
Al Dawaah Pharmacies, Dr. Nutrition, Whites, A Barber's Shop
Sports Wear
Adidas, Nike, Flo, Sketchers, Reebok
Phone
Sarah Vaughn
Food Court Restaurants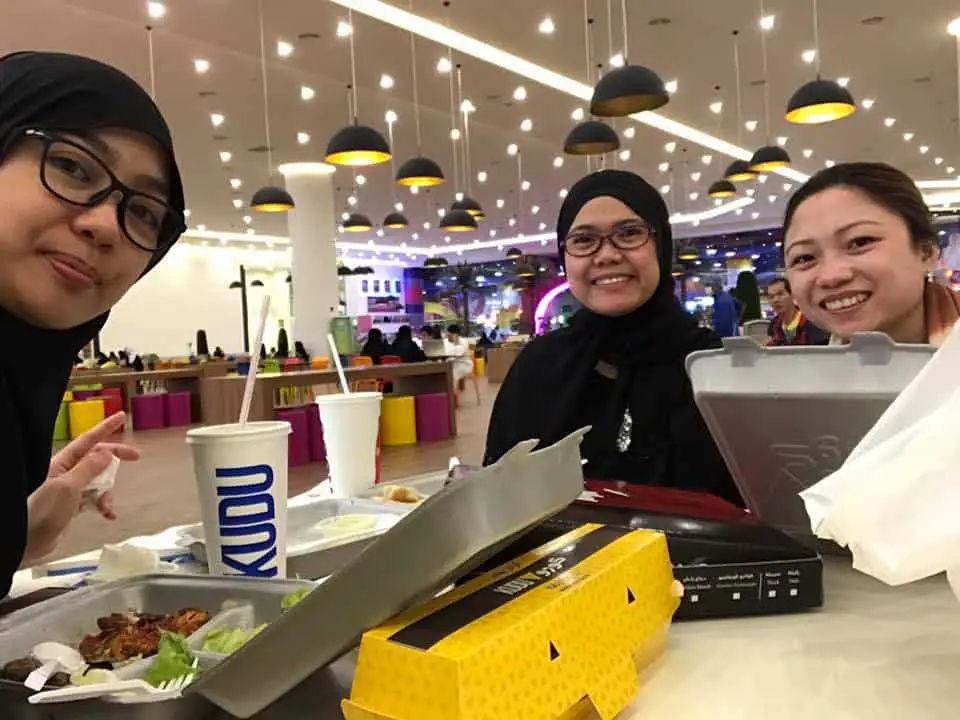 Tako Hut, Roma Way, Macdonalds', Kudu, Herfy, Canton, Burger King, Simit Mama Roti, Antalya, Piaz, Shawarma, La Casa Pasta, Aazal, Iranian, Wokx
Cafes
Sbarro, Seattle's Best, Dafe Cafe, Cinnabon, Idihat Al Muhtarif. Simit Sarayi (Turkey), Chocchino, Molten Cafe, Nespresso, Markaz Cafe, Guan, Khave Dunyasi, Fenjan Shadleya
Sweets
AlKhafeef
Al Moez Street
Sarh Belques 
48
Cafe Dunaisi
Jayarat Al Beit Juice
Class Cafe
Admission – How much $?
High-end prices for goods but look for regular sales and offers at the Jouri Mall Facebook

site. 
When To Go? -Timing
Opening Times 10 am -11:30 pm
Visit Duration
4-5 Hours As Per Your Budget
Who Will Love It?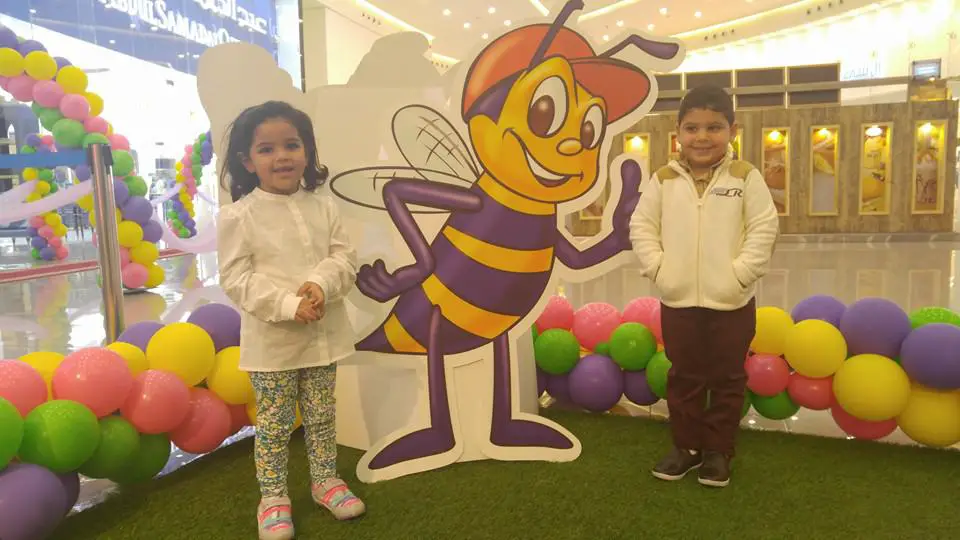 Women, Kids, Families, Socializers, Health & Fitness Lovers, Restaurant and Bargain Hunters
Location
King Khalid Street and 50th Street, Al Qutaybah, Ta'if, 26523 
Jouri Mall is opposite the wonderfully elegant Terra/Danube  Mall 
(Hypermarket plus Fresh Foods & Restaurants) 
8. The Ta'if Rose Festival- (Al Radaf Park)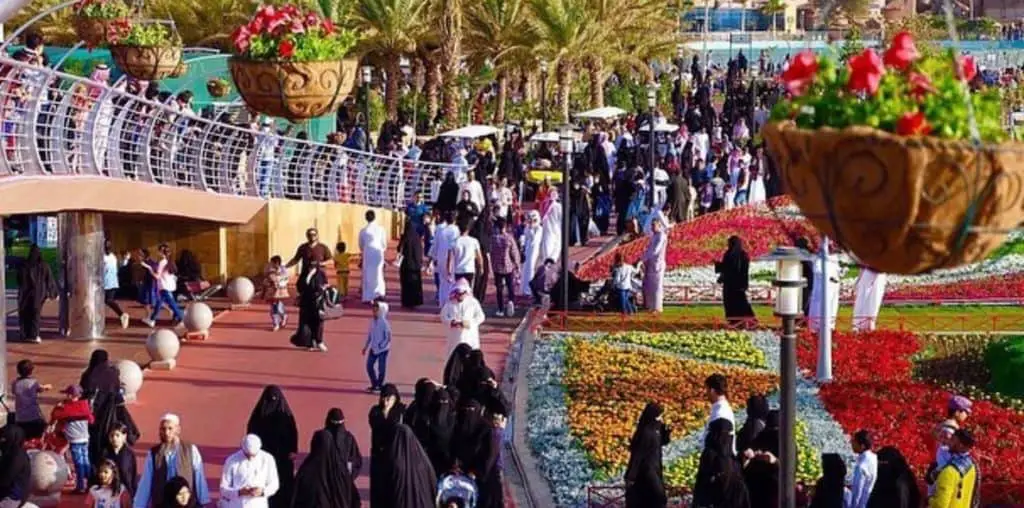 Why Visit it?
The Ta'if Rose Festival is a celebration of flowers and color – a riot of pink and red. 
Started in the year 2005, it is an annual ten-day event that runs in April. This month is when the 30 petaled Damask Ta'if rose blooms. These fresh rose petals are used to make delightful oils, perfumes (Attar), and soaps.  
Every year, 300 million roses are harvested by more than 900 rose farms that exist in and around the Ta'if region. 
Today a bigger and more interesting festival is held at the beautiful Al Radaf Park

. In the past, it took place at the much smaller King Faisal Park

, in Qadeera District.    
For the festival, the Ta'if Chamber of Commerce and Industry

creates colorful displays of more than 100,000 flowers in huge flower beds right across the park and in other venues. It uses thousands of different flower species. 
At the Ta'if Rose Festival, visitors can also enjoy the many exhibitions in pavilions, participate in arts and crafts contests, see and buy handicrafts, witness folk dancing concerts, eat in traditional restaurants as well as having lots of fun. 
There are crowds of people who daily attend the Ta'if Rose Festival but Al Radaf Park is very big, with plenty of grassy spaces and with great wheelchair accessible walkways. 
What Can/Do/See there?
Huge Flower Beds And Displays
Free Roses
Rose Garlands and Tiaras 
Rose Petal Scatterings
Traditional Saudi Clothing (Boys and Girls) 
Bubble Making Machines For Kids
Arts and Crafts Contests (Taif Cultural and Arts Society)
Folk Shows-(Ardha Dances)
Poetry Evenings
Plays
Essential Oils Training Sessions
Barcoding For Beginners & Professionals
Visual Arts
Rose Themed Competitions for Artists (Ta'if, KSA, and Gulf)
Roses Football Competitions
Laser and Illuminated Water Fountain Shows 
Wide Open Grassy Spaces
Plenty of Picnic and Resting Spots
Colorful Flower, Butterfly, and Cultural Displays
Beautiful Giant Flowers, Perfume Bottles and Cartoon Characters 
Water Features and Displays
Traditional Desert Tents
Diwan Seating and Carpets & Arabic Coffee
Delightfully Lit up Arched Walkways
Illuminated Trees, Horses and Figures
Open Top 'London' Bus Rides
Golf Cart Rides
Old Household Utensils Displays 
Many Exhibitions and Stands
Shops Selling Rose Oil, Water, and Soaps
Sweets For Sale (Qaymaat)
Incense Burning
Papier Mache Fantasy Figures and Animals
Official Visits By Groups and Associations
Evening Firework Displays
Admission-How much $?
No Entrance Charge -Free
When To Go? -Timing
5 pm-12 am. Doors open at 4:30 pm. 
10 Days in April
Visit Duration
Different events are held every day for 10 days
Who Will Love It?
Women, children, and families of all nationalities.
Location
South Central Taif & 12 km from The City Centre 
Abu Talib, Al Sadad, Taif 26515
9. King Abdullah Park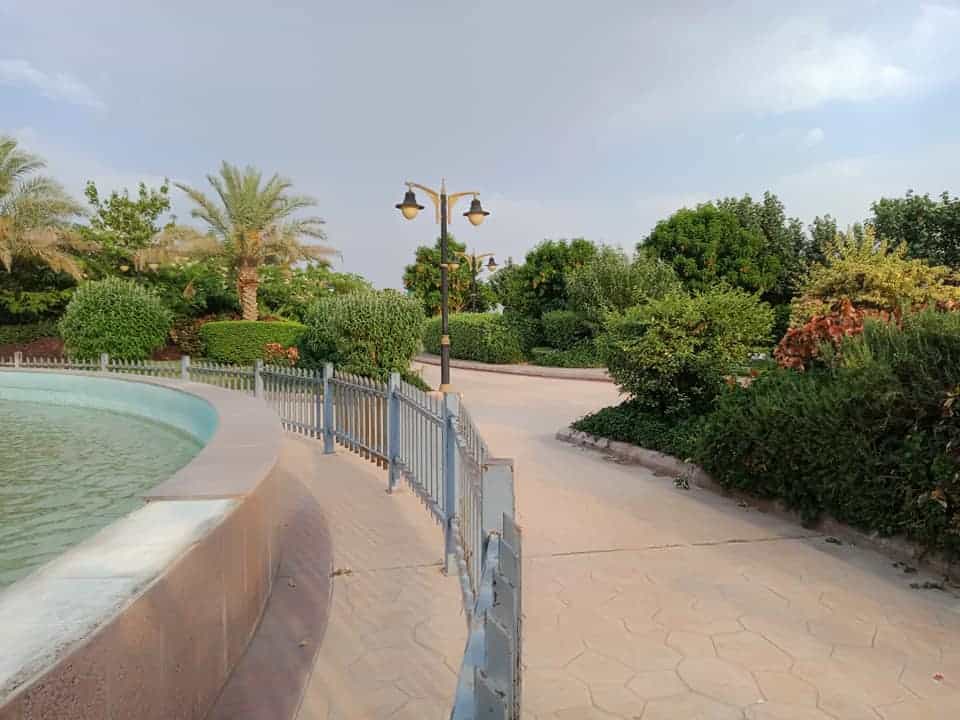 Why Visit it?
King Abdullah Park is the perhaps second-best park after Al Radaf and is located in Eastern Ta'if. It has ample green lawns with lots of trees, shrubs, flowers, and has very well kept and maintained walkways and facilities. Many people comment on how it is beautifully clean and hygienic. 
King Abdullah Park is .5 km long and .3 km at its widest. It is designed around a central lake and shooting fountains and it has wide leafy walkways that are great for taking an afternoon stroll, light exercise, breathing the fresh air, and feeling calm. 
The formal gardens are so beautiful and set again a backdrop of curvaceous hills and natural rocky landscapes. You can see date trees, hybrid fig-trees, deciduous trees, high shrubs, annual flowers and colorful bedding plants. 
There is also a rockery with hundreds of exotic plant species. Many beautiful birds frequent the park and they are especially noticeable early in the morning. 
At night, an illuminated fountain shoots up colored water high into the sky using high powered jets. The walkways between lawns are well lit up with wonderful street lights and there are a number of fixed tables and benches for picnics.
Kids cycles, roller skates, strollers, etc are allowed.  Special parking spaces exist for cars with disabled passengers. Here is good security at the 8 gates. The bathrooms are cleaned and plentiful. You can bring in your own food, snacks, and drinks.
The quietest, most peaceful location in the park is next to Gate 6. 
Also, King Abdullah Park is close to Ta'if Municipality, shops, a petrol station, the Johnny Mall, the Terra Mall and Saco.  
What Can/Do/See there?
Ample Free Car Parking 
Two Small And One Large Lake With Fountain Jets
Calm, Cool  And Quiet Atmosphere
One Large Public Pavilion 
Shaded Pavilions With Seating
Many Benches 
Stunning, Lush, Spacious Lawns
Variety of Trees and Shrubs
Beautiful Flowers
Old Fashioned and Modern Street Lights
Cafeterias
Two Main Playgrounds For Little Kids With Padded Floors
Red Tiled and Patterened Walkways  With high Shrubbery
Open Shaded Tent Like Gazebos
Walk Inside Giant Bubbles To Walk Over Water 
Elegant Lit up Arched Walkways
Beautifully Curved Pathways
Full-Sized Astro Turf Football Pitch
Three Tennis Courts
Volley Ball Courts
Spot Lamps for Night Time Sports Events 
Nighttime Spotlight Shows
Cinema
Excellent Night-Time Lighting
Lots of Rubbish Bins 
Kiosks for Coffee and Light Snacks
Excellently Serviced Bathrooms
Mosque with Separate Prayer Areas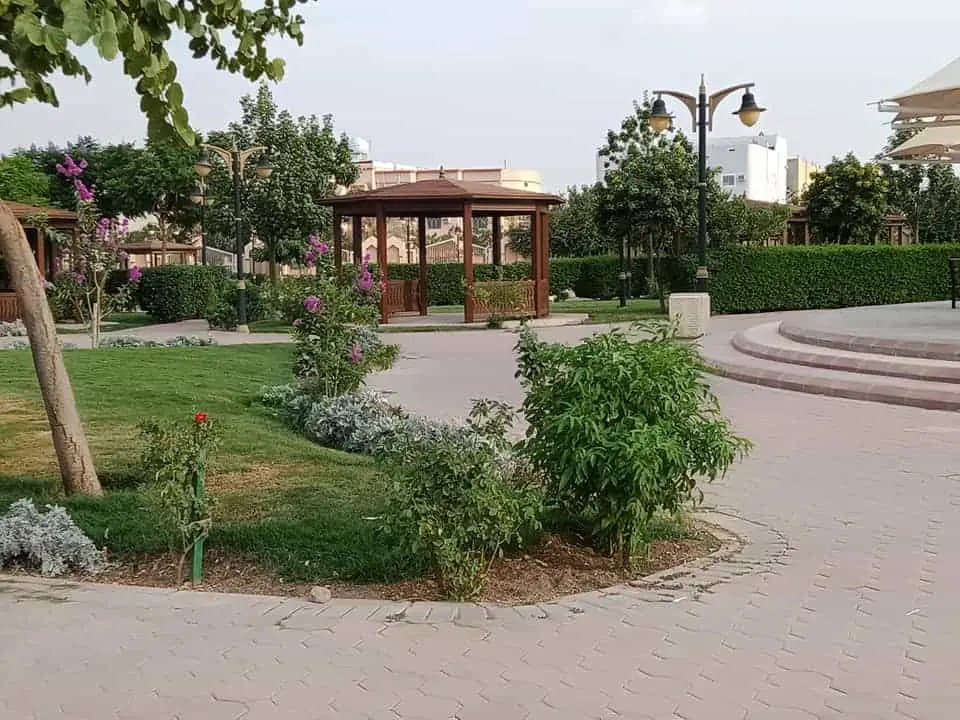 Admission-How much $?
Entrance to King Abdullah Park is free of charge
When To Go-Timing
Tuesday to Friday  1 pm -12 am
Saturday 12 pm – 12 am
Monday Closed
Visit Duration
1 – 11 hours 
Who Will Love It?
Families, nature lovers, photographers
Location
Fun Fact- King Abdullah Park was the location chosen to host the first Taif Cinema Movie Theater held during the 2019 Ta'if Season Festival. 
It was operated by the Riyadh based Muvi Cinemas Company.

The cinema first started showing Arab and International films on a huge screen in the open-air in the park and seated 350 people. Ticket prices were SR 50 ($14). 
Films shown were for adults and kids under 15. 
10. Saiyasid National Park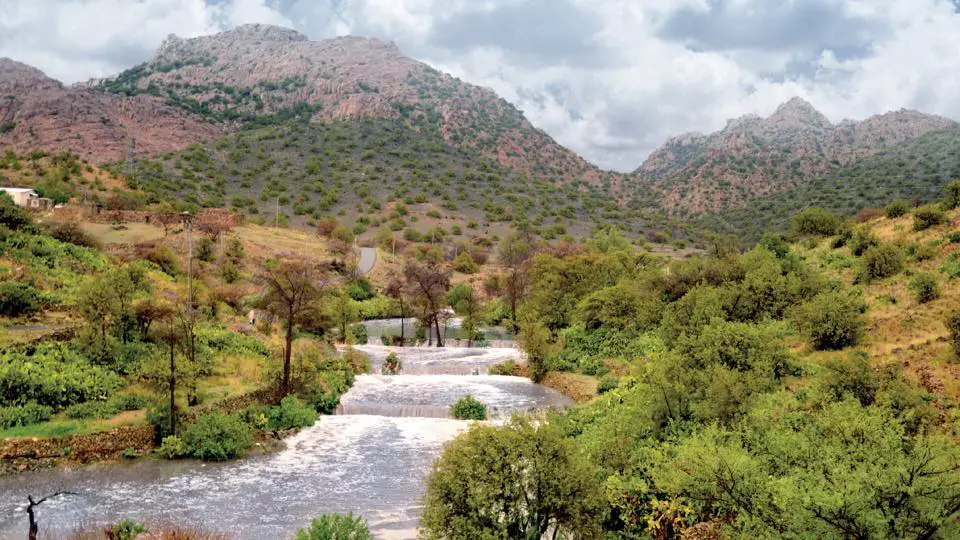 Why Visit it?
Al Saiyasid National Park is Ta'if's wild and natural underdeveloped area of beauty. 
It got its name after the river dam that exists there called Sised. Originally, this large stone dam was built by a companion of Prophet Mohammed (SAW) called Mu'awiya bin Abi Sufyan

in 677 AD. (Check) He was an Umayyad Caliph 639-661. 
The six lined words in Arabic engraved on one of the foundation rocks of the dam translate as the following:
This dam is the property of Muawiya, who worships God (Allah)

He is the Caliph of Muslims and the dam is built by Abdullah Bin Sakhr

It was built in the year 58 H only by the grace of God

May Allah forgive his worshipper Muawiya

May Allah forgive his sin, help him and give him benefit

To the ones who believe through him.

This is written by Amr Ibn Habab (Inscribed)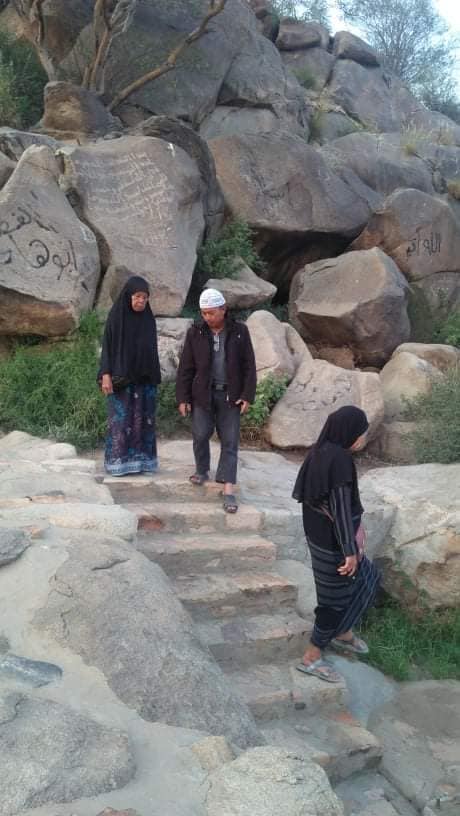 Over centuries, 70 dams were built in and around Ta'if of which 29 survive until today. 
Al Saiyasid National Park lies in the Northeast of Ta'if, 7-8 km from the city center. It is located in an area of 16 square km. 
The park is a massive nature reserve set against a backdrop of mountains, with trees, gushing rivers, little valleys, and lots of mountain springs.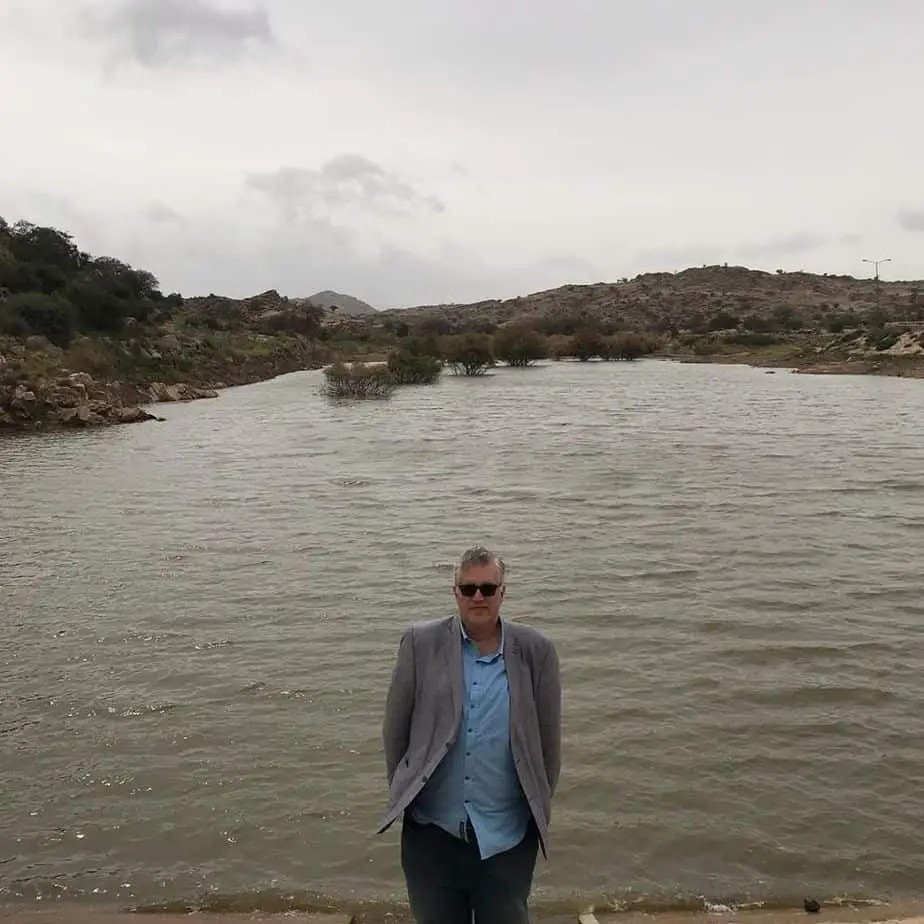 The park is the meeting place, a confluence of the flowing valleys Al Arj, Sisood, and Nakhb.  
Neglected until 1998, the park was updated and access to the area was restored before it opened to the public in 1999. 
It is popular with camel drivers, campers, day-trippers, bird watchers, picnickers, hikers and off-roaders.  People enjoy its open green spaces and rocky terrain. 
Try to avoid the national park during the rainy season as rivers swell and flows are torrential. 
The park is underdeveloped and rustic. There are no shops or services so visitors need to take ALL supplies with them and warm clothes are recommended at night.  
What Can/Do/See There?
Driving Around The Reserve
Off-Roading
Walking
Scenic Photography
Bird/Animal Spotting
Grazing Camels
Enjoying Gushing Rivers
Paddling in Pools & Streams
Jumping in Waterfalls
Camping
Picnicking In The Trees
Playground For Kids
Football Pitch
Engraved Rock
Admission-How Much $?
The park is gated and is free of charge
When To Go? – Timing
Open 24 hours a day
Visit Duration
Unlimited Time
Who Will Love It?
Nature lovers and outdoors types
Location
North East Ta'if 
Handy Google Maps Coordinates- Taif
Recommended Hotels
References and Useful Links