In Saudi Arabia, tourism is something new. There is a lot of excitement both here in the kingdom and abroad about the possibility of coming to Saudi Arabia as a tourist. But also, there is some confusion and lack of information about what the tourist visa is about, who might be eligible and how to get one. So, I did some research to find the actual information and more details about how to get a Saudi tourist visa.       
So how can I get a Tourist visa for Saudi Arabia? Since December 2018, a Tourist E-Visa can be obtained online using the new Sharek


E-Visa application system. For now, it is only intended for sports, entertainment and business events. As the sector grows in the near future, it will be available for holiday resorts and heritage sites.
To get one, a passport with 6 months validity, a completed online form and fee payment are required. The visa is issued almost immediately after the request is made online.  
In spite of rumours, obtaining the International E-Visa is not restricted to nationality. People applying for a tourist visa to Saudi Arabia have found that if they meet some basic conditions anyone can be granted a visa very easily.  
Who is eligible for the Saudi E-Visa?
Citizens of the UAE, Bahrain, Kuwait, and Oman can travel freely in Saudi Arabia. Other nationalities should apply online using the new Sharek


(pronounced Share rik) online International E-Visa system.

Some sources speculate that the new International E-Visa will only be given to certain nationalities. However, this is not true. For its first pilot project launched in December 2018,  Saudi Arabia granted the new e-visa to about 80 nationalities via its latest Sharek portal for the Formula One Grand Prix event in Riyadh.
As more events are added to the Sharek events website, increasingly more tourist E-Visas will be issued to meet the demands. So, to dispel the rumour- the Saudi international E-Visa is available for just about everybody.

Simple Application Process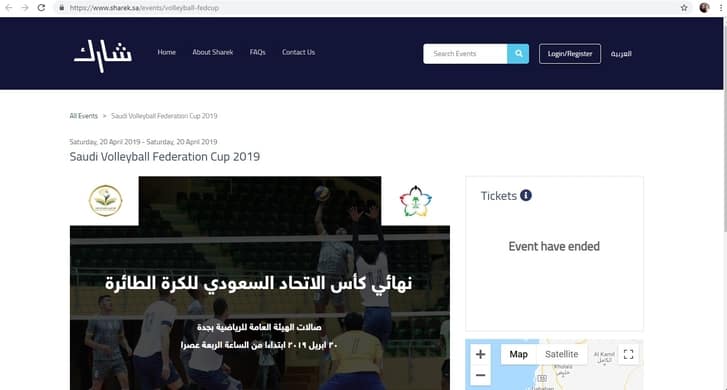 Traditionally, applying for a visa entry to the Saudi kingdom is notoriously long and complicated. However, on the new Sharek

events portal, it takes only up to 15 minutes before it is issued.

This is how it is done!
Choose an event (s) you wish to attend from those listed on the Sharek  web portal
Purchase a ticket for the event (s)
Apply & pay for the E-Visa
Obtain your E-Visa
Amazingly, it is as simple as that!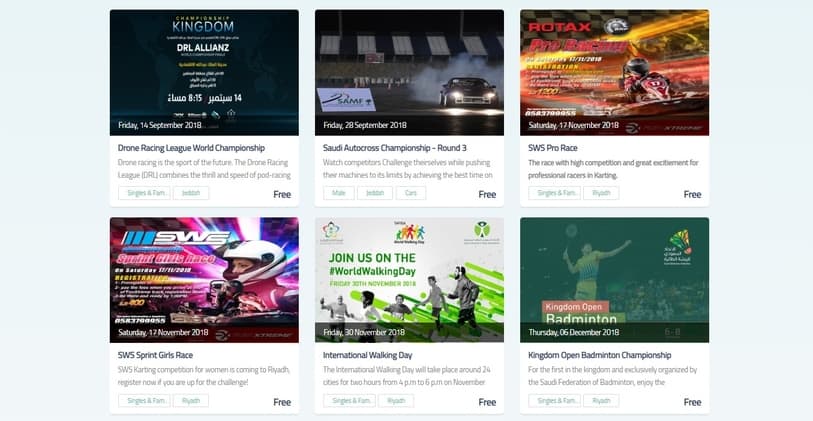 At the

Sharek

portal, you will do both the actual ticket purchase together with the E-Visa application. After your ticket purchase is made, you will automatically be prompted to apply for an international E-Visa (if you need one) and the process will guide you step by step.
Before you do that though, in addition to your flight reservation details, here is what you will need to prepare in advance.
A passport with 6 months validity
A scanned copy of a valid passport   
Credit card for online payment  Price: 640 SR ($170) + cost of the event
Know your port of entry beforehand
An email address for confirmation
International mobile telephone line (s) for verification
The Saudi E-Visa Application Process -Step by Step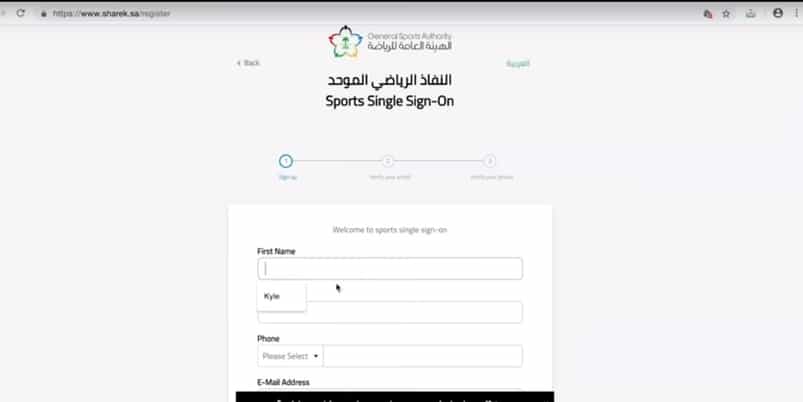 First, create a login account at the

Sharek

events website. This is easy, but the email and phone number need to be verified. The verification is done at the end of the application process. An SMS with a verification code will be sent your international number. Take this code, open your Sharek

account and enter it for verification.
There have been problems that a number of users were not able to receive the verification code to their phones in certain international destinations namely the USA and Uzbekistan. If this happens to you, write a fresh application. With time, I am confident these bugs can be fixed.

Second, after the system tells you are eligible for an E-Visa, fill in your details for a  single/multiple event sign-on including name, phone, email, DOB, gender, nationality, country of residence and unique password. Make sure the name you enter in the application field is exactly the one you have in your passport.
In fact, be sure to write all the information accurately including your international telephone number. If you fail to do so, your application may be rejected and you will not receive a verification SMS. The application fields cannot be changed nor re-edited once it is submitted.
Third, upload a copy of your passport.
Fourth, enter the dates you wish to be in Saudi Arabia. Also, know your port of entry. The application offers Dammam, Dhahran, Riyadh, Medina, and Jeddah airports. This, of course, will correspond to your flight details.
I am unsure if entering Saudi via a different port will be a problem for the E-Visa. However, I personally know a number of people in the past who experienced big problems at the Saudi border because they tried to enter the kingdom overland or at a different point of entry than the one stated on a normal, non E-Visa issued to them.
Fifth, complete online payment using a credit card. Any major credit card will do. For example, you can use VISA or MasterCard etc.

Currently this is 640 SR ($170) + cost of the event = total amount payable
The E-Visa actually costs 520 SR + 100 SR for compulsory insurance. There may also be VAT and handling costs.
Note that some applicants experienced payment problems from the USA to Saudi Arabia using credit cards. Payments have been refused until the local credit card companies were able to verify the payment with the cardholders. This is an inconvenience but fixable with time.
Sixth, wait for the SMS confirmation of the E-Visa issue which will be sent to your international phone number (s). This will take a maximum of 15 minutes.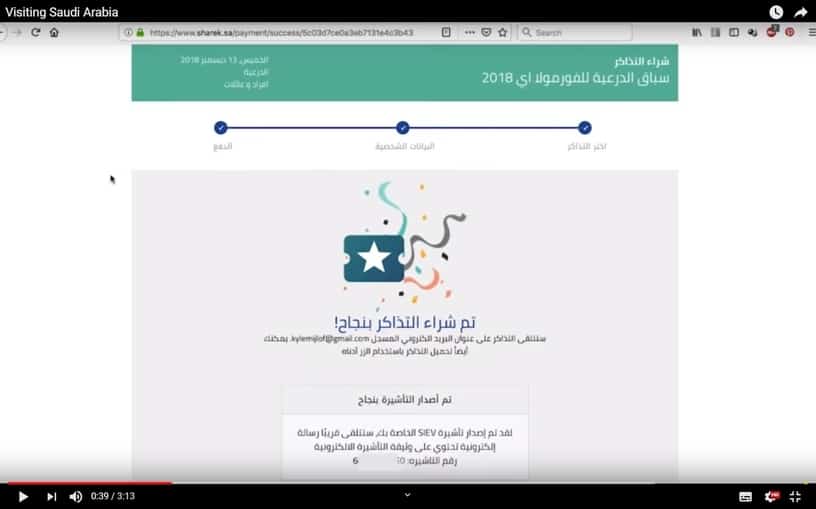 Lastly, after logging into your account at the Sharek website, confirm the E-Visa issue by entering the verification code sent to you by SMS. Now, your E-Visa will be ready to use.
Saudi E-visa Conditions

The visa is granted in order to attend specific events such as sports, entertainment or business. It can be used to attend more than one event. It is issued together with the online purchase of an event/events ticket (s). There is only one visa per ticket.

An E-Visa is for a single one-time entry and exit. It cannot be used for work, Hajj/Umrah or personal visits to Saudi Arabia. There are other application procedures for those. Also, an E-Visa is valid for 14-30 days as agreed and takes effect after your passport gets stamped at the port/airport as you arrive in the kingdom.

Anyone, including children, is eligible with a valid passport and event (s) ticket. With the E-Visa you can move about Saudi Arabia, but the religious cities of Mecca and Medinah are strictly off limits to non-Muslims.  

The Actual Saudi E-Visa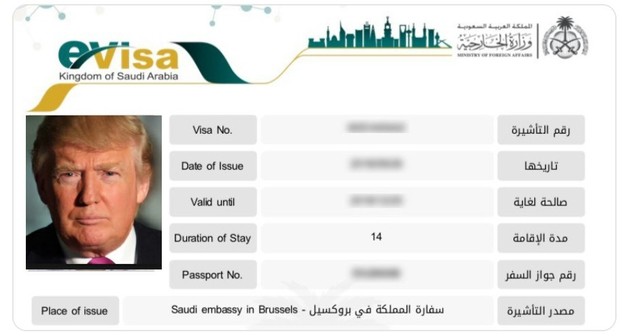 The issued E-Visa is now available at the Saudi Ministry of Foreign Affairs website. In Arabic and English and the page simply shows:  
Name
Visa Number
Validity Dates
Duration in days
Passport Number
Personal Photo
Why is Saudi Arabia Giving Tourist Visas Now?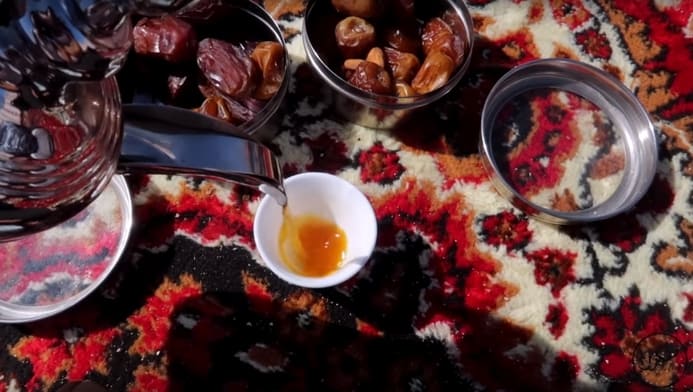 It is clearly a way to keep the much need revenue inside the kingdom by encouraging Saudis nationals to holiday at home. It is also a way to attract investment and create huge spending opportunities for an additional 15,000,000 foreign tourists.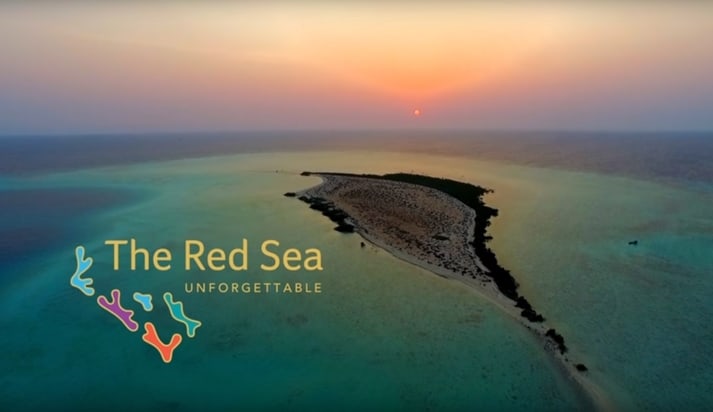 So far, no one has come for package holidays nor on traditional holiday vacations. But that is all about to change. The kingdom has huge development plans which include a spanking new Red Sea Resort, 'Noem' Mega City, Al Qiddiyah the Entertainment City in Riyadh and lots more.
Other than for religious pilgrimage, Saudi Arabia's tourism industry is brand new. The amazing beaches, charming destinations and heritage sites have always been there, but in the absence of international general tourist visas, they have continued to be poorly developed and underused.
This is both good and bad for nationals, residents and those millions of religious pilgrims living and visiting Saudi Arabia. It is good on the one hand because until today we can visit existing tourists sites without the crowds, with plenty of available services and at low prices.
On the other hand, the bad is that those services, whilst barely adequate, are not always offered to a high standard, lack any decent choices and remain largely underdeveloped.
Disappointment at Jabal Gara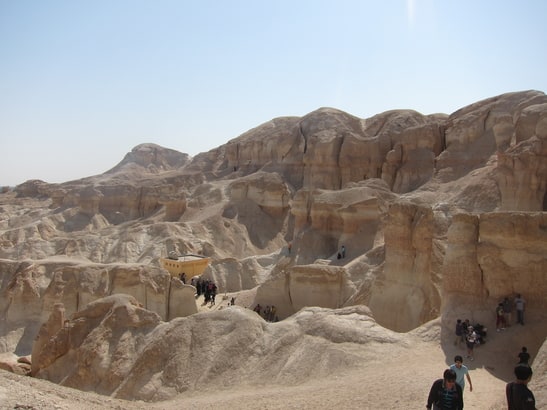 For example, five years ago I and my family visited a popular mountain with caves to explore called Jabal Gara in Al Hasa, Hofuf. The mountain area was difficult to access from the town of Hofu because the access roads were so bad and there were no signs. When we eventually arrived at the site, it had no facilities, no toilets, no shopping, no fuel or rest area. It was simply just the mountain with amazingly cool caves to explore.  

There were no guides nor staff and we were left to our own devices to explore the site. No fences or barriers existed to protect children and families visiting there from dangerous heights. No plan existed to show visitors about the site and in and around the amazing caves. Also, the whole area was was littered with rubbish and graffiti and very poorly maintained.

Jabal Gara is a wonderful place to visit for an afternoon, but we were very saddened to see that it was so run down, uncared for and unloved.  

Plans to Develop Saudi Tourist Sector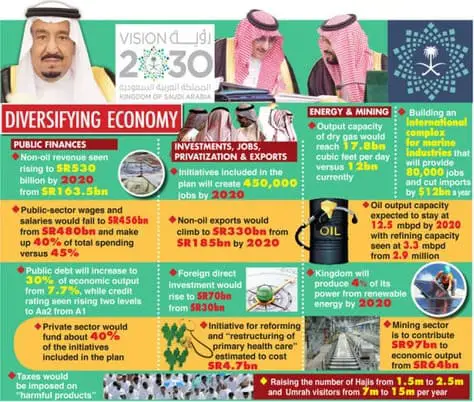 Thankfully in line with Vision 2030,  the National Transformation Program (NTP) was recently set up to drive change in eight important national sectors and themes; healthcare, living standards, resources sustainability, social empowerment, access to the labour market, private sector and tourism and the national heritage.
Overhauling tourism in the country is one of eight areas of these government initiatives for national economic growth and development.

The Saudi Tourism sector is controlled by The Saudi Commission for Tourism and National Heritage (SCTNH) and headed by Prince Sultan Bin Salman.
The goals are to develop both the major tourist infrastructures together with the legal operational frameworks which will, in turn, lead to increased job opportunities for Saudi nationals in the new tourist industries, a healthy tourist economy and the revival, preservation and promotion of important Islamic, Arab and national heritage sites.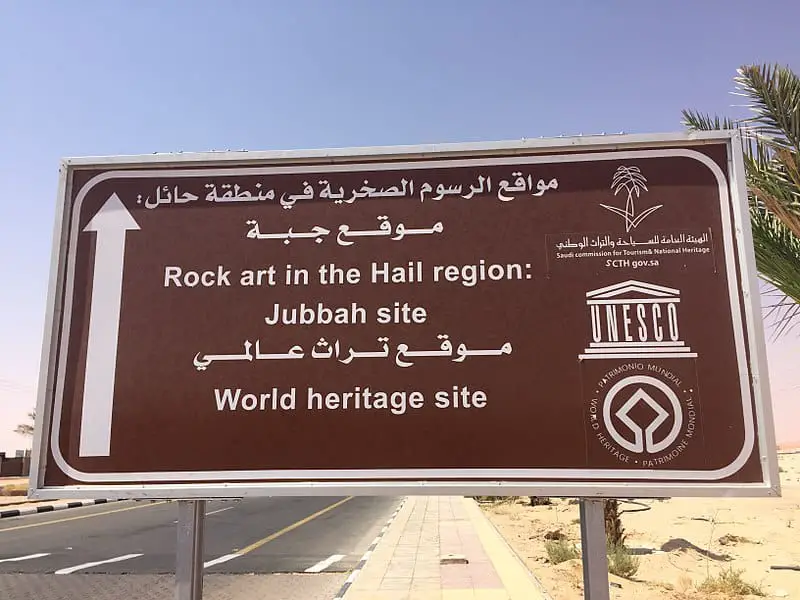 The SCTNH's work is to document, develop and market the number of tourist sites, hotels, facilities, access and services before the International 'tourist' E-Visa can be fully rolled out to include all the major touristic resorts and sites.
The new E-visa in 2019-20 for sports events, entertainment and business is just the beginning.

In all, the vision was always 2030. Saudi Arabia plans for all the major tourist development have to have been realized by that date. (MFS) We wish it the very best and the greatest of success in this endeavour.       

Related Questions
Are there any exemptions for the new Saudi E-Visa? Yes, women under the age of 30 will not be eligible for an E-Visa if they plan to travel alone. She must be accompanied by a male guardian or in a group.
Are there any restrictions when travelling in Saudi Arabia? Yes, alcohol, drugs and pork products are strictly prohibited. Also, there is a dress code for both men and women which should be observed.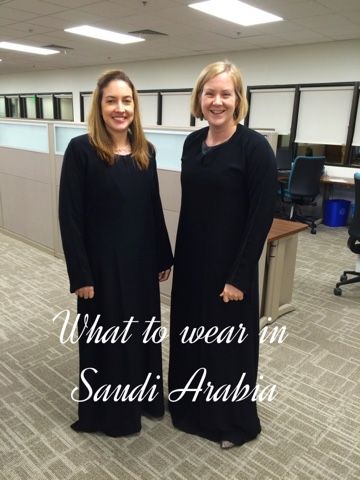 How Should People dress in Saudi Arabia? For non- Muslim women, an 'abaya' or cloak should be used to cover the body from the shoulders to the feet. The hair can be left uncovered. Men too should wear short pants that cover the waist above the belly button and with legs that reach below the knees.