Step 1.
To begin the process the Resident Iqama Holder Applies For Family Visit Visa at MOFA Online and Prints a Completed Form
This is how it is done:
First, go to the MOFA Portal
Choose and click on E-Services
Click on Residents
Select Family Visit Visa
Read the Service Details
Click on Start The Service
Now, the MOFA homepage instantly directs you to its Visa Services Platform.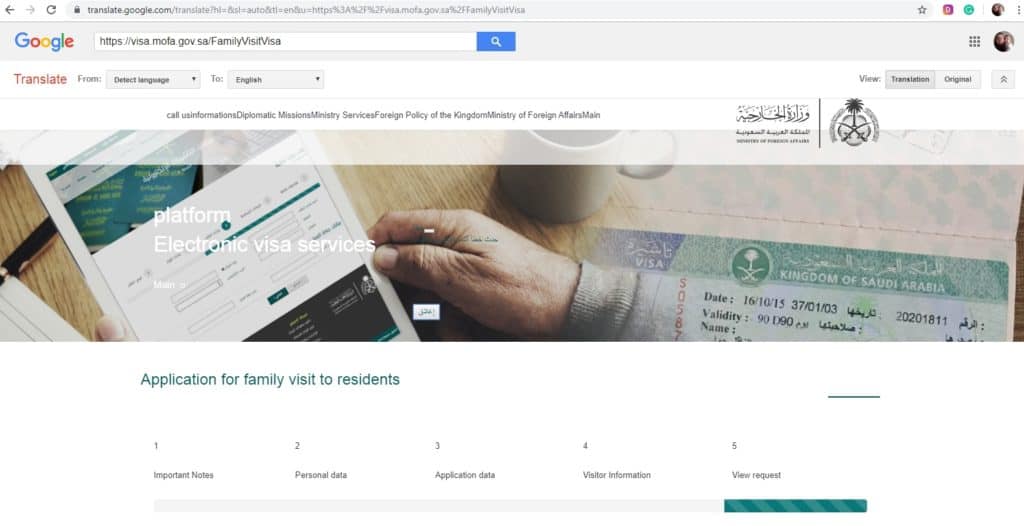 Select English (Top Left)
Choose Individuals
Then, select Resident 
Click on Family Visit Visa Application for Residents
To translate to English click Google Translate
Click I Agree if you agree to visa terms and conditions
Enter Iqama Holder's Residency Number (Iqama Number)
Enter Iqama Expiry Date (Hijri)
Enter Border Number (Handwritten Number on Passport Stamped Pages)
There are now five steps
Add your Sponsor Address, City, Email and Mobile number starting 00966 & number
Click Next
Then enter Visitor Information
Name
DOB
Passport Number
Passport Expiry Date
City of Origin
Employment
Religion
Nationality
Country
City
Visa Type: Single or Multiple Entry
Duration: 90 days or 365 days
Duration of Stay: 90 days
Relation to you: (Male or Female)
Relation to you: (Select relationship from Drop Down List)
Enter Visitor Name (s) EXACTLY as it appears in the passport
Repeat 12-29 if more than one visitor application needed
Enter Submit
Finally, check all the information is entered correctly
Then, double-check again
Justification For Visit enter لزيارة عائلية For Family Visit
When you are sure, click Submit
Print the Form. Get it
Now get it signed
You need to make sure you have written all the details correctly in the application form.
If the Visitor Name you enter is different from the name on the passport you will have problems issuing it. Also, make sure to write your email correctly and your mobile number using 00966 & mobile number.
Make sure too that your job title appears on the MOFA list of professions that are entitled to get visas. Many Family Visit Visas are rejected because the applicant's profession has no entitlement. If you are not, only your sponsor can change it.
Do not write Atheisist as your religion. It is likely to be rejected.
There are Six Main Steps Required to Successfully Get the Family Visit Visa
Click here to see The Complete Guide to the NEW Saudi Family Visit Visa