25th Match 2023 – 3rd Ramadhan 1444
#Wajeeh Gay Lion describes his difficulties coming out as gay and living in Saudi Arabia.

#Saudi National Bank ($1.5 billion) investment in Credit Suisse almost wiped out

.
#Saudi Arabian representatives push for technologies that remove carbon dioxide from the atmosphere in UN climate report

.
#KSA is buying Russian oil in massive amounts. 2.5 million barrels in of diesel 10 days. It's discounted and strategic. Watch below to find out why?
24th March 2023 – 2nd Ramadhan 1444
#Registration opens for Itikhaf at the Haram Mosque for the last 10 days of Ramadhan

via the Nusuk application.
#Prince Khalid bin Salman KSA's (Minister Of Defence) congratulates the 102nd batch of King Faisal Air Academy in Riyadh on Thursday at a graduation ceremony.
#MBC & Shahid TV show 'Otr Al Kalam' competition for both the call to prayer (Adhan) and recitation of the Holy Quran. 50,000,00 applied but prizes totalling ($3.2 million) will be awarded to less than 32 carefully selected contestants.
23rd March 2023 – 1st Ramadhan 1444
#Now, Russia sells more oil to China than Saudi Arabia.

#Saudi kids sleep study indicates 70% don't want to go to bed. Chuckle! Other things too stop them sleeping!
#In Algiers, Abdullah Bin Nasser Al Bussairi received in Algeria by The Secretary General of the Ministry of Foreign Affairs and National Community Abroad, Mr. Amar Belani

. They discussed business relations, investments, fiscal guarantees, the Arab League, challenges, security and stability in the Arab world.
#Where does Saudi Arabia stand on landmine and cluster munitions?

Special Report
#What Do Muslims Do In Ramadhan In Saudi Arabia in 2023?

All your Ramadhan questions are answered.
#S&P Global revised Saudi Arabia's sovereign rating high to A/A-1. They are happy with the reforms.
#Tweeter critic (Saad Ibrahim Almadi) of the KSA government

released after one year in prison, but still not allowed to travel to the US of which he is a citizen.
#The Holy Month of Ramadhan begins across the world.

Muslims fast sunrise to sunset, pray at night and and spend the month in contemplation of Allah (SWT).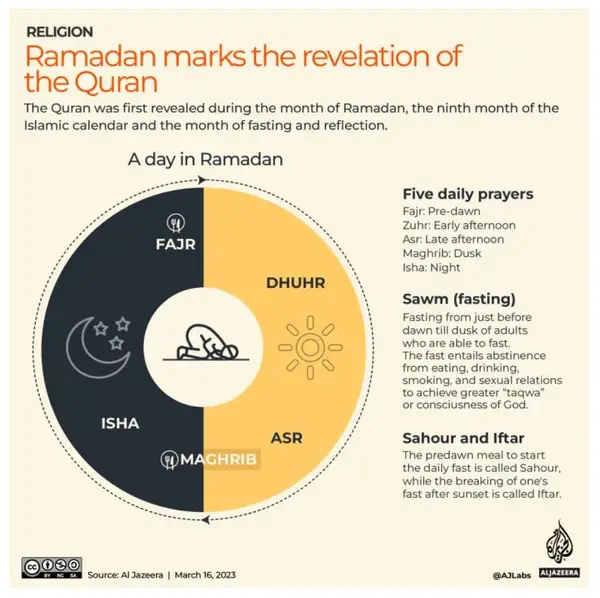 20th March 2023- 27th Shaaban 1444
# Moody's rate KSA's sovereign rating S&P Global on Friday to A/A-1 due diversification plans.
#Interview with team principles

Toto WOLFF (Mercedes), Franz TOST (AlphaTauri), James VOWLES (Williams), Alessandro ALUNNI BRAVI (Alfa Romeo) to discuss GP performances.
#Sergio Perez tales pole position in the Saudi Arabian Grand Prix

#The Deccan Herald unpacks two reasons why KSA and Iran are back to talking again.

#Saudi transgender man presumed dead

.
#Some speculation from the Daily Telegraph about KSA

wanting to takeover the Khaleej cuntries.
#Chairman Ammar Al Khudairy Saudi National Bank Chairman claims the stock plunge of Credit Suisse is nothing to worry about

. But, then he has to say that, doesn't he?
16th March 2023 – 23rd Shaaban 1444
#The US Senate voted Michale Alan Ratney is the new US ambassador to KSA

. He was the Assistant Secretary for Levant and Israel.
#Ramadhan working hours are 10am thru 3pm

with 2 hours either end if required.
#A transgendering Saudi man working to become a woman dies in suicide attempt in KSA.

He claimed his family forced him to give up and denied him detransition medicine!
#Investigation of KSA gift of a diamond necklace, earrings, a watch and a ring

valued at $3.2 million held in Brasil customs against then-President Jair Bolsonaro, gifting it to his wife Michelle Bolsonaro 
#Max Verstappen believed Ferrari will win the Saudi Grand Prix on March 19th

. The Jeddah surface is less coarse and more flowing.
#Islamic Development Bank builds 5 floating hospital ships ($20 million) to cruise Bangladeshi's delta to serve the poor in rural communities. Each ship will be named King Abdullah Friendship Hospital 1-5 since funding comes from Saudi Arabia. They will have 30 crew members, go up and down the Padma River, the Meghna River the southeastern regions of Hatiya performing operations and surgical procedures. They plan to treat 350,000 poor people a month.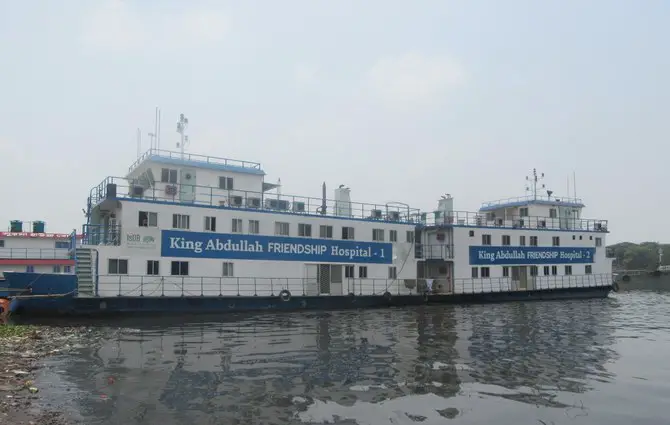 #Online, AI and edtech technologies are transforming the delivery of education in the Middle East by the likes of KITMEK's game learning platform, Geek Express

for learning to code online to make video games, app and websites and FILO

, the world's first live instant tutoring platform.
15th March 2023 22nd Shaaban 1444
#White House Press Secretary Karine Jean-Pierre States Trade relations are good with Saudi Arabia's historic purchase of Boeing aircraft. The deal with make 140,000 new jobs in across America.
#The press honours awful Saudi female sculptor Awatif Al-Keneibit

-her figurines are tribal and basic.
#KSA's ancient Dadan civilization was one of the main trade stations on the ancient incense road, which linked southern Arabia with the Levant and Egypt. National Geographic March 13th 11pm. Other timings possible!
#Red Sea Film Festival provides new 'projects' to help develop local, Arab and African film-makers called Red Sea Lodge /TorinoFilmLab and with sponsorship by Film AlUla. The names of the films are listed here.
#KSA studying how to extend the weekend from two to three days a week-the

goal to increase job creation, to improve attractiveness of the job market. UAE has a three-day weekend.
#KSA and Iran talk-what it will mean for regional relations

– no more support for the Houthis but more for Hezbollah
#PIF to buy 39 jets from Boeing for the kingdom's new Riyadh Air – Boeing's 787-9 (300 passengers) and the  787-10 (330 plus passengers)
#Tornado rips through Ta'if-14th March 20223
13th March 2023 – 21st Shabaan 1444
#KSA thanks Oman and Iraq for helping to bring them back to Iran dialogues

#New Ramadhan rules in Saudi Arabia

.
#Saudi oil giant ARAMCO announces whacking profits of $161 billion in 2022

brought on by the Russian invasion of Ukraine.
#KSA renewing broken relations with Iran a blow to Netanyahu

and Israel's efforts to isolate Iran in the region.
#KSA announces launch of new airline Riyadh Air

adding $20 billion per year to KSA's non oil growth and creating 200,000 new jobs.
12th March 2023 – 20th Shaaban 1444
#Federal crackdown on foreign officials found to subvert the U.S. justice system

after fatal hit-and-run by Saudi teenager 6 years ago in Portland killing a 15-year-old high school girl. Abdulrahman Sameer Noorah fled the country with the aid of the Saudi government.
#Saudi Arabia asks the U.S. to provide security guarantees

and help to develop its civilian nuclear program
#GCC residents can get electronic tourists visas r

egardless of profession for the first time.
#Invitation only event to discuss how world changes global impact KSA's maritime industry.
11th March 2023 – 19th Shaaban 1444
#KSA and Iran get back to talking once again

after 7 years of differences.
9th March 2023 – 17th Shaaban 1444
#95 million visitors to Saudi Arabia since COVID

and $550 billion tourism plan at ITB Berlin.
#136,498 people crossed the King Fahad Causeway

linking Bahrain and Saudi Arabia the most recorded since 1986
#International interest in Saudi shooting market that exceeds SR32 billion

.
#Ronaldo, Messi and KSA's bid to host the World Cup in 20230 plus sports washing.
#Ghassan al-Sharbi a Guantánamo prisoner for more than 20 years is repatriated

to Saudi Arabia.
8th March 2023 -15th Shaaban 1444
#KSA stock market thriving, Egypt's falls.
#Nazaha KSA's anti corruption campaign scoops diplomats and Bangladeshi operating recruitment and money laundering scam.
#KSA two die and 21 get injured in a bus crash that carrying 21 Arab nationals

in Tai'f.
#KSA drops $5 billion in Turkey's central bank coffers. to help offset 30% devaluation.
#Multinational companies moving to Riyadh this year will become tax-free

provided they do government contracts.
#Jayasom Wellness will offer Amaala health facilities

to include 153 keys 2 branded residences in Amaala's Triple Bay in an adult only zone and will have Holistic Health, Fitness, Physiotherapy, Nutrition, Aesthetic Beauty, and Spa. 
#Forum all about embracing the Metaverse -7th March in Riyadh, 2020 for telecommunication people to discuss metaverse issue.
#KSA's now buying diesel from Russia – 600,000 barrels per day (bpd) 
#The Haram mosque smartens up the Black Stone with lovely embroidery work.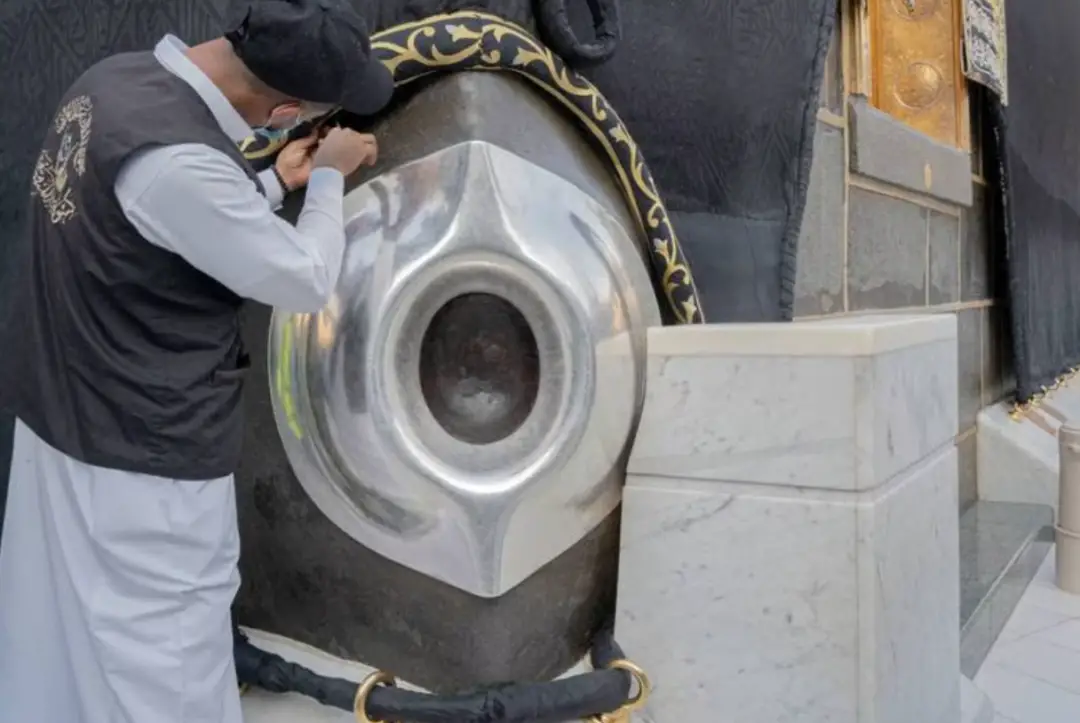 #More nonsense about Ronaldo enjoying life in Saudi Arabia

saying Messi will love it, too.
#KSA foreign minister reaffirms top priority economic and trade relationship with India.

#KSA delays sending $2 billion to save Pakistani banks

but gives $5 billion to Turkey.
#Construction in KSA is massive

Rick Hopper explains in an interview.
#KSA bids to host the 2030 world Expo

The prince talks with officials and chairperson of the Bureau International des Expositions (BIE).
#Inspirational Saudi women

celebrated for women's international day.
#Ramadhan Banking Hours have been reduced

– 10am – 4pm / Money transfers 9:30am – 5:30pm
4th March 2023- 12th Shabaan 1444
#KSA government backed plan to invest $51 billion

via oil Saudi Aramco, SABIC, and Ma'aden in their SHAREEK programme- a staggering SR192 billion.
#UK and KSA sign off on agreements,

SOIs and Partner Feasibility Programmes, combat Air Defence systems.
#KSA invests a minority stake (20%) in Renault- Geely combustion engines

initiative to make efficient gas and electric engines.
#LIV Golf circuit litigation questions whether Saudi government controls sports operations

and the golf circuit and its objectionable.
2nd March 2023 – 10th Shaaban 1444
#KSA tech-savvy youth show Saudi Arabia fast becoming a great place for digital businesses

with heavy funding in tech start-ups arising out of the Vision 20230.
#The UK denies KSA involvement in Future Air Capabilities Programs (FCAS)

despite the kingdom's claims of a military agreement.
#KSA's Saudi Aramco seeks stakes in foreign owned LNG plants and wants to benefit from some of the $450 billion in international LNG annual sales.
#KSA introduces the new Saudi flag day the first beginning March 11th 2023

27th Dhu Al Hijah.
#Interview with Dr. Ahmed Balkhair Saudi Health Minister

about value-based healthcare and how it improves the output of care and quality. Watch below
#Jewellery from Miami to Riyadh

– Where are the sales happening?
#Trojena will offer (Collective Retreats) experiences

in 60 open-air guest rooms, meeting spaces, water features, communal campfires, and culinary experiences in North West Saudi Arabia.
#Opinion that US should expand relations with KSA

to include tourism, ICT, finance, fintech, entertainment, and beyond.
#Saudi Cabinet agree to the Shareek Program being called Private Sector Partnership

Reinforcement Center focusing on international aid and support together with developmental goals.
#Ronaldo named Saudi Pro League's Player of the Month eight goals and two set-ups in four matches during the month of February.
#KSA to host India's Hero Santosh Football Trophy King

Fahd International Stadium which will host all four matches. The 68,000-capacity stadium in Riyadh on March 1st and 4th 2023.