Wheat, Wheat & More Wheat-720,000 Tonnes Of Wheat!
27th March, 2021
Saudi Grains Organization (SAGO) puts out an international tender for 720,000 tonnes of wheat.
Nasdaq

#KSA Oil Exports Up 75% & Non-Oil 42.9% in March. Good News!
27th May 2021
Oil prices have recovered and oil sales booming, especially to China.
Reuters

Brief
#Saudi World Cup Team Selected
26th May 2021
Mohammed Al Owais, Zaid Al Bawardi, Abdullah Al Oweisheer, Mohammed Al-Rabiei, Hassan Timbekti, Abdullah Mado, Abdul-Ilah Al-Omari, Ali Al-Blaihi, Saud Abdul Hamid, Muhammad Al-Barik, Sultan Al-Ghannam, Muhannad Al-Shanqeeti, Yasser Al-Shahrani, Abdullah Atif, Ali Al-Hassan, Abdul-Ilah Al-Maliki, Ali Al-Asmari, Nasser Al-Dossary, Sami Al-Naji, Salman Al-Faraj, Muhammad Al-Kwaikibi, Fahd Al-Mawlid, Abdulrahman Gharib, Salem Al-Dossary, Firas Al-Braikan, Abdullah Al-Hamdan, Saleh Al-Shehri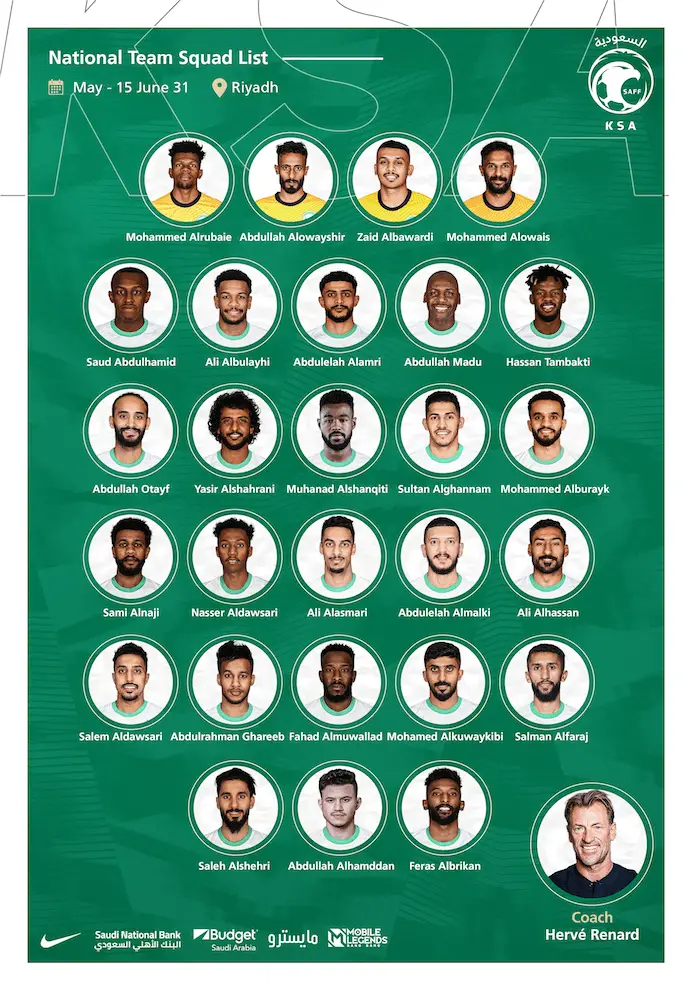 Arab News-

Snooze!
#KSA Appoints New Tourism Advisor- Former Mexico Minister Or Tourism Gloria Rebeca Guevara Manzo
26th May 2021
Gloria Guevara

brings a wealth of expertise and connections to the developing Saudi tourism industry.
Skift

tells it first!
#Busy Body Political Lobbyists Seek To Block Google Cloud In KSA As Punishment
26th May 2021
Read About The Dirty Pots Calling The (Reflecting) Kettle Black
CNN Business

#Saudi Bedouin Jewelry Began In Greece, Went To Mexico Then Ended In The USA
24th May 2021
The old Arab Bedouin jewelry is chunky, heavy and has a lot of beads.
The Sentinel -Record

– nice photos and a description
#Tamara, The Buy Now, Pay Later In Three Installments Gets Big Investment And Is Growing from Strength To Strength In GCC And Beyond
23rd May 2021
The focus?-shopping malls, fashion chains and beauty product shops small shops that know their customers and who are willing to share the risk of nonpayments of installments.
Startups Online

An enjoyable read by Sarmad Khan

in Abu Dhabi. Well done that man!
#Saudis Baked A Lot In The Pandemic-Spurring General Mills Products Boom
23rd May 2021
Dleights such as Betty Crocker, Bugles, Nature Valley, Old El Paso, Pillsbury, Haagen-Dazs and Green Giant took 90% of the Saudi cakes market – a 100% increase in sales. The global cake sales were $972.3 million in 2019 and is forecast to become $1.135 billion at the end of 2026.
Sweet news from Arab News

#Pakistan Urges Riyadh Authorities To Accept Chinese Vaccinations For Pilgrims To Enter KSA
23rd May 2021
And why not? Also, India's version of Oxford- AstraZeneca Covishield & Sputnik V, Covaxin are not yet approved.
Radio Pakistan

#Ethiopia Repatriates 1200 Ethiopian Nationals Trafficked To Saudi Arabia With The Lure of Jobs And Money
22nd May 2021
Stranded Ethiopian workers living in penury in the kingdom ave now returned to their homeland.
XinNews China

#In Saudi Arabia, 7,018 Souls Succumbed To The COVID-19 So Far and Daily Infection Rates Top 1,000
21st May 2021
Currently, 422,316 people have Coronavirus in the kingdom, 9,691 active, and 1,346 in a critical state. So far, 404,607 people have totally recovered.
Data from Arab News

#King Salman Calls Mahmood Al Abbas In Support of Palestinians
21st May 2021
Read Reuters

#KSA invited Greek Archeological Experts To Dig Ruins In The Kingdom
20th May 2021
Claims WTVB
#Banyan Tree Tent Company To Transform The Ashar Resort With Luxury Tented Tourist Accommodation In Al Ula
20th May 2021
The report will have 47 luxury tented suites one bed (28), 2 bed (15) and 3 bed (4). In addition, 35 suites on another site will be renewed. The planned resort will also include a new spa, a rock garden pool, pavilions, and a restaurant.
See Globetrender

For The Details
#SA Citizens & Residents Need COVID-19-!9 Vaccine To Enter Government, Schools, Businesses, Science, Cultural, Sports or Entertainment Facilities
18th May 2021
Read Reuters

#KSA Government Obliges Airlines To Register COVID-19 Vaccination Data Of All Passengers Entering Saudi Arabia
19th May 2021
WHBL News

KSA Tackles Intellectual Property Rights Head-On By Setting Up Saudi Authority for Intellectual Property (SAIP) Unit
18th May 2021
#KSA is targeting and closing down thieves who steal and benefit from other people's inventions and intellectual property.
17th May 2021
Read more at International Policy Digest

#FURY VS JOSHUA to Fight in Riyadh on 14th August- A Heavy Weight Showdown
16th May 2021
From CBSSports

#KSA State Assets For Sale- Two National Flour Mills Privatized Raising $800 Million
1st May 2021
Today flour……. later KSA will privatize health, education, transport, municipalities, environment, water and agriculture, and human resources and social development. More cash needed!
#KSA Downs A Houthi Missile Headed Towards Jeddah- Keeps Happening!
1st May 2021
AA Turkey's New Channel Brief

#Tourist Cruise Ships To Visit The Towns Of Al Wajh, Yanbu, And Jeddah For The First Time In History In Nov 2021
1st May 2021
MSC Cruises will take passengers on a 7-day winter voyage through the Red Sea, stopping at and visiting Saudi Arabia, Jordan, and Egypt.
 Read about MSC Magnifica

 cruise ship at Travel and Leisure Website 
#7,000 Year Old Neolithic Stones Being Discovered and appreciate For the First Time
1st May 2021
Get the details and see some excellent photos at NCB News